3 Packed Lunch Hacks for "Regular" Moms
Last Updated on March 3, 2022
If you are a parent of young kids, chances are you get sick of packing lunches. I sure do! But this year I have discovered a few packed lunch hacks that are making the routine much less painful than it used to be. Read on for all the details.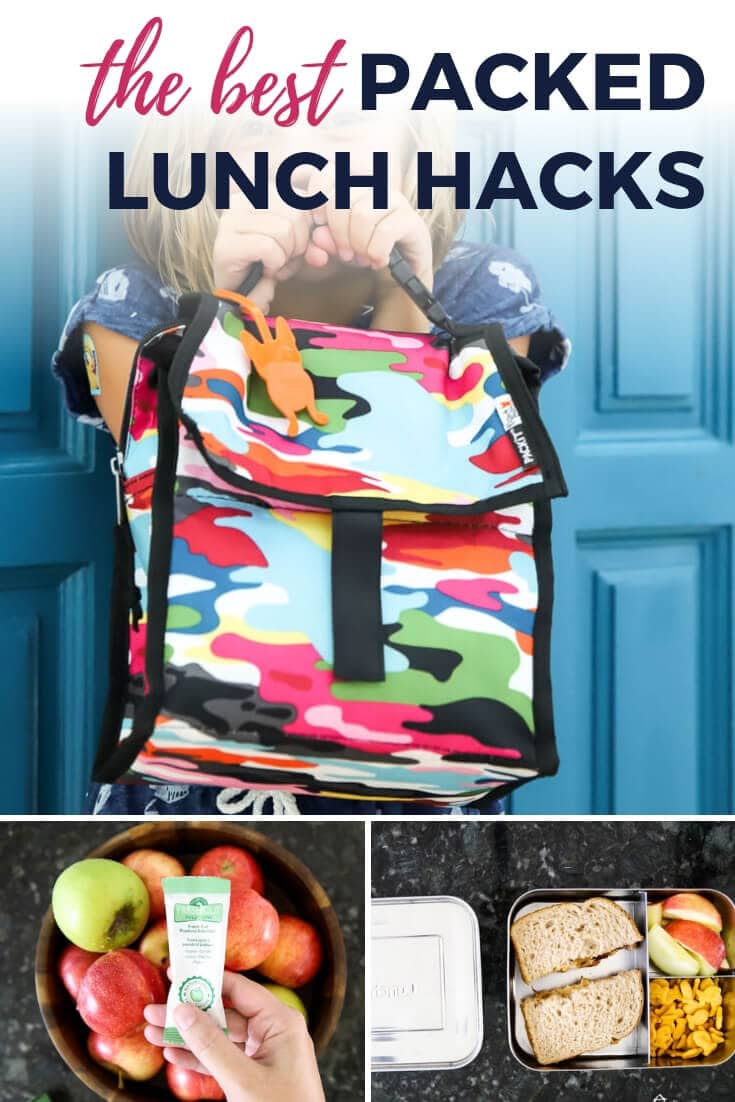 Confession. I am not a Pinterest mom. Yes, I may be "Pinteresty" when it comes to home decor and DIY projects, but I am never going to be the mom that makes fancy or creative lunches for her kids. I do not have the time or desire to carve carrots into the shape of roses. Or to create cute little critters with grapes and raisins. Never. Gonna. Happen. Because the fact is, I really don't like packing my kids' lunches. In fact, after about the first week of school, I pretty much hate doing it. There, I said it.
So this school year, I was bound and determined to make the lunch packing process less painful than it has been the previous two years. And I have SUCCEEDED! I'm so excited about these 3 simple packed lunch hacks that I had to share them with you. I realize this is an unusual post for someone who usually blogs about DIY and home decor. I am most definitely not a mom blogger (I would not even pretend to be able to give parenting advice to someone else). But these discoveries are just too good to keep to myself.
Thank you to NatureSeal for sponsoring this post. This post contains some affiliate links for your convenience. Click here to read my full disclosure policy.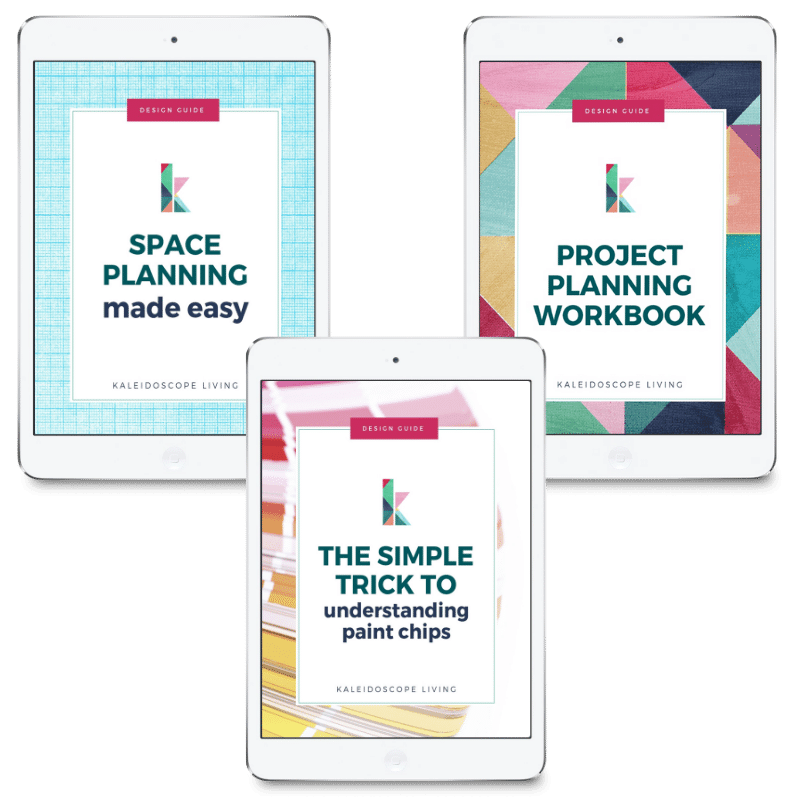 Get my FREE design guides when you subscribe!
3 Packed Lunch Hacks for "Regular" Moms
Hack No. 1- NatureSeal for Fresh-Cut Produce
OMG, y'all. This stuff is THE BEST! I've worked with Mohawk Consumer Products for a couple of years now, so when their sister brand reached out to me and asked if I wanted to try out their NatureSeal product, which keeps fresh cut produce looking fresh longer, I was like ???
You see, my girls turn their noses up at cut produce that is browning. It doesn't matter that we explain that the food tastes the same. They are like, "ummmm, hard pass." In the past we've tried drizzling cut fruit with lemon juice, but it doesn't work that well and they don't like the sour taste of the lemon juice.
So even though our girls love apples, carrots and pears, we never send them to school because they start turning brown and are therefore not edible (according to our girls) by lunchtime.
That, my friends, has changed!!!! NatureSeal allows us to cut and treat up to 3 pounds of apples, carrots, peaches pears and celery and keeps them looking fresh for a week. It's made from a simple blend of vitamins and minerals and doesn't change the flavor of the food. So now they are getting all kinds of fresh-cut produce in their lunches. They are happy, we are happy. It's like we are the Brady Bunch ?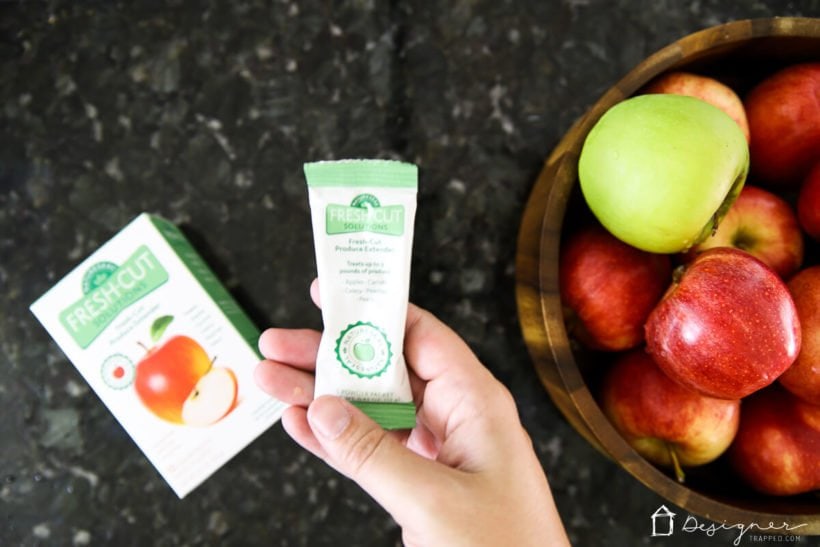 It's super easy to use. You add water to a Ziploc bag and then dissolve the NatureSeal solution in the water (per the instructions on the packet). Add your cut produce and shake it until everything is coated. Then drain the liquid and put your produce in a bag or Tupperware. You can check out a video demonstration here.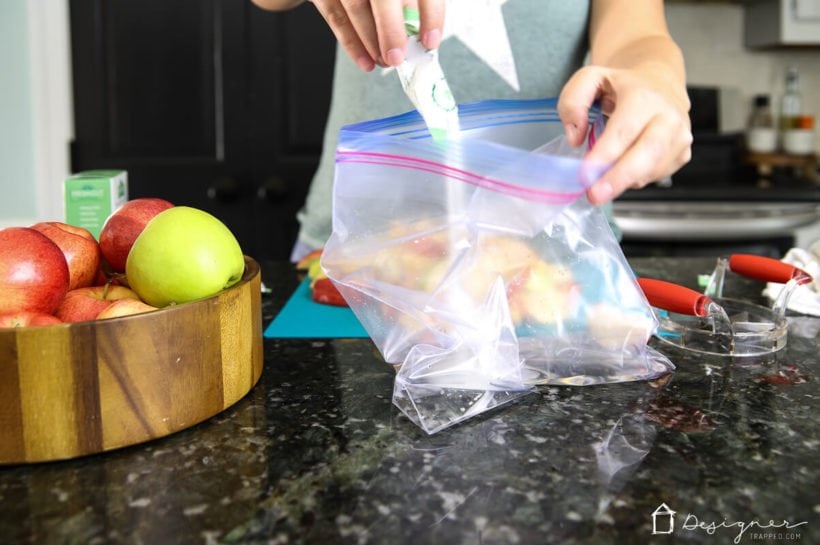 It's also kind of a dinner hack because the girls can just grab the bag of fruit out of the refrigerator and bring it to the table with them. #bonus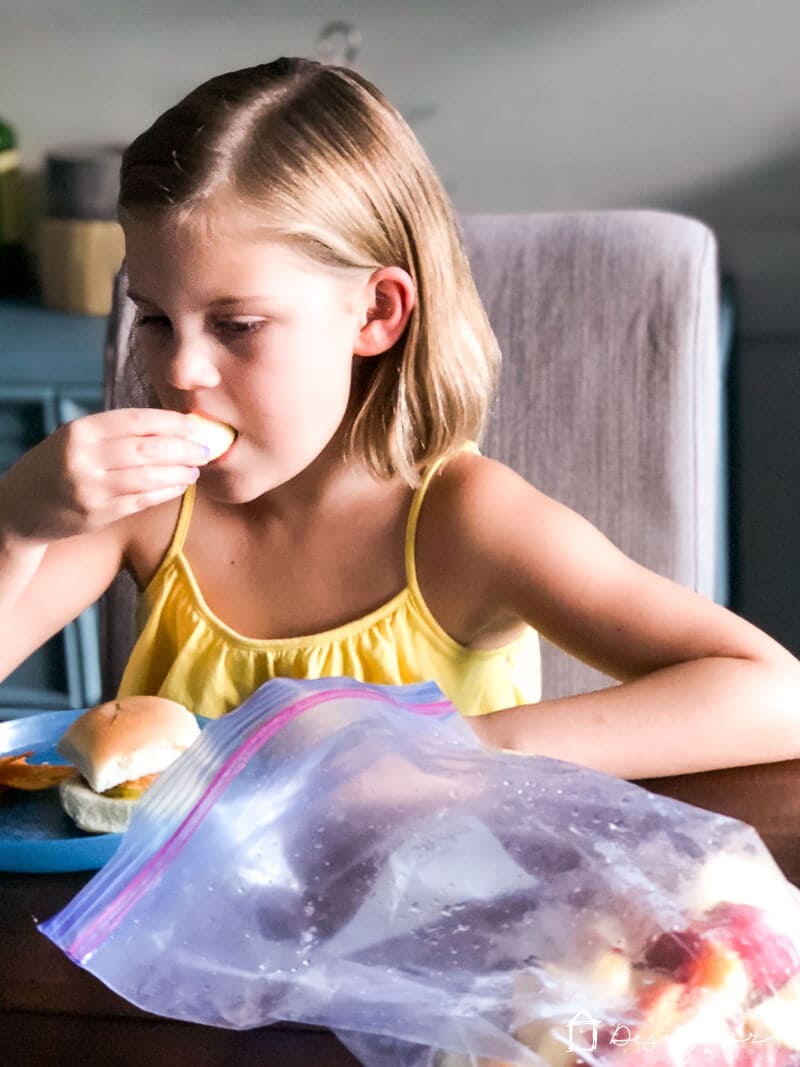 Hack No. 2- LunchBots Containers
Why did I not find these containers sooner?! We used to pack 2 or 3 separate containers for each of our girls every single day. That meant every single school night, we were dealing with 4 to 6 dirty containers. It was madness. So I started hunting for a bento box style lunch box, but didn't want one with umpteen small sections, like PlanetBox. After a fair amount of research, I stumbled upon LunchBots.
We have two different varieties–the Duo (with 2 sections) and the Trio (with 3 sections). When we pack them sandwiches, we use the Trio. When we pack them yogurts, we use the Duo. They are so much quicker to clean and it makes me feel better to pack their lunches in stainless steel rather than plastic.
Also, since we have 2 different varieties in rotation, we don't even have to hand wash them every single night since we run the dishwasher every other night or so. ??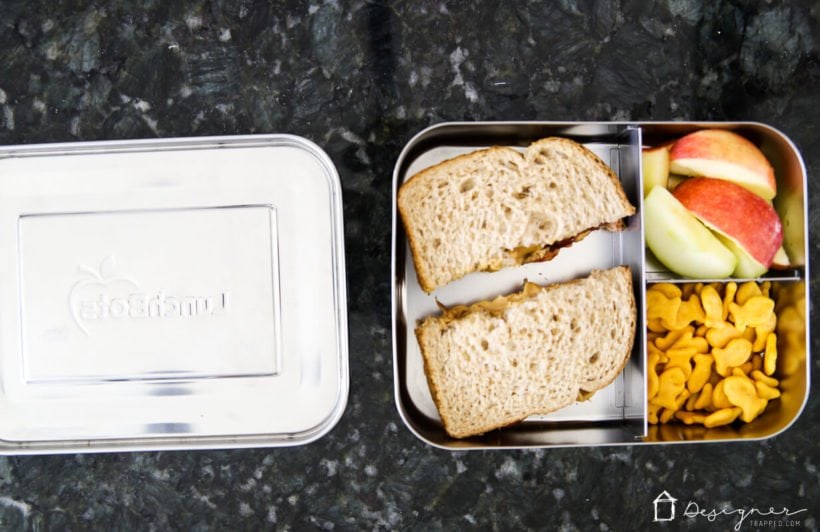 Hack No. 3- PackIt Lunch Boxes
Last, but certainly not least, is the best lunch box in the world–PackIt. For Kindergarten and 1st Grade, we loaded their lunch boxes with freezer packs every day. The freezer packs never really worked that well. And if we forgot to put them back in the freezer after school, they didn't work at all ?
PackIt lunchboxes have freezable gel permanently built into the bag, so you literally fold the lunchbox flat and store it in the freezer overnight. In the morning, the entire walls of the lunch bag are frozen. It is much more convenient to not have to worry about freezer packs. Plus, it does a MUCH better job of keeping their food cold until lunch.
We've had ours for a couple of months already and they are holding up well overall. I did have to sew Avery's handle back onto the buckle clip last week, but that was no big deal (and I really can't figure out how the stitching came undone in the first place). We will use the 2 we bought this year until they are completely worn out and then I will continue to buy these little gems. Love them! Of course, our girls picked two of the most colorful patterns available, lol!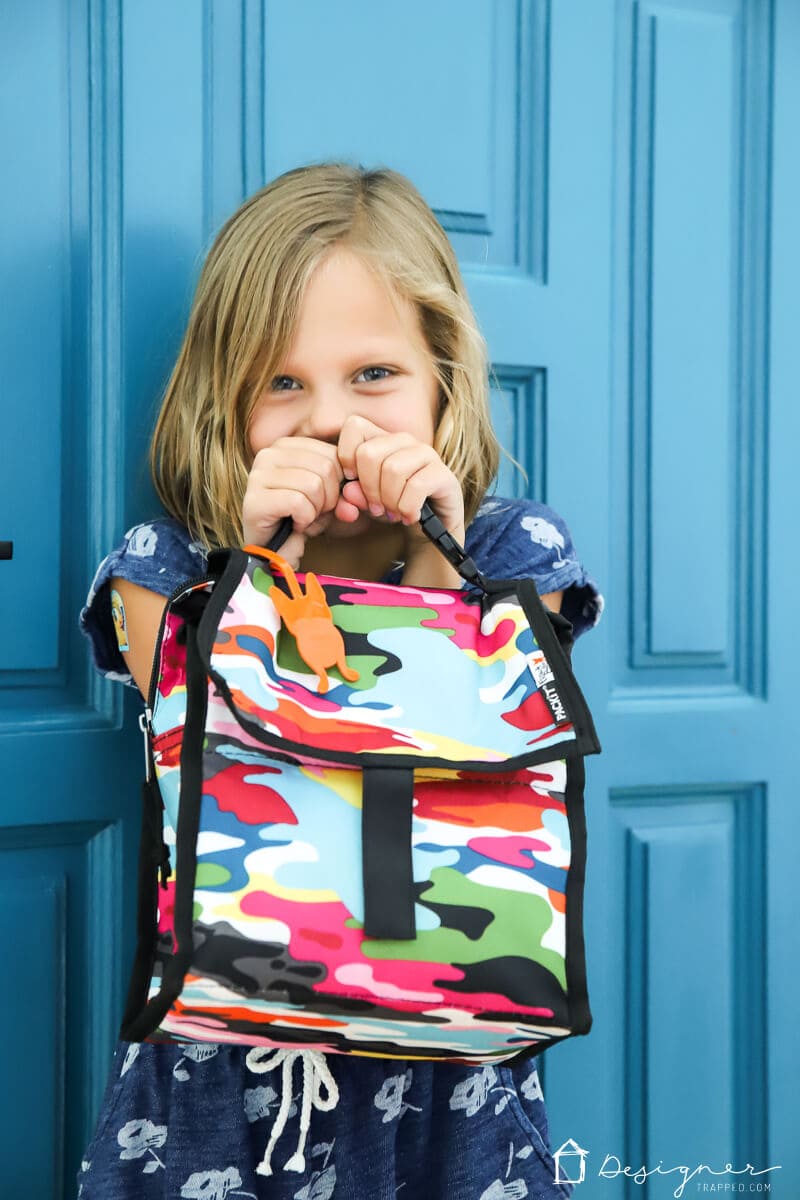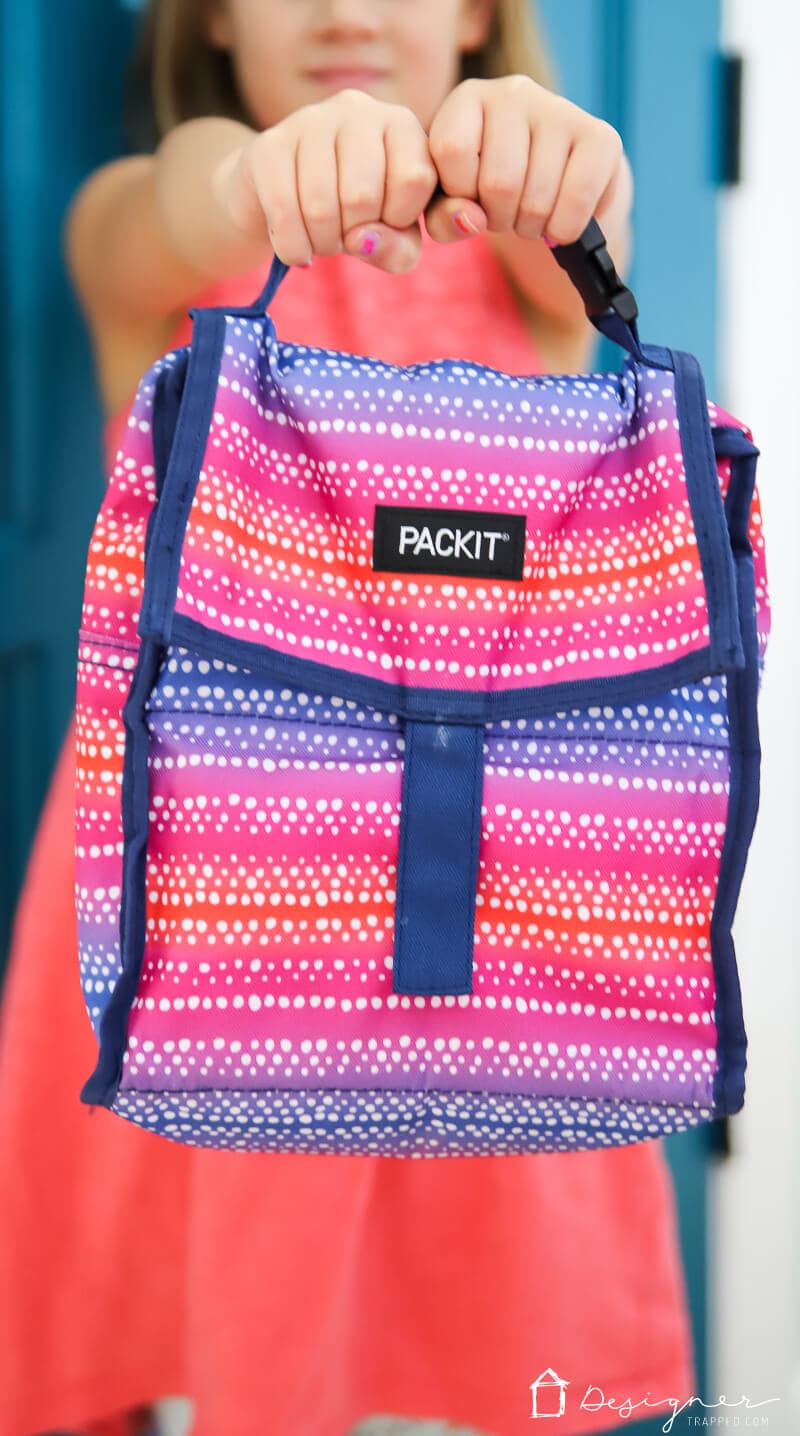 Well, there you have it. My 3 packed lunch hacks for other "regular" moms like me. I hope some of you out there find it useful :)