Oh happy day, friends!  I'm taking a break from my regular DIY and home decor posts to share some big news with all the bloggers out there.  I have been working tirelessly to launch a brand new course to teach bloggers how they can earn money while pursuing their passion for blogging.  That's right…  Affiliate Marketing for Bloggers Advanced eCourse is here!  You can enter to win a FREE course using the Rafflecopter below.
If you have followed my blog for a while, you probably know that in September 2015 I launched an eBook called Affiliate Marketing for Bloggers.  I wrote the book after learning that most bloggers I knew were earning little to nothing through affiliate marketing.  I was shocked, because at the time I was already earning at least $1,000.00 per month just through Amazon.  I now earn six-figures from blogging and a big chunk of that is through affiliate marketing! In fact, so far in 2016 I have already earned over $27,000.00 just from affiliate marketing.  Needless to say, it seemed that my affiliate marketing success was unusual as compared with other bloggers.  But I wanted ALL BLOGGERS to be able to have similar (or better) success, so Affiliate Marketing for Bloggers was born.
Since then, I've sold over 600 copies of the first edition of my eBook.  I am thrilled to report that my eBook has helped so many bloggers grow their blog revenue.  I polled prior purchasers and asked by what percentage their affiliate sales have increased since using my strategies and tips. Check out the responses!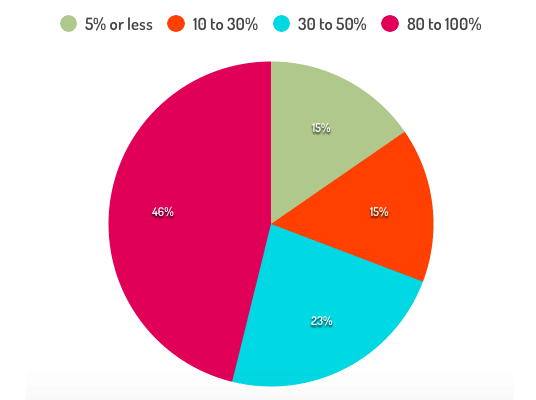 As you can see, over 40% of the bloggers who responded have increased their affiliate revenue by a whopping 80 to 100% since using my methods!
A LOT has changed in the world of affiliate marketing for bloggers since I published the first edition of my eBook that I decided to write a second edition of the eBook to address all those changes.  The second edition of the eBook is completely updated and is 50 pages longer than the first edition even though I deleted an entire chapter.  In other words, there's loads of new information included in the second edition.
But I wanted to do more to teach bloggers about affiliate marketing, so I decided to launch AN ENTIRE COURSE (which comes with a copy of the updated eBook, of course)!  In the course, I teach you how to earn real money through affiliate marketing in a way that your readers will love and appreciate!
My eCourse is for bloggers of all levels. Whether you have never attempted affiliate marketing and need to start from the beginning, or you are already earning some revenue from affiliate marketing and want to up your game, this is the course for you. The Affiliate Marketing for Bloggers course literally teaches you everything you need to know about how to earn money through affiliate marketing without alienating your readers.
Here's what's included in the course:
24 video lessons, divided into 6 units. The video lessons total nearly 7 hours in length. That's a TON of information.
Access to a private Facebook Mastermind group where you can ask me (and the other awesome bloggers in the group) about affiliate marketing any time you want. It's like having a private affiliate marketing coach for free!
A free copy of the second edition of Affiliate Marketing for Bloggers, my eBook.
Worksheets and checklists to keep you on track and organized.
All of this incredible information is housed on the beautiful, easy-to-navigate platform, where you'll be able to log in, see all of the units and lessons in a neatly organized way, and follow along with the course at your own pace.
If you find yourself spending a ton of time on your blog, but are earning little or no money, you need this course. The bottom line is that this course will pay for itself over and over again.  Invest in your passion today.