Affordable Interior Design: Is it Possible?
Last Updated on March 3, 2022
Affordable interior design IS possible! These tips & ideas will help you get creative when budgeting for and purchasing home decor. You can achieve the home of your dreams on a budget–pinky promise!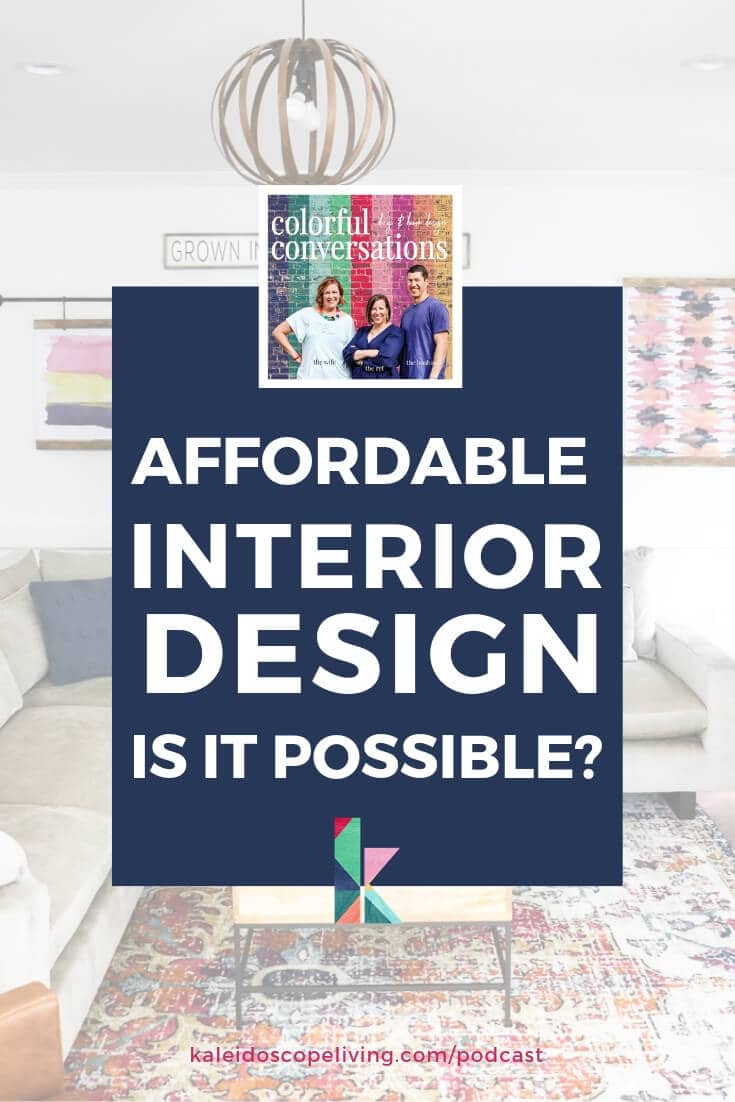 Want to listen on your favorite app? Click whichever option you prefer below:
iTunes | Stitcher | Spotify | Google Play
People automatically assume that having a beautiful home is impossible on a budget. We are here to tell you that not only is it possible, it is not as hard as you think! With a few mindset shifts and some creativity, you can have the home you always wanted.
If you are a new listener to Colorful Conversations, we would love to hear from you. You can find us 24/7 on Instagram @tasha.kaleidoscope and on Facebook at Kaleidoscope Living. You can also check out our YouTube channel. As a thank you for listening, we have an awesome FREE guide called "5 Easy Steps to Design A Room You Love." Text "DESIGNTIPS" to 44222 and you will get the guide in your inbox!
In this episode:
0:37 – Today, we're talking about affordable interior design (and if it's even possible), but first, what's happening on the home front? Joe and Tasha are tackling yard work in the crazy North Carolina heat – mowing the lawn, putting pine straw out, and having some sprinkler fun with the kids! Remember to check out

Rachio

, the smart wifi sprinkler system that Joe and Tasha use.

5:00 – Sidebar: Game of Thrones is over! Joe may have fallen asleep during the episode… What did you think of the ending?

6:33 – Back to business – it's Joe and Tasha's 17th wedding anniversary this week! That means we definitely have to play

How-Well-Do-Tasha-and-Joe-Know-Each-Other

(a.k.a. the "oldywed" game, according to Thea)

.

This week's question is what is the other person's favorite thing to splurge on? Joe guesses that Tasha's favorite splurge is on their vacations, while Tasha thinks Joe's (rare) splurges may be more practical, like a new trash can or a couple more dollars in the retirement account.

11:52 – You know that this is no ordinary podcast. Make sure to follow us on Instagram

@tasha.kaleidoscope

where we announce our upcoming topics and you can submit your questions for us to answer. We also love reading your feedback on iTunes, so leave us a review! If we pick your question or review from social media to feature on the podcast, we'll send you a free gift!

12:21 – One of the things that Tasha hears most often is "I just don't have the money to decorate my house." But there are some great, affordable, and fun ways to decorate your home! Affordable interior design is 100% possible with some creative ideas. Some of the "roadside rescue" furniture pieces are Tasha and Joe's favorites in their home.

18:25 – It's tough love time. If you don't love your home and you're blaming it on a lack of budget, you may not be trying hard enough! Re-evaluate where you're spending your money, see where you can save some pennies, and make conscious choices if you're serious about making decorating a priority.

21:57 – Let's take a quick break to hear from our sponsor! Today's episode is brought to you by

Designer In A Binder

,

a comprehensive, step-by-step workbook and e-book that teaches you how to design spaces with the intention to create a home that you love! The physical copy of

Designer In A Binder

includes a custom three-ring binder, custom tabbed pages and worksheets to design six different spaces in your house. To purchase

Designer in a Binder

,

visit

www.designerinabinder.com

.

24:10 – It's tip time! Tasha and Joe share their favorite, practical tips for affordable home decor and interior design. Joe's first tip is a great one for listeners who love a $0 price tag; it's to declutter and clean up your house! You can clean and freshen your home, simplify your possessions, and even sell what you no longer need or want!

26:37 – Tip #2 is you can do it yourself, which is literally how Joe and Tasha's home reno adventures got started! Joe's frugality paired with Tasha's design desires pushed them to start DIY-ing to achieve a beautiful space on a thrifty budget. The internet and websites like Pinterest are great for finding DIY projects, but there are so many basic DIY projects to try out (like painting) if you're just getting started.

29:27 – Tasha and Joe have done a lot of the legwork already. Check out the links below for more insight and research on paint, find inventive

ways to fill up empty wall space

, and work your way up to bigger projects like the

DIY Plank Wall

!

31:04 – Tip #3: Customize things yourself! Many of the things we see and covet on Pinterest and Instagram are custom items with hefty price tags. While custom home decor can be a worthwhile investment, it doesn't mean you can't get a custom look on a budget too. IKEA hacks were invented just for this – check out 10 of our favorite IKEA hacks

, and then go see

10 more amazing custom hack ideas

!

35:00 – Tip #4 is all about creating a focal point (yes, on a budget!) A focal point really helps to ground a room and make it more inviting. Most people think of art pieces being a focal point (which can be pricey), but let us introduce you to the magic of digital art prints.

Etsy.com

is a

great

place to find affordable and unique digital artwork that you can download and get printed at an office supply store, or Tasha's go-to website,

printful.com

. Don't want to spend money on frames? Try hanging with some chic gold binder clips or fun washi tape!

39:12 – Looking for some digital art to get started? Kaleidoscope Living email subscribers get free access to Tasha's library of downloadable prints! Text "

ARTLIBRARY"

to 44222 and we'll email you the link and password to access the free print library.

41:04 – The main takeaway? You can have a beautiful house on any budget! Use our tips to help you get started on creating a space that is uniquely yours.
Join the Conversation
Our favorite part of recording a live podcast each week is participating in the great conversations that happen on our social media and in our comments section. You can find us 24/7 on Instagram @tasha.kaleidoscope and on Facebook at Kaleidoscope Living. You can also check out our YouTube channel.
Get Social With Us…
As Mentioned In This Episode…
IKEA Hack Posts:
Before you head out and get started, be sure to check out my FREE design guides that will help you help you design spaces you absolutely love! Subscribe now and you will receive a password so that you can access everything in one convenient digital library.
[mv_create title="More Podcast Episodes" key="5″ type="list" layout="circles"]