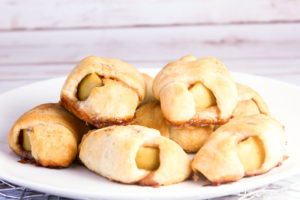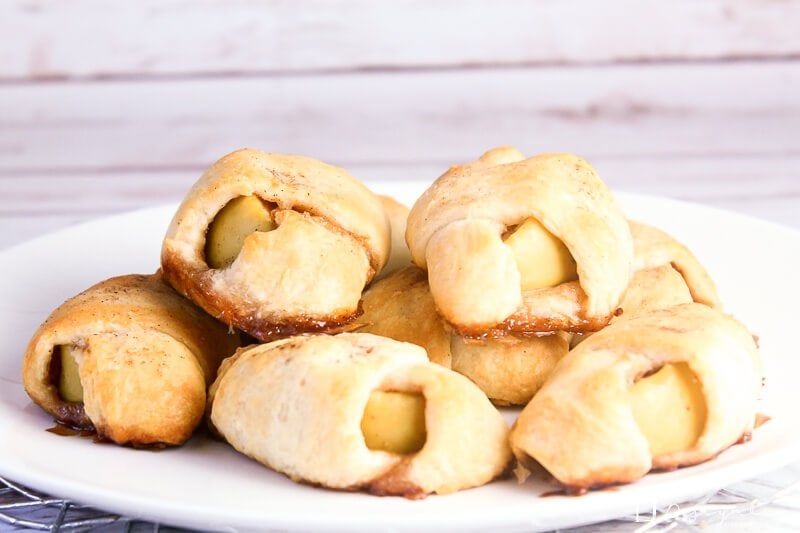 Apple Pie Bites
Yield 8 bites
These apple pie bites made from crescent rolls are super easy and taste delicious! They are perfect for a crowd or a quick family treat. 
Ingredients
1/4 cup light brown sugar, packed
1 tsp. apple pie spice
3 tbsp. butter, melted
1/3 cup pecans, chopped
1 small green apple, cored and sliced
1 (8 oz) can crescent rolls
Instructions
Preheat oven to 375 degrees F.
Line a sheet pan with parchment.
Combine brown sugar and apple pie spice in a small bowl and set aside.
Toss apple slices in the melted butter and set aside.
Unroll crescent dough and place triangles on the sheet pan.
Distribute sugar mixture and pecans onto each of the triangles. Place an apple slice on the wide end of the triangles and wrap the crescents.
Brush with remaining butter, sprinkle with more apple pie spice if desired, and bake until golden brown, about 10-12 minutes. Cool 5 minutes before serving. 
Courses dessert
Recipe by Kaleidoscope Living at https://designertrapped.com/apple-pie-bites/