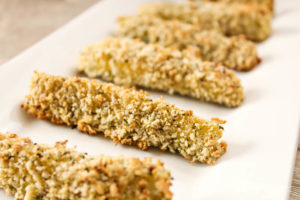 Baked Zucchini Fries
Yield 4 servings
Looking for a nutritious and easy alternative to french fries? These baked zucchini fries are the perfect tasty side and a family favorite!
Ingredients
2 Zucchinis
2 cups of Flour
3 beaten Eggs
1 cup of Panko Bread Crumbs
1/2 a tablespoon Seasoned Salt 
2 dashes of Pepper
1 teaspoon Onion Powder
1/2 a teaspoon Garlic Powder
2 teaspoons of Parsley Flakes 
1/8 of a cup of Mrs. Dash Garlic and Herb 
Your choice of favorite dipping sauce.
Instructions
Preheat oven to 375 degrees. 

Line a cookie sheet with parchment paper.

Take 3 mixing bowls, place beaten eggs in one, flour in another, and remaining ingredients in the 3rd. Make sure your 3rd bowl is mixed well.

Cut up the zucchini into "fries."

Dip your zucchini in the flour, then egg, then bread crumbs.

Make sure each fry is thickly coated and lay on baking sheet.

Bake for about 13 minutes, or until golden brown and crispy.

Serve with your favorite dipping sauce and enjoy! 
Courses Vegetable
Recipe by Kaleidoscope Living at https://designertrapped.com/baked-zucchini-fries/