Hi friends!  Sorry, no big room reveal or pretty finished project for you today. I'm just here to update you on our bathroom renovation progress. I am getting SO EXCITED about this project. It has been a ton of hard work, and caused a lot of sweating and almost tears (okay, that may be overly dramatic), but we are starting to see the light at the end of the tunnel.  If you are new to my blog and have no clue what I am talking about, you can check out our bathroom renovation plans in this post and the first bathroom renovation update in this post.
Two quick reminders…  THIS is what our twin girls' bathroom looked like before we got started (sorry–I know.  It's bad.  I should have told you to avert your eyes).
And here is what it looked like AFTER we had demolished everything, including that wall separating the vanity area from the toilet and tub area.
Well, we have accomplished a lot since then!  We moved the vent pipe that used to be hidden by the wall that we removed and also moved all the plumbing and electrical that needed to be moved.  Then we replaced some of the old damaged subfloor.  PS- How friggin' cute is my hubby? He's definitely my better half. He's also way better at plumbing and electrical work than I am :)
We also installed a WINDOW in the bathroom.  Before, there was no window of any kind, so it's AWESOME to get some natural light in this space!  Since the exterior wall is where the shower will be, we could only install a small transom window, but it makes a BIG difference.  A friend of Joe's from the fire department helped us with reframing the wall to accommodate the window and installing the window and we were both super grateful for the assistance!  It made me more than a tad nervous to see Joe up on the ladder outside our house (ironic since he is a firefighter, which is an inherently dangerous profession).
We also extended the length of, but reduced the depth and height of the soffit. So, we had to reframe the whole thing. We couldn't eliminate it because of some venting in the soffit, but it's much less intrusive now.
We hired out the drywall work in the bathroom because, well, we don't excel at drywall work.  It was an affordable thing to hire out because there is so little drywall in the room.  I primed and painted it as soon as they finished and it looks awesome. SHOCKED that I chose a white color?  Me too, but I have my reasons and TRUST me when I tell you that there will be plenty of color in this bathroom :)  You can see the finished drywall (the soffit, the ceiling and the wall to the right) in the photo below.
Next, we installed can lights, which were badly needed.  Before the bathroom only had vanity lights and one small light above the toilet area.
Next up…  HARDIE BOARD.  We had to install hardie board (a cement product) on the floor and the rest of the walls.  Why? Because all of those surfaces will be tiled. Yes, we have a lot of tiling work ahead of us. And I have to tell you, the hardie board work was NOT for the faint of heart. It took longer than we expected, was messy and just NOT FUN. We also installed EZ Niches that we bought at Floor & Decor in the shower area, which was the easy part.  The niches are those purple things you can see in the shower :)
Long story short, the walls are now closed up.   You can see me hanging the last piece of hardie board and my joyous reaction below. Side note, by daughter Avery took the photo on the right–future photographer?
So, here's the bathroom as it currently stands.  Walls are closed in, drywall is painted, lights and new bathroom fan are installed. New tub is shiny and happy.  Now we are ready to TILE.
You can check out our plans for the tile and cabinetry in the rendering below.
We purchased all of our tile at Floor & Decor. We were seriously in awe of the selection and prices.  Let me just say that if you are in need of tile (or laminate or hardwood flooring for that matter), you do not want to go to the home improvement store you usually go to. If you have a Floor & Decor, THAT is where you want to go.
We are going to tile the floor first. We selected this gorgeous dark slate tile for the floor and these bright white subway tiles for the main wall and tub/shower enclosure.
You can see the tile layout below (we were dry fitting the layout since slate can be a bit tricky to work with–not all the pieces are the same thickness so you really should lay the thickest tile first and build the others up to the same level).  It's so much prettier when it's clean AND when you see it in person.  I seriously can't want for this project to be done so I can reveal it to y'all!
Now, let's do a quick side-by-side comparison of how far we have come so far!
I will probably be tiling as you read this post.  Wish me luck!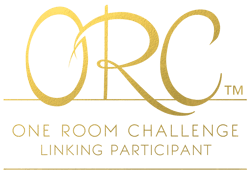 [go_portfolio id="room_reveals"]