Bedroom Storage Ideas That Pack a Punch
Last Updated on March 3, 2022
If you find yourself short on storage in your home, you are not alone! But these bedroom storage ideas will help you maximize the storage in your bedrooms without spending a fortune.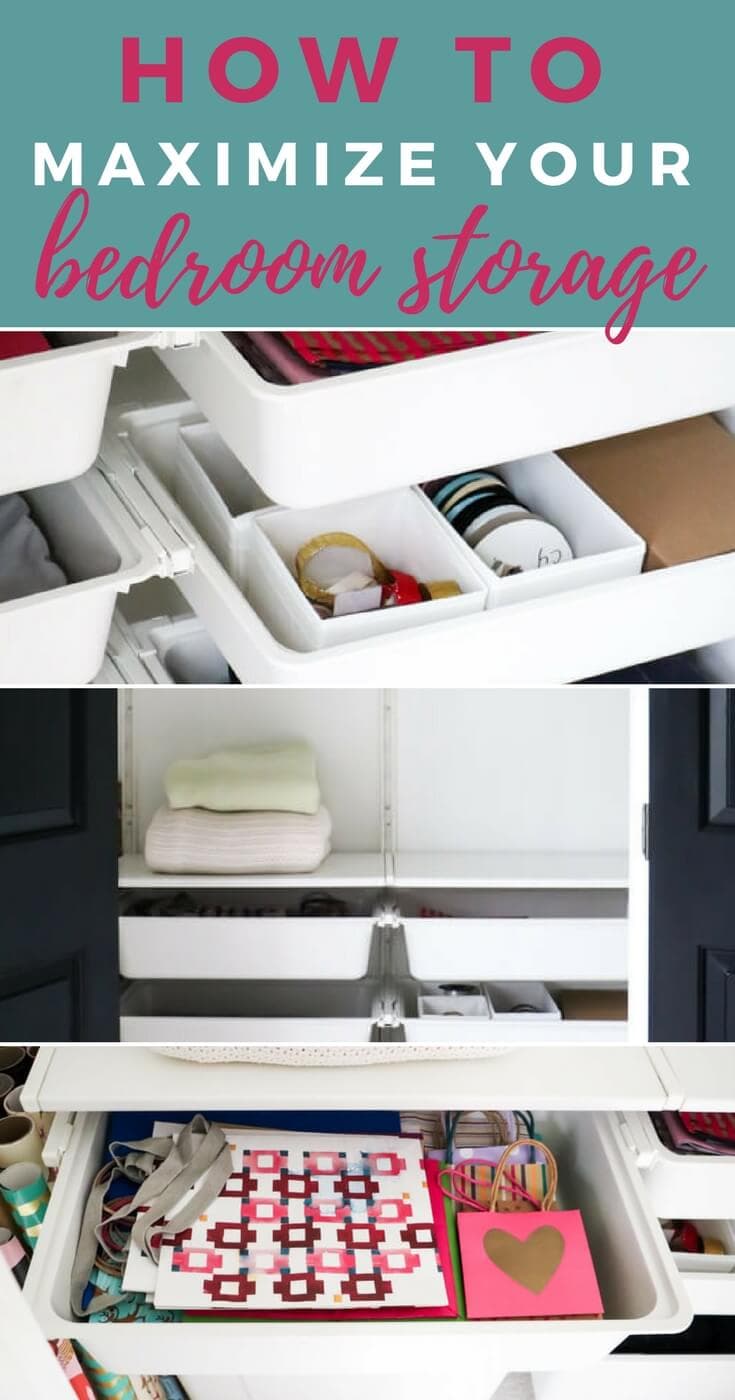 A huge thanks to IKEA for sponsoring this post! My favorable opinion of the beautiful, high-quality products that helped us get organized and maximize our storage is 100% my own.
Hey friends! Did you know that most people move because they need more space? And more storage space is one of the things they look for most when searching for a new home? Yep. Well, the good news is that you don't have to move to find more storage in your house. You just need to get creative and maximize the storage you already do have. These bedroom storage ideas that we just implemented in our own guest room are awesome and affordable. I wish we had done it years ago, but better late than never :)
As compared to our last house, which was a little bungalow built in 1926, we have loads of storage in this house. But that doesn't mean we don't still have storage challenges. Trust me, we do! So we evaluated where we could vastly improve our storage and pretty quickly landed on our guest room (though these bedroom storage tips could be used in any bedroom in your home). Our guest room had kind of become a landing spot for a lot of our extra "stuff" and it was a disorganized mess.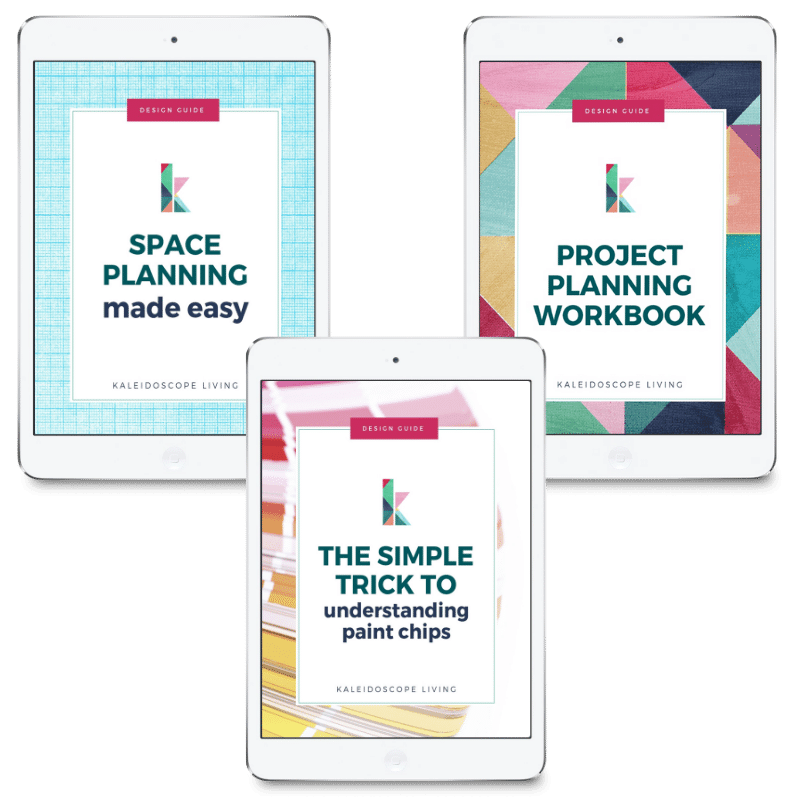 Get my FREE design guides when you subscribe!
Don't believe me? This is a look at our guest room closet before we got started. Yikes.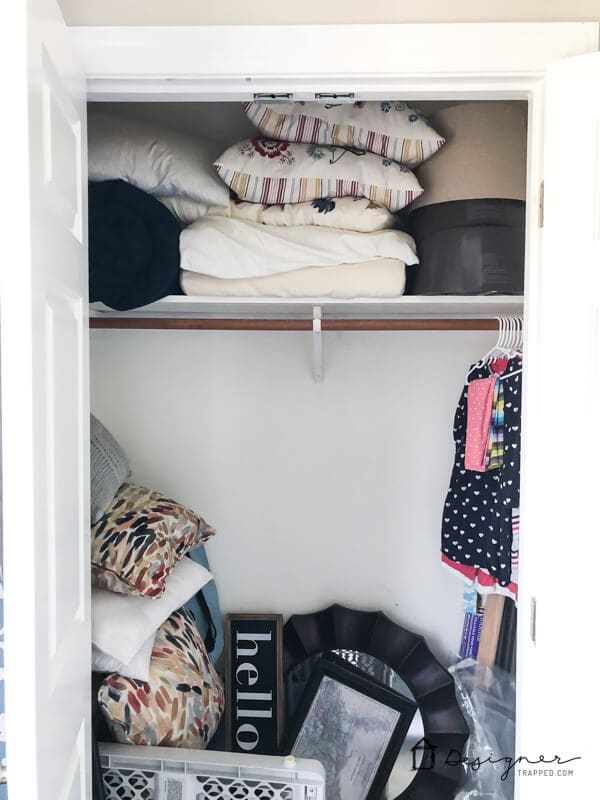 As with any storage/organization project, we started by decluttering and purging what we could. We hauled a bunch of stuff off to Goodwill, which always feels good.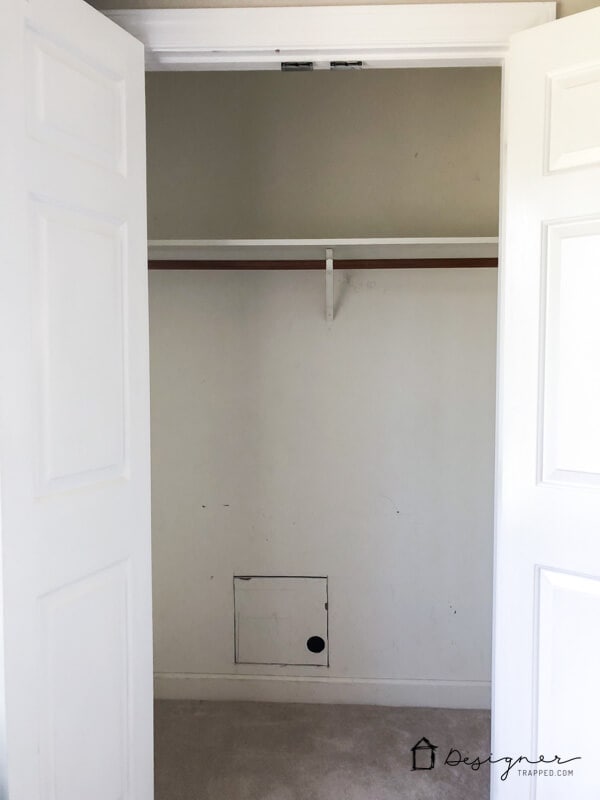 Then we cleared the closet out entirely and removed the old rod and shelf. It was super dingy, so we gave the closet a fresh coat of paint and painted the doors black.
We knew that to really maximize the closet storage, we needed a better system. We didn't want to spend a fortune on it, either. After doing some research, we landed on the IKEA ALGOT system. It's incredibly affordable (our system cost only $145) and super functional. I loved that we could use a combination of drawers, shelves and hanging rods in basically any imaginable configuration. The IKEA ALGOT planning tool made it really easy to put in the measurements of our closet and then drop and drag components until we were happy with the design. You can see our design below.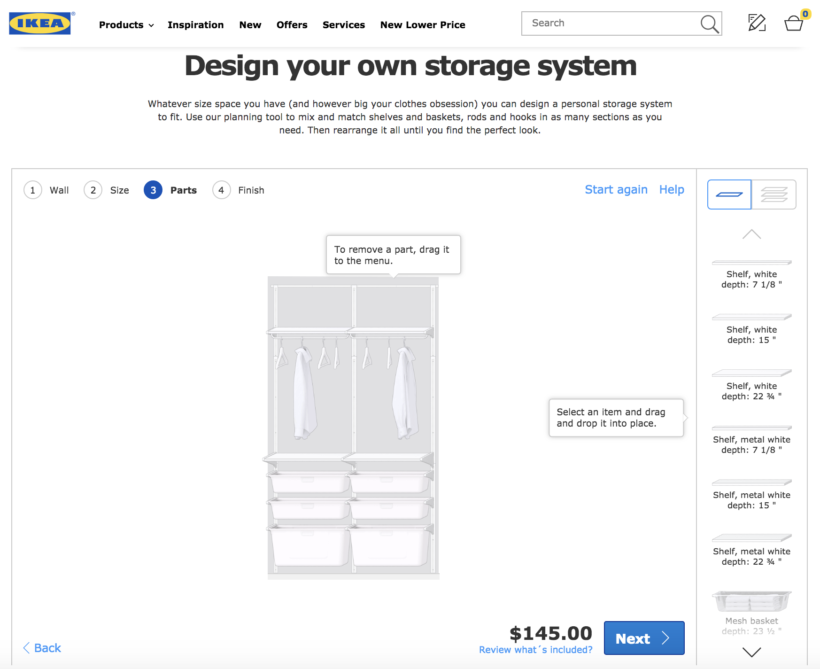 The installation was easy. Seriously, it's probably the easiest IKEA assembly we have ever tackled (and we have pretty much assembled one of everything sold in IKEA, lol). If you follow me on Instagram and followed my stories as we were working on it, you know how quick and easy it was, but I will have a detailed installation blog post coming soon :)
Here's what the closet looks like now! We are in love and are so impressed with the quality of the ALGOT system. I can't believe it didn't cost us more to pack this much of a punch in our guest room closet.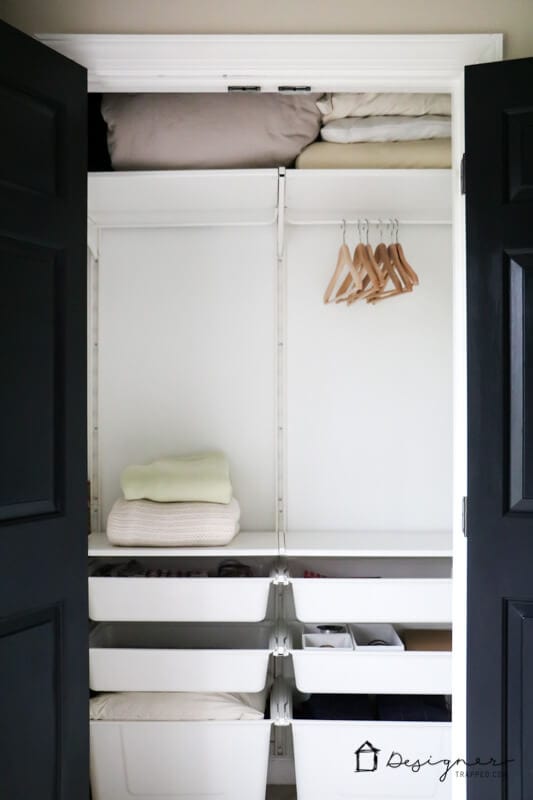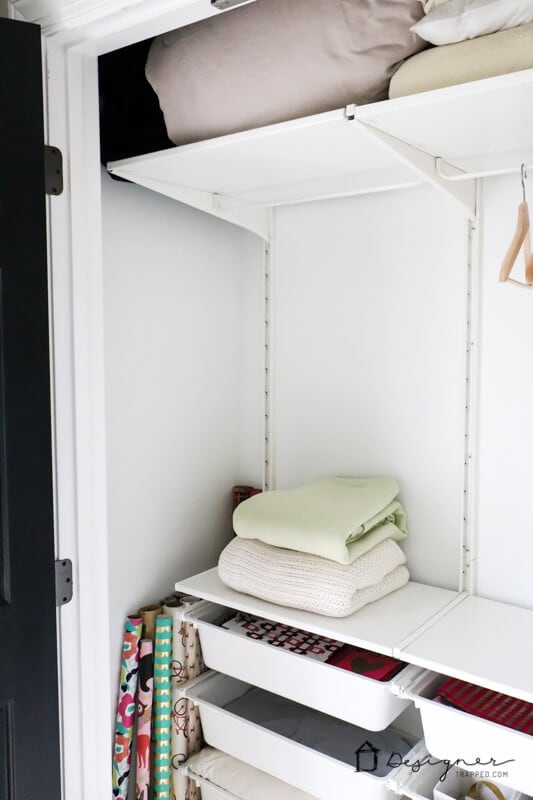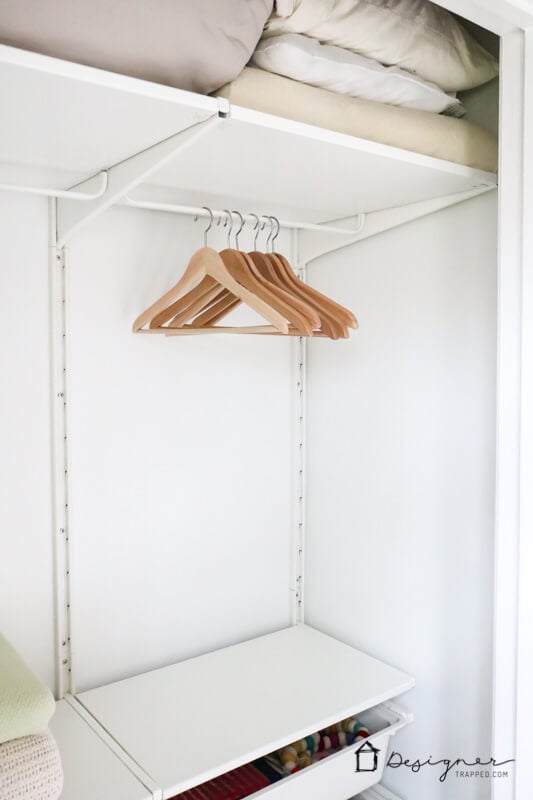 The ALGOT drawers are awesome. They slide in and out easily and extend out far, so you can fully utilize the full capacity of the drawers. We purposely left about 6 inches of space to the left of our system so that we FINALLY have a good spot to store our wrapping paper. We are using several of the drawers to store our gift bags, tissue paper, boxes and ribbon. Plus we have tons of room to store extra linens and pillows. And there's still plenty of room for guests to hang their clothes while they are visiting.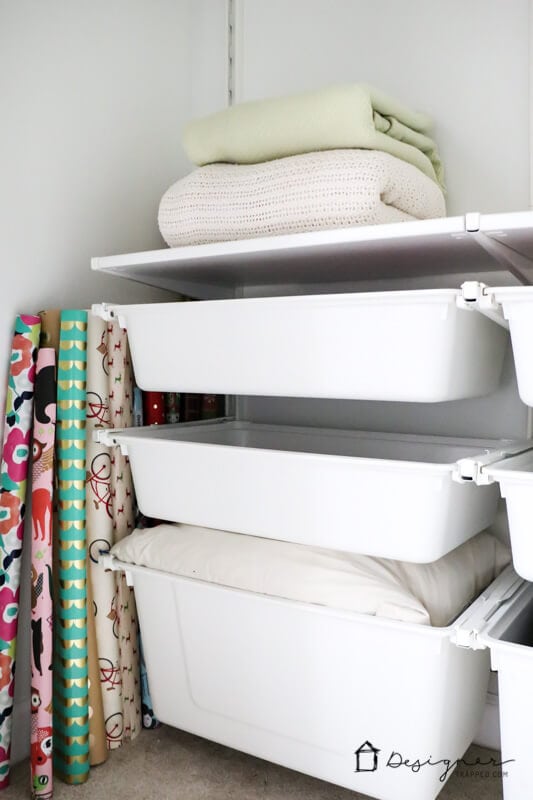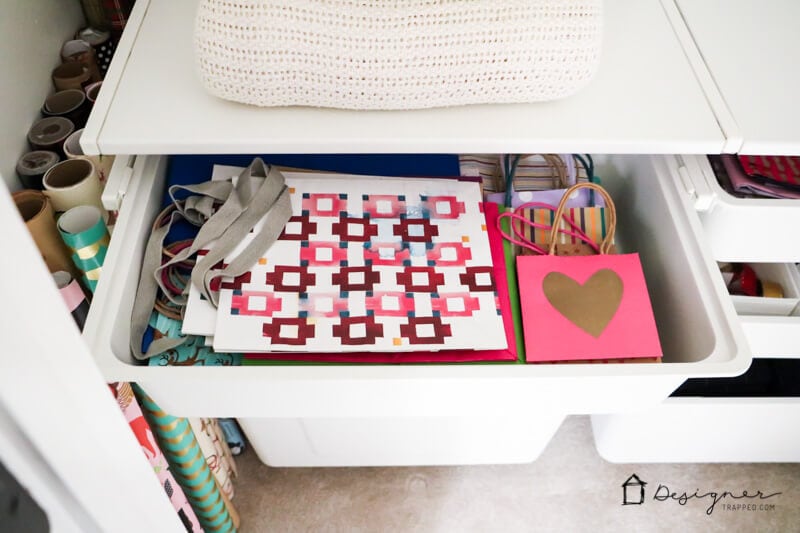 The IKEA SKUBB boxes are a favorite of mine. We use them in drawers all over the house. I was worried they wouldn't work well in the ALGOT drawers, but they work perfectly.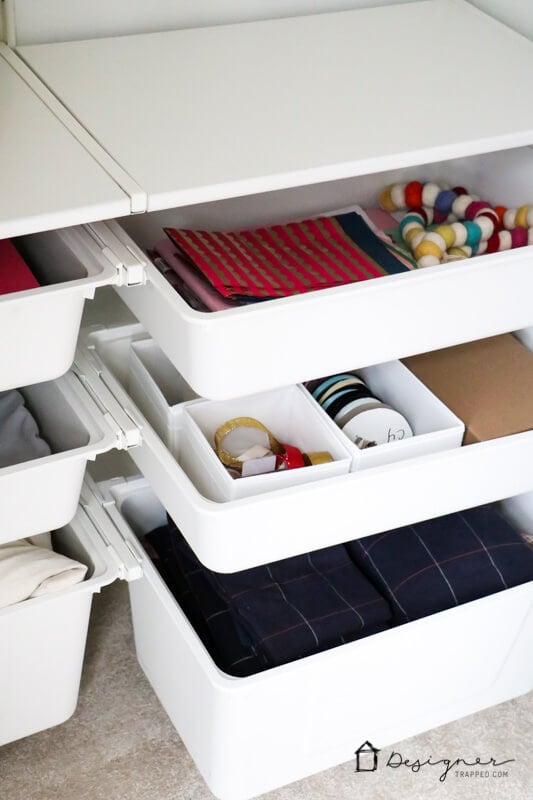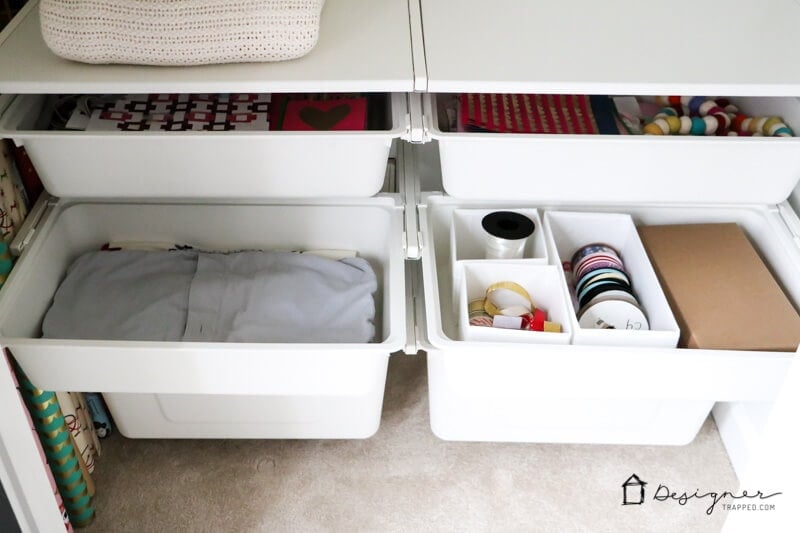 But that's only one of the bedroom storage ideas we implemented in our guest room. We also snagged the IKEA NORDLI storage bed. Now, it was a bit more time-consuming to assemble than the closet, BUT it's amazing. We are using all the built-in drawers to store our grown-up board games, guest bed sheets and linens, and off-season clothes that we don't need in our closets year round. Such a game-changer! Best of all, it works with pretty much any headboard, so we are able to continue using the headboard we already had.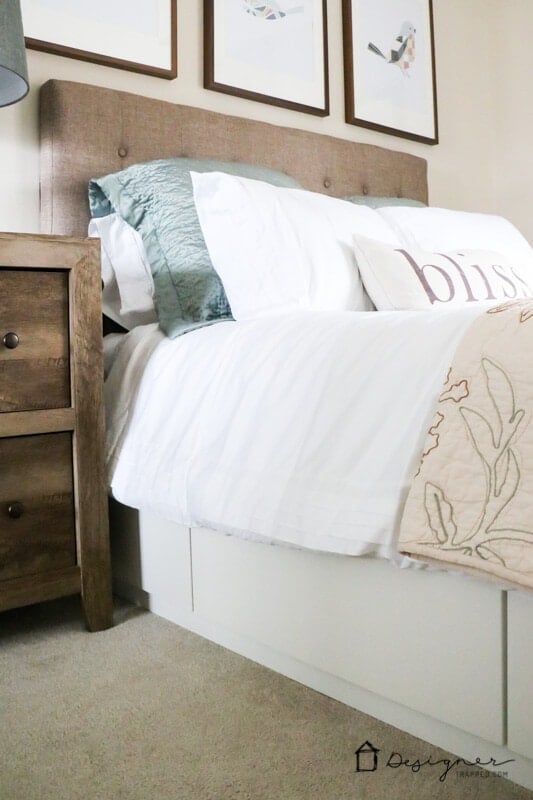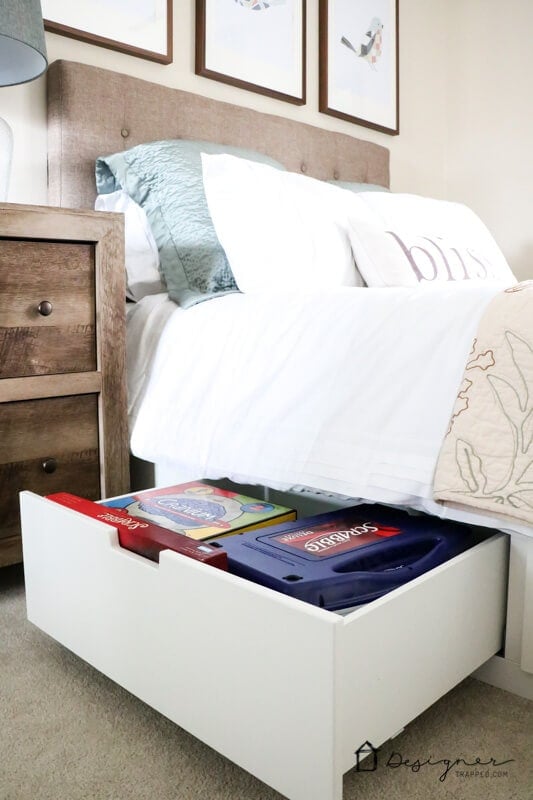 The NORDLI bed is super sturdy and I am amazed by how far the drawers extend out. It makes getting things in and out of them easy and they fit a surprising amount of stuff. There are 3 drawers on each side, which means a ton of storage in this one piece of furniture.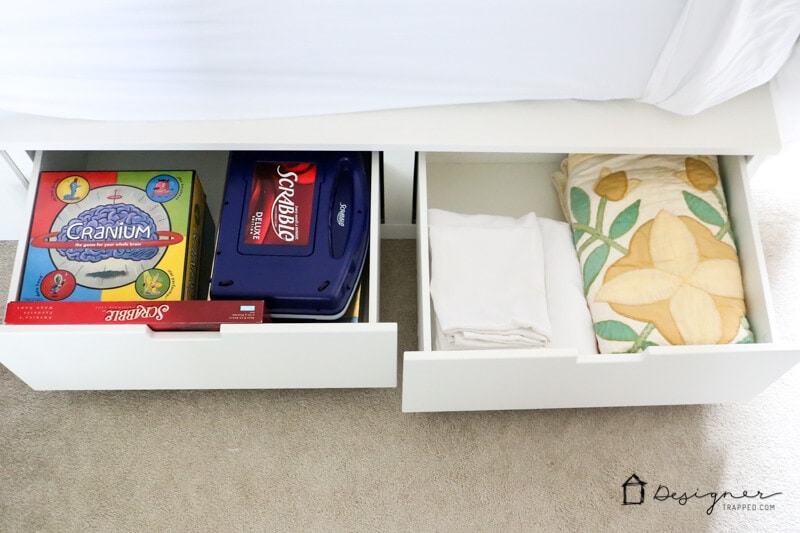 So that's it. By implementing a couple of bedroom storage ideas to our our guest room, we now have a room that is perfect for guests AND that is a storage and organization powerhouse for us. It's the best of both worlds!
I am a Brand Ambassadör for IKEA U.S. This is a sponsored post.
​
​
[mv_create 1 11 200 2016 key="1″ type="list" title="Most Popular Projects" thumbnail="<a href=" https designertrapped com wp content uploads diy home decor projects blog jpg a]