Hey y'all!  I'm going a bit off topic this Friday to talk to my blogger friends out there.  If you are a blogger, you already know HOW MUCH HARD WORK it is to create and manage a blog.  Can I get an Amen?!  I think that most of the world thinks that bloggers work only 2 hours a day and have leisurely lunches and long vacations.  I wish!  I am working harder than I ever have in my life, but I am LOVING every minute of it.  That said, there are some blogging resources out there that I wish had existed when I first started blogging a little over two years ago.  But better late than never, right?!  These blogging resources have helped me tremendously in this blogging journey of mine and I know they can help you, too!
My Best Blogging Tips:
I've written a number of blog posts full of blogging tips.  You can check them out by clicking here.
Best Blogging Resources:
A Comprehensive Blogging Course for Bloggers Who Want to Blog Full-time
Elite Blog Academy–  I was so impressed by the tips offered in How to Blog For Profit Without Selling Your Soul by Ruth Soukup of Living Well, Spending Less blog, that when she offered an in-depth course about blogging, I knew I had to sign up.  I joined the very first class of the Elite Blog Academy and it is, without a doubt, the absolute BEST thing I have done for my blog.  After completing only 5 of the 12 lessons, my page views increased 49%.  I am not kidding.  This course is AMAZING and COMPREHENSIVE.  I only wish it had been offered sooner!
I can't say enough about Elite Blog Academy. It's the one course I have taken that literally changed my blog, my business and my life. It's the only course out there geared specifically toward bloggers that will help you grow no matter where you are in your blogging journey. Unfortunately, enrollment opens only once a year and won't open again until 2018, so be sure to get on the waiting list–that way you'll be notified when enrollment opens again. I have written two VERY detailed posts about my Elite Blog Academy journey and all of the growth I have seen as a result.  You can check those posts out by clicking on the links below:
Is Elite Blog Academy Right for You?
How I Became a 6-figure Blogger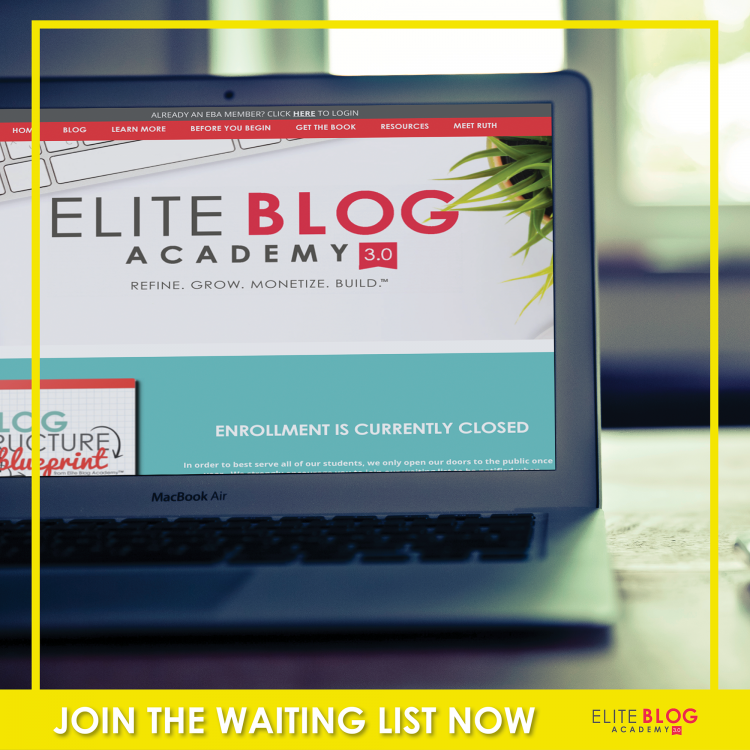 A blogging book and videos for brand new bloggers:
Building a Framework: The Ultimate Blogging Handbook by Abby Lawson, the owner and author of Just and Girl and Her Blog– I so wish I had read this fabulous eBook when I was in my first year of blogging!  It is a comprehensive guide for bloggers and soon-to-be bloggers, covering everything from how to pick a blog name to how to gain followers.  Abby also provides fabulous tips for how to work with brands that absolutely worked for me.  I have worked with several brands since reading this book all because of the tips she provides. Best of all, this latest edition of her book is really a full course, complete with amazing video training at a very affordable price.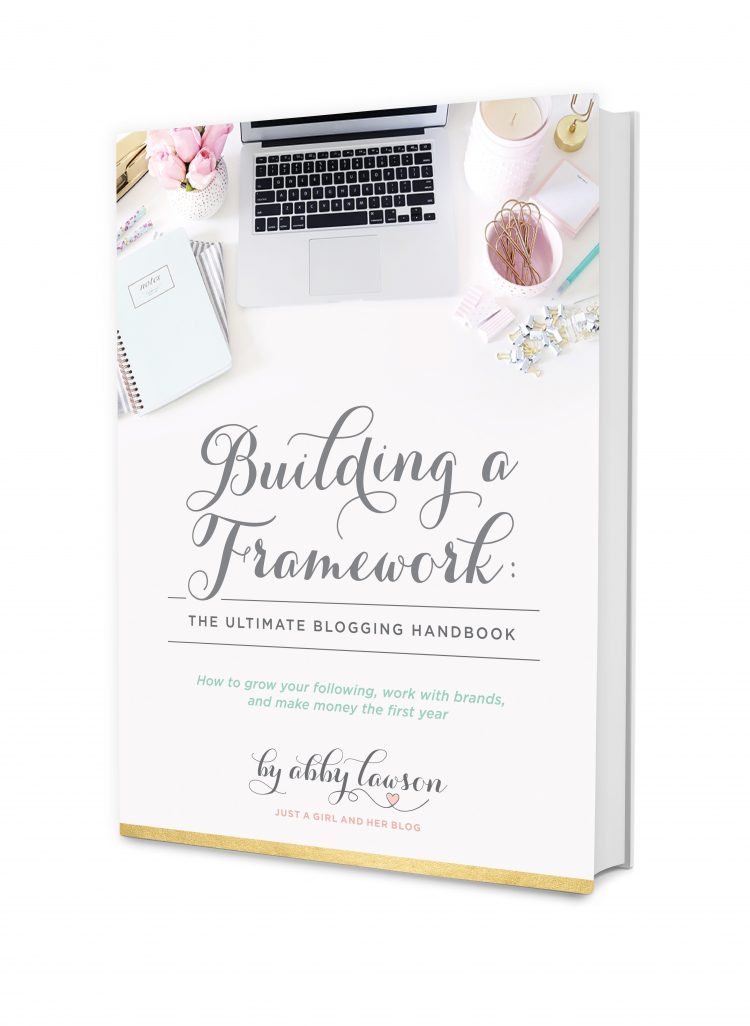 A Course for Bloggers Planning to Launch an eBook:
Book Boss– Oh wow, how I wish this course had been around BEFORE I launched my first eBook.  Fortunately, I just completed the course in time to launch the second edition of my eBook and am so excited by all I learned.  I know that my second launch will be so much more successful than my first because this time around I had a clearly defined plan to follow for my launch. This course is worth so much more than the modest price.  It's a video course that you can work through at your own pace, but it is intended to teach you how to write and launch a profitable eBook in 90 days or less.  And trust me, it really is doable!  Abby and her husband Donnie have so much experience in this area after countless successful launches and they share all of their knowledge and tips in this course.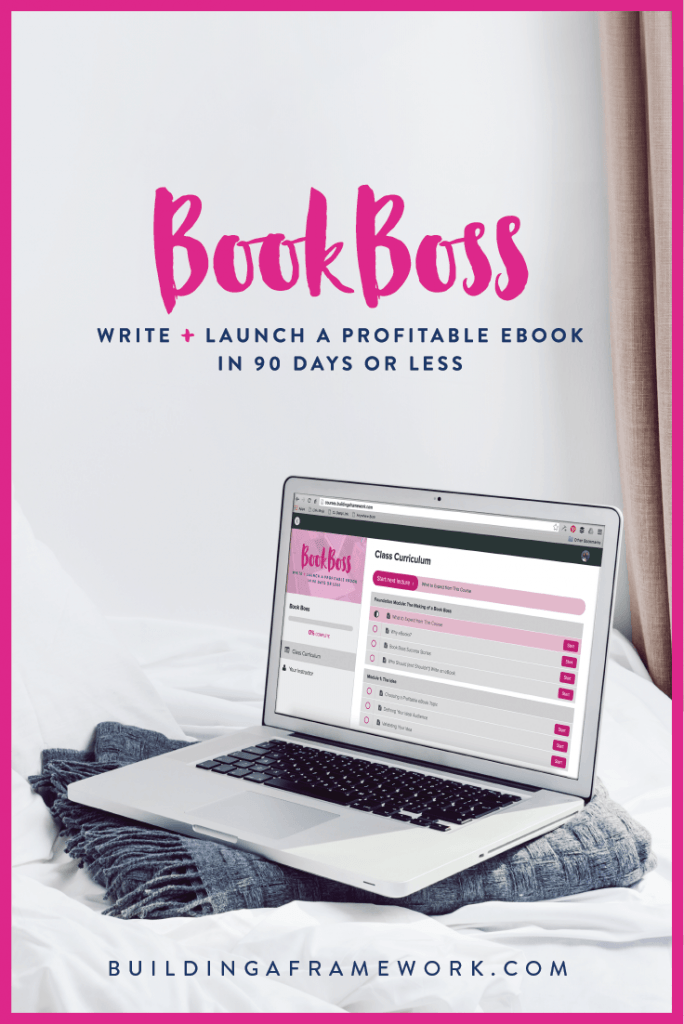 For bloggers who want to improve their photos:
The Ultimate Photography Book for Bloggers– Can we agree that blog photos are SUPER important? If you are like me, Pinterest is the highest (or one of the highest) traffic referrers for your blog. And images are MEGA important for Pinterest.  The truth is I have struggled with my photography… a lot. Sometimes I have an AWESOME project, but it just doesn't quite come across in the photos, which is sooooo frustrating. I was able to educate myself a little bit by reading my DSLR camera manual and reading a few tutorials online, but my photography still wasn't where I wanted it to be.
Thank GOODNESS my friend Aniko, who blogs at Place of My Taste, has launched The Ultimate Photography Book for Bloggers.  It is the most AMAZING eBook that teaches bloggers like you and me all we need to know about photography.  She shows how she sets up interior shots, food shots and detail shots. She talks about how to adjust white balance using a gray card BEFORE you start shooting (soooooo smart) and so much more. I've been practicing a little bit every day since reading her eBook and can already tell a huge difference in my photos.
But the BIGGEST change to my photos has come from Aniko's Lightroom presets. I've used Adobe Lightroom for the past year or so to edit my photos and have fallen in love with it. Even though I didn't totally understand the editing capabilities until now, I love that I can rename and watermark my photos in HUGE batches. Oh my goodness–talk about a mega time saver. Well, with Aniko's presets editing my photos just got a whole lot faster. With the click of one button, my photos can change drastically. I've included some examples below. LIFE CHANGING!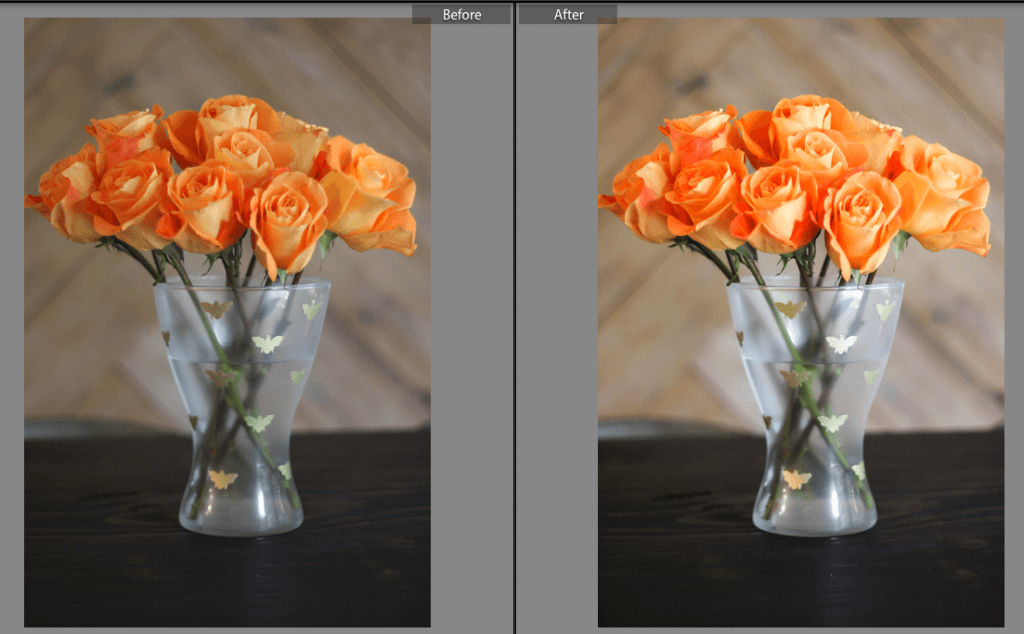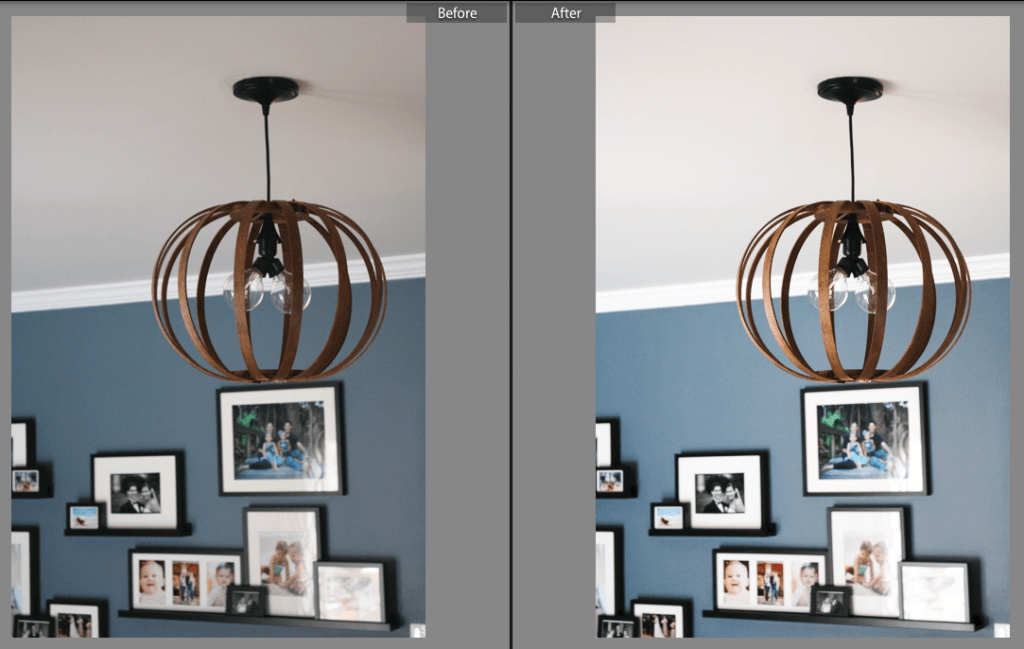 If you are serious about improving your photography and taking your blog to the next level, you NEED Aniko's book–you can click here to learn more about. I HIGHLY recommend purchasing the Master Package, which includes the eBook, training videos AND those presets that are priceless.
For bloggers working to increase their blog earnings :
Affiliate Marketing for Bloggers– Y'all, I can't leave out my own eBook and eCourse because if you are a blogger hoping to increase your earnings, you NEED to take the time to master affiliate marketing!  I earned over $61,000 in my third year of blogging from affiliate marketing.  That makes up a nice percentage of my total blogging income.  When I learned that my affiliate earnings were atypically high, I decided to write an eBook (and later create a course) about my affiliate marketing tips and strategies so that other bloggers can have the same OR BETTER success!  You can learn lots more about my eBook and eCourse here.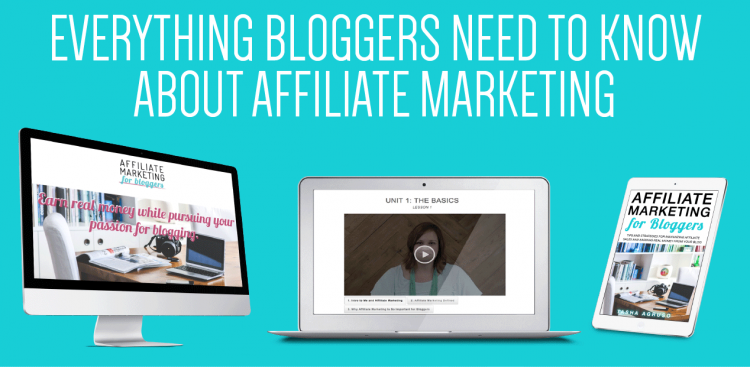 For tech-impaired bloggers:
What the Tech? A Guide to Ease Your Technical Blogging Frustrations– A lot of people assume that if you are a blogger you are totally "techy."  Ummmm, not so much.  Frankly, the tech side of blogging is a bit terrifying to me.  I live in fear of "breaking" my blog.  I have to take deep breaths and move through issues that arise slowly.  And you know what?  They usually work out because I am super lucky to have a "techy" friend named Lesley who helps me out :)  I am happy to pay her as issues arise (trust me, it's well worth the money to turn some techy tasks over to the pros), but often she has walked me through how to do it myself, which is AWESOME because it builds my tech-confidence a little bit each time.  Better yet…y'all, she wrote an eBook: What the Tech? A Guide to Ease Your Technical Blogging Frustrations.  REJOICE!!!!
Lesley's eBook really is for everyone.  If you are just getting started, Lesley will walk you through how to set up a blog, from buying your domain to setting up hosting and installing WordPress.  From there, she walks you through how to choose a WordPress theme and how to install it.  I had done all of that before Lesley's book came out, but there's sooooo much more to help bloggers like me who are beyond the initial set up.  Lesley covers how to edit your theme and it's understandable!  She also covers how to backup your blog and also how to troubleshoot common blog issues.  Long story short, with this book, I finally feel like I can handle the technical side of my blog without going into panic mode.  Worth every penny!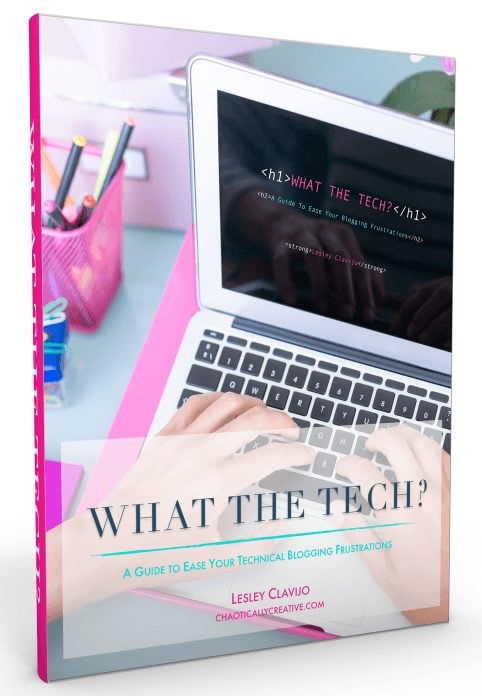 Site Hosting:
Bluehost– Bluehost is the PERFECT host to start with.  I used Bluehost for the first 8 months of having my self-hosted WordPress site (you can read all about why you should have a self-hosted WordPress site here).  I received good service and support from Bluehost and the site speed is very good as long as your traffic remains manageable.  Once I regularly had 5,000 or so visitors per day, I decided to look into a faster hosting option.  Bear in mind that faster means more expensive, so I really recommend using Bluehost as long as you can.  You don't need to move on to another host until your traffic levels warrant it.
Synthesis– I moved directly from Bluehost to Synthesis and am SO THRILLED with my experience.  When it comes to hosting, Synthesis is top notch. It offers fast speeds, fabulous service and support and fantastic security.  I pay $127 quarterly for the plan I am using, though if my traffic keeps growing (fingers crossed) I may have to upgrade soon, which will bump it up to around $97.00 per month.
 Blog Design/Wordpress Themes:
My blog theme uses the Genesis Framework and a "child theme" that gives me nearly endless options for customization.  Once you have the Genesis Framework in place, you can purchase a premium theme that will help you achieve exactly "the look" that you want.
I have used premium child themes from StudioPress.  Again, I think this is the best investment I have made.  The choice of child themes is huge and you can view live demonstrations to help make your choice.  Each theme also has step-by-step instructions for setting it up to look just like the demonstration, but you can also customize it (which is what I did).  Initially, I purchased the Lifestyle Pro Theme, which I loved for a while, but after about 6 months of using it, I wanted a bit of a sleeker look, so I switched to the Magazine Pro Theme for less than $30 and it was so, so easy to switch themes.
Photo Editing:
Adobe Lightroom– I subscribe to Adobe's Creative Cloud and use Adobe Lightroom to quickly edit all of my blog photos.  This is hands-down the biggest time saver for me as I am preparing my posts.  It's a total game-changer.  Not only does it allow me to edit my photos more easily than I could have ever imagined, it allows me to name, watermark and resize my images all at once!  No more wasting time doing it one image at a time.  You can sign-up for a free trial of Adobe Lightroom here.  It looks overwhelming at first, but I promise it's easy.  I taught myself how to use it pretty quickly and if you combine it with Aniko's photography eBook I talked about above, you will have all the info you need to use it to create beautiful blog photos!
Adobe Illustrator– Again, I subscribe to Adobe's Creative Cloud.  I use Adobe Illustrator to create all of my blog graphics, including all of my pinnable graphics and text overlays on photos. Again, it's easier to use than it may seem at first glance.  I am self-taught mostly by watching free YouTube videos!  Best of all, you can create templates and use them over and over again.  I have a Pinterest template that I use for all my pinnable graphics that saves me a ton of time, since I am not starting from scratch every time I create a pin.  And you can save your files so that you can go back and edit them if you notice a typo or other mistake (unlike with PicMonkey, which makes you start from scratch all over again).  You can sign up for a free trial of Adobe Illustrator here.
Email Subscription Management & Growth:
LeadPages– Have you heard the term landing page? When I was a new blogger, I heard it over and over and had no clue what anyone was talking about. Then I took a free webinar that opened my eyes to the power of the landing page and "opt-in bribe" (also known as a lead magnet). My email list has been growing like a beanstalk ever since.  As I talk to more and more bloggers, I realize that there are still a lot of blank stares and question marks when the terms "landing page" or "opt-in" is thrown around. And it's a shame because it can really be a game changer.  There are LOTS of different options for creating lead pages and opt-ins, but after a lot of research, I chose LeadPages. Here is an example of a lead page that I set up for my 30-day organizational challenge with LeadPages.  The opt-ins and lead pages I have created have helped me grow my email list at a RAPID rate. And my email subscribers are my most devoted and best readers, so they are super important.  I don't know what I would do without LeadPages.
ConvertKit– This is the email marketing provider that I recommend for most bloggers.  I used it over the past year and loved it.  The ONLY reason I upgraded to Ontraport is because of the ability to sell products directly on the platform.  But, if you do not currently have any products for sale but still want to have an incredibly powerful email list that you can perfectly tailor to your subscribers wants/needs, ConvertKit is definitely the way to go!
MailChimp– MailChimp is what I started with, as many bloggers do.  MailChimp offers a free account to get you started.  You only start paying once your subscription list exceeds 2,000 subscribers.  After that, you only pay based on the number of subscribers you have, so you are only paying for exactly what you need, which is nice.  It is easy to use and is reliable, but once you have to start paying for your subscription and/or are ready to get serious about building your email list, I really recommend upgrading to ConvertKit.
Social Media Management:
BoardBooster– CAN YOU SAY GAME CHANGER??!!  BoardBooster has changed my life.  I started using it about a month ago and now have a constant presence on Pinterest without actually being on Pinterest.  I followed the recommendations in this awesome tutorial by Blog Chicka Blog for group board feeding.  Read it and start using BoardBooster ASAP.  You won't regret it.  Pinterest is a top traffic source for bloggers, so capitalize on it!
Tailwind– In addition to using BoardBooster, I also use Tailwind to find and schedule awesome content from OTHER bloggers.  Tailwind offers an amazing feature called "Tribes."  Tribes are made up of other bloggers (preferably in your niche) and everyone who is a member of the tribe is able to share their best pins with the tribe.  All the members of the tribe pin each other's content, which is a great way not only to find content to curate for your Pinterest followers, but also to get other bloggers to help spread YOUR content!  It's affordable and easy to use.  You can sign up for a free trial here.
Hootsuite– I use Hootsuite to schedule all of my Instagram posts.  The feature I love most is that you can save draft posts and recycle them every 6 weeks or so.  It's a great way to work smarter and not harder!  I use the Pro plan so that my assistant can help me manage my Instagram account, but there is an AWESOME free plan option also.  You can click here for a free trial.  You can also use Hootsuite to schedule your Facebook and Twitter posts, but I use Edgar for those, as explained below.
Edgar– My blogging relationship with Facebook and Twitter has completely changed since I discovered

Edgar

for my social media scheduling.  Put simply, Edgar is "the only app that stops social media updates from going to waste."  

I use Edgar to schedule 90% of my Facebook and Twitter posts.  Instead of publishing your social media updates just once, Edgar stores them in a "library" that you develop over time.  

You categorize your social media updates as you schedule them.  Then Edgar publishes your posts according to a schedule you set in advance.
The result?  Never run out of social media updates, even when you are too busy to post anything live!  PS- The Advanced Package of my eBook includes a video tutorial on how use Edgar, particularly to boost your affiliate sales!

Efficiency and Organization:
Evernote–  Evernote helps me stay organized, particularly when it comes to keeping my blogging receipts organized so that when tax time rolls around, I won't be pulling my hair out.  I use it in conjunction with my Fujitsu Scansnap scanner (see below).  Both are life-savers!
Fujitsu ScanSnap S1300i Scanner– We finally purchased this little gem about a month ago and it is seriously amazing!  It scans a pile of receipts quickly.  Then I add them to Evernote, which allows me to search the text.  Trying to remember where/when you purchased something?  Do a quick search in Evernote to pull up the exact receipt you are looking for.  You can also add tags easily!
Affiliate Programs/Networks:
If you feel totally clueless about affiliate marketing, but aren't ready to buy my eBook or course yet, be sure to grab my FREE quick-start guide to affiliate marketing by filling out the form below.
I primarily work with three affiliate programs/networks.
Amazon– Advertise Amazon products on your website and earn up to 15% in referral fees on the sale of just about anything.  My Amazon sales account for 75%+ of my affiliate sales.  Amazon is well-known and is wildly popular, so my conversion rate is quite high.  It's easy to link to craft supplies, tools and other products that will add value to my readers.  I highly recommend joining the Amazon Associates program if you are looking to monetize your blog!
RewardStyle– RewardStyle is another affiliate network that allows its members to link out to shopping sites from their blogs.  What makes RewardStyle different is that it works with a lot of premium brands and is not available to everyone.  To maintain a standard for its premium retailers, RewardStyle does not accept all applicants.  In fact, when I released the first edition of this eBook I reported in it that my application had been denied.  Fortunately, I was accepted about 5 months. I absolutely recommend applying because RewardStyle includes tons of lifestyle brands, including Etsy, Pottery Barn, West Elm, Williams Sonoma, Nordstrom, One Kings Lane, Sur La Table, Anthropologie, Target and more.  RewardStyle offers gorgeous widgets that you can use within blog posts to showcase your affiliate link items.  Most importantly, RewardStyle is one of the best ways to use Instagram for affiliate marketing.  Some people feel that your chances of getting accepted to RewardStyle are improved if you are referred by someone who is already a member.  I do not know if that is true or not, but I am happy to refer anyone who purchases my eBook to RewardStyle.  All you have to do is click here and fill out your information so that I can submit a referral on your behalf.
CJ Affiliate– CJ Affiliate (formerly known as Commission Junction) is a huge affiliate network and works with lots of the most well-known brands and stores out there.  I joined affiliate programs of Pier 1 Imports, World Market, Minted and Online Fabric Store through Commission Junction.  And if you apply through their Content Certified program, you will get access to even more brands and will have sponsored post opportunities opened up to you!  After you join CJ Affiliate, you can apply for the Content Certified Program by clicking here.  If you do, I would love for you to use my referral code, which is 4217938.
Skimlinks– Discovering Skimlinks was a game changer for me.  There are just some retailers/brands that I cannot realistically work with directly as an affiliate (think Nordstrom, Wayfair, etc.).  Well, I can work with Nordstrom and other giant brands through Skimlinks.  With Skimlinks, you do not apply to affiliate programs.  Simply apply to Skimlinks and you may then add affiliate links to any merchant that Skimlinks works with, including Target (which has generated a lot of affiliate sales for me), Nordstrom, Macy's, Home Depot, and many, many more. Skimlinks works with thirty-seven different affiliate networks, giving its users access to nearly 18,000 merchants.

 

You can click here to apply to Skimlinks now.
Affiliate Window– Affiliate Window is a fantastic resource if you love recommending Etsy.com items to your readers because it gives you access to the Etsy affiliate program.  I have incorporated so many items from Etsy into my home and have happily referred my readers to the Esty shops I have purchased from.  Now I can benefit from affiliate links to Etsy products.

 

You can click here to apply to Affiliate Window now.
Rakuten Linkshare– Rakuten is another large affiliate network that works with big brands such as The Container Store, Sam's Club, Anthropologie and VivaTerra.  
Impact Radius– Impact Radius has my least favorite interface, but it works with Target and all the Pottery Barn brands (Pottery Barn, Pottery Barn Kids, Pottery Barn Teen, West Elm and Williams Sonoma) so if you are not accepted to RewardStyle right away and want access to those brands, you will need to join Impact Radius.
Share-A-Sale– Share-A-Sale connects you to TONS of well-known brands and makes it easy for you to become affiliates of them.  Through Share-A-Sale, I am an affiliate of Land of Nod, Shutterfly, One Kings Lane and many more!
Phew!  That's a lot of blogging tips and resources, huh?  What other blogging tips or resources do you recommend?  Let me know and I'd be happy to considering adding them to this list!  And if this list of blogging tips and resources is useful, be sure to pin it so that you can refer back to it later!
I would LOVE for you to pin this post so that other bloggers can benefit from it also!

[go_portfolio id="blogging_tips"]