Diving into the world of blogging can be confusing. Which is the best blogging platform–Blogger or WordPress? And if you choose WordPress, which company offers the best hosting for blogs? Those questions and more are answered in this post!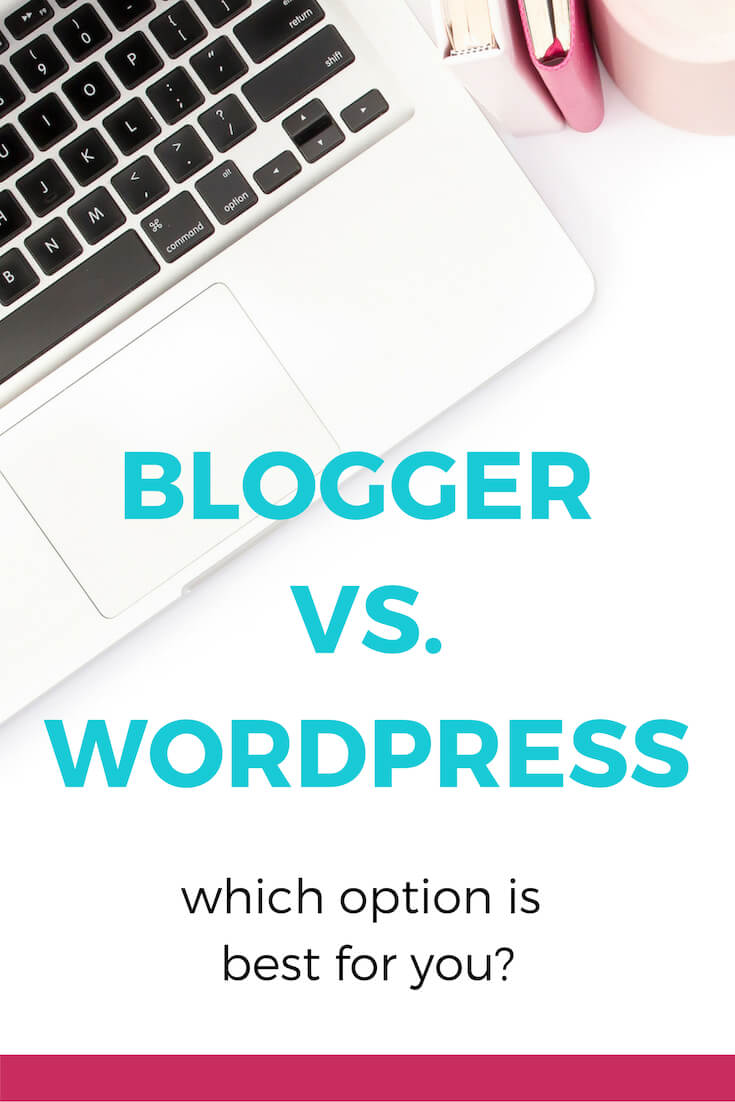 Oh my goodness. If I had known then what I knew now, my blogging journey would have been so much easier. When I first started my blog in 2013, I had pretty much no clue what I was doing. I snapped up a free site on Blogger and came up with my blog name in 5 minutes (I don't recommend that, lol). Since then, I've learned so, so much about the best blogging platform to use and which website host makes the most sense for bloggers and I'm sharing all of that info in this post for you. So let's dive right in!
What's the best blogging platform? Blogger vs WordPress
I started on Blogger because I had already heard of it and had used it for a very small personal blog when my twin girls were born. It was familiar. It was comfortable. It was easy.  It was free.  So I started using it. My decision was that simplistic (not proud of that).
I WISH I had done some research on Blogger vs WordPress first because if I had, I would have started a self-hosted blog on WordPress from day 1. Now obviously, there are some expenses associated with self-hosted blogs, which I'll talk more about in a bit. But I was pretty darn confident I was going to keep up with my blog, so I truly wish I had started on self-hosted WordPress. Now, you probably want to know why, so keep reading :)
First, a bit of clarification for newbies.  There are two WordPress versions: the self-hosted (wordpress.org) and hosted (wordpress.com). The best analogy I have read is that WordPress.com is like renting a house, which is somewhat similar to Blogger. WordPress.org is like owning a house. Like owning a house in real life, using a self-hosted WordPress site has some additional expense and responsibility, but I think it's well worth it. When I refer to WordPress in this post, I am referring to the self-hosted, "house owning" kind.
Control: Not everyone realizes that if you use Blogger, Google is hosting your site. That means that Google could shut down or delete your entire blog any time it wants to. Yes, you read that correctly. If you work as hard on your blog as I do, the notion of anyone else having control over anything that happens to it is not okay. Now, to be clear, Google does not own your content, but it ultimately controls whether people can see it or not. With a self-hosted WordPress site, you are in control of your hosting, so only you can decide whether to shut it down or delete it.
Ease of use: It is true that Blogger is user-friendly, but WordPress.org is much more user-friendly once you get used to it.
This is particularly true with regard to comments. I found the comment interface of Blogger to be frustrating, outdated and unprofessional. The ease in tracking and responding to comments ALONE makes WordPress more desirable. Also, I love the fact that if another WordPress blog links to your WordPress blog, you receive a "ping" that shows up in your comments window that notifies you of the link. This is HUGELY helpful because you can be sure to pop over to the blog linking to you to check out the post and to thank them for linking to your work.
Photo uploading in Blogger is tedious and frustrating.  I cannot believe how much easier it is to not only upload photos in WordPress, but also to give them proper attributes, such as alt tags, which as so important for SEO optimization and Pinterest.
3.  Customization: WordPress.org makes it so, so, so much easier to customize your blog.
Plugins: Blogger does not support plugins, which will become your best friend on WordPress. For example, I run the Leadboxes and Leadpages plugins on my site, which makes it easy for people to be able to sign-up for my newsletter when they "opt-in" for one of my free design guides. I also use Instagram Feed plugin to show my most recent posts in the footer area of my blog. Pretty cool, huh? The list of amazing plugins in WordPress goes on and on.
Design: WordPress offers you dozens of free themes that you can change with a single click. But the better option, and what I opted to do, was to purchase a framework and child theme which is what really allowed me to change the look of my blog and make the presentation more professional.  More on this below.
 4. SEO Optimization: SEO Optimization is MUCH easier with WordPress because there are tons of SEO plugins available.  Like tons of other bloggers, I use the "Yoast SEO" plugin by Yoast and love it.
5.  Credibility:  For better or for worse, it seems to be largely accepted (with a few notable exceptions) that "real" bloggers who are in it for the "long haul" use WordPress.  So, if you are hoping to earn revenue with your blog, work with brands on sponsored posts, etc., starting a self-hosted WordPress blog is a great way to make a statement that you are serious about your blogging.
Migrating from Blogger to WordPress
So, how did I fix my mistake of starting out on Blogger? I migrated from Blogger to WordPress.com, obtaining my domain name in the process. Before I tell you how I did it, let me talk to you about timing. I was lucky that I decided to undertake the migration in December 2013, at which point I had only been blogging for 6 weeks and had something like 11 posts and not a whole lot of followers. If you are thinking of migrating, THE SOONER THE BETTER! The more posts and comments you have, the more of a hassle it will be and the more of a chance that something (content, comments, etc.) will get lost in the transition. Trust me on this. Most hosting companies will offer migration services to move your blog over from Blogger to WordPress when you decide to host with them–just ask them.
This post contains some affiliate links for your convenience. Click here to read my full disclosure policy.

Best Hosting for Blogs
If you don't like reading long emails or explanations, then here are my recommendations in a nutshell:
If you are a new blogger or have less than 3,000 page views per day- I recommend Bluehost.
After you have at least 5,000 page views a day (or your traffic otherwise starts to affect Bluehost's performance)- I recommend BigScoots.
Now, if you want to fully understand the basis for those recommendations, keep on reading :)
When I first launched my blog in 2013, I signed up for hosting with Bluehost. I used Bluehost for the first 8 months of having my self-hosted WordPress site. Bluehost is very, very affordable and starts at $3.95 per month for hosting.  I added some additional options and wound up paying $12.00, but I still found that to be incredibly reasonable and doable.
I have heard many, many bloggers complain about Bluehost's service. It always surprises me because I had a positive experience with Bluehost. Yes, there were times that my site was down as a result of server issues at Bluehost, but frankly, paying only $12.00 a month for service I expected some issues. I do not know if I had more realistic expectations than other bloggers, but I still absolutely recommend Bluehost to bloggers who are still growing their traffic.
That said, once I regularly had several thousand visitors per day, I decided to look into a faster hosting option. Bear in mind that faster means more expensive, so I really recommend using a less expensive option like Bluehost as long as you can. You do not need to move on to another host until your traffic levels warrant it.
I moved directly from Bluehost to Synthesis, where I remained for nearly 2 years and it cost me $127 per quarter (roughly $32 per month). I was very happy with Synthesis. My site was rarely down and when it was, it was corrected quickly. That said, I would have gone with BigScoots (more on it below) if I had known about it at the time.
Last year, my ad management company (AdThrive) offered a deal for hosting with WP Engine so I took advantage of that. Frankly, it was still fairly expensive ($136/month) and I was NOT impressed. My site speed actually decreased, which WP Engine blamed on everything but its hosting. WP Engine also failed to import redirects I had set up with Synthesis, which resulted in a lot of frustration and expense to have it correct.
Sooooo, that brings us to today. I am presently hosting my site with BigScoots and am THRILLED so far. My site speed increased and the pricing is really reasonable. I pay $99 a month and will remain at that price until I exceed 750,000 page views per month. And my migration was handled seamlessly and quickly. All my existing redirects were implemented without a hitch. So far, I have absolutely zero complaints and can't imagine any reason to switch hosts.
Options for Customizing Your Self-Hosting Site
If you find that your readers are less than impressed with your blog's aesthetic appearance and/or usability, you should strongly consider purchasing a new framework and/or child theme.  I decided to purchase both when I moved to a self-hosted platform.
Now, before I go any further, let me explain what a framework and child theme are for any of you that may not know.  The framework is the foundation or inner workings of your blog.  The theme is the pretty wrapping paper on the outside that gives your reader an aesthetically pleasing experience.
I quickly chose the Genesis framework.  Genesis is widely used among WordPress bloggers and for good reason; it is easy to use even for those people (like me) who are not very "techy." The Genesis framework can be used alone, but it will only provide you with a generic look for your blog.
That is where your child theme comes into play.  Child themes work in conjunction with the Genesis framework to wrap your blog up in gorgeous wrapping paper.  Your blog's design elements, such as social media icons, featured image slideshow, etc., are included within your child theme, so you do not have to be a website designer or know a bunch of code to make your blog look the way you want it to. Purchasing a beautiful child theme is MUCH more economical than paying a designer to design your blog for you.
You could certainly use a free theme, but I really wanted to step up my game and have a professional looking blog.  So, after a lot of research, I initially purchased a premium theme from StudioPress for $99, which included the Genesis Framework and a child theme.  Studiopress has loads of awesome child themes, all of which use the Genesis framework and are easy to customize.  I think this is the best investment I have made as a blogger.
My blog went from screaming "HEY!  I am an inexperienced blogger with a generic theme" to "I am a unique, one-of-a-kind, professional blogger!"  The choice of themes is huge, and you can view live demonstrations to help make your choice.  Each theme also has step-by-step instructions for setting it up to look just like the demonstration, but you can also customize it (which is what I did).
Initially, I chose the Lifestyle Pro Theme from StudioPress.  I loved the Lifestyle Pro Theme for a while, but after about 6 months of using it, I wanted a bit of a sleeker look, so I moved to the Magazine Pro Theme.  The new child them cost me less than $30, and it was so, so easy to switch themes.
I have since discovered a new favorite source for child themes–Restored 316 Designs.  I currently run the Captivating Theme on my blog and absolutely love it.  It is easy to customize and the layout is one of the best I have seen for showcasing your best blog posts, categories and photos.  I do not expect to switch themes any time soon, but because I am running the Genesis Framework, I can easily switch child themes at any time for a relatively nominal amount of money.  Remember, you only have to purchase the Genesis Framework once!  Child themes that run on the Genesis Framework are easy to find and are affordable.  You can also find fantastic child themes from Angie Makes, Etsy and Creative Market.
Phew, so those are my thoughts on the best blogging platform and the best hosting options for bloggers. I hope that was helpful! If you have questions, ask away in my Facebook group that's just for bloggers. You can request to join the group here if you haven't already.