These blogging tips will make you grow your blog and business! These are the best blogging guides I have found and they are absolutely free! If you want to know how to become a blogger (or a better blogger), read these first!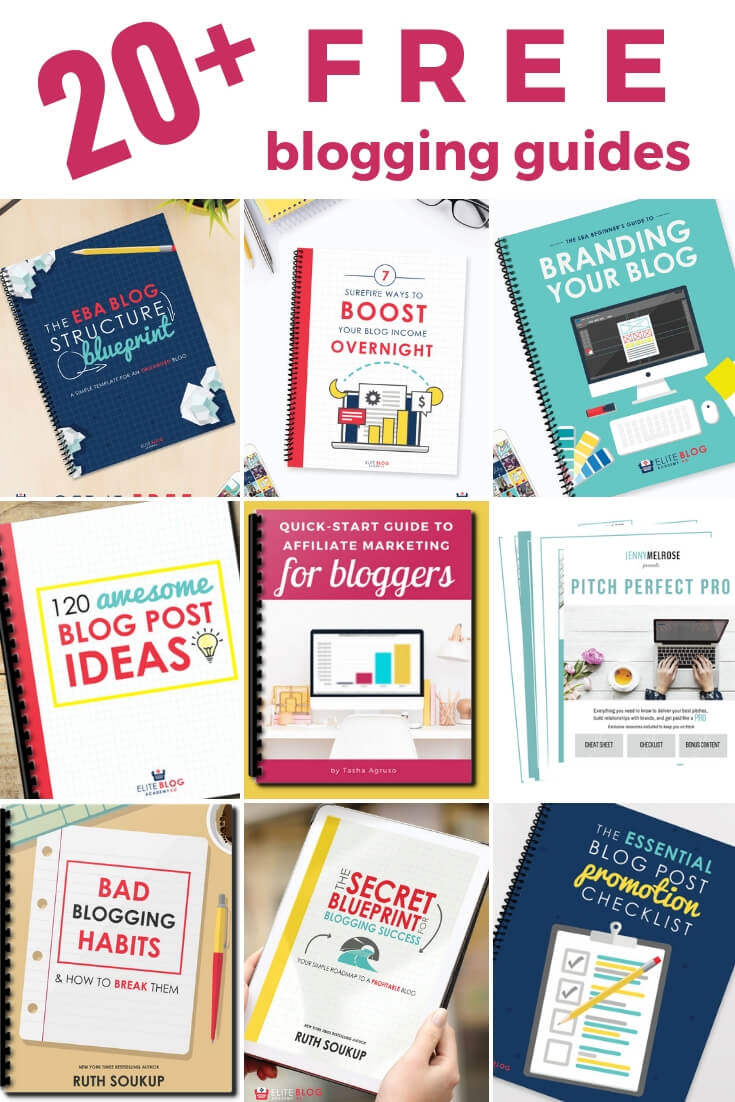 Hey friends! You may or may not know that at the point I am writing this post, I've been a blogger for over 5 years and it's been over 3 years since I gave up my partnership at my law firm to blog full-time (you can read more about my personal journey here). As a new blogger, I was constantly searching for the best blogging tips and advice to guide me. And today, I 100% believe that the reason I have succeeded as a blogger is that I have never stopped learning and educating myself. And all the other successful, six-figure bloggers I know (heck, some of them are SEVEN-figure bloggers) do the exact same thing.
And while there are some valuable blogging courses out there that are worth paying for, sometimes you just want good but FREE blogging tips, right? But you have to be careful because there are a whole lot of blogging resources out there that give bad or outdated advice. So, I've taken the time to round-up the most valuable FREE blogging tips and resources that will absolutely guide you in the right direction.
This post contains some affiliate links for your convenience (which means if you make a purchase after clicking a link I will earn a small commission but it won't cost you a penny more)! Click here to read my full disclosure policy.
FREE BLOGGING TIPS & GUIDES
Click on any of the links (indicated by their pink color) listed below to grab your copies of these incredible blogging resources for yourself. I've broken them down by category for you.
IF YOU NEED HELP DECIDING WHETHER BLOGGING IS RIGHT FOR YOU…
The Blogging Assessment– This assessment will help you decide whether blogging is right for you because it's definitely not for everyone!
IF YOU NEED HELP WITH MONETIZATION…
Quick-Start Guide to Affiliate Marketing for Bloggers– This free guide covers SO MUCH, including:
Pitch Perfect Cheat Sheet– Whether you want to work with brands big or small, the Pitch Perfect "Cheat Sheet" shows you how to get noticed and sponsored posts that are worth your while.
Pitch Perfect Live (not available year-round)- In this live, 5-day event that is offered several times a year, Jenny Melrose (an expert at working with brands) will show you exactly what you need to do to attract the best sponsors and start getting paid what you're REALLY worth!  
7 Surefire Ways to Boost Your Blog Income Overnight– Packed with practical tips you can implement right away, this super helpful mini ebook will help you maximize the revenue you are earning from the audience you already have.
IF YOU NEED HELP GROWING YOUR BLOG…
The Secret Blueprint for Blogging Success– Ever wish you had a roadmap to blogging success? This Secret Blueprint shows you the exact steps you need to take to grow your blog fast and monetize successfully.
The Beginner's Guide to Branding Your Blog– 

Good branding and blog design are critical to a blogger's success. Find out how to brand and design your blog so that you tell your audience exactly WHO you are as an entrepreneur and a company! This free guide is a game changer.

120 Awesome Blog Post Ideas– Struggling to come up with new content for your blog? This list of 120 awesome blog post ideas will help you beat writer's block and bring killer content that builds your business every time.
Blog Structure Blueprint– A clear blog structure is critical to a blogger's success. Find out how to organize your blog so that your readers can always find exactly what they're looking for & become raving fans!
The New Blogger's Guide to Guest Posting– Packed with practical tips you can implement right away, this super helpful guide will help you grow your audience with guest posting and make sure your content is a hit every time.
10 Steps to Take When a Blog Post Goes Viral– Want to know how to maximize a popular post? This guide shares the exact steps you need to take to make the most of a traffic surge and build momentum that will last.
IF YOU NEED HELP WITH PRODUCTIVITY…
The Essential Blog Post Promotion Checklist– 

Think you're all finished as soon as your blog post is written? Think again! After your post is written is when the real work of promoting it in order to get it seen begins. The good news is that this quick checklist covers everything you need to do to promote your blog posts (which will seriously pay off in the long run).

8 Bad Blogging Habits & How to Break Them– Are your bad habits holding back? Packed with practical tips you can implement right away, this super helpful mini ebook will help you identify and destroy destructive behavior so that you can grow your blog more quickly than ever.
15 Mobile Apps Every Blogger Needs– 

Luckily for all of us, there are some great options for blogging on-the-go that can save a ton of time. From editing your photos to writing posts, you can do just about anything for your blog from the palm of your hand. This free guide outlines the most helpful mobile apps for bloggers.
IF YOU NEED HELP WITH THE TECH SIDE OF THINGS…
How to Set up a Self-Hosted WordPress Site– WordPress is the number one choice for bloggers. This simple tutorial will easily walk you through the steps of setting up a self-hosted WordPress blog all by yourself.
20 FREE (or almost free) WordPress Plugins– 

Plugins are amazing for bloggers who don't know a ton about programming but still want a website that looks and functions like it was custom-coded. That's why this list of the best free and almost-free WordPress plugins is so helpful— so you don't have to waste your time sorting through bad plugins to find the ones that will actually add value to your site.
And before you head out, be sure to sign up for my blogging newsletter where you'll get advice and support from me!