Thank you to Floor & Decor for sponsoring this post.  As always, all opinions are 100% my own based on my own experience.
Y'all!  The day has finally come for us to tackle a budget-friendly bathroom remodel in our twin girls' bathroom.  I CANNOT WAIT.  Why, you ask?  Because their bathroom presently has carpet dirty carpet, outdated tile, orange-oak cabinetry and an almond color toilet and tub.  Not my favorite look.  Want to see for yourself?  This is what the space looks like now.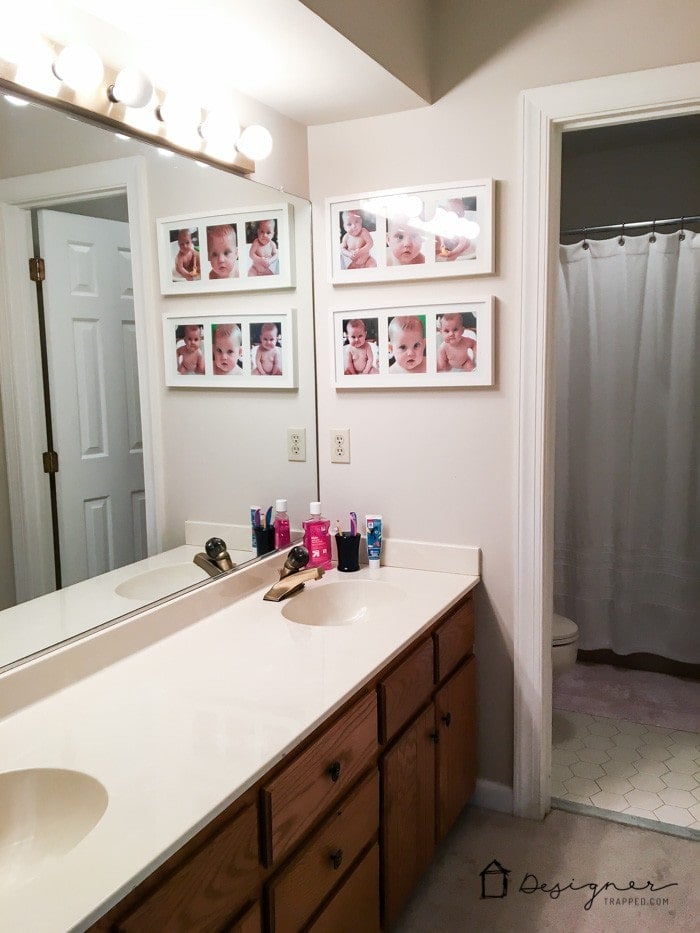 The bathroom as a whole is plenty large, but not with that silly door and wall in the way.
So, let's talk about our budget-friendly bathroom remodel plans for this sad space.  First and foremost, that wall separating the toilet and shower from the rest of the bathroom is COMING DOWN.  Woo hoo!  Then, we are ripping up the nasty old carpet and outdated tile (that lives just beyond that door) and replacing it with super chic tile.  PS- The carpet looked like that when we moved in.  I promise we aren't living like animals.
I had so much fun picking out tile for this bathroom remodel.  I was super nervous at first that it was going to cost a fortune (thinking "Sorry girls, only one of you can go to college") but I was amazed by the deals we were able to find.
We did all of our tile shopping at our local Floor & Decor.  Y'all, I had never been in a Floor & Decor before and let me tell you, you have to see it to fully comprehend how vast the selection is.  Our Floor & Decor store feels almost as big as our big box home improvement store but instead of selling anything and everything, it only sells tile and other flooring materials like hardwoods and laminate (you can also find some countertops, sinks and other items).  I never dreamed our selection would be so vast.
At first, it was overwhelming, but the staff was super helpful and the store manager actually walked us around and talked to us about our project.  We went into the store with a pretty good idea of the overall look we were going for, so after about 45 minutes, we zeroed in on our two tile choices.
We chose a classic white subway tile for the wall behind the vanities (the ENTIRE wall, floor to ceiling–yay!) and in the shower.  I have always loved white subway tile with dark grout.  So imagine my delight when I found this unbeatable price for the exact tile I want!  Even with all the square feet we have to cover with it, it is still well within our budget.  Win!
I have to confess . . . We still haven't officially chosen our floor tile, but we have narrowed it down to these two choices, both of which are wood plank style porcelain tiles. I love them both and they are comparably priced.  That said, I am leaning toward the darker gray.  One of the great things about Floor & Decor is that many of the tiles they carry are in stock, so we don't have to decide weeks or months in advance.  But don't worry, we plan to decide in the next week so we can get started!
Yesterday, we purchased our new cabinetry and sinks at Ikea.  You know what that means?!  Demo starts soon :)  Don't worry, I'll be sharing updates along the way.
For now, let me show you the rendering I prepared of how the space will look when we are done.  Look at that gorgeous tile!  I can't wait.
And of course, none of my room designs would be complete without my inspiration board for the space.  I think it will be the perfect combination of contemporary and rustic, with a touch of girly :)  After all, my twins are girly-girls.  You can find the source list for the design board at the end of the post.  This post contains some affiliate links for your convenience.  Click here to read my full disclosure policy.
What do you think?  Care to weigh in on which flooring we should choose?  I would love some opinions!
Source List: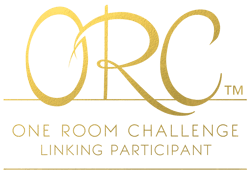 [go_portfolio id="most_popular"]