After Christmas is the PERFECT time to buy certain things, you just have to know what to look out for. This list of things to buy after Christmas will get you started on the right foot.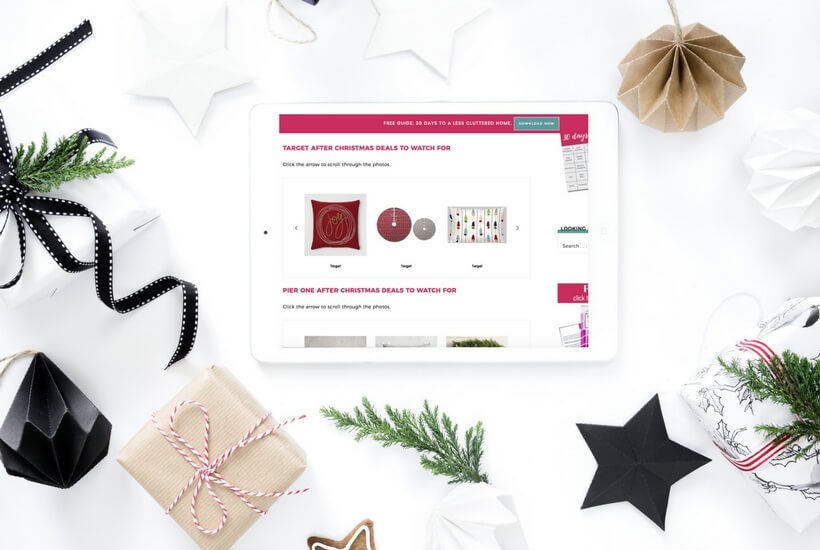 I know what you are all thinking… "by the time it is after Christmas, I am DONE with shopping." Guys. DON'T GIVE UP YET! There are SO many great deals to be had right after Christmas! I know it seems crazy because you are about to pack all of that holiday stuff up and be done with it, and the very last thing you want to do is stare at more red and green, but now is the time! I have pulled together all of my very favorite things from this season's holiday decor for you right here. A lot of this I would not necessarily pay full price for, but once the after Christmas sales hit, these are the types of things I try to score deals on.
I want you all to be ready to hop online and start looking at all the amazing things your favorite stores want to unload for amazing sale prices. My friends, this is when you should always be buying the bulk of your Christmas decor! You can get SO MANY great items for a fraction of the cost they were just a few weeks ago. And I'm going to let you in on an even bigger secret–a lot of this is already on clearance! So if you see some plates you can't live without for next year's Christmas dinner or a tree skirt that is absolutely perfect, grab it now and don't risk it being gone. I know I am going to get started sooner rather than later :)
This post contains some affiliate links for your convenience (which means if you make a purchase after clicking a link I will earn a small commission which helps keep my blog up and running but it won't cost you a penny more)! Click here to read my full disclosure policy.
Click the arrow to scroll through the photos.

Click the arrow to scroll through the photos.

Click the arrow to scroll through the photos.

Click the arrow to scroll through the photos.

Pottery Barn After Christmas Deals to Watch For
Click the arrow to scroll through the photos.

Aren't these holiday items the best?! Nabbing these at amazing clearance prices totally make shopping  after Christmas worth it! And you don't even have to leave your home and brave the crowds. Your kids will be entertained by their new toys, you can cuddle up with your hot cocoa under the blanket, and get all your favorite things for a fraction of the cost. And think how happy you will be next year when you get to use it all!!!

[go_portfolio id="christmas"]