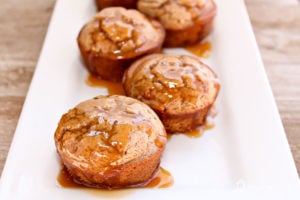 Caramel Apple Cinnamon Muffins
Yield 12 muffins
These quick and easy caramel apple cinnamon muffins are delicious. A perfect sweet treat for breakfast or snack, your family will beg for more as soon as they are gone!
Ingredients
1 box of Apple Cinnamon Muffin Mix
1 teaspoon of Allspice 
1/2 a cup of Milk ( I used Almond. )
1/4 a cup of Applesauce 
Caramel
Instructions
Preheat oven to 400 degrees.
Grease a muffin pan.
In a mixing bowl, gently hand mix muffin mix, allspice, milk, and applesauce.
Fill muffin tins about 2/3 of the way full.
Bake for 17 minutes, until baked all the way through.
Let cool.
Drizzle each muffin with caramel.
Serve and enjoy! 
Courses Breakfast
Recipe by Kaleidoscope Living at https://designertrapped.com/caramel-apple-cinnamon-muffins/