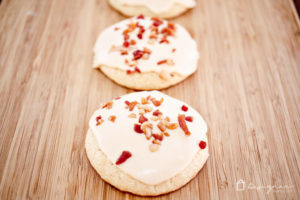 Caramel Bacon Sugar Cookies
Yield 24 cookies
Love sweet and salty treats? Then these decadent Caramel Bacon Sugar Cookies will be your new favorite! Learn how to make these sugar cookies topped with caramel icing and yummy bacon for yourself!
Ingredients
Cookie Ingredients:
1 and a 1/2 cups of Butter
4 Eggs
3 cups of Sugar
6 cups of Flour
4 teaspoons of Baking Powder
1 teaspoon of Salt 
4 teaspoons of Vanilla 
Icing Ingredients:
1/2 a cup of Butter
1/4 a cup of Milk
1 teaspoon of Vanilla
1 cup of Brown Sugar
3 cups of Powdered Sugar 
4 strips of bacon, cooked until crispy and chopped into fine pieces
Instructions
How to Make the Cookies:
Preheat oven to 375 degrees.
Lightly grease a cookie sheet.
In a large mixing bowl, mix all cookie ingredients.
Mix and fold dough, until all ingredients are well blended, and form a large ball of dough.
Make small dough balls, about 1 to 1 1/2 inches and place on your greased cookie sheet two inches apart. 
Lightly press each ball down.
Bake for about 13 minutes, or until edges are lightly golden.
Let cool completely.
How to Make the Icing:
In a sauce pan, bring butter, brown sugar, and milk to a boil. 
Keep on low heat for 2 minutes. Do not stir.
Let cool completely.
Add powdered sugar and vanilla.
Beat with mixer, until thick. If you need to make it thicker add 1/4 cup of powdered sugar.
Place icing on cookies, and sprinkle with your chopped bacon pieces.
Serve and enjoy! 
Courses Dessert
Recipe by Kaleidoscope Living at https://designertrapped.com/caramel-bacon-sugar-cookies/