Last Updated on August 10, 2021
This post is sponsored by Zibra. All opinions are 100% mine.
Hey y'all! Have you ever completed a project that just wasn't quite up to your standards? One that you noticed imperfections in every single time you look at it? I HAVE! The best example of a DIY home decor project that just didn't meet my own standards was this seemingly pretty herringbone stenciled wall in our foyer.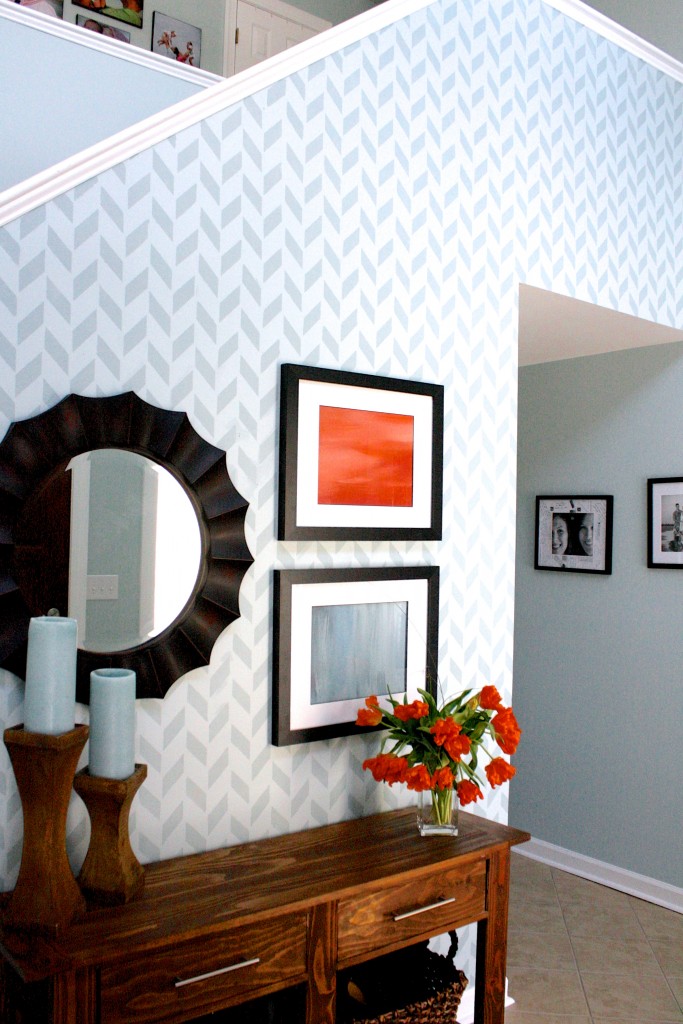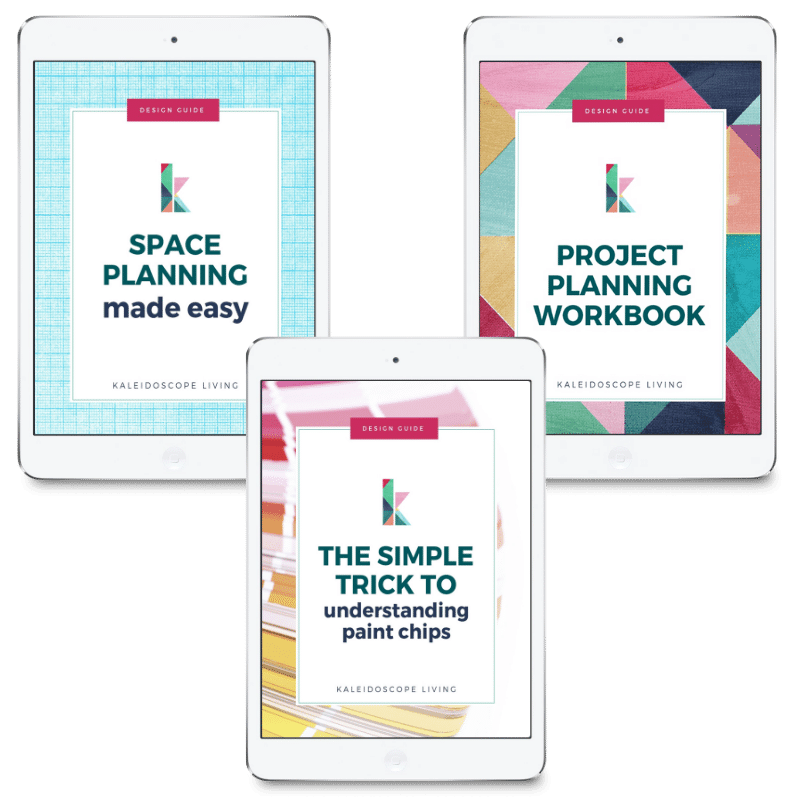 Get my FREE design guides when you subscribe!
It looks pretty good in the picture, right? Well, up close it was a different story. The truth is I kind of had to rush the project and rushing stenciling is NEVER a good idea. So I wound up with some less than crisp lines. It was no big deal, or so I thought. I started doing some touch-up work. And this is what happened. Do you see those touch-up brush strokes? Ugggghhhh.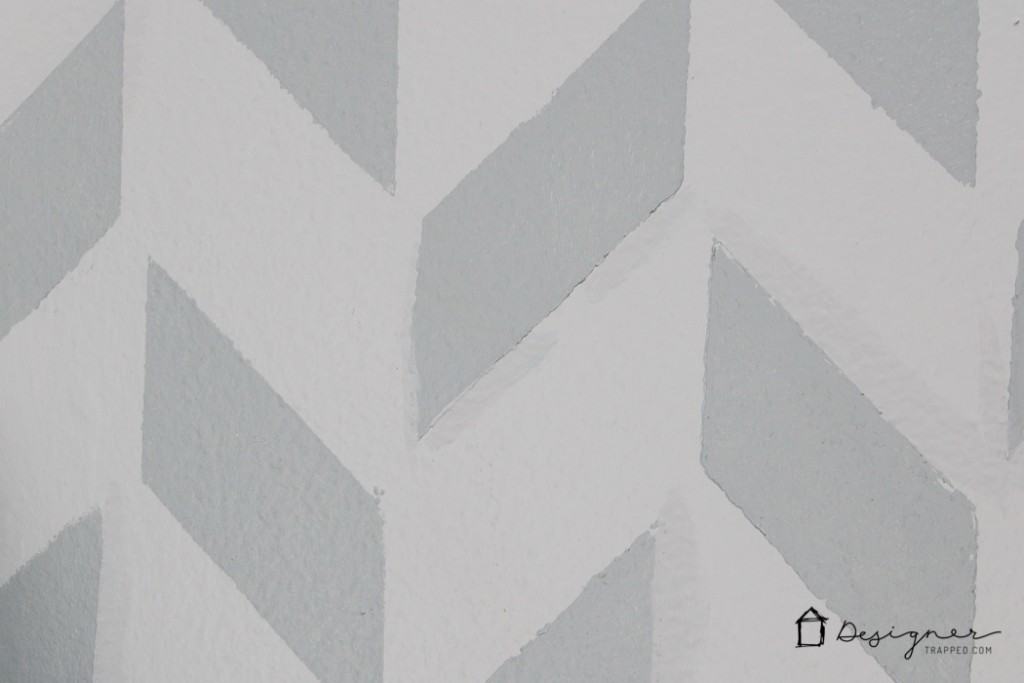 How did that happen, you ask? Well, we actually hired a painter to paint this foyer because we didn't have a ladder tall enough to do it ourselves. And he had the Olympic color we used, Babbling Brook, mixed with a Behr base. And he used every last drop of it, so we had none on hand for touch-up. I went to Lowe's and had a quart of Babbling Brook mixed in an Olympic base. NOT THE SAME COLOR. So, I went to Home Depot and had a quart mixed up with a Behr base. STILL NOT THE SAME COLOR. Moral of the story is if you hire a painter, make sure they leave you with some extra paint OR make sure they don't mix and match brands. But if you don't have leftover paint, you can use these tips to match a paint color that is already on your walls. Sigh… The imperfections have driven me bonkers ever since I finished it about 2 years ago. Well, it's finally time to give this wall a treatment that won't make me internally cringe when I see it.
So, yesterday I repainted the entire friggin wall :) I was dreading it, but it really wasn't that bad especially because I got to paint with brand new paint brushes which makes me oh so happy! Y'all, these are my new favorite paint brushes. First of all, how cute and clever is this packaging (trust me, I'm not usually one to notice the packaging, but this got my attention).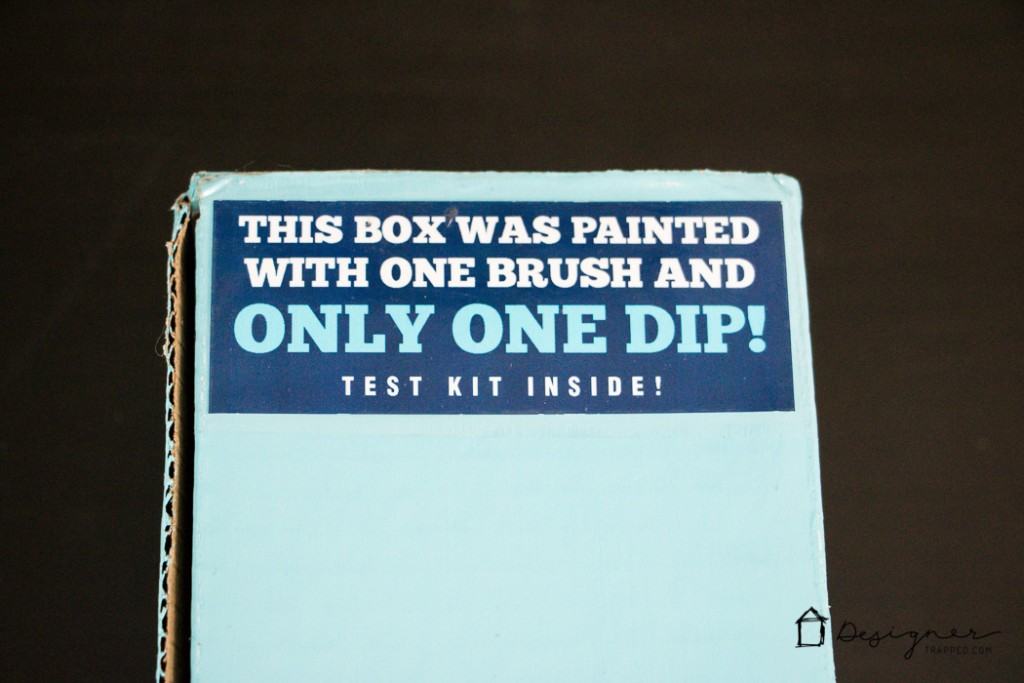 Zibra sent me the PalmPro and Chiseled Wedge brushes to try out. I love them both, but more on that later. For now, take a closer look at these brushes–they are different than what I was used to. You can find them at Home Depot.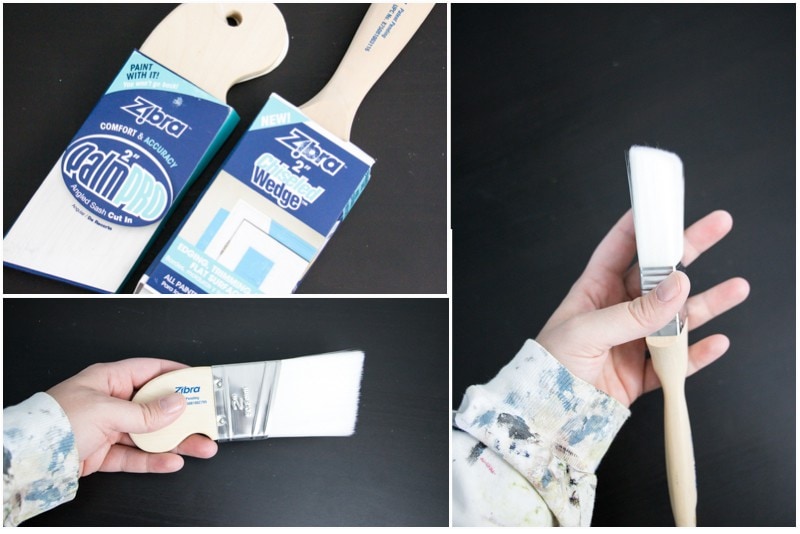 See how THICK that Chiseled Wedge brush is? It's basically two brushes combined into one. Instead of having to choose from two brushes when painting–angled sash or straight–this brush combines the best features of both types so it's perfect for edging, trimming and brushing. Oh my goodness, I can't tell you how much easier it is to do cut in work with a brush that holds more paint! When I cut in with a regular angled brush I've ALWAYS had to double coat it because I don't get sufficient coverage the first time around. But with this bad boy, I only had to single coat the cutting in. Win!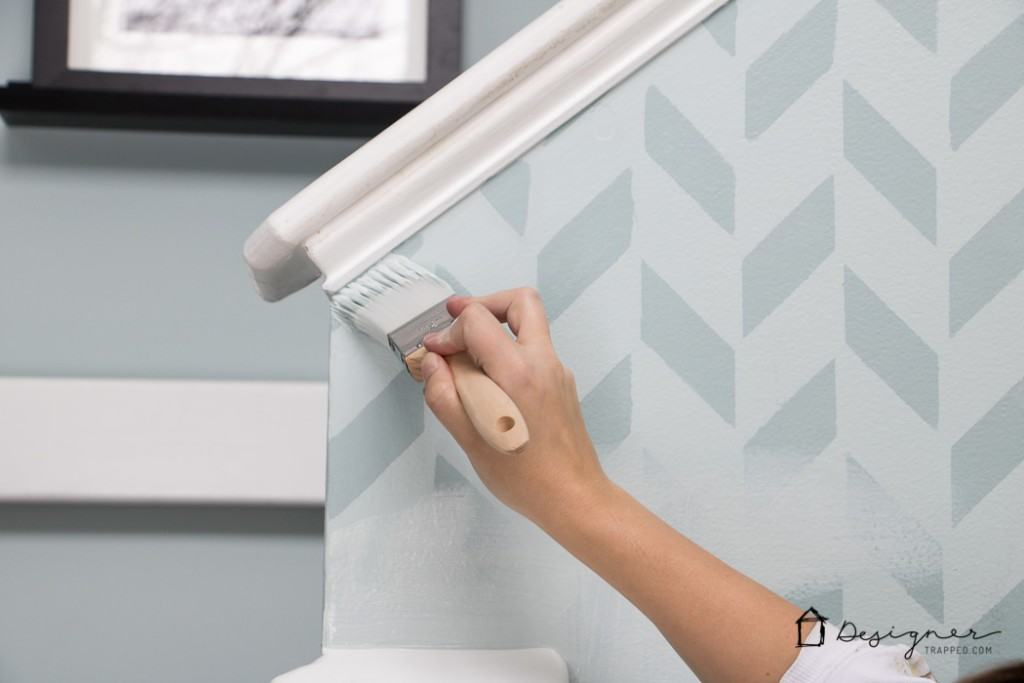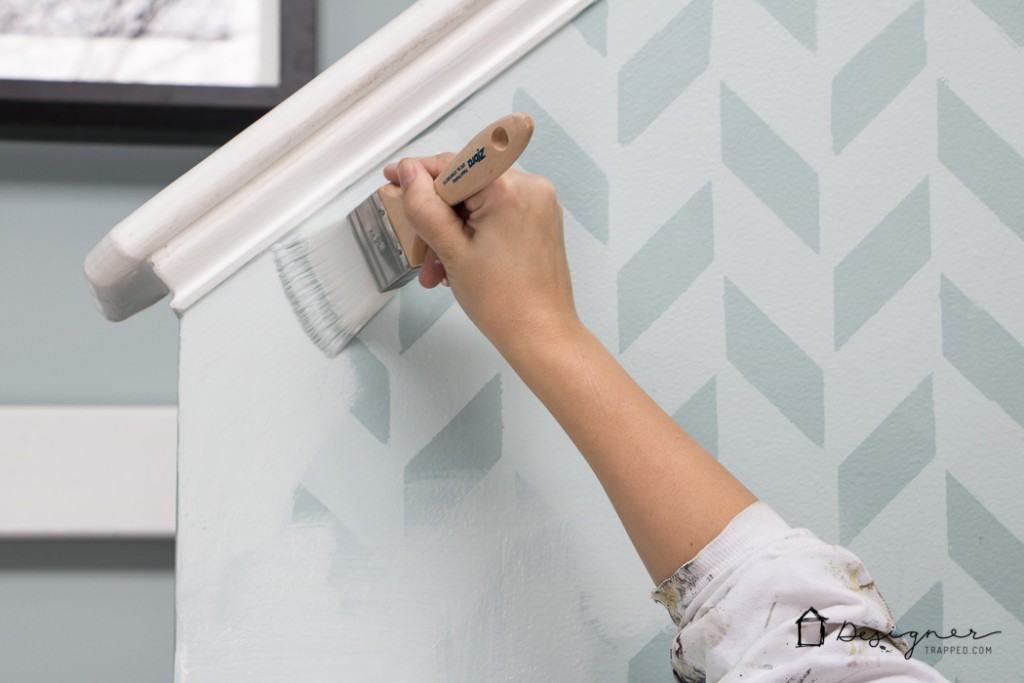 The Palm Pro is perfect for doing precision work and for getting into those tight nooks and crannies without having to be a contortionist or sprain your hand :) The handle shape fits nicely in the palm of your hand–it gave me far more control than any other brush I have ever used. It's also great for cutting in if you find you need a little bit more control. But if you've painted as much as I have over the years, you'll probably find that you can cut in using the wedge brush :)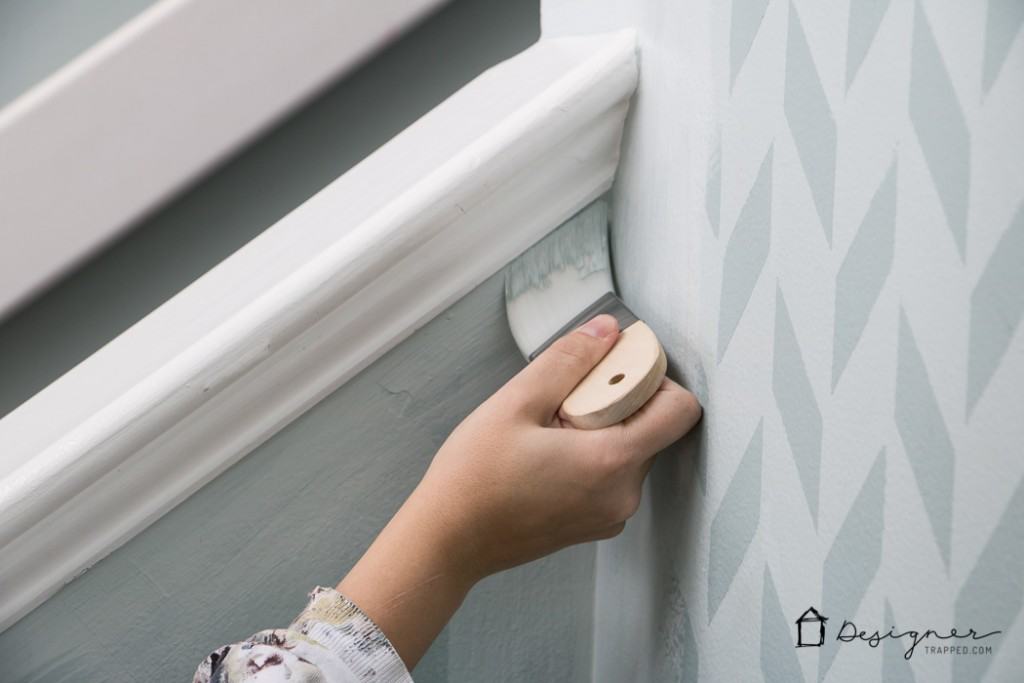 I was able to paint the entire wall in about an hour. So now, it's all one solid color.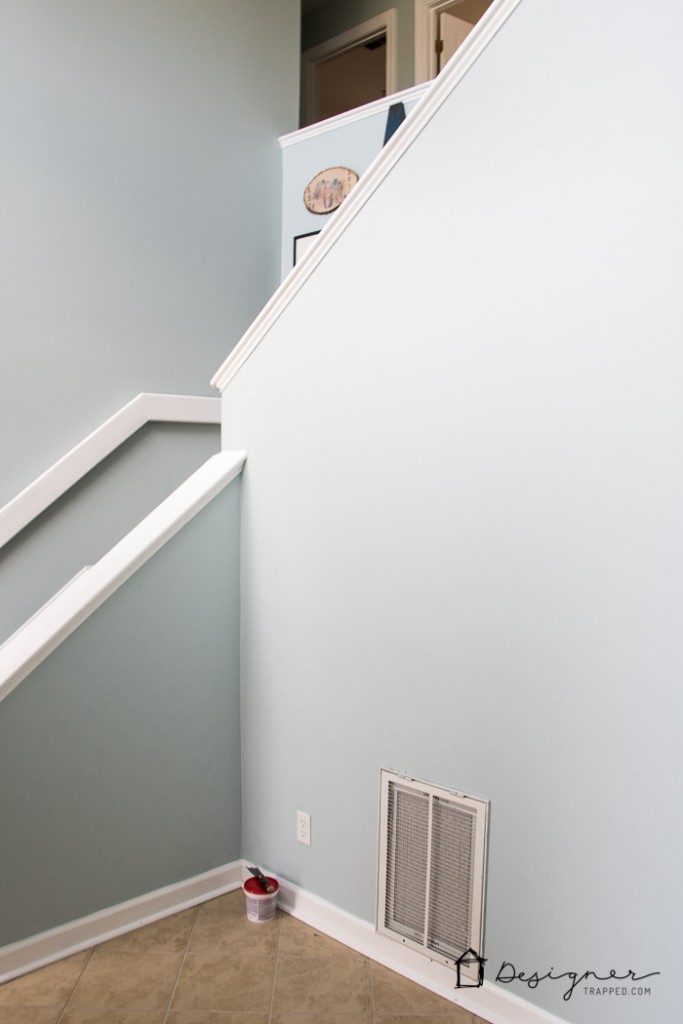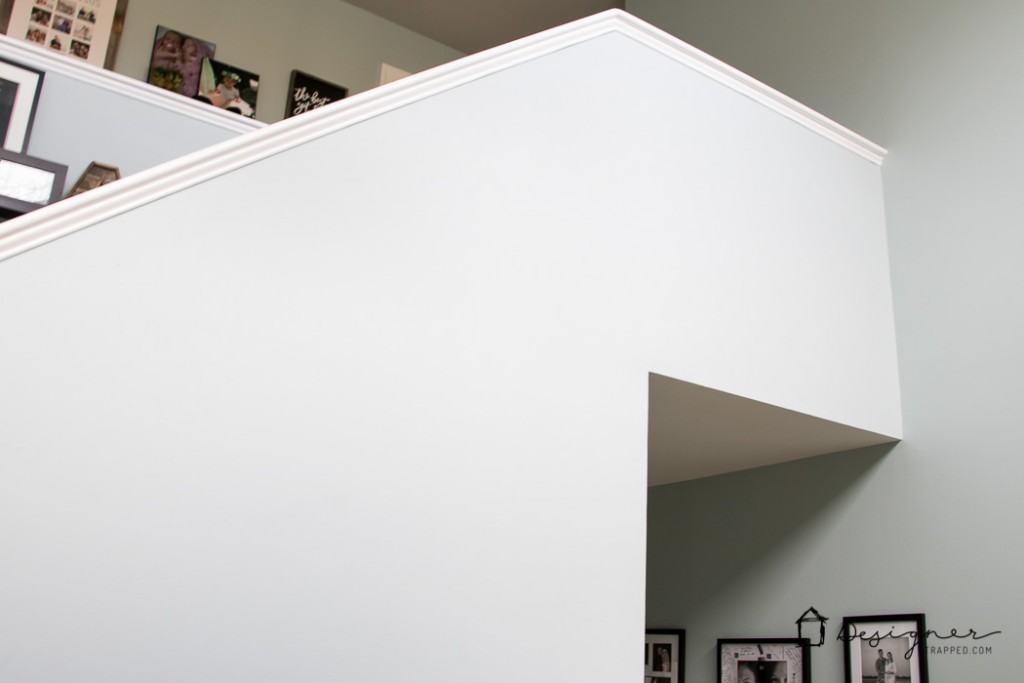 Y'all KNOW I can't leave it like that, right?! So I am going to stencil it again. I've ordered this stencil from Royal Design Studios and am soooooo excited for it to arrive so I can get to work. I haven't yet decided exactly what color I am going to use for the stencil, but I think I am going to be a bit bolder this time around :) Stay tuned, the foyer reveal will be coming soon and I think you will love it!
That's all I am going to show you for now :) Are you as excited as I am? What do you think of the new stencil I chose?
[mv_create 1 11 200 2016 key="1″ type="list" title="Most Popular Projects" thumbnail="<a href=" https designertrapped com wp content uploads diy home decor projects blog jpg a]