DIY Christmas Room Decor Ideas
Last Updated on March 3, 2022
It's Christmas time! That means it's time to start thinking about decorating for Christmas. I try to add a few new store-bought Christmas items and several DIY Christmas room decor to our home each year. So, I thought I would share with you some of my favorite DIY Christmas room decor ideas from around the blogosphere. I hope you are inspired to try a few! Before you check out all these beautiful projects,I wanted to let you know that I have some gorgeous Christmas printables in my super affordable printable art shop that I think you will love! You can check them out below:
DIY Christmas Room Decor Ideas
1. DIY Paper Tree Christmas Decor from justagirl.com for iheartnaptime.net–Sometimes the best Christmas room decor is the simplest. These sparkly white trees are so easy to make and look beautiful with a variety of holiday color palettes. These will add a touch of glitter to any decor!
2. DIY Christmas Countdown Calendar from designertrapped.com–If you have young kids, they will love this DIY Christmas countdown calendar. It's easy to make and is such a beautiful addition to your walls at Christmas time!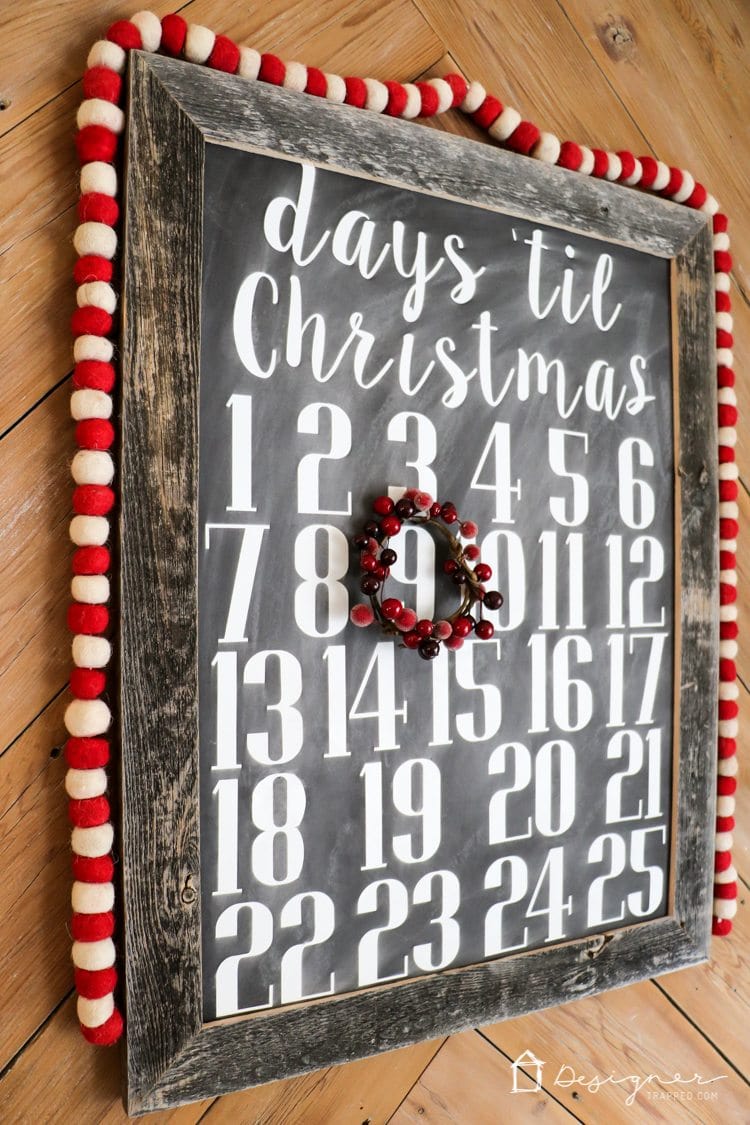 3. DIY Gold Christmas Decor from landeeseelandeedo.com–Sometimes I am truly amazed by people's creativity. These gorgeous gold lights and Christmas room decor are SO EASY! You will be amazed on how simple it is to have an amazing mantel like this one.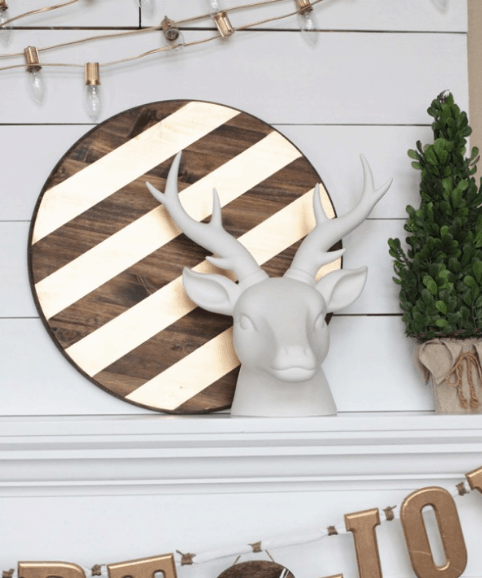 4. How To Make A Whimsical And Cheery Square Holly Wreath from sustainmycrafthabit.com–I love how different this wreath is from anything else I have seen. The shape and simplicity of it makes it really eye catching!
5. DIY Embossed Birch Branch Slice Ornaments from sustainmycrafthabit.com–Y'all know how much I love a wood slice craft. These beauties add a touch of sparkle to your Christmas room decor and are REALLY easy to make!
6. DIY Christmas Canvas Decor from girllovesglam.com–Are you looking to add wall art to your Christmas room decor? These fun canvases are simple to make and the result are beautiful holiday pieces that can be hung, displayed on an easel, or added to a mantelscape.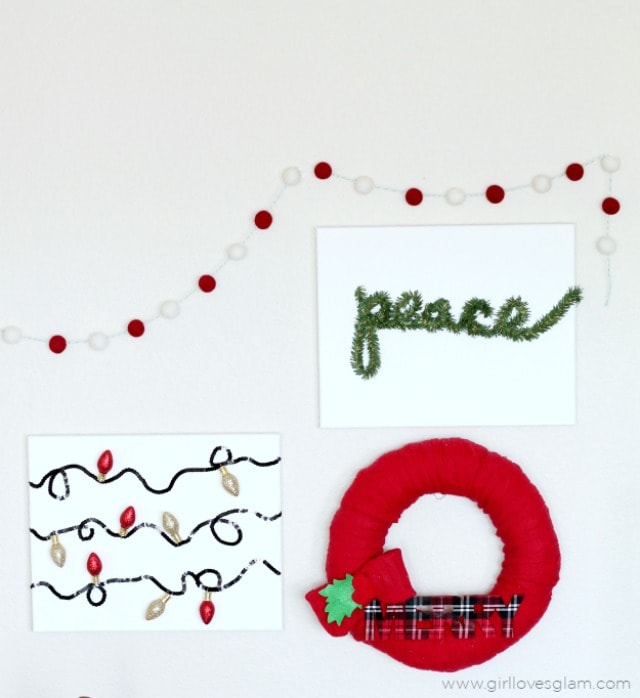 7. DIY Pinecone Wreath Tutorial (with Mini Pom Poms!) from makeanddocrew.com–This beauty makes me SO HAPPY! It embodies Christmas perfection–natural beauty and whimsical fun all in one perfect wreath. Hang this up and prepare to smile every time you look at it!
8. DIY Reindeer Sign from designertrapped.com–This DIY reindeer sign is easy to make and is one of my favorite Christmas decor projects I have ever tackled. It's adorable hung on a wall or even propped up on a mantel or shelf.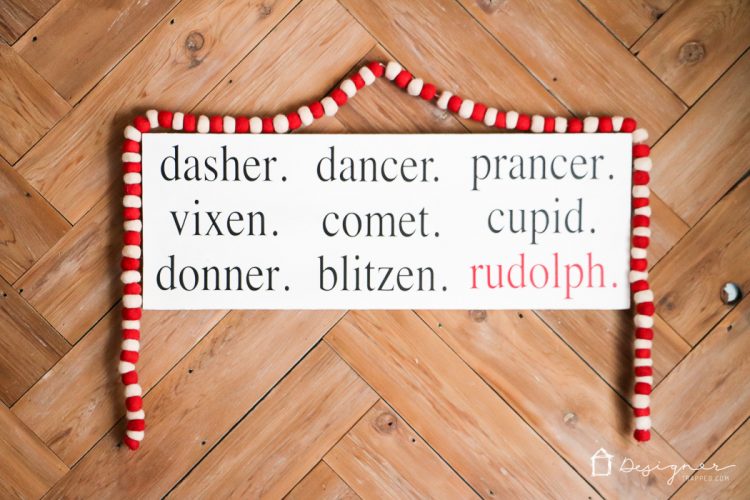 8. DIY Christmas Tree Garland from abubblylife.com–This easy-to-make garland is simple enough for any DIY'er. The blogger uses it as Christmas room decor then later as flair on her wrapped gifts. I love the idea of a project pulling double duty!
9. Mylar Pom-Pom Garland from abeautifulmess.com–Ahhhhh all the shiny! I love it! Gold is so glam and fun. These mylar pompoms are the perfect glam gold Christmas room decor. And if you aren't feeling gold? Choose a mylar in a different color and create a shiny pompom garland that speaks to your soul!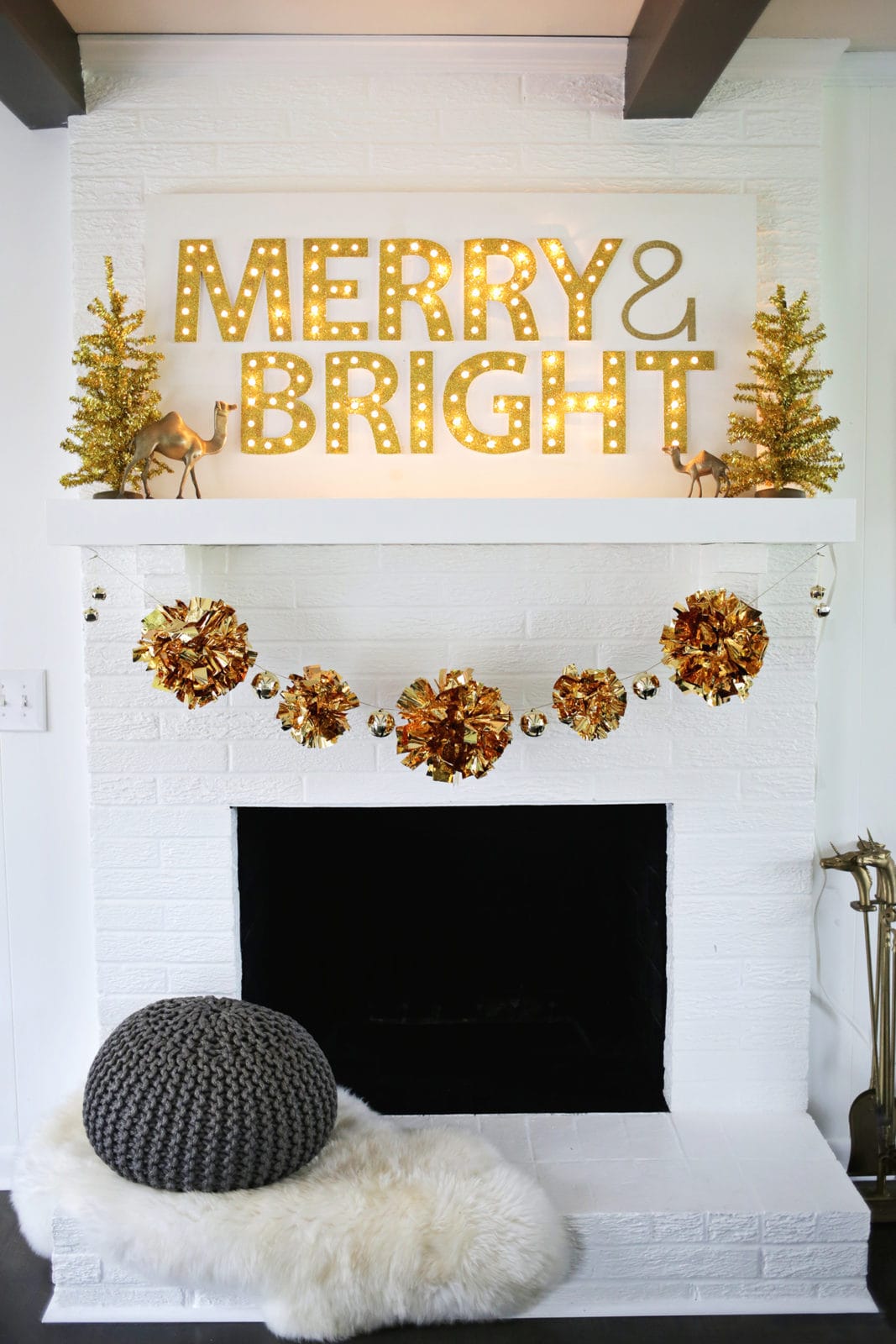 10. Star Light Holiday Decoration from abeautifulmess.com–Stars are one of my favorite symbols of Christmas. This beautiful light up star doesn't disappoint! I love how customizable it is–change the color or the garland, choose your lights and it is all your own. It is also a super quick and easy high impact piece of Christmas room decor that won't break the budget!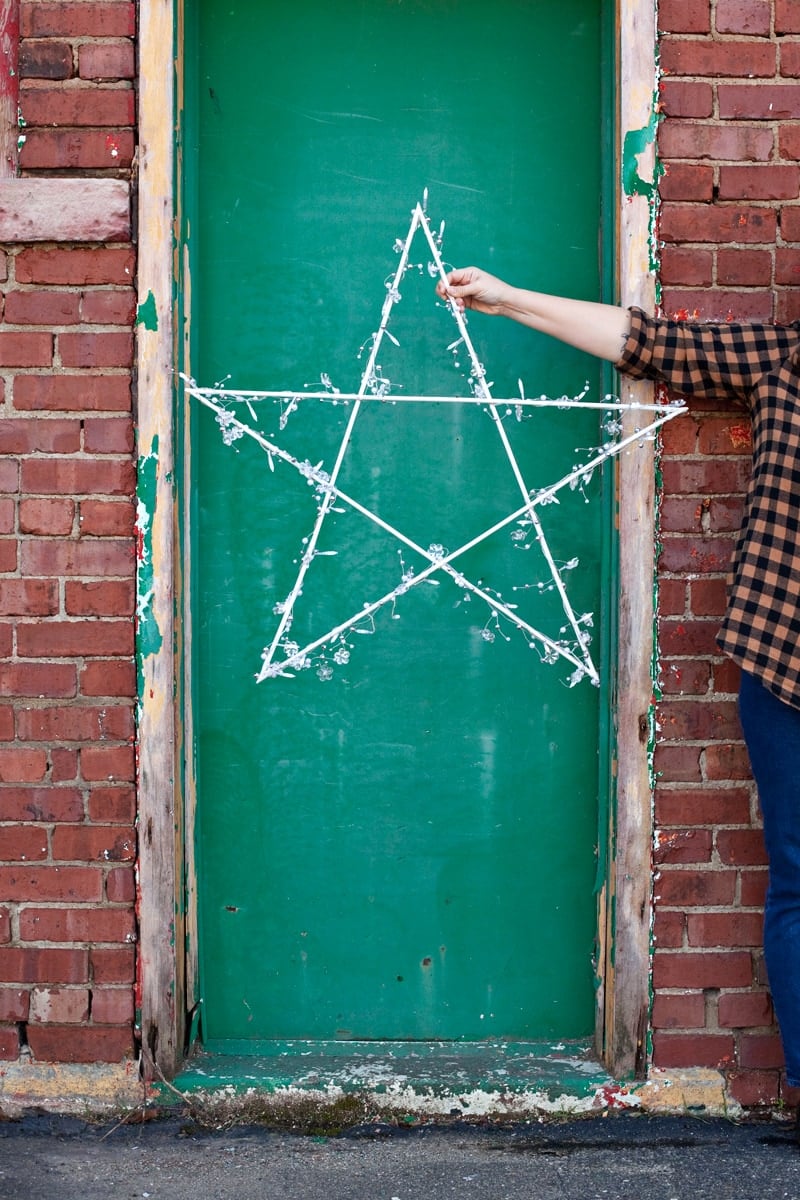 11. DIY Christmas Card Display from designertrapped.com- I love Christmas room decor that is functional and pretty. This Christmas card display that I made checks both of those boxes!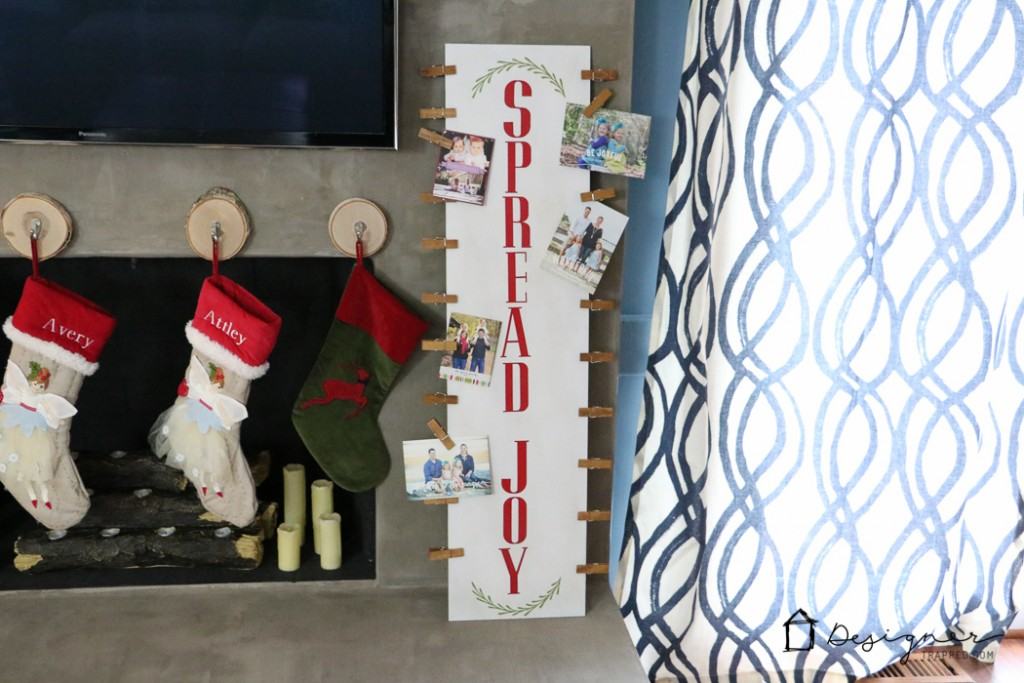 12. DIY Scandinavian Style Wreath from fishandbull.com–There is so much Christmas room decor that all looks alike. This wreath is the answer to that dilemma! It is so beautiful and so different. The perfection is in the simplicity. Choose the color of Christmas balls that works for you and the type of greenery you have available (I would just use some clippings from my trimming my tree!) and create this show stopping wreath for inside or outside!
13. DIY Christmas Stocking or Lantern Post from designertrapped.com–No mantel? No problem! This DIY Christmas stocking post is the perfect way to display stockings. Or you can use it outside to hang lanterns!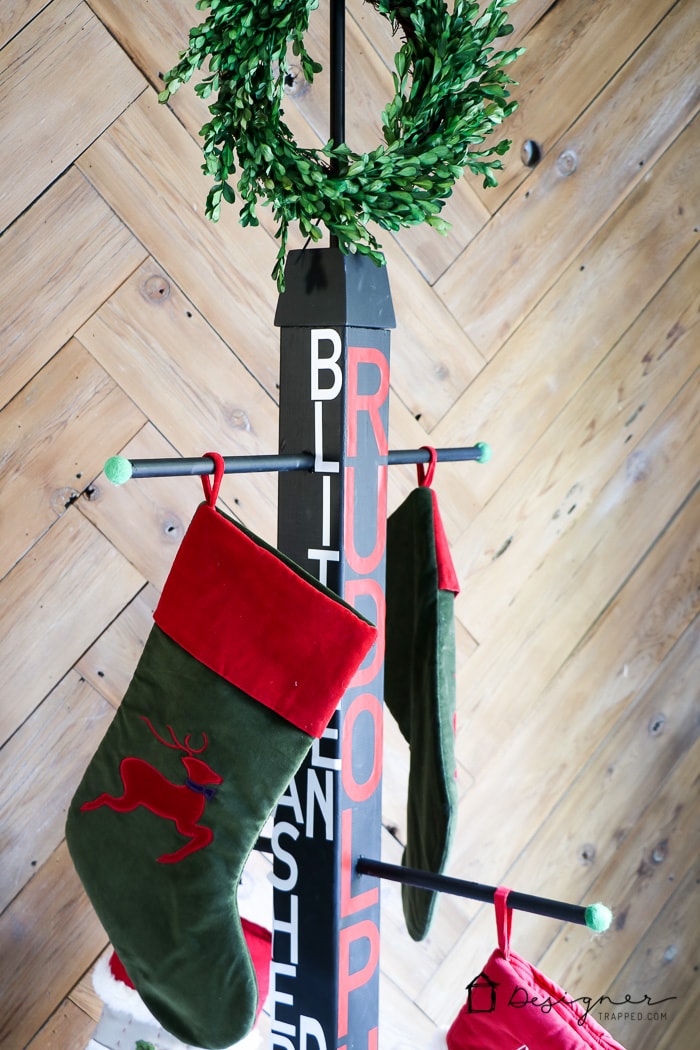 That's it! Which of these Christmas room decor ideas is your favorite?
[mv_create 1 2018 key="2″ type="list" title="Design Posts" thumbnail="</span><a href=" https designertrapped com wp content uploads 05 how to pick paint colors jpg target="_blank" a span]