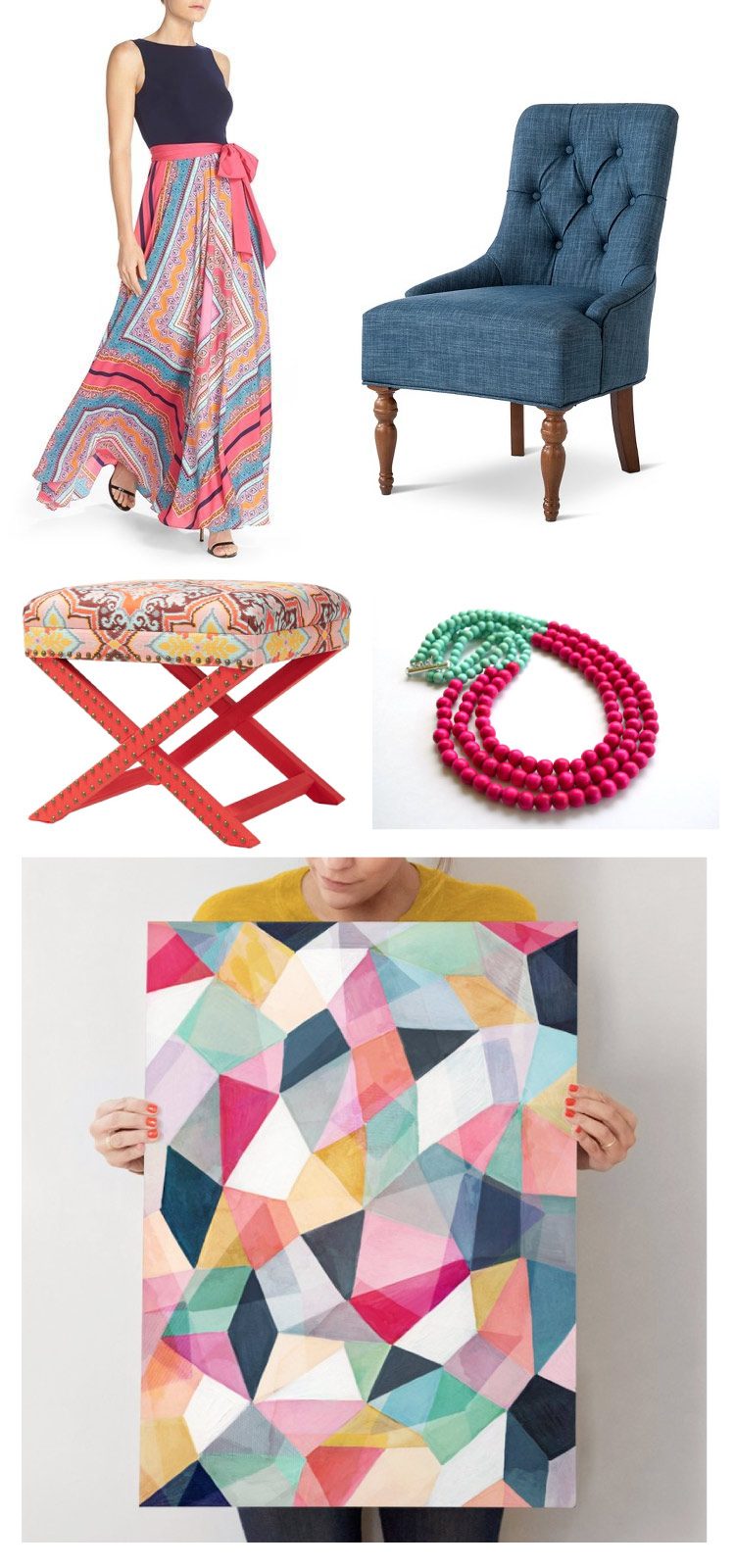 Welcome to the VERY FIRST edition of a new series I am calling, "Colorful Catches." On the last Friday of every month I will be sharing colorful items that have made my heart skip a beat and that I think you will love, too.  I've included affiliate links for your shopping convenience :) That means if you click an item you love and make a purchase, I'll get a small percentage of the sale at no additional cost to you, but those commissions help me keep bringing you free content on the blog.  Thanks for your support!
Scarf Dress– Y'all, if I had a second life as a dress, THIS would be me. I love this dress SO MUCH. I have a dress by this same designer that I love, but I only picked it because at the time, they were out of stock of my size in this one. Sigh. I hope someday soon I'll find an excuse to buy this beauty. Maybe for my upcoming vacation? But if I can't have it, I hope some of you will fall in love with it and treat yourself to it!
Blue Tufted Chair– I couldn't love this chair any more if I tried. That blue fabric, the tufting and those wooden legs are so pretty! And the price is incredible. My obsession with chairs needs to stop…like now.
Hot Pink Necklace– I've been on a jewelry kick lately. I have my friend and assistant extraordinaire Thea to thank for that obsession. I'm adding this beauty to my birthday wish list. Joe, are you reading this??? If so, add it to your cart, pretty please!
Stool Ottoman– I love a good piece of accent furniture and this colorful bench with that gorgeous pattern AND texture from the nailheads is awesome. I know not everyone likes it, but I love orange, especially when paired with other colors like aqua, yellow and pink!
Geometric Art– How gorgeous is this geometric print? This is definitely going to be hanging in our master bedroom some day! I just have to work out some other details first :)
That's it! I hope you enjoyed getting a glimpse into my color-loving brain by seeing the things I fell head-over-heels in love with this month!  And I hope you are feeling inspired by all the color and beauty! Now go add a little color to your world :)