Creamy panna cotta topped with refreshing fruit is the perfect chilled dessert for hot summer weather. I make this every time I need a quick, easy, and impressive dessert!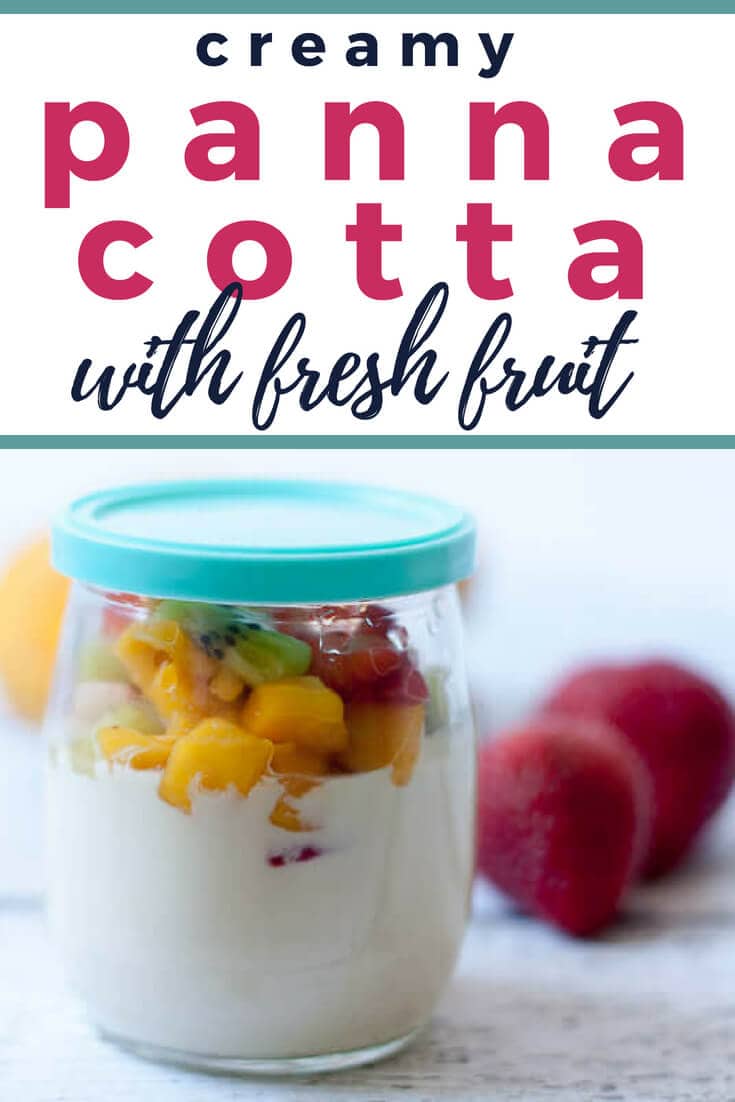 Hey! It's me again, Trish from Spoonful Of Butter, for another guest post here at Designer Trapped in a Lawyer's Body. The weather is officially changing, and I am so full of excitement about summer! If you're craving dessert but don't want to turn on the oven, here's the perfect chilled dessert for you – creamy panna cotta topped with fresh fruits!
What is Panna Cotta?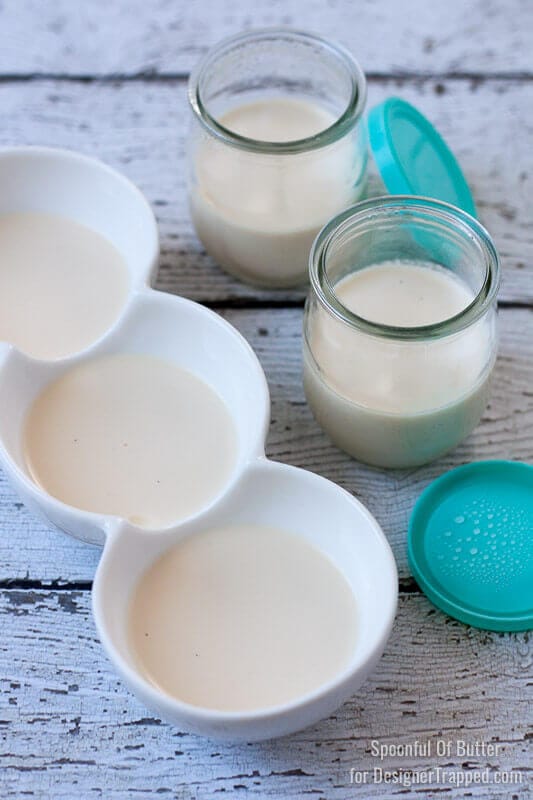 Panna cotta is the Italian word for "cooked cream." It is a traditional Italian dessert that is made with cream, sugar, vanilla, and gelatin.
I find that panna cotta shows up more in restaruants rather than in home kitchens. Despite its low popularity in the homemade desserts department, panna cotta is actually very easy to make. Boil the cream, sugar, and vanilla together then add the bloomed gelatine. The gelatin allows the cream to thicken without needing to use eggs or starches, giving you a silky mouthfeel instead of a jello-like texture. Transfer them in any container of your choice – ramekins, a wine glass, shot glass, etc. If you're serving this to a party, you can make the panna cotta up to 2 days ahead then just put the toppings right before you serve them.
Dress up Your Panna Cotta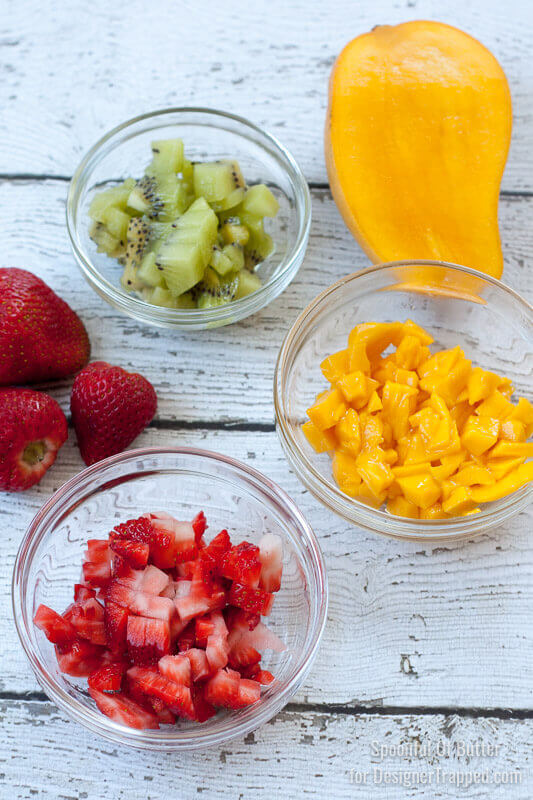 Panna Cotta serves as the base then you can easily add the topping of your choice. My favorite is to top them with chopped fresh fruits – mango, strawberry, and kiwi. I just love the feel of the smooth, creamy panna cotta against the crunch from the fruits!
Other toppings to choose from are fruit purees, berry sauce, caramel sauce, and jams.
A note for this recipe:This is not that kind of panna cotta that you can unmold. This recipe uses a small amount of gelatin, just to set the panna cotta. But I promise you, if you follow the steps, you'll get a silky, creamy panna cotta!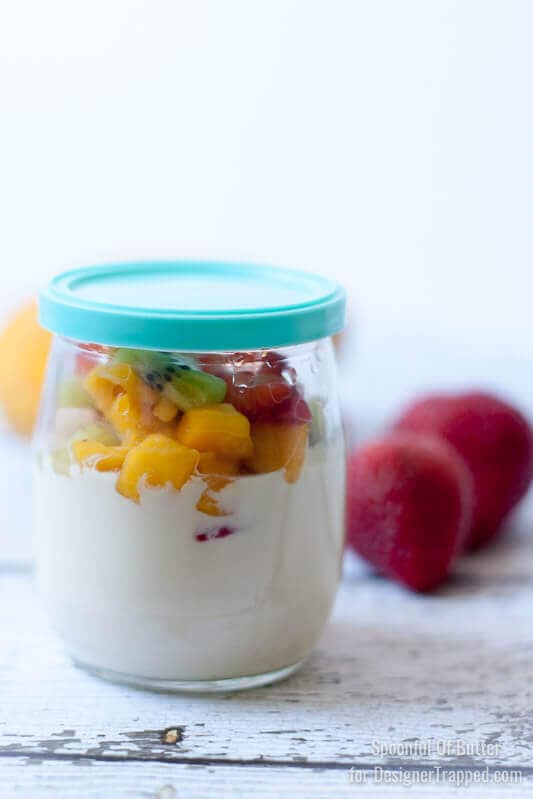 While the summer may seem like the perfect time to make this dessert because the colors and flavors just pop, feel free to make this all year like I do. Just know this panna cotta recipe would make a great addition to your fall and winter holiday menus as well!
This could be the creamiest panna cotta you'll ever taste! Feel free to use whatever fruits are in season.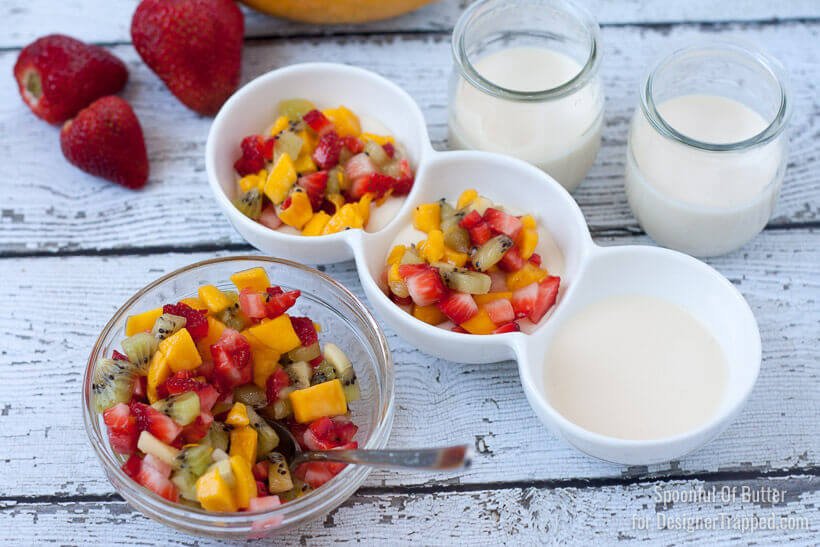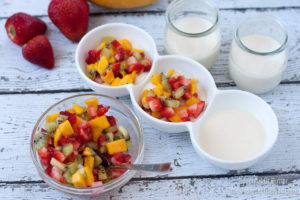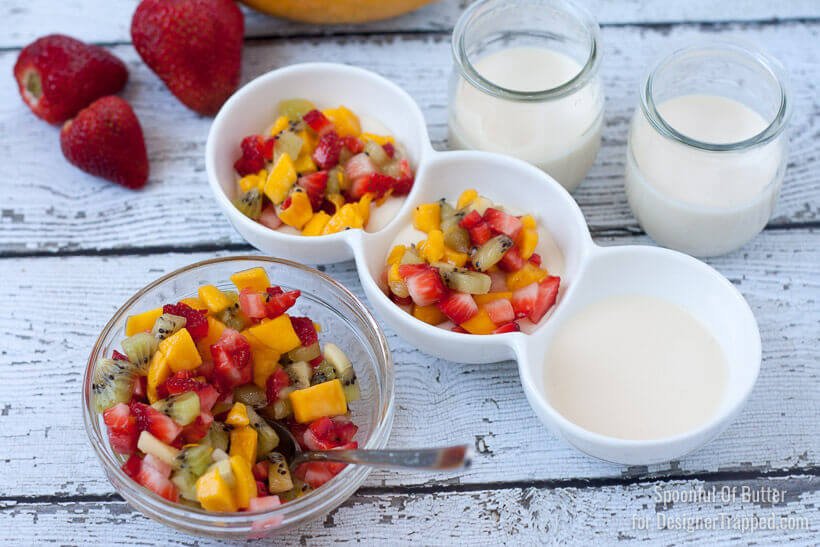 Print
Creamy Panna Cotta With Fresh Fruit
Yield 8-10 servings
Creamy panna cotta topped with refreshing fruit is the perfect chilled dessert for hot summer weather. I make this every time I need a quick, easy, and impressive dessert!
Ingredients
For the Panna Cotta:
2 cups (280 ml) heavy whipping cream
1/3 cup (65 grams) light brown sugar
1 teaspoon vanilla bean paste
2 tablespoons water
2 teaspoons gelatin
For the Fruit Topping:
2 ripe kiwis, peeled and chopped into small pieces
6 medium-sized strawberries, chopped into small peices
1 ripe, sweet mango, peeled and chopped into small pieces
Instructions
1. BLOOM THE GELATIN. Place water and sprinkle gelatin over the surface in a single layer. It is important not to let the gelatin pile as that will prevent the crystals from dissolving properly. Let it stand for at 5-8 minutes to soften.
2. MAKE THE PANNA COTTA. Meanwhile, in a medium saucepan, combine the heavy cream, light brown sugar, and vanilla bean paste. Stir briefly then bring to a boil, mixing from time to time until sugar is dissolved. Remove from heat, add the gelatin and immediately mix using a rubber spatula (Don't use whisk as we don't want to incorporate air.) until mixture is smooth and the gelatin has fully dissolved. If you find that the gelatine has not fully dissolved, return the saucepan to low heat and mix constantly for another 1 or 2 minutes. At this stage, do not let the mixture boil.
3. STRAIN AND CHILL. Strain the mixture into another bowl that is placed over an ice bath ( Note 1). Cool down the mixture by mixing it with a spatula until slightly cool and creamier. Pour the mixture into small containers, ramekins, or wine glasses (Note 2). Cover with plastic wrap and refrigerate for at least 8 hours or overnight.
4. PREPARE THE FRUIT TOPPING. Combine all the chopped fruits and spoon them over each panna cotta just before serving. ( Note 3)
---
( Note 1) Don't skip the straining step as it removes any bits of undissolved gelatin and ensures a nice smooth dessert.
( Note 2) The number of servings for this recipe may vary, depending on the size of the container you will use. I used a small yogurt (about 120 g) glass jar and filled them halfway.
( Note 3) You can also use fruit purees, berry sauce, caramel sauce, and jams as toppings.
Courses dessert
I'd love for you to check out some of my no-bake recipes. Just click on any of the images or links below.
| | | |
| --- | --- | --- |
| Mille Crepe Cake | Cinnamon Churro Bites | Classic French Crepes |