Cute Summer Clothes to Add to Your Wardrobe
Looking to update a few key pieces in your closet for Summer 2018? Check out our picks for cute Summer clothes that are comfortable and stylish.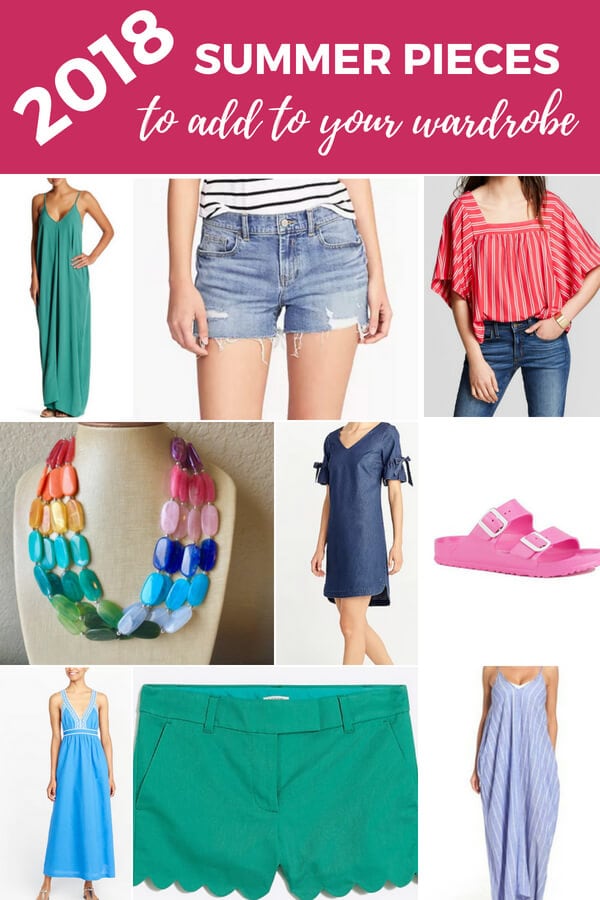 If you you caught my must-have Spring clothes post earlier this year, you already that two of my resolutions for 2018 are to: 1) fix my hair more often and 2) stop wearing my PJs so much during the work day. I've been doing better on both fronts and it has caused me to update my wardrobe with a few new pieces each season. And since the only way I'm going to get dressed in "real" clothes every day is to have super comfortable and colorful options to put on, I'm constantly on the lookout for wardrobe pieces that meet the criteria.
Once again, my best friend from college, who is much more fashionable and "on trend" than me, helped me pick out some some of these cute Summer clothes to share with you. So, check out our picks for must-have Summer clothes, shoes and accessories! There are options for every budget.
This post contains some affiliate links for your convenience (which means if you make a purchase after clicking a link I will earn a small commission but it won't cost you a penny more)! Click here to read my full disclosure policy.
CUTE SUMMER CLOTHES TO ADD TO YOUR WARDROBE
Pretty Summer Tops
I wear basic plain t-shirts and tank tops most of the time and polish the look up a bit with some simple summer jewelry (see my picks later in this post). But I do also like to have some pretty Summer tops on hand for dinners out, etc. That striped flutter sleeve top is my favorite!

Long Summer Dresses
I am still a total sucker for a maxi dress in the summer. I mean, they are cute and they are as comfortable as wearing pajamas. That's a total win in my book.

Short Summer Dresses
As much as I love maxi dresses, sometimes the heat calls for something with a little more ventilation. I'm loving these shorter dress options for Summer.

Summer Shorts and Jeans
Another confession… 9 times out of 10 when I wear shorts they are of the denim variety. And my husband would say that have far too many pairs of them in my closet. But in my defense, I wear them all (and have included 2 of my personal favorites that I wear all the time below).

Bathing Suit Cover-ups
We spend a whole lotta time at our neighborhood pool in the Summer. It's great entertainment and activity for our girls and now they are old enough that we can actually RELAX while they swim. It's amazing. But I am not one who likes to bake in the sun. I am the one you will find in a coverup under a canopy shade on the pool deck. These are the cover-ups I am loving this summer. I own the two maxi style coverups and they are EVERYTHING (they even have pockets).

Dressy Summer Shoes
Ever since I stopped practicing law, I don't put "dressy" shoes on my feet very often, but I love these options for Summer when super casual footwear just won't cut it.

Casual Summer Shoes
These picks are all MY JAM. I pretty much live in Birks and flip flops in the Summer, but after ruining my Birks at the pool last year, I bought myself some silver and pink waterproof Birks (see below) and am sure they'll be what I live in most of this season. They are much cuter in person.

Summer Jewelry
Summer calls for bright and fun jewelry! These picks hit all the right notes. That rainbow necklace definitely needs to be around my neck ASAP.

There you have it! I hope you are inspired to pick a few new colorful and comfortable Summer clothes for your wardrobe.

[go_portfolio id="style"]