Stop chasing trends and start thinking about what you really love and want in your home. We debunk scare tactic "design trends" articles and tell you how to decide what is right for you!
Want to listen on your favorite app? Click whichever option you prefer below:
iTunes | Stitcher | Spotify | Google Play
Every day we are inundated with messages telling us what is cool– what we should be wearing, or eating, or doing. The interior design world is no different! I hear all the time that certain things are "in" or "out" and it simply isn't true. If you love something, it is always in style! Decor pieces, furniture and colors I LOVE are at the center of every plan I create when designing a space. By staying true to what I am drawn to, versus what someone else says I should buy, I can honestly say that I love my house. I want you to do the same! If you love it, it will always be in style.
All the Details
We recorded this episode three (yes, THREE) times and finally got it together! This is an important topic so we wanted to make sure you could actually hear us talking about. New mics this week and we sound fabulous!
After doing some research, I got really fired up about this topic. I came across tons of articles about what is in and what is out. One "expert" said leather was over. LISTEN TO ME…leather will never be over! That is like saying wood is out and we should stop buying wood furniture. Not gonna happen.
Trends do serve their purpose! Once something becomes popular, it allows us to discover it. Thea never knew she like mid-century modern until it started having a real moment, and now she is obsessed! I have personally always been obsessed and I can promise you if someone decides next year that it is out, I will still love it. Those clean lines will always make my heart sing–perfect example my dining room furniture! (Want to see the full room tour and source list? Just click here and scroll down to Dining Room!)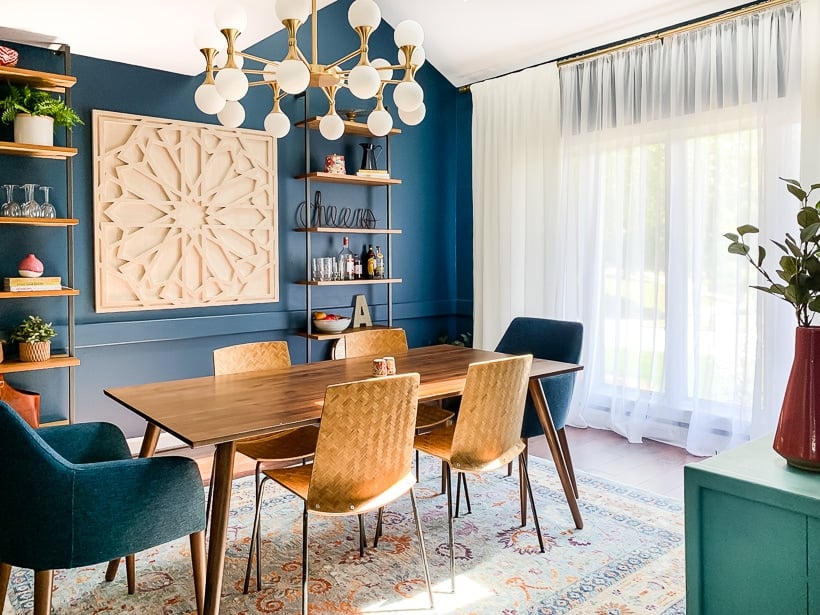 Invest in classic lines and neutral colors for the really big pieces. We spent a lot of money on our sofa, so I chose a neutral that would stand the test of time because this will be our sofa for many, many years. That way I can change out accent pieces as my moods change and I discover new things I love and get tired of other items. (Want to see the full room tour and source list? Just click here and scroll down to Living Room! )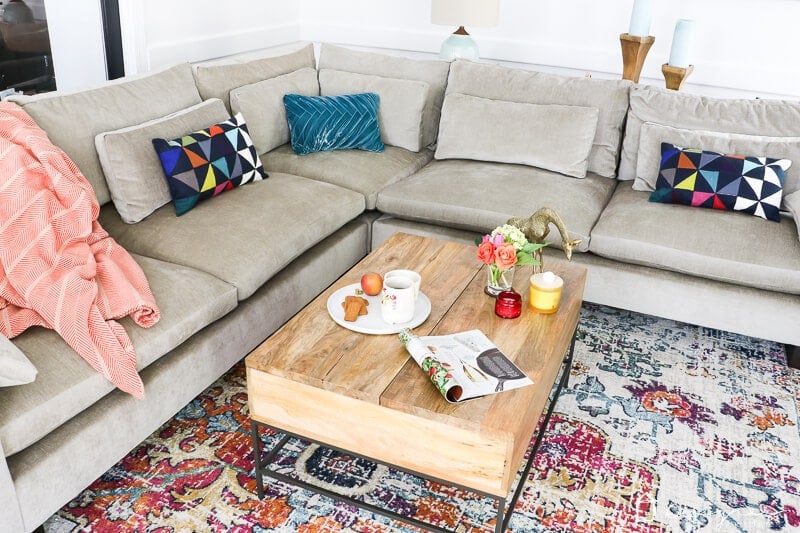 Trends feel like adult peer pressure, and I think that is why I push so hard against the idea. No one is telling me what is in and what is out! Don't let them push you around either :)
Totally unsure what your style is and how you can figure it out? I mention my product Designer In a Binder— click here to learn more about it! Following the system will help you determine what you like instead of me telling you what I like. I want you to love your home the way I love mine and I help you get there.
What are you doing that you still love despite what the trendsetters say?!! Tag us on IG at @tasha.kaleidoscope and tell us! Also, tag us in pics or screenshot your episode and tell us what you are doing while you listen. You might even get a mystery surprise if you do ;) We love seeing those and try to share them as often as possible. Make sure you are following on Instagram so you can follow along with my stories and see all the behind the scenes action. I talk about ALL the things (not just home decor and DIY!) and it is very fun. I also do lots of podcast research for upcoming topics and would love your feedback! So come hang out with us!
Get Social With Us
Before you head out and get started, be sure to check out my FREE design guides that will help you help you design spaces you absolutely love! Subscribe now and you will receive a password so that you can access everything in one convenient digital library.


[mv_create title="More Podcast Episodes" key="5″ type="list" layout="circles"]