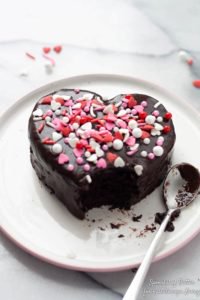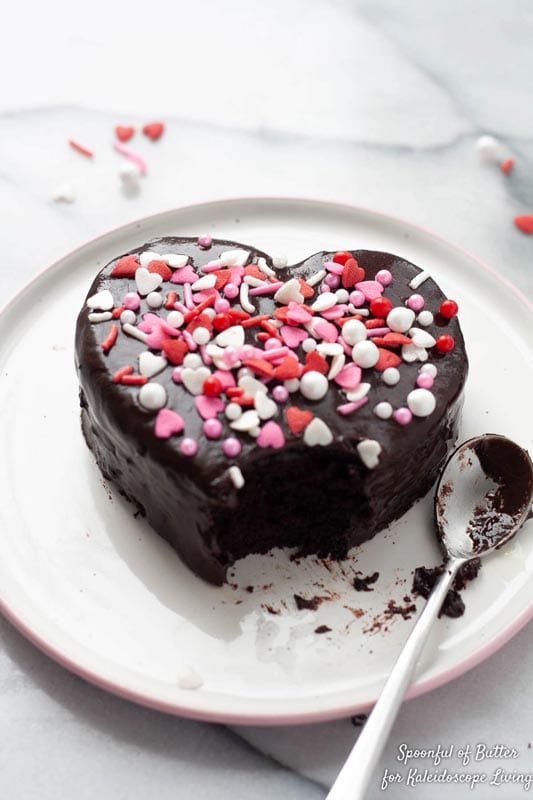 Chocolate Ganache Hearts
Yield 4 hearts
Chocolate ganache hearts are the perfect dessert to show your Valentines how much you love them! These mini chocolate cakes may look and sound fancy, but anyone can make this easy recipe! Add your special decorations and they are the perfect gift. 
Ingredients
For the Chocolate Cake:
1/2 cup or 1 stick unsalted butter
3/4 cup + 2 tablespoons white granulated sugar
2 large eggs
1/2 cup + 3 tablespoons dutch-processed cocoa
1 cup hot (boiled) water
1 cup + 6 tablespoons all-purpose flour
1 teaspoon baking soda
1/4 teaspoon baking powder
1/2 teaspoon salt
For the Ganache:
10.6 ounces dark chocolate 60-65% cocoa, chopped into small pieces
2/3 cup heavy cream
1 1/2 tablespoons light corn syrup
For Decoration:
Instructions
Make the Chocolate Cake:
Preheat oven to 350 F. Line the bottom and sides of an 8x8 inch square pan with parchment paper. Let the parchment paper hang on 2 opposite sides of the pan so you can easily lift the cake out of the pan later on.
Sift the flour, baking powder, baking soda, and salt in a medium bowl and whisk.
Put the cocoa powder and hot (boiled) water in a medium heatproof bowl. Whisk until completely smooth then set aside to cool slightly.
In the bowl of a stand mixer fitted with paddle attachment, beat the butter and sugar on medium speed until light and fluffy, about 8 minutes.
Add the eggs, one at a time, beating until each addition is incorporated before adding the next. Scrape the sides of the bowl with a rubber spatula when necessary.
Add the flour mixture in four parts, alternating with the cocoa mixture in three parts. Beat until each addition is incorporated before adding the next. Be careful not to overmix.
Pour the batter into the prepared pan and bake until a toothpick inserted in the center comes out clean, about 25 minutes.
Transfer to a wire rack and let cool completely before removing from the pan.
Make the Ganache:
Bring cream and corn syrup to a simmer over medium heat. Once simmering, remove from the heat. Add the chopped chocolate to the cream, lightly stir and leave to stand for 1 minute so that the chocolate can melt. Stir until smooth and glossy.
Assembly:
Using a heart-shaped cookie cutter, cut 4 hearts from the chocolate cake.
Stand the heart cakes on a wire rack over a baking sheet. Beat the ganache briefly before pouring it over the cakes. Lightly smooth and spread the ganache over the top and sides of the cake with an offset spatula/ palette knife.
Decorate the top with sprinkles then leave to stand at room temperature until set before serving.
Courses Dessert
Recipe by Kaleidoscope Living at https://designertrapped.com/decadent-chocolate-ganache-heart-cakes/