Last Updated on June 6, 2019
Hey y'all! Emily from Table & Hearth here! You may remember me from my prior posts on how to make DIY no-sew outdoor curtains or how to make a stunning DIY wood plank wall.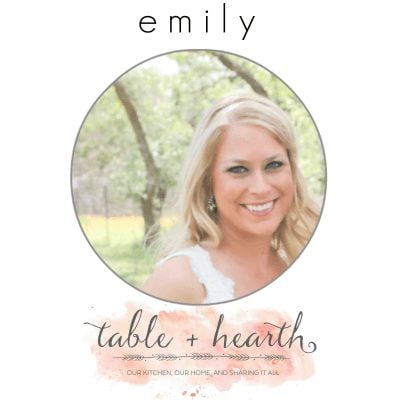 I'm back again with a super fun project that I'm really excited about! I recently took part in the Fall 2015 One Room Challenge hosted by Calling It Home. I chose to makeover our backyard patio in just SIX short weeks. While it was a ton of work, the end result is everything I pictured in my head and we're so excited to start spending more time out here and have some awesome par-tays (not really, probably just eating a lot then all sit around drinking wine and laughing, then go to bed at like 10…). You can see the full reveal here.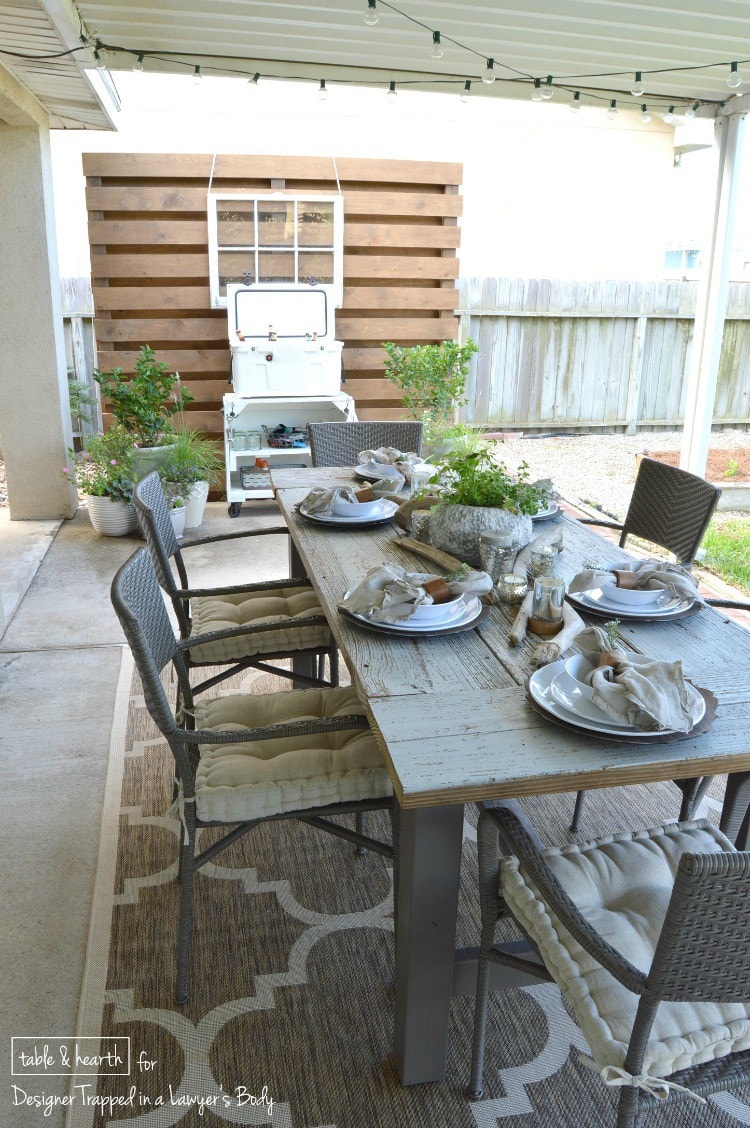 I had originally planned on building a cooler table, but with such a short time frame that consisted of many DIYs already, I started thinking of a plan B. I also didn't really want the cooler to be integrated into the stand, because we have about a dozen different coolers that the husband will use, not to mention the fact that our friends bring coolers over sometimes too, so I decided I would rather just have something to sit a cooler on top of.
I love DIY furniture projects! About 12 years ago, I got bored and built this little bookcase with some scrap lumber to hold my boombox (yup, pretty cool) and have toted it around with me ever since. Its most recent life was out on the patio as my husband's Fry Daddy station/yard care and bug spray storage area…genius combination, right?? Well, it just so happened that this little bookcase was the perfect height to set a cooler on top of and make into a bar cart!
This post contains some affiliate links for your convenience. Click here to read my full disclosure policy.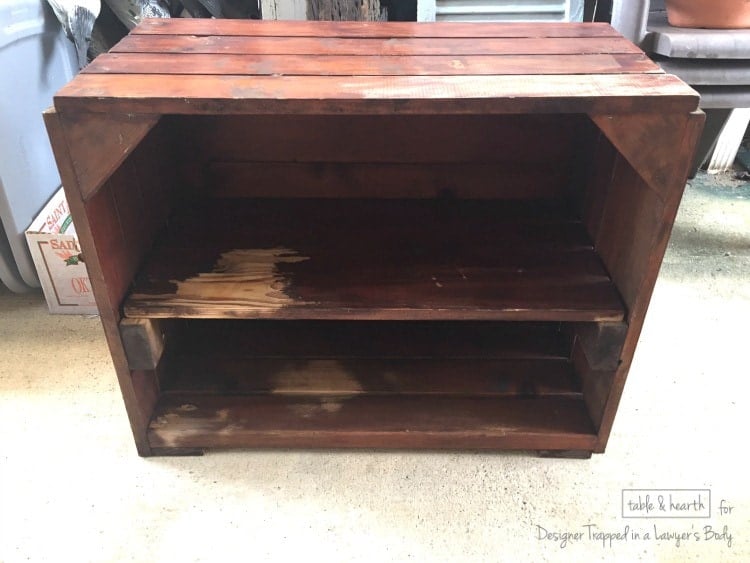 Here are the supplies I used to make over my table:
palm sander (I use this one)
80-120 grit sandpaper
Vacuum/shop vac and lint-free rag for wiping off dust
Primer (I didn't use, but is suggested)
Outdoor water-based latex paint – I used Sherwin-Williams' Resilience paint in "Westhighland White"
Vaseline (for distressing)
Clear polyurethane (I used Minwax Spar Urethane in Satin)
Paint sprayer (optional)
High-quality paintbrush
Hooks
My table was stained, and apparently I went crazy with the polyurethane back in the day, so it took quite a bit of coarse sanding to get most of the finish off. Since I was planning on painting it white instead of re-staining it, I didn't worry about getting down to the bare, raw wood. I vacuumed the piece and wiped it with a damp rag to get as much dust off as I could.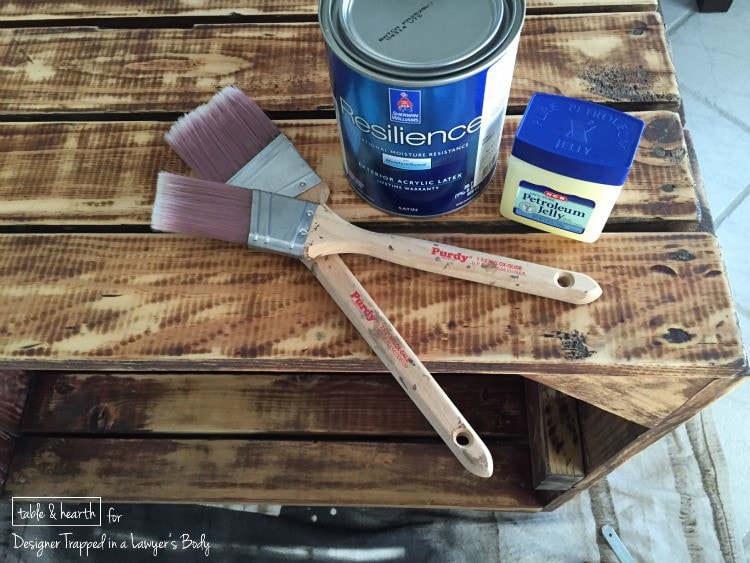 Since the whole feel of the patio makeover was rustic, neutral, and weathered, I wanted the cart to be slightly distressed. Since I couldn't bear one more minute of sanding, I decided to try out this Vaseline distressing method I've had bookmarked for a while. All you have to do is apply some Vaseline with your fingers to wherever you'd like paint not to adhere to, like around the edges and blemishes and such.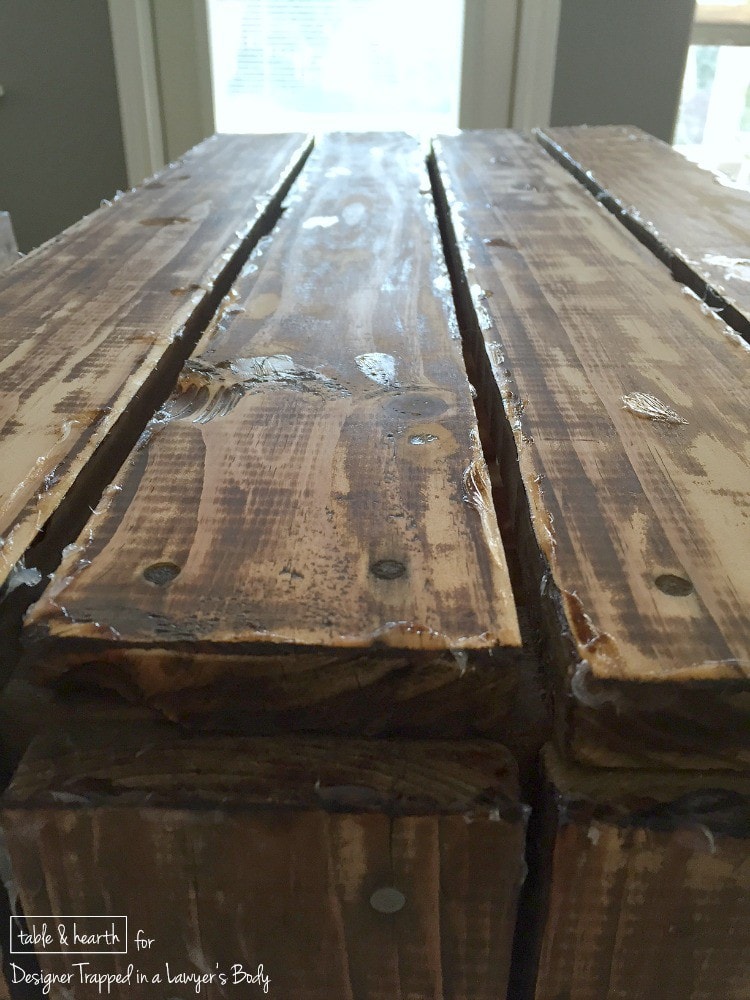 After putting the Vaseline on, I applied two coats of paint. In hindsight, it would have been better for me to go ahead and apply a coat or two of primer just to be safe and ensure a nice finish, but this was during the ORC and I was a zombie, so I didn't. Once the paint was dry, I then wiped the Vaseline off with a rag. The paint came right off of those spots, so the Vaselines method worked GREAT! I was a little too liberal in my Vaseline application in some areas so to dull it down some, I went back over those areas with a light coat of paint and it ended up giving me the PERFECT amount of distressing.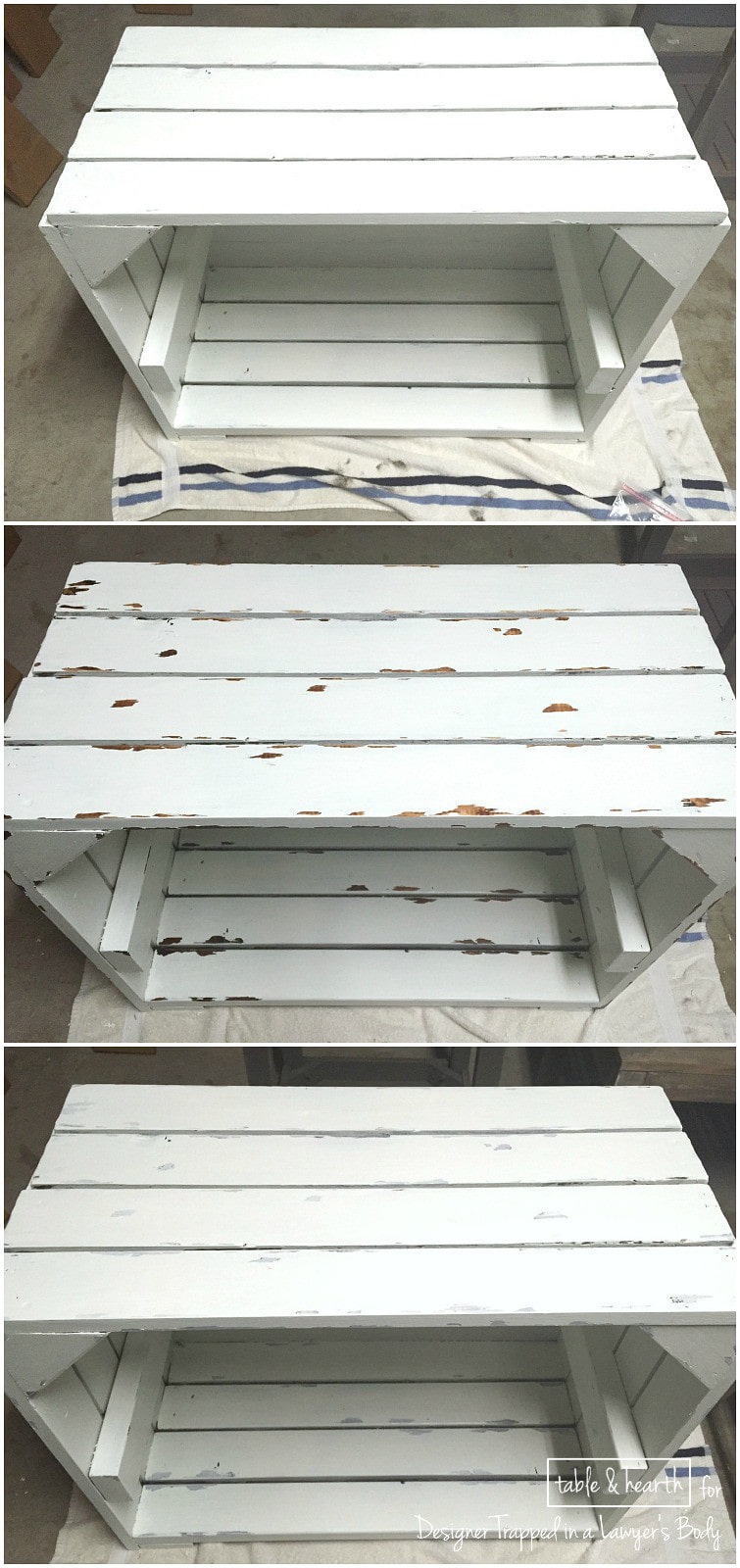 I applied two coats of spar urethane with my paint sprayer (soooo much easier!) and let it dry overnight. I found some awesome steel casters and spraypainted them oil-rubbed bronze, then screwed them into the bottom of the cart. I decided to put it on casters so that we can roll it wherever we need to to use it as something else when not in party mode, like the Fry Daddy station or as an end table over in the seating section. Plus, the casters give it just a little more height.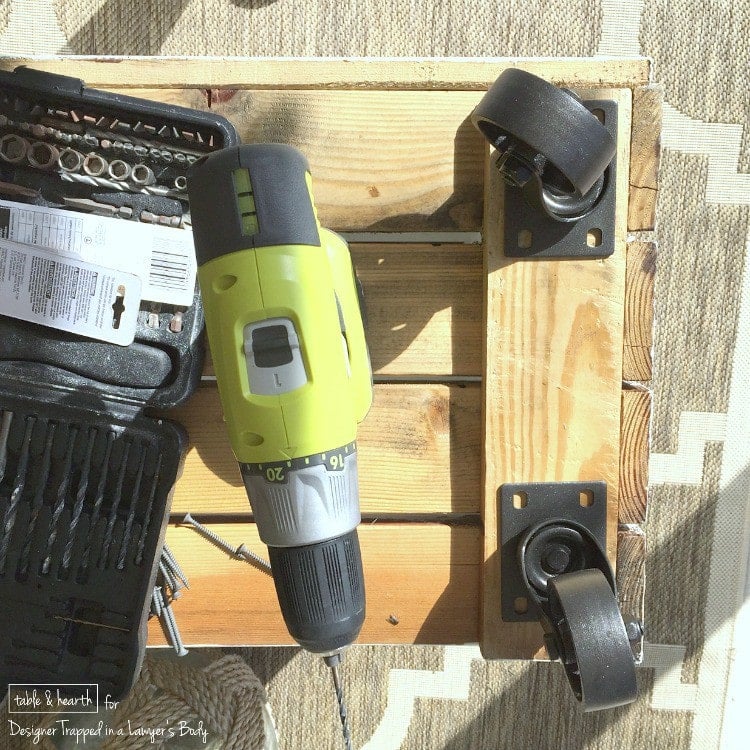 Next, I accessorized! After adding a few hooks, some baskets for the accouterments like coozies, beer salt, and bug spray, my cart is ready to party! I also hung a vintage window to serve as our bar sign/menu :)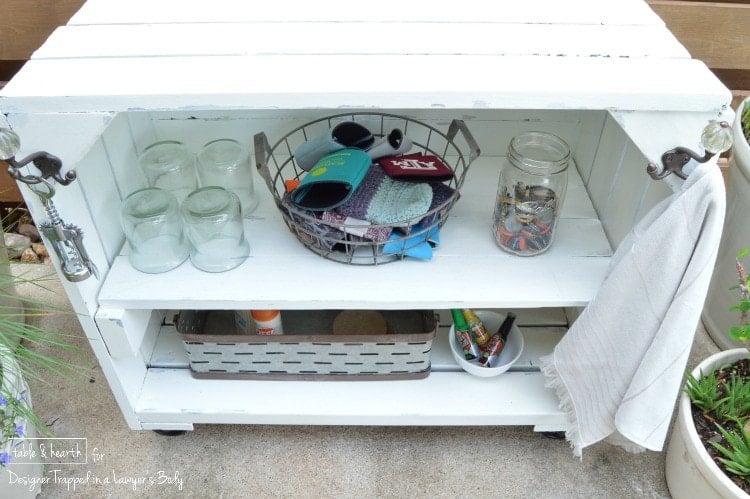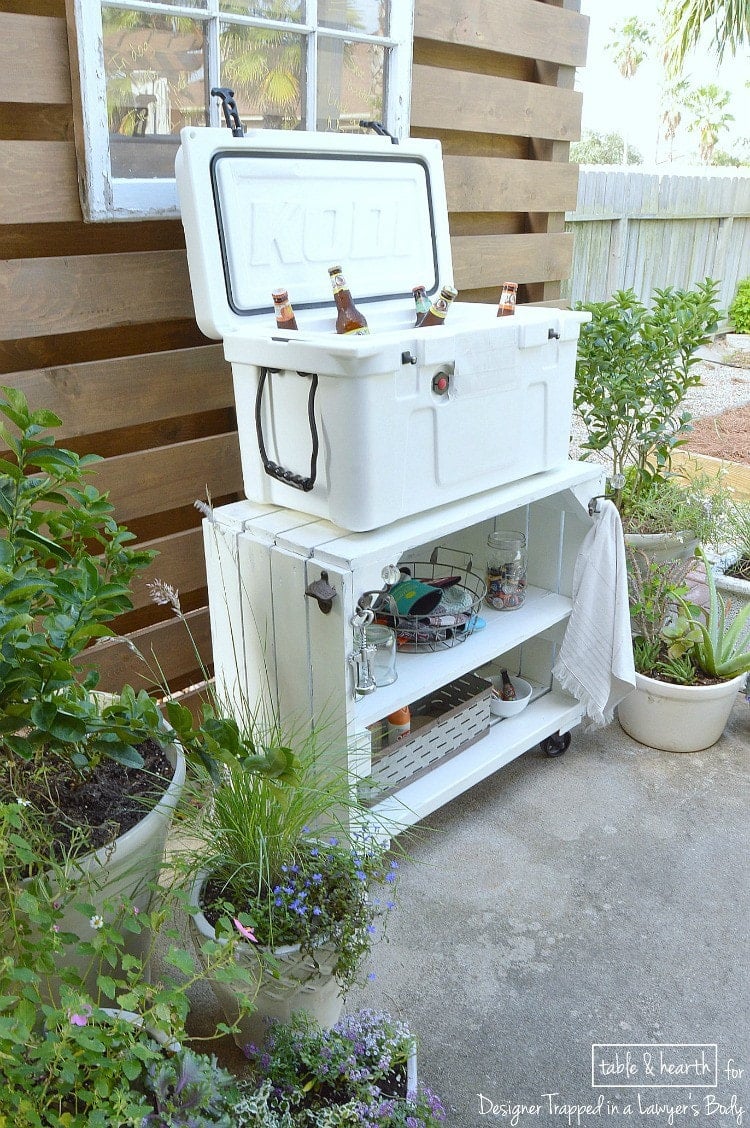 I hope you love our little bookshelf transformation! It worked out perfect and we can't wait to put it to good use on our new beautiful patio!! If you love this project, be sure to pin it so you can find it later.
I'll see you guys again shortly and hope you will head to my blog to check out more DIY furniture projects and DIY home decor projects that I have tackled! Here are some of my DIY home decor projects I am sure you will enjoy! Rustic State Picture Frame Holder | Light and Relaxed Master Bedroom Makeover | Driftwood Beach Towel Holder