DIY Canvas Art with an Easy Frame
Last Updated on March 3, 2022
This DIY canvas art tutorial will show you how to create a totally custom piece of art! Then add my simple frame (no power tools needed!) to complete your canvas.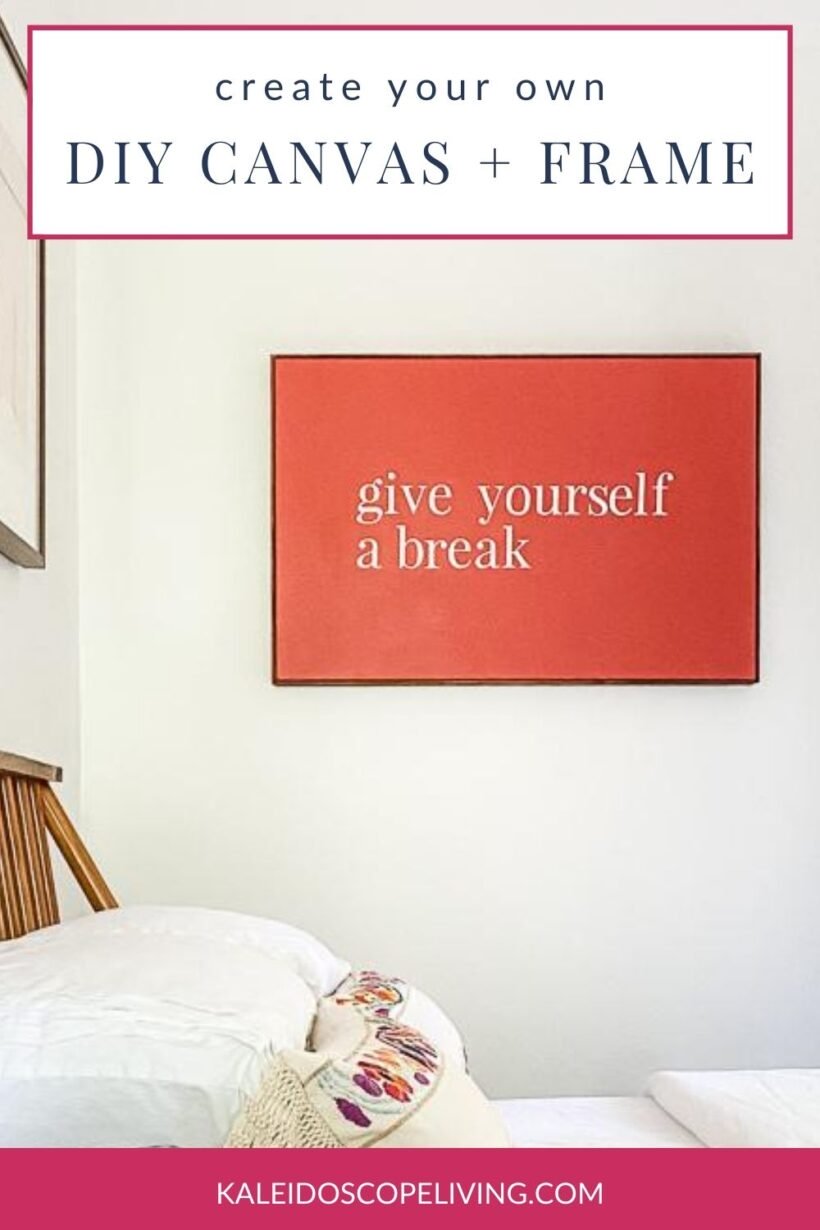 We are giving our guest room a makeover! I am the first to admit I haven't given this room the attention it deserves over the years. We often use it as our catch-all dumping ground and triage for other projects, purging, and seasonal stuff that needs to be put away. I decided it was time to make it as pretty and colorful as the rest of the house, and I got to work finding all the perfect pieces. Once I started moving everything in, I loved the direction I was going, but it needed some bright pops of color!
To add some color to the walls, I planned out this easy DIY canvas art in a fun orange for my wall decor. I finished it with the world's easiest DIY canvas frame–seriously you don't even need power tools! Anyone can make this easy canvas art and it is totally customizable. Just choose your size, phrase or wording, and your color. I used my Cricut Explore cutting machine, which I love (see why here!) but you can do this project with simple stick-on letters or words. Just get creative and get to work!
This post contains some affiliate links for your convenience. Click here to read my full disclosure policy.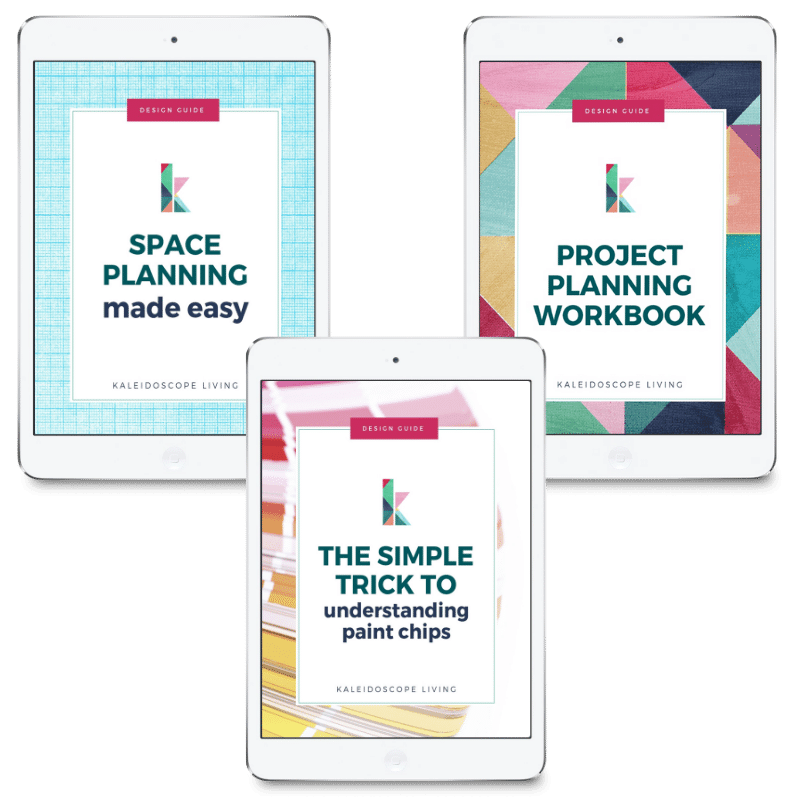 Get my FREE design guides when you subscribe!
This post contains affiliate links for your convenience. Click here for my full disclosure policy.
Easy Canvas Art & DIY Frame
Materials:
Canvas Art
White canvas
Letters (I used my Cricut Explore cutting machine and Cricut Design Space to make mine. You could also use letter stickers or even good old fashioned tracing paper to draw on whatever phrase you want!)
Transfer tape ( I have had this giant roll for a while and it works great!)
Measuring tape
Latex Wall Paint in any color (I used an orange I had on hand)
Latex White Paint (I used what I had on hand)
Brush
Canvas Frame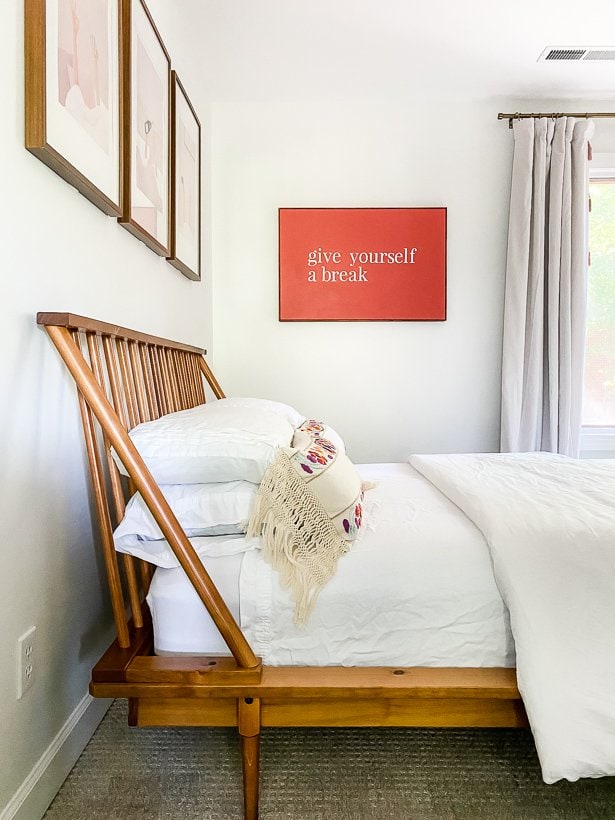 If you prefer video tutorials, you can watch the video below. If you prefer to read the tutorial, just scroll past the video for all the step-by-step written instructions.
Steps for DIY Canvas Art:
1) Open Cricut Design Space and create the wording or phrase you want to use. Start with a rectangle the size of your canvas to ensure you get the right size and spacing you like. (If you are using stick-on letters, etc you can skip this step!)
2) Use any color of vinyl since you will be throwing it away! I used one I don't love since it takes a lot of vinyl. Cut out and weed your letters. Then cut your words apart and using transfer tape, place the vinyl on the canvas. I did do some measuring and faint lines to make sure everything was straight and lined up.
3) Using the white paint, paint over the entire canvas, including the vinyl. This ensures crisp edges and clean lines. Allow the white paint to dry fully!
4) Using your colored paint, paint over the entire canvas, including the vinyl. DO NOT peel letters the vinyl until the paint is totally dried and cured! Learn from my mistakes. Patience is a virtue :)
5) Peel you letters and touch up any bleeding or mess-ups. You can hang it up now, or add the easy DIY frame from my tutorial below.
Steps for DIY Canvas Frame:
1) Measure the sides of your canvas.
2) Using a miter box and hand saw, cut your pine lattice strips to the correct length.
3) Attach your wood strips to your canvas with a glue gun. I use a heavy-duty Ryobi cordless, but even a tiny craft glue gun will work. Hang and enjoy!
Isn't that a simple wall decor project? It looks so cute hanging on the wall and I LOVE the bright pop of color it brings. Customize yours any way you like–the possibilities are endless! It is also a great way to use up paint you have on hand. I am so excited by how cute the guest room is and this art helped keep me on budget without sacrificing on style.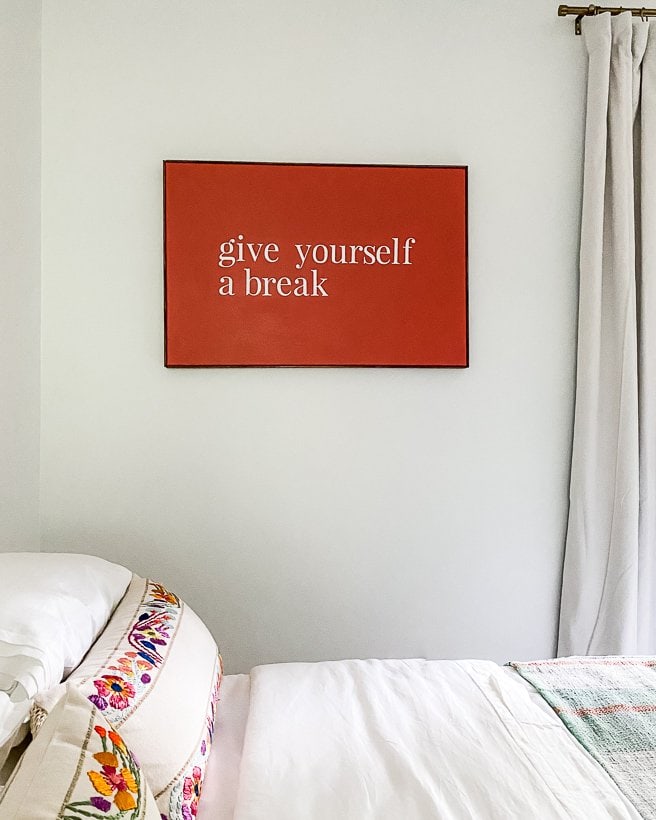 Want to find out where I got all the decor for the guest room, including the gorgeous bed and these amazing pillows? You can shop all the decor in the guest room below!

Want more simple DIY art ideas? I have made some really fun canvas art over the years. DIY Photo Canvas Prints With Authentic Texture and DIY Abstract Canvas Art That Anyone Can Make are two of my favorites and they are crazy easy also. Not to mention I have so many easy frame tutorials–Huge DIY Art Frames For Less than $20 Each, "DIY" Gold Frames for Less Than $10 Each, and Easy DIY Picture Frame You Can Make WITHOUT Power Tools.
I seriously love this super easy DIY–this is one of those projects that anyone can do! Get creative and make something that works for your style and your color palette.
And if you are struggling with where to even start how to choose your color palette (which I hear ALL the time) please check out the Designer in a Binder! I created this product to help normal people create a home they love. One of the steps to doing that is learning how to create the color palette for your room! I explain how to do that and SO much more in this affordable alternative to an interior designer. Click HERE to learn more.
Wondering how I approach transforming rooms and spaces in our home? Check out Designer in a Binder®.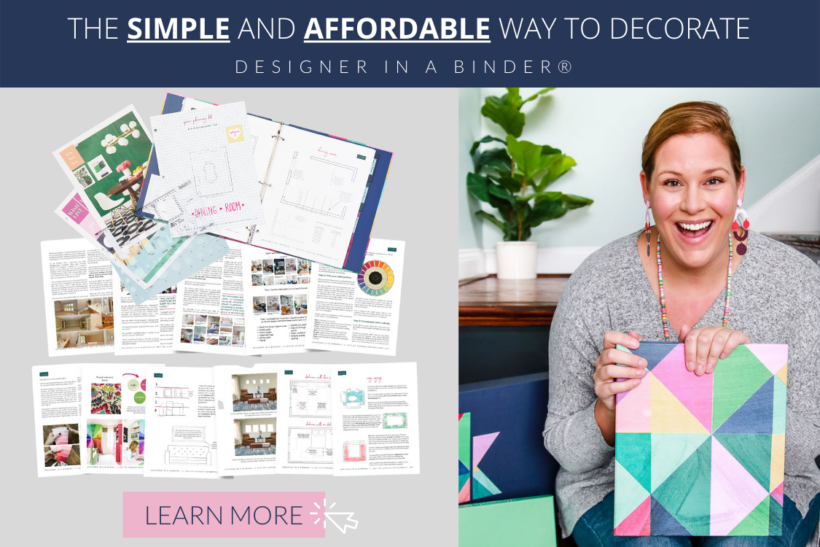 And if you want exclusive content and behind-the-scenes sneak peeks, be sure to subscribe before you head out!


[mv_create key="4″ type="list" title="More Cricut Projects" thumbnail="https://designertrapped.com/wp-content/uploads/2017/06/silhouette-vs.-cricut-featured.jpg" layout="circles"]