Happy spring DTLBers! Emily from Table & Hearth here again, you may remember me from my DIY shiplap wall or these no-sew outdoor curtains for our pergola. Today, I'm super excited to share with y'all how I made this DIY farmhouse mirror from an old door for our master bedroom!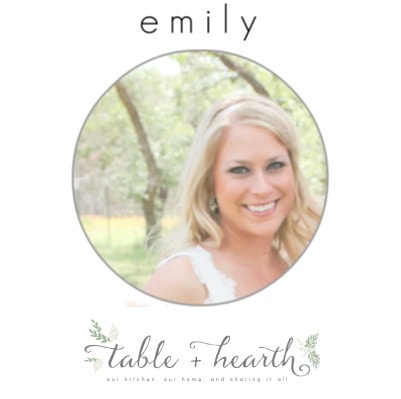 I've needed a full length mirror for our master bedroom for a while now (for those once-in-a-blue-moon times I actually make an effort at an outfit), but was dead-set on something a bit better than those cheap flimsy ones. When I saw that one of my favorite junkers had a bunch of old doors, we stopped by to take a look. If you aren't sure where to find an old door in your area, look for an architectural salvage yard, or even a Habitat Restore. In with all the normal doors was this tall and skinny beauty in all it's white and blue chippy paint glory. Love at first sight.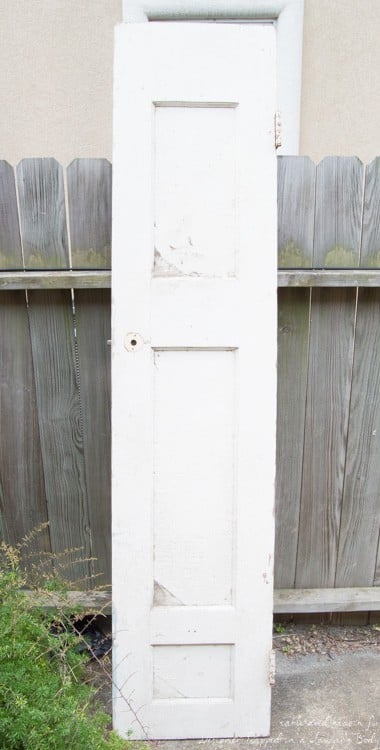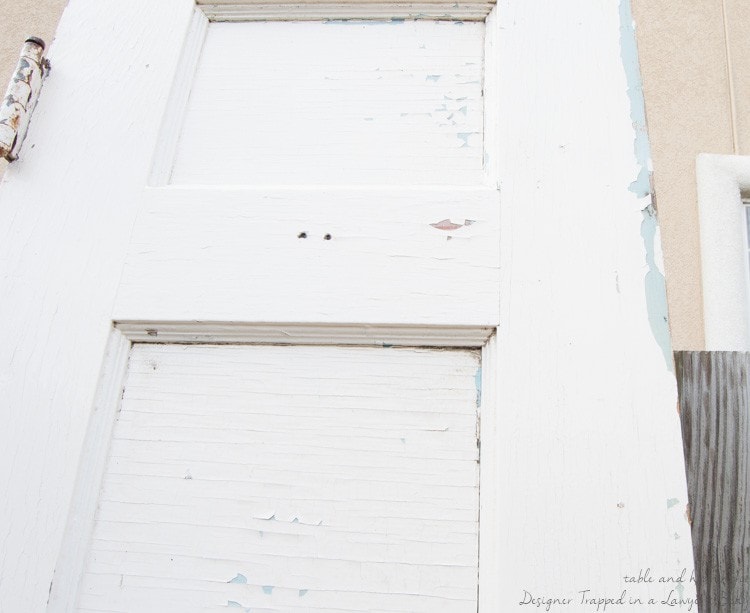 I knew immediately that this door was perfect for the statement piece I wanted to make so I bought it for $15 and loaded it up. I loved that it had three panels and planned to use the two larger panels for the mirror, while leaving the small top panel intact. This post contains some affiliate links for your convenience. Click here to read my full disclosure policy.
DIY Farmhouse Mirror Tutorial
Supplies needed for DIY Farmhouse Mirror:
Steps:
First, I cleaned my door really well. The, I set it up on some sawhorses. I started by drilling holes in the corners of the panels to give my jigsaw a place to start cutting each of the larger panels out.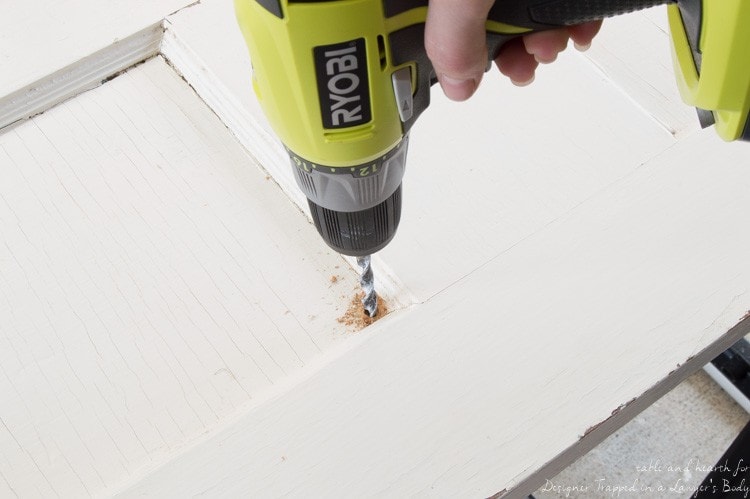 I then used my jigsaw to carefully cut the panel as close to the molding as possible.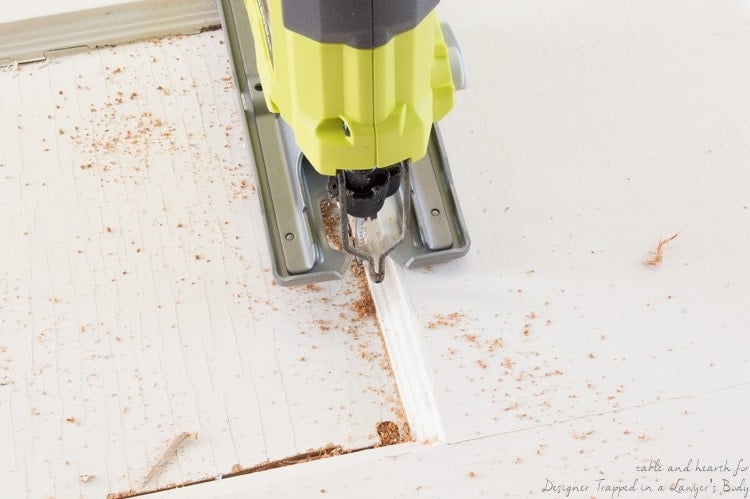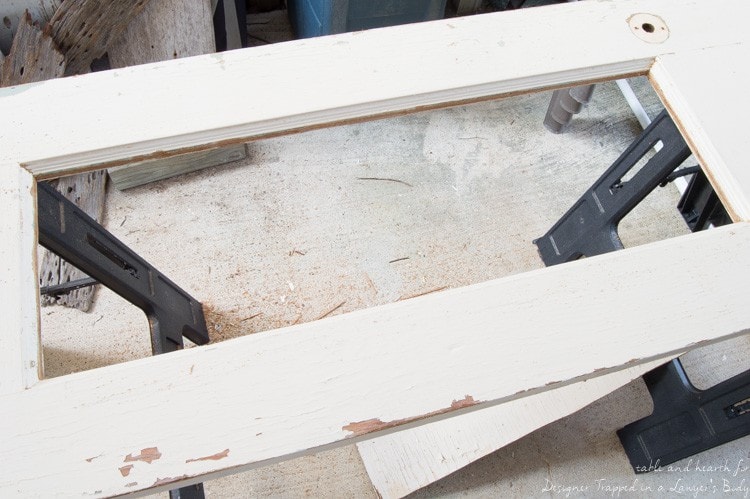 Once the lower panels had been removed, I used my sander to smooth out the edges.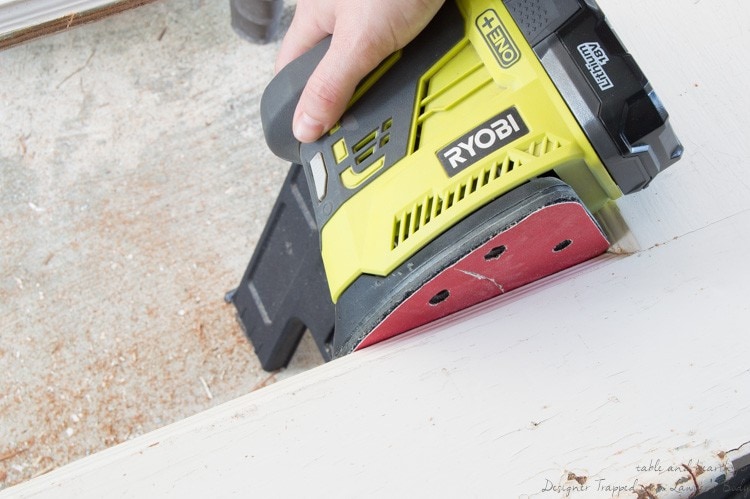 Since the area that was cut exposed unfinished that would be seen and would stand out against the white painted surface, I grabbed some creamy off-white paint from my stash (Sherwin-Williams "Westhighland White") and painted over it. It wasn't an exact match but it was close enough to keep me from making a trip into town to get a different color.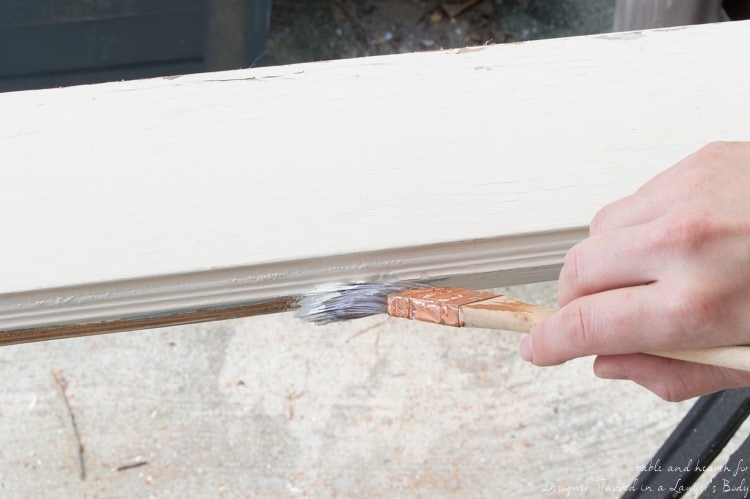 Once painted, I flipped the door over to mount the mirror. The door is about 18″ wide so a stock 16″x60″ beveled mirror from the store fit perfectly and was a piece of cake to mount using a basic set of 1/8″ mirror mounting clips.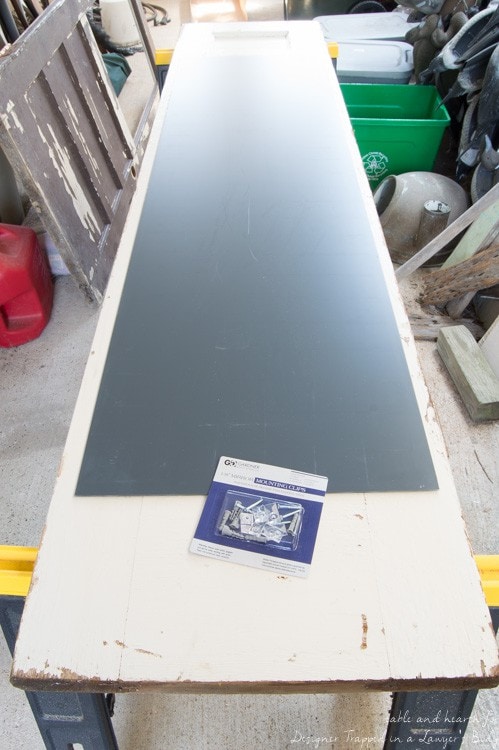 Once the mirror was centered, I just marked with a pencil where the clip would go, predrilled a hole, then screwed the clips down carefully. My clips came in a package of six which held my mirror securely, but feel free to use more if you'd like.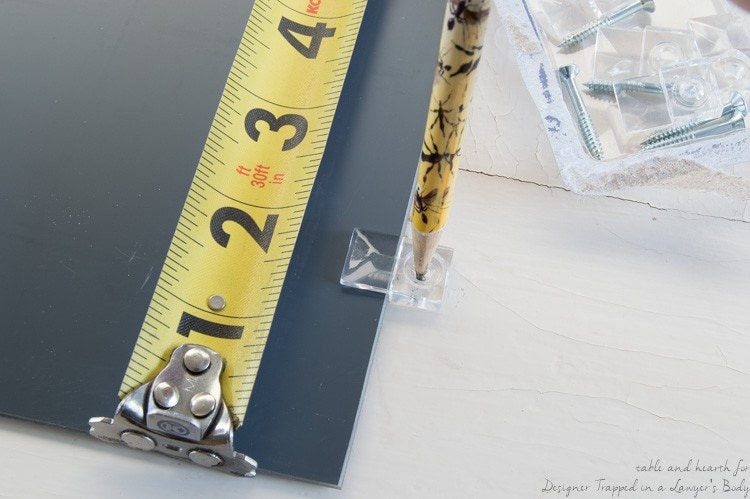 Unfortunately, the original hardware of the door had been removed to be sold separately to someone else beforehand (a travesty, I know), so I set out to see if I could find a knob of some kind that looked vintage-y enough to look original and that would fit the 2″ size of the old one. I thought about just leaving the door as-is because it still would have been pretty, but it just didn't feel complete to me. Plus I liked the idea of being able to hang necklaces or hangers on the knob if needed.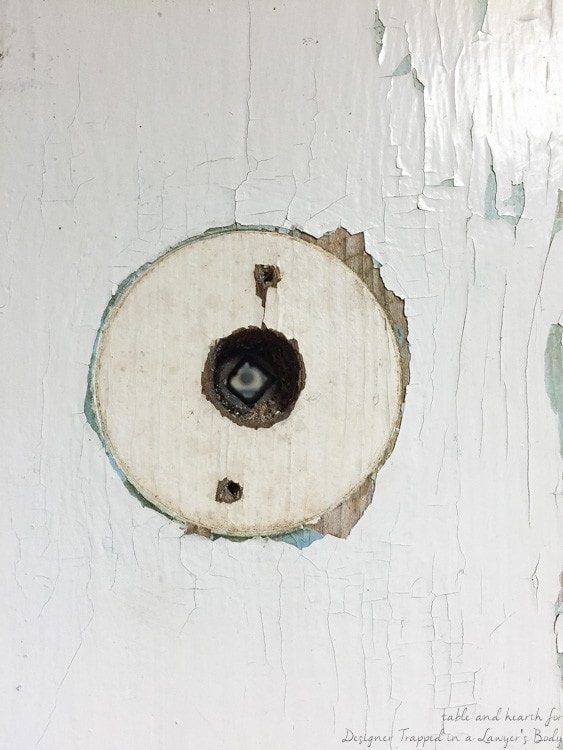 It turns out that a set of glass door knobs worked perfectly. They were more than I anticipated spending, but I knew it would be unlikely to find a better option–vintage knobs are pretty scarce around here. If you are lucky enough to have an architectural salvage yard or a Habitat Restore, you may be able to find authentic vintage knobs for a bargain.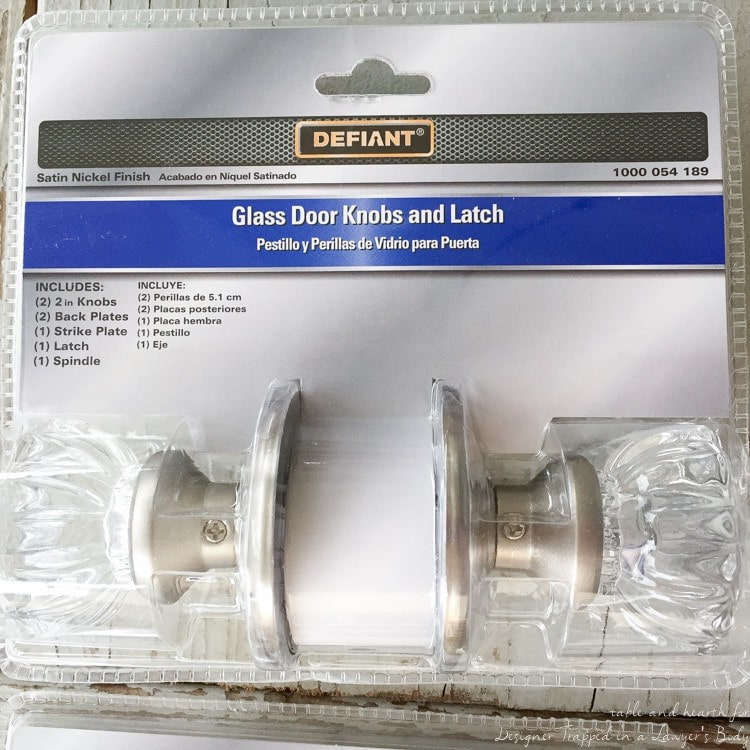 The knobs I purchased only came in a brushed nickel or brass finish so I purchased the nickel then spraypainted them with this spray paint in a hammered bronze finish, taping off the glass knob portion to protect it.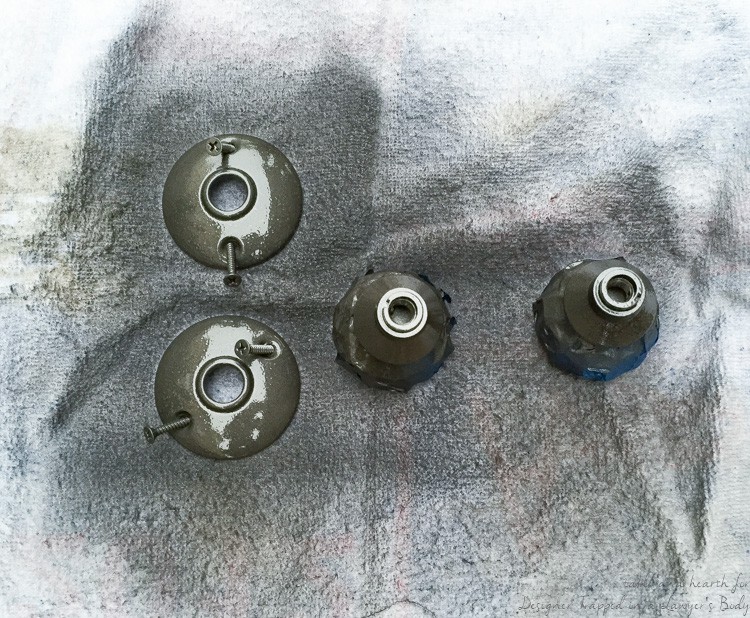 The mirror covered up one side of the knob opening (a fact I overlooked until this point, as per usual…) so I had to rig up a way to hold the knob onto its backplate since it wouldn't have the other side to screw into. Turns out that super glue did the trick!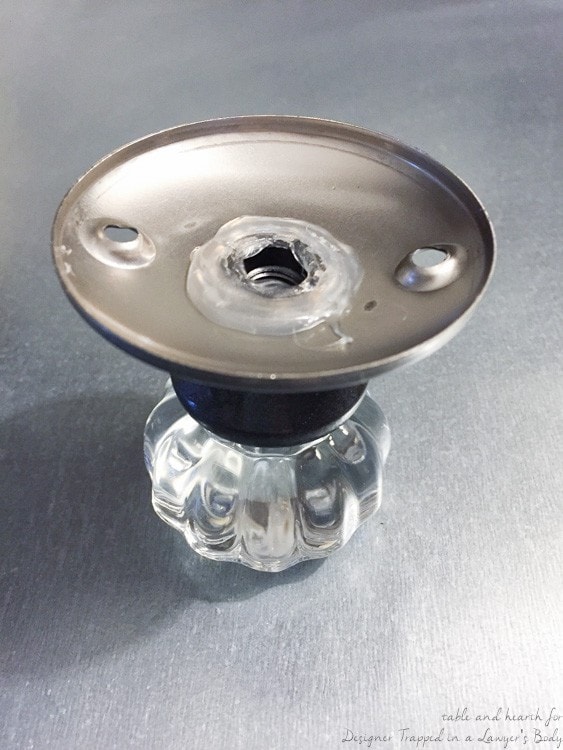 The door is the PERFECT size to lean in a corner of our master bedroom and is such a pretty focal point in our space. The chippy blue and white paint also matches the tranquil new bedding and decor (see our master bedroom makeover here) and the knob is a pretty little dose of bling.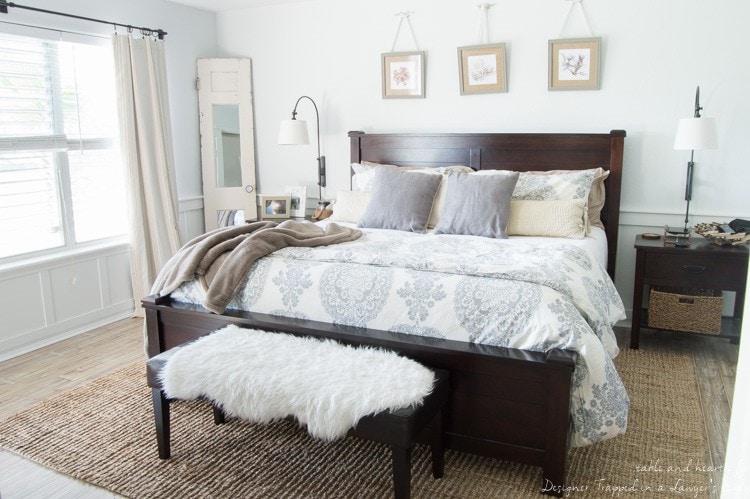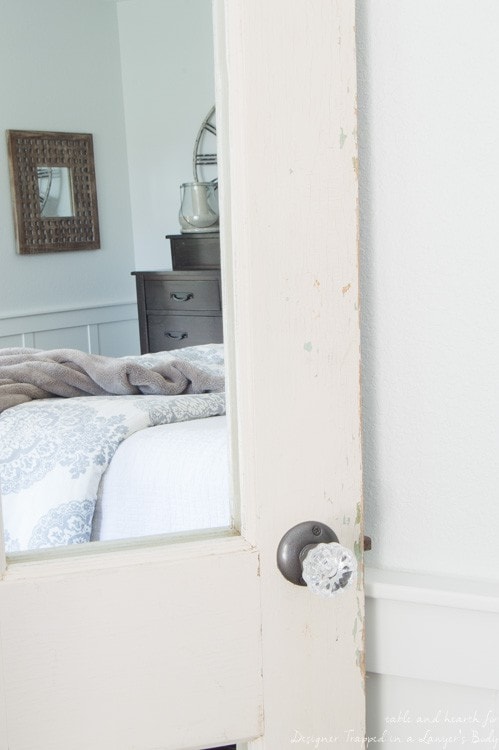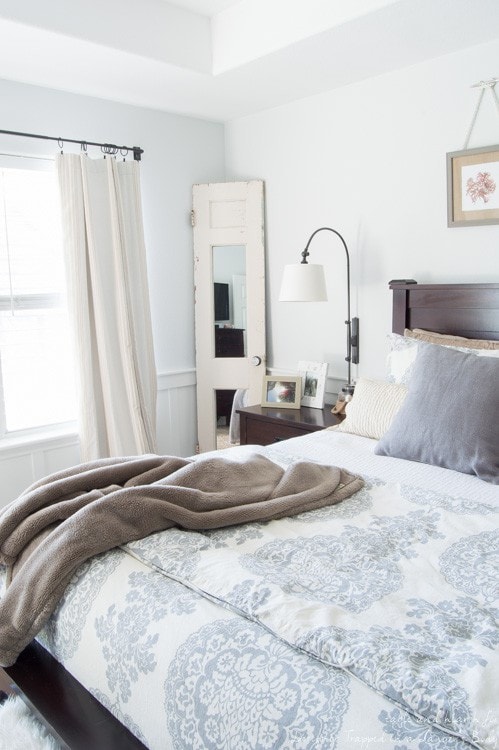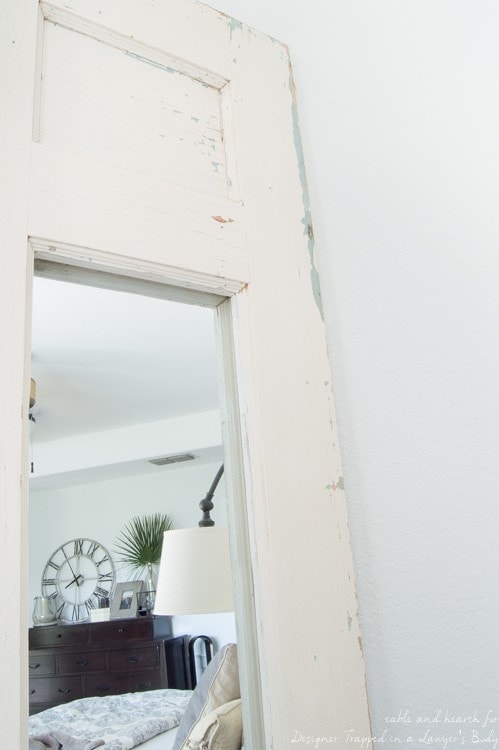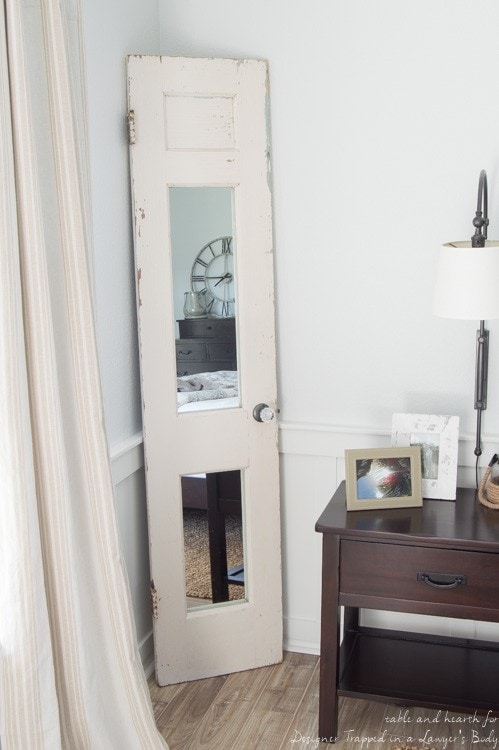 I hope you love this little door as much as we do!!! It is the perfect find, the perfect size, the perfect chippiness, and installing the mirror was perfectly easy to do! That's a whole lot of perfect. And it's really nice to have a long mirror now when getting my girly on :)
Thanks so much for hanging out with me today, I hope this encourages you to transform one of your finds and find new uses for common items. It's so much fun to repurpose a treasure into something functional! If you'd like to see even more DIY ideas and inspiration be sure to follow me at my blog Table + Hearth, Facebook, Pinterest, Instagram, and Twitter! You may also enjoy these projects as well (click each photo to go to the post):
And if you love this post, be sure to Pin it so that you can find it again later!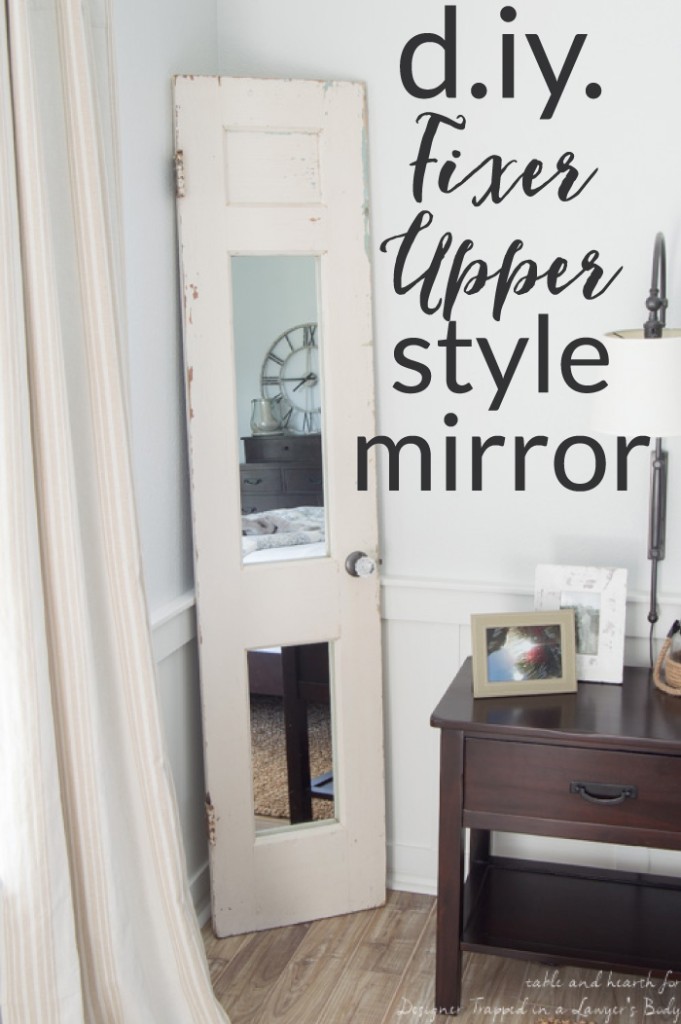 ​