Last Updated on May 21, 2019
Do you guys want to know what breaks my heart?
I absolutely cringe when I watch shows like House Hunters and people completely blow off a perfectly awesome house because of cosmetic issues. You guys, it seriously makes me so so sad. When people reject a poor house based on something silly like the wall color or carpet color, it's just such bummer. There are so many easy DIY home projects that anyone can do to transform a "meh" home into an ultra-fabulous one (even on a budget).
I want to scream, "The house is great! Just go buy some paint and rollers and that bright green room will be absolutely gorgeous in no time!" It drives me bonkers!
So, if you're house hunting, you've come to the right place! If you landed on my blog because you are about to purchase your first home or a new house with features you aren't thrilled with, this post is for you!
First of all, THANK YOU for seeing past the minor cosmetic flaws and realizing a house can have bad carpeting or ugly paint and still be a fantastic dream home! You can take on easy house projects and guess what–they are actually fun. I have completely redone entire rooms of my home–painted vinyl floors, laid concrete over the vanity sink (seriously) and made over a fireplace. You know what? Every project I do, I have a serious blast. I love it. It's satisfying, beautifying and just awesome.
Never underestimate the power of simple, DIY home projects to make drastic cosmetic changes in your home. Entirely transform your house with minimal effort–it just takes elbow grease, paint, time and a pinch of bravery. There are so many easy DIYs and home improvement projects, and many have a shockingly huge impact on the overall look over your home. What types of DIY home projects am I referring to? I'm so glad you asked.
DIY Home Projects to Transform Your Home on a Budget
Paint outdated vinyl floors – You don't have to spend a fortune to replace outdated vinyl floors. You can paint them! Learn how to paint vinyl floors here. This is one of those HIGH-impact easy house projects. I know it seems daunting, but seriously you guys, it couldn't have been easier. Years after the fact, my floors still look Ah-mazing.
No one believes this is a way to transform your house with just a little paint. People see ugly floors and throw up their hands because they assume it will scratch, bleed, streak or just look cheap. Well, if you want to be sold on this DIY home project, check out this dramatic before and after.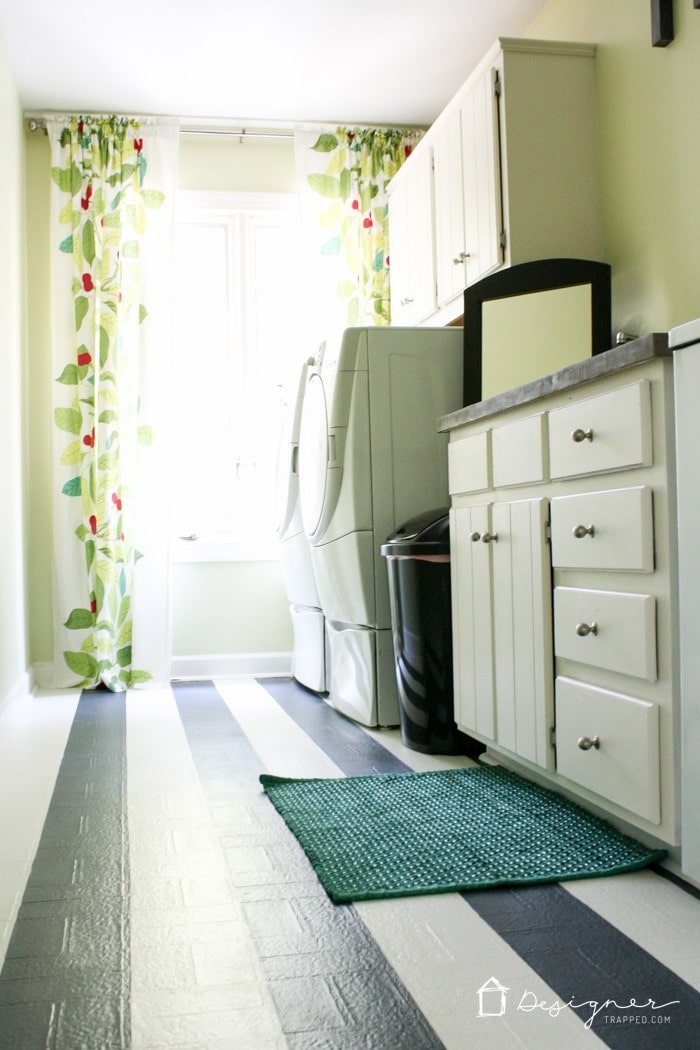 Paint outdated cabinets – Many homes have solid wood cabinets that are in fantastic structural shape, but the finish is worn or outdated. Just like flooring this is another project people can't seem to believe. Painting cabinets just seems like a sanding, priming messy home project nightmare.
You know what? You can easily update them, and you don't have have to sand or prime first! There's a secret: it's all about the right paint! This is one way to transform the whole look of your house and take it from dated to stunning without stress. In fact, the insides of my cupboards were in such good shape, I didn't even need to paint them. This DIY home project was done much faster than I expected and it was well worth it! Check out just how dramatic the change can be below. Learn how to paint your kitchen cabinets without priming or sanding here.
The great thing is–four years after I painted my cabinets? They still look absolutely fantastic! There is nary a chip or scuff in sight. This easy house project holds up for a long time. Why spend the money on gutting your kitchen, when you could save with an easy painting update?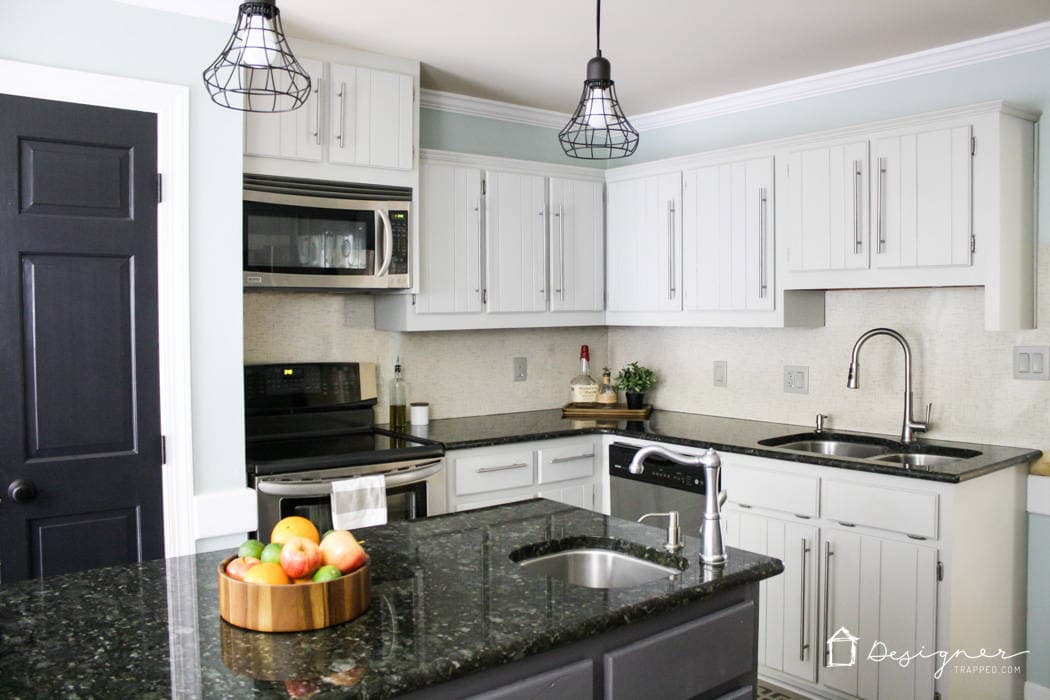 Change or update light fixtures – Sometimes simply changing light fixtures can make a huge impact in a room. You can even reinvent an existing light fixture for a whole new look with new bulbs and some paint.
I love this project because it was easy and inexpensive. Let's face it–there are a lot of ugly bathroom fixtures out there and most of us just try to ignore or live with them. This easy DIY home improvement project proves you don't have to live with it–you can have a huge impact that transforms the look of the whole room with low effort. The light fixture update is one of those one-afternoon, easy at-home projects you can tackle with very little skill. All it takes is a can of spray paint and you end up with a Pinterest-worthy pipe-style light fixture.
Check out this transformation, which you can learn more about here. Yep, that's the same light fixture (and mirror, which was simply framed out in wood). This awesome modern industrial-look fixture would be perfect in any room, so why limit it to just the bath?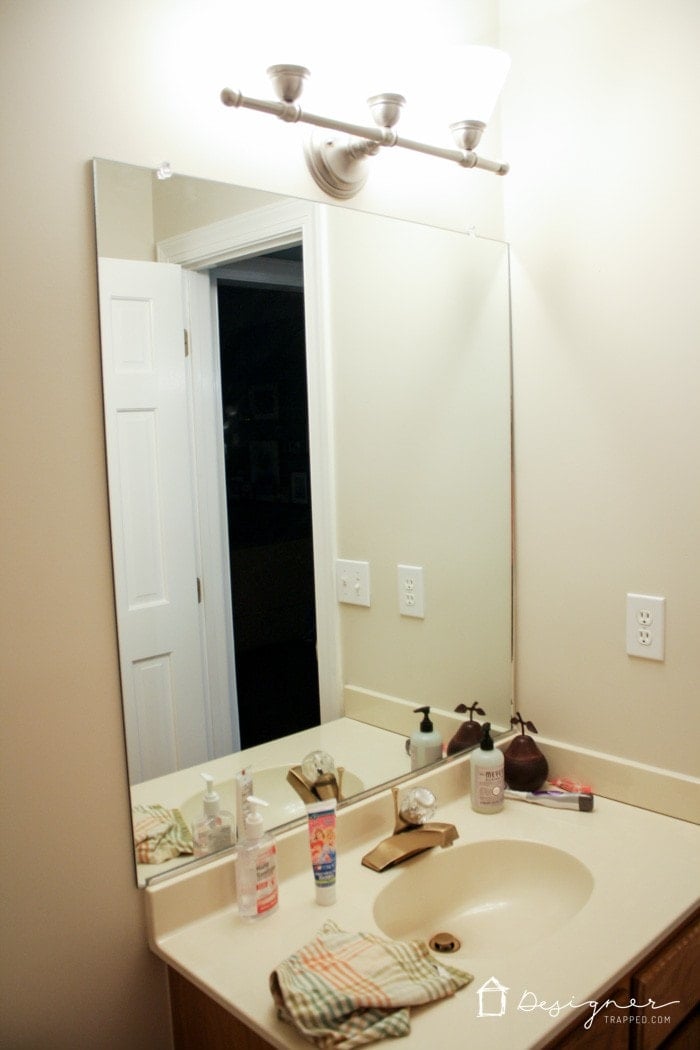 You can resurface almost anything – Don't like the stone on a fireplace? Guess what? You can remove it and transform it into something that is more your style.
The hearth is the centerpiece of a living room and often potential homeowners walk in to see a big monstrosity from the '70s or '80s and instantly go, "No way!" I promise, even though a fireplace seems like a BIG DIY project, it's way easier than you suspect. There's no reason to pass up on an awesome house just because someone installed a scary stone fireplace (and then in our case, put some awful polyurethane over the top–ugh)!
This is a project that will transform your house, and take it from 40 years ago to "updated and fresh." This easy DIY fireplace makeover was totally doable and was accomplished for just over $1,000.
You can read more about it here.
One room in older homes that never seems to get updated is the bathroom/powder room. Between the generic fixture (from above) and the cultured marble vanity top, bathrooms can look dated very quickly. It's not a big deal, but it doesn't do any favors for the overall look and feel of your house (or a potential house).
You can also resurface outdated cultured marble vanities with a DIY concrete overlay for around $20. It's true. That yellowing, blah marble is an easy DIY home project away from looking like an expensive poured concrete vanity. This project is much easier than you might think and I've got plenty of tips (including one lesson I learned AFTER doing mine) to help you preserve the look of your concrete overlay for years.
You can read all about how to do that here. This is an easy home improvement project you can tackle in an afternoon.
Paint a pattern – Sick and tired of plain walls? Wallpaper has been slightly more popular recently, but it's still a big ol' pain to deal with–all the dipping and smoothing and paste everywhere. Not to mention the commitment required with wallpaper and the blood, sweat and tears required to remove it, should you ever get tired of the look.
Guess what! You don't have to commit to wallpaper to add interest. Grab some paint brushes and a stencil you love and create a stunning feature wall in an afternoon. Stenciled walls are some of my favorite easy DIYs because the impact is huge but the cost is minimal. You can transform your house with just a little paint, and then when you're sick of it? Paint is so easy to cover up!
Check out the dramatic before and after below. You can learn all about how I stenciled my wall here.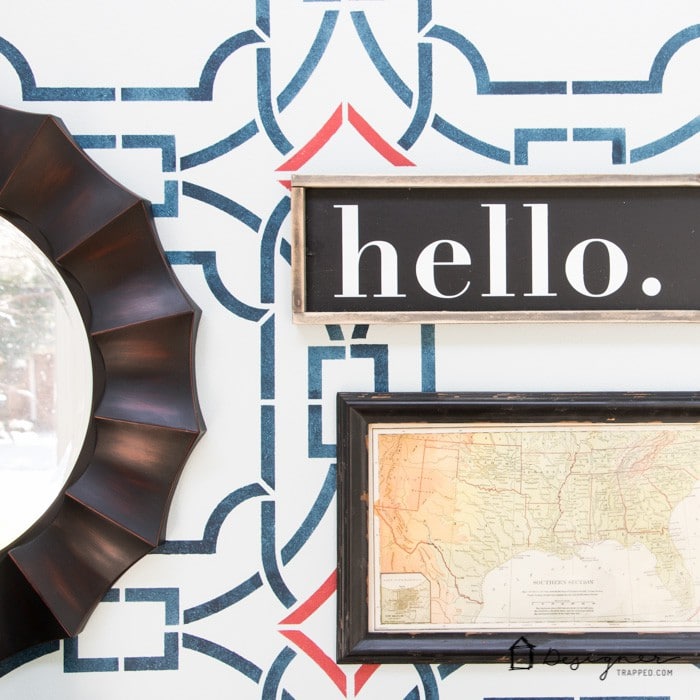 Isn't it truly amazing how much of an impact those easy, cosmetic DIY home projects can make?
So guys, here and now, I want you to commit to me you'll never write off an "ugly duckling" dream house so long as it has good bones. Be a visionary! See past the carpet and the vinyl! And if you need advice on where to shop for affordable decor for your (now beautiful) dream home, be sure to check out my other posts below!
[mv_create 1 11 200 2016 key="1″ type="list" title="Most Popular Projects" thumbnail="<a href=" https designertrapped com wp content uploads diy home decor projects blog jpg a]