Last Updated on March 3, 2022
Personalized photo frames can be so expensive. DIY your own with this simple tutorial! Easy to customize, it is the perfect way to display your favorite family photos!
Hey y'all! I am super excited to share with you how I made these DIY personalized photo frames (for lack of a better phrase) in just a couple of hours on a tiny budget. I am a huge fan of displaying family photos, but just sticking photos in frames can get boring, so I am thrilled with this creative solution. Now, I have to tell you that this project was totally inspired by this project by the incredibly talented Katie who blogs at Little House of Four. I put my own spin on it and can tell you that the addition of DIY personalized photo frames has made such a difference in our master bedroom. It even inspired me to repaint our dresser that we scored at a thrift shop about 14 years ago–you can read all about that here.
Bottom line… If you love displaying family photos, this is a perfect project for you. It's inexpensive and fun!
This post contains some affiliate links for your convenience. Click here to read my full disclosure policy.
DIY Personalized Photo Frames Tutorial
Materials needed to create DIY personalized photo frames
Steps to create DIY personalized photo frames
1) Cut your plywood down to size and paint it with whatever paint color you desire.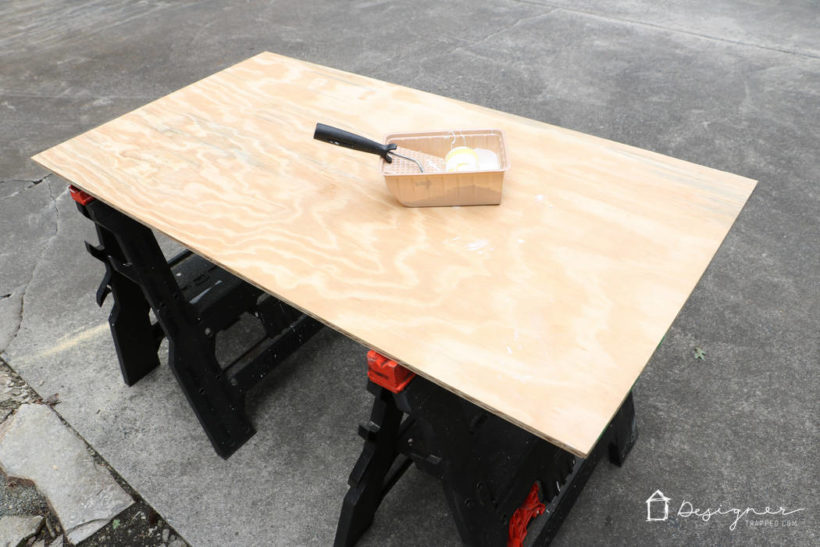 2) If desired, spray paint your hardware with gold metallic spray paint. I chose to paint mine because the clipboard clips were too brassy for my taste and the name label holders were a bit too antique in appearance. Painting them all the same color was the way to go.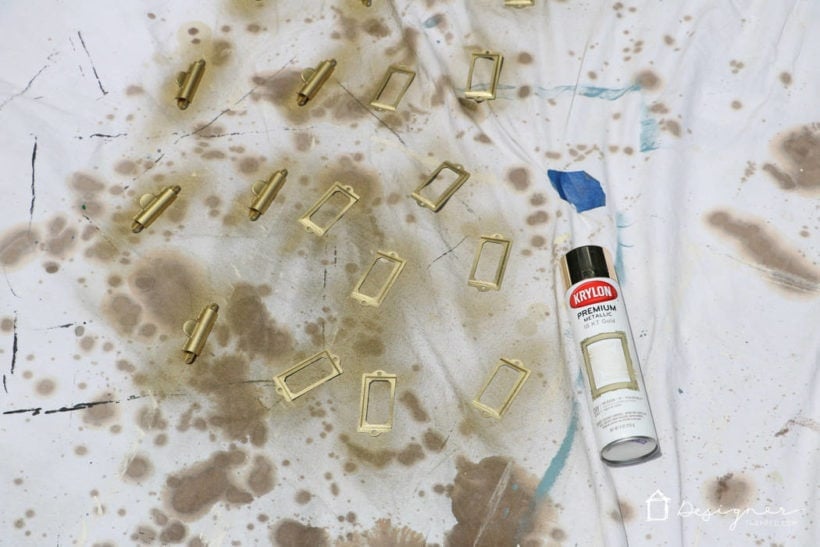 3) While your painted hardware is drying, flip it over and attach eye screws the right side and left side of your plywood about 6 inches from each side and 6 to 8 inches down from the top. Then thread your picture hanging wire through and wrap it securely.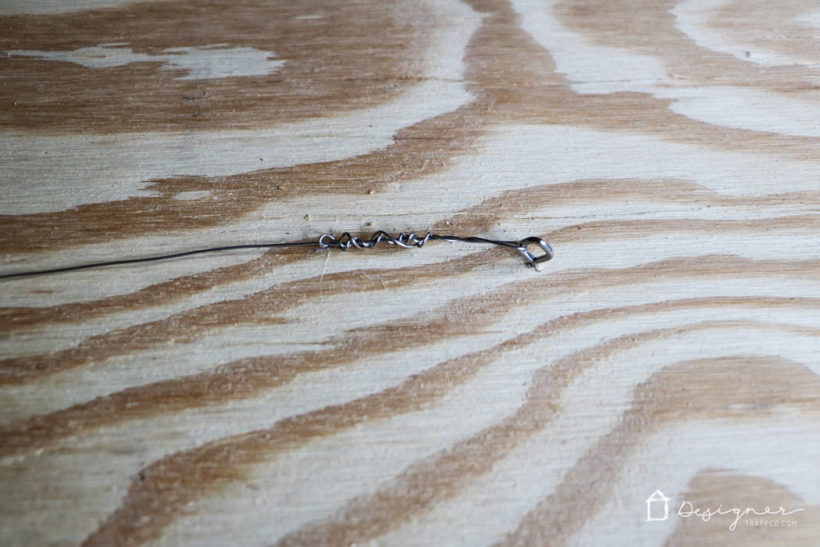 4) Decide on the placement of your label name card frame holders and clipboard clips on your painted plywood. I wanted to hang a total of eight 8 x 10s on mine. I spaced the hardware so that I can hang 4 landscape-oriented photos on the top and 4 vertical-oriented photos on the bottom. Once you have figured out your placement, screw all your hardware into place.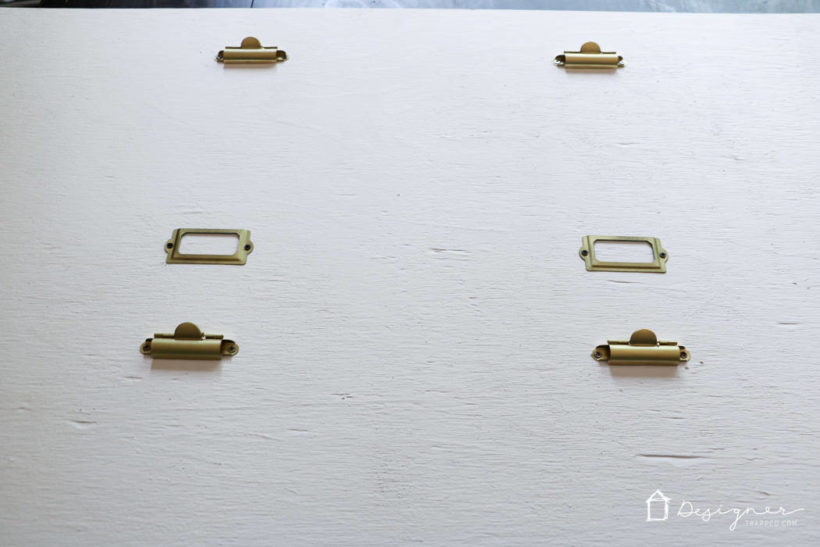 5) Create your labels. I used my Silhouette CAMEO to make mine. You can also use a Cricut, if that is the cutting machine you have! But if you don't have one just grab some cardstock, a pen and some scissors!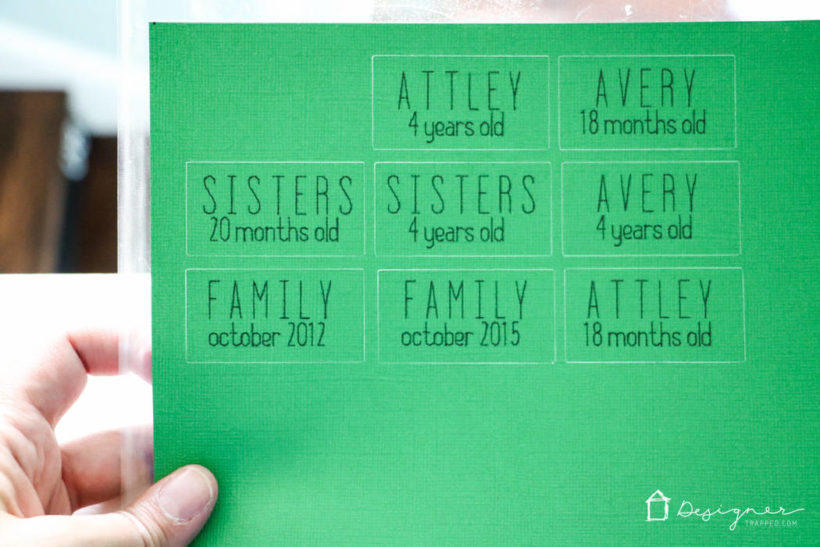 6) After I slid my labels into place, I decided that something was missing, so I quickly painted some navy blue stripes along the edges of the plywood for some added interest. If you add a painted detail, be sure to use Frog Tape so that your paint doesn't bleed under the tape. All the tape you see below is Frog Tape, I just ran out of the regular Frog Tape (which is green) and had to use some of my Frog Tape delicate surface tape (which is yellow). Frog Tape is a lifesaver when it comes to getting crisp paint lines. And no, I am not getting paid to say that–I just happen to love the stuff.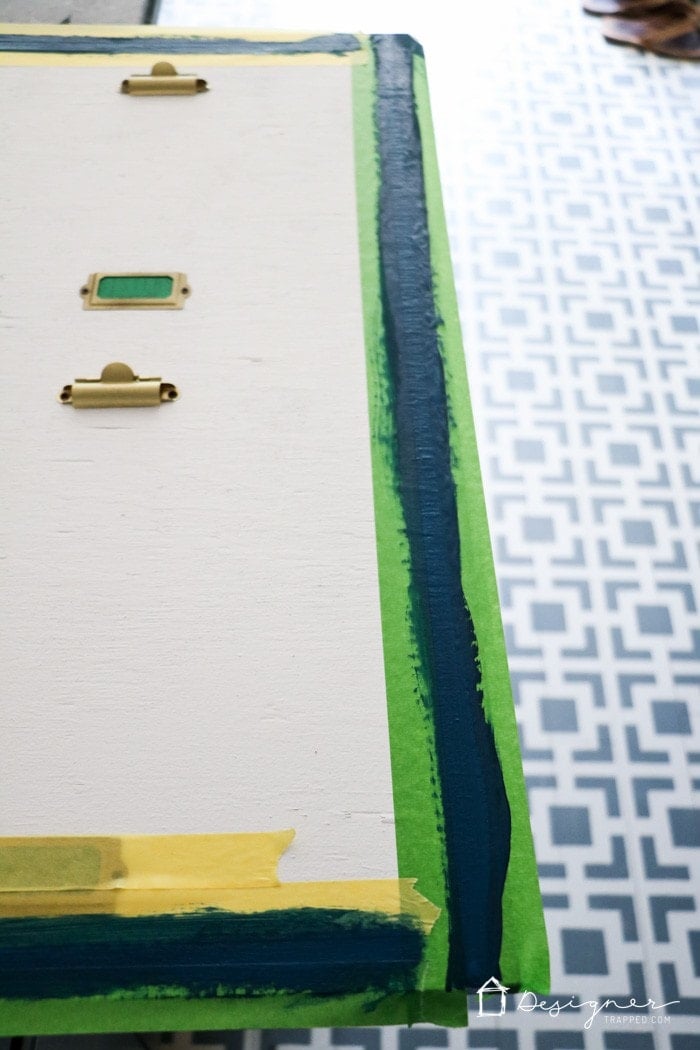 7) Hang it up and add your photos.
That's it! How easy is that?! I can't get over how well these personalized photo frames turned out and I love that I can change the photos out whenever I want. It's perfect for someone who loves displaying family photos as much as I do. Check out the finished project.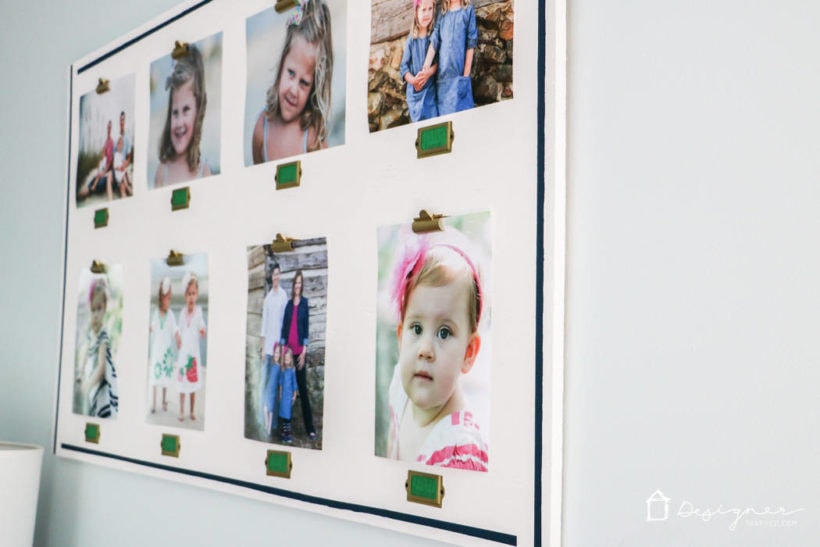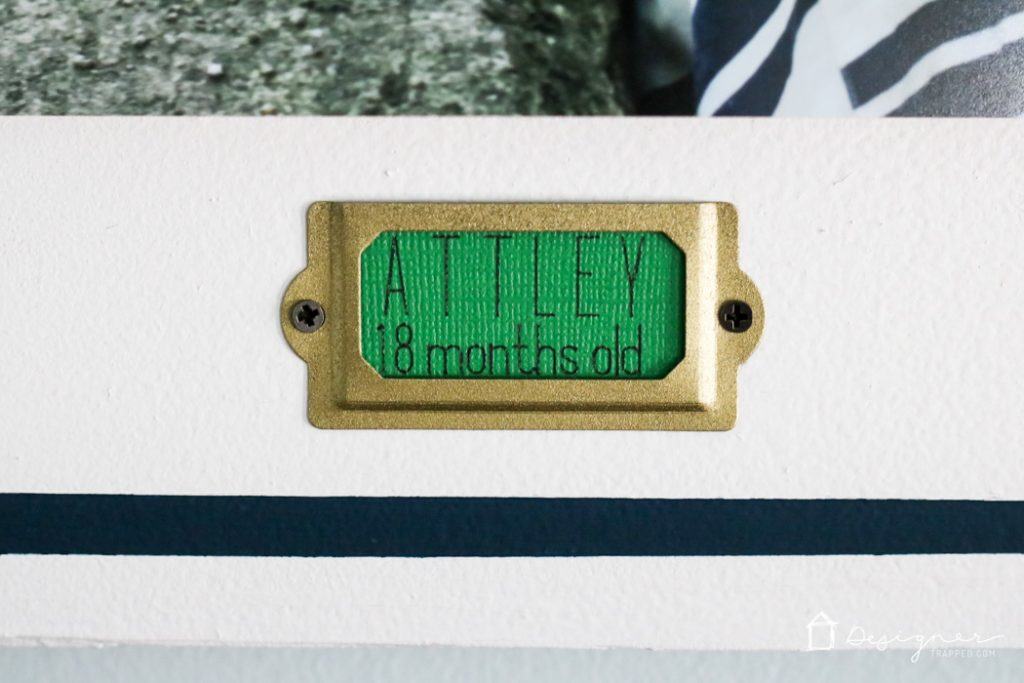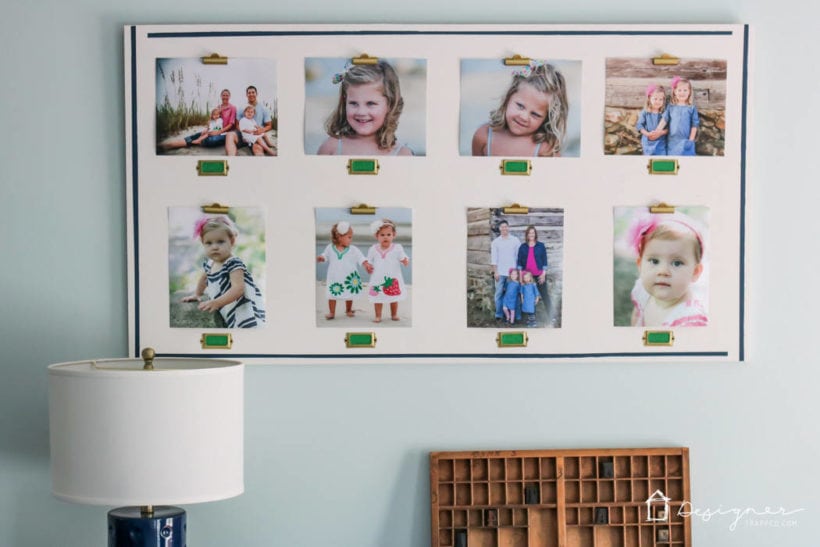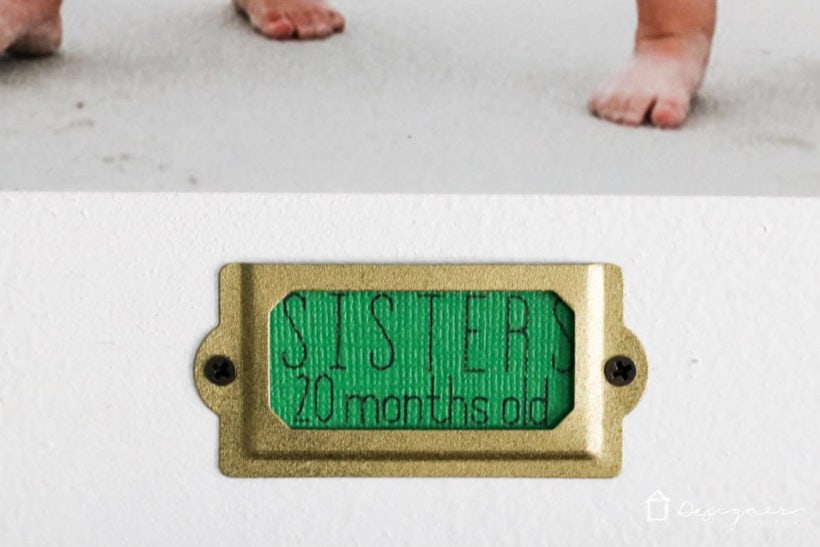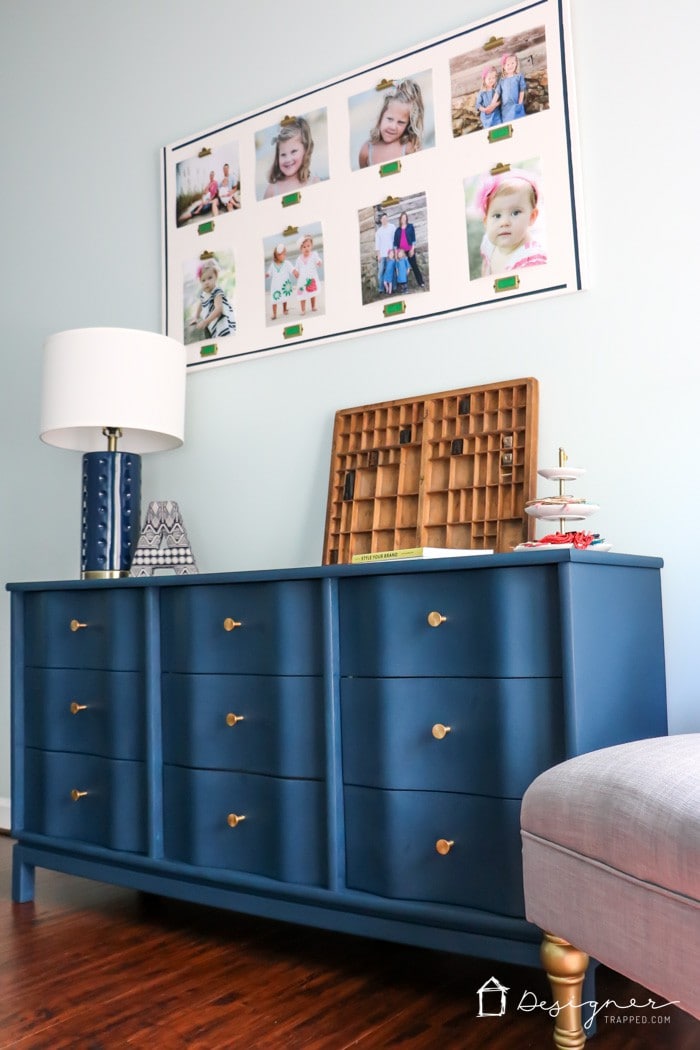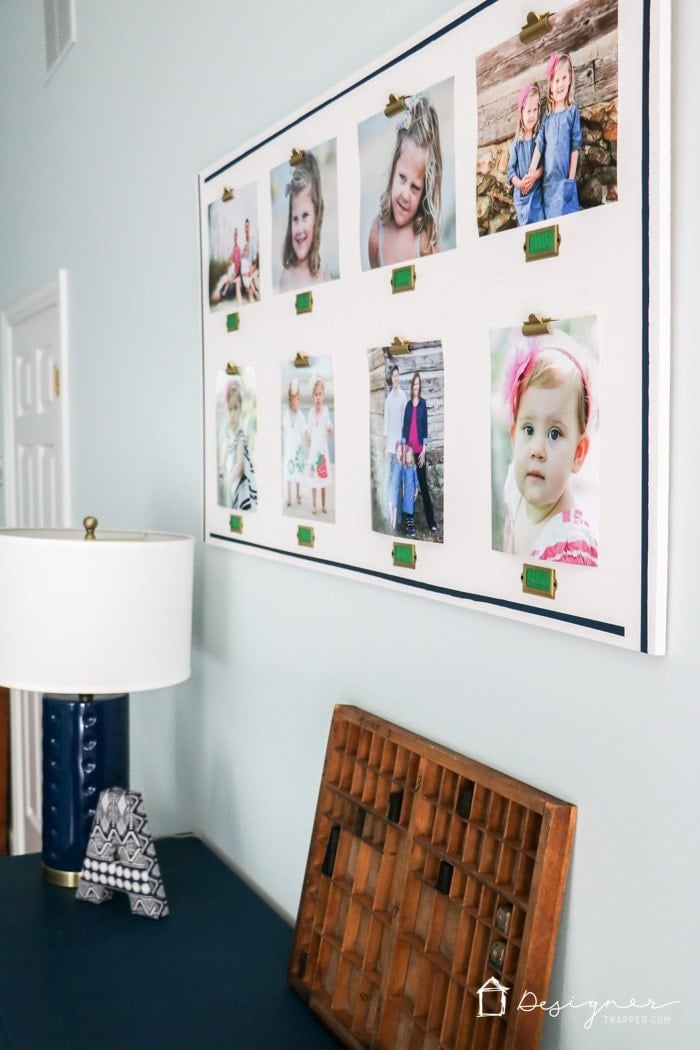 I love this project! Another great way to display photos you love is to create a photo canvas. You can see my simple DIY tutorial for that here. You can also see more great ideas in my post My Favorite Creative Photo Display Ideas. We also recently added a colorful photo gallery in our upstairs hall filled with family photos and it makes me happy every time I walk down the hall. Don't be afraid to add family photos into your decor! It makes your home feel personal and cozy.
Before you head out and get started, be sure to become a Kaleidoscope Living VIP! Subscribe now and you will receive a password so that you can access everything in one convenient digital library–tons of amazing content that will love all in one easy to access place.

​
[mv_create key="1″ type="list" title="Most Popular Projects" thumbnail="</span><a href=" target="_blank"]​