Last Updated on March 3, 2022
These adorable DIY silhouette necklaces are the perfect gift for any mom or grandmother. What a perfect way to feature the silhouette of your kids or grandkids. And they are so fun to make!
Hello there! If you've followed my blog for a while, you may be surprised to learn that I'm fairly sentimental. Many people don't expect that since I am pretty tidy and don't like a lot of clutter. That means that I hold on to "stuff" just for the sake of sentimental memories sparingly. Interestingly, I have found that sentimental jewelry is tiny and doesn't feel like clutter to me. So I have several sentimental jewelry pieces now, but all have been store-bought and gifted to me. Well, I decided it was time for me to DIY something for myself and decided to make some DIY silhouette necklaces. Y'all, I'm so obsessed with how cute they turned out! Read on to learn how to make your very own.
This post contains some affiliate links for your convenience (which means if you make a purchase after clicking a link I will earn a small commission but it won't cost you a penny more)! Click here to read my full disclosure policy.
DIY Silhouette Necklaces Tutorial
Materials needed:
Chain in any length/color you like
Jump rings in the same color
Cutting machine
Vinyl in whatever colors you like (I used this vinyl in the Flamingo and Denim colors)
Steps:
1) First, you need to take profile photos of your kid(s) and convert them to a silhouette. I did this using Photoshop, but if you don't have access to Photoshop, I recommend searching for an app that will do this for you :) There's probably plenty of free options out there.
2) You will start by cutting the vinyl to apply to the BACK side of your acrylic blank. This is what gives the clear blank its color :) I chose navy blue for one and pink for the other. Use your cutting machine to cut out a 1 inch circle of vinyl for each silhouette charm you are making. (Since I was making 2 necklaces with reverse color schemes, I also cut out 1 of my daughter's silhouettes at the same time).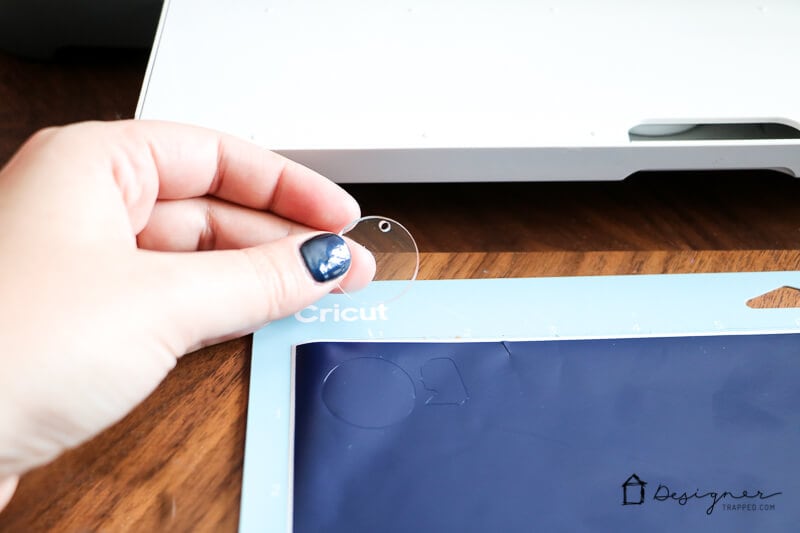 3) Apply it to one side of your acrylic blank. This is kind of tricky to get perfectly centered because it's so small. But don't worry, if you aren't able to perfectly center it and you have a little bit of overhang, just use your craft knife to trim it away. You will also want to use your craft knife to cut the vinyl away from the pre-drilled hole in your acrylic blank. Be sure to smooth any air bubbles out of the vinyl.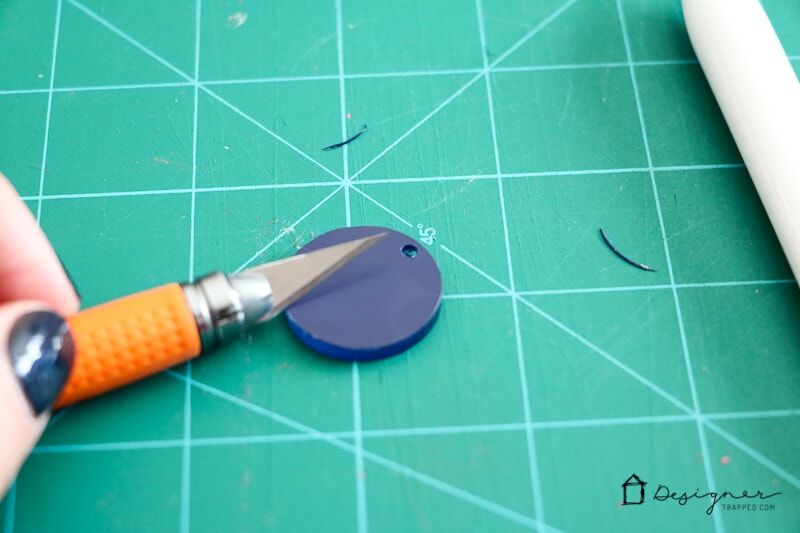 4) Next, you need to import your silhouette image(s) to Cricut Design Space or whatever design software you are using. Cut it/them out in whatever vinyl color you have chosen. Then weed your design.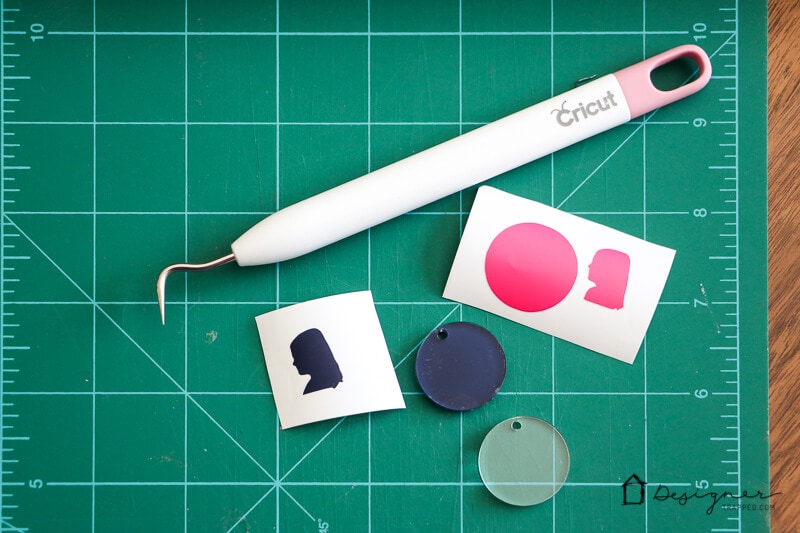 5) Gently peel your silhouette image off and apply it to the FRONT side of your acrylic blank, doing your best to center it.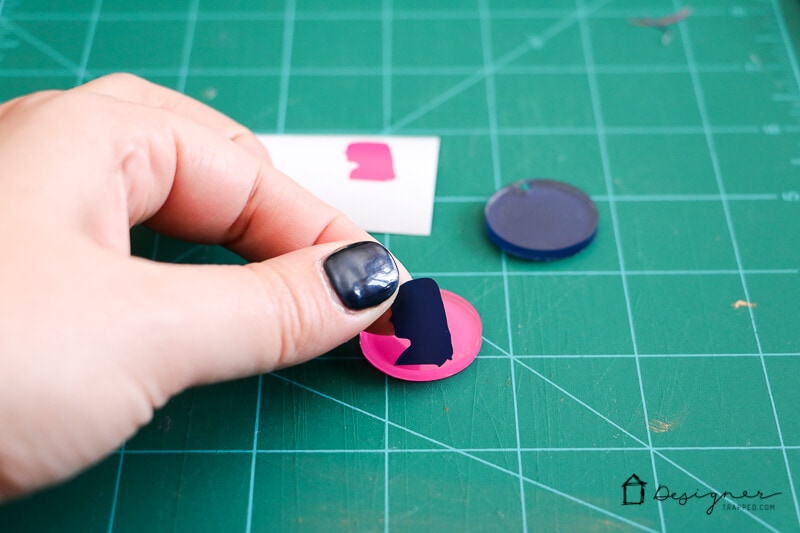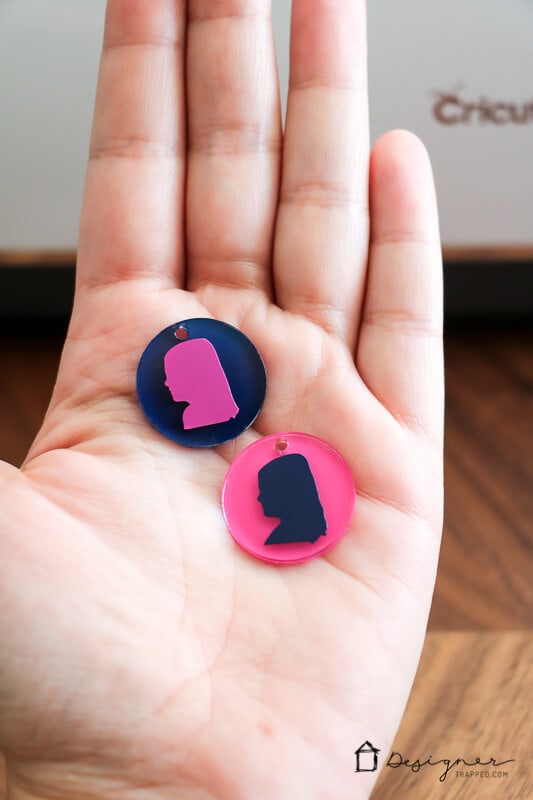 6) Apply the charm(s) to your chain. I purchased an inexpensive gold chain at my local craft store and cut it to the length I wanted.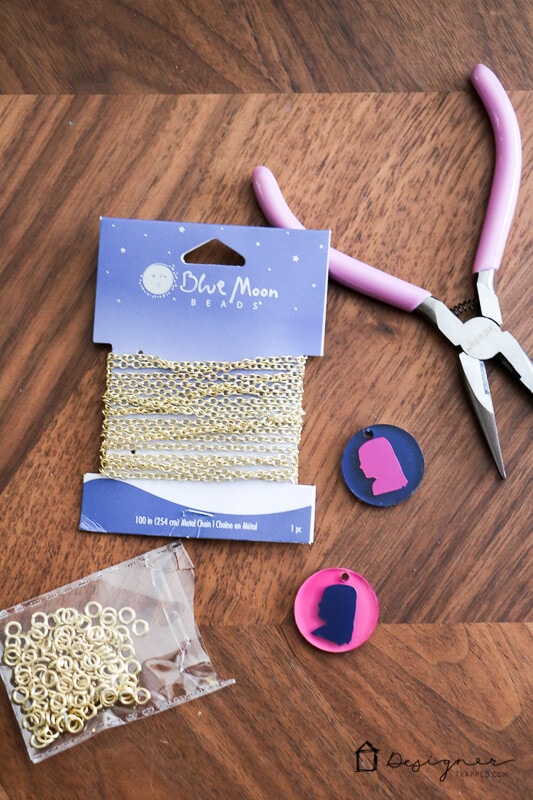 7) Attach jump rings to your charm(s) and slide it on to your chain. Then attach a jump ring or clasp to connect the two ends of your chain. Mine is long enough to slip over my head, eliminating the need for a clasp–I just used a jump ring.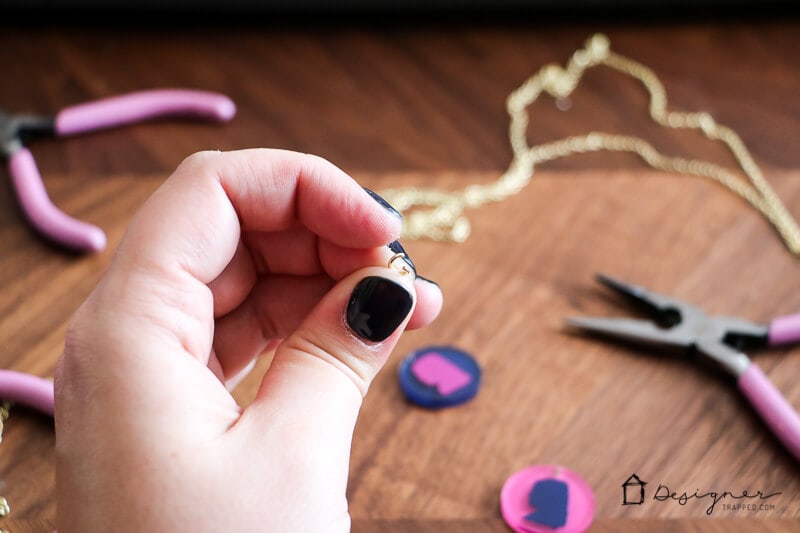 That's it. So cute and so sweet! I love that I know which silhouette belongs to Avery and which belongs to Attley :) These DIY silhouette necklaces are a PERFECT Mother's Day gift. And I love that you could use any combination of colors, making them endlessly customizable. Take a look at how mine turned out.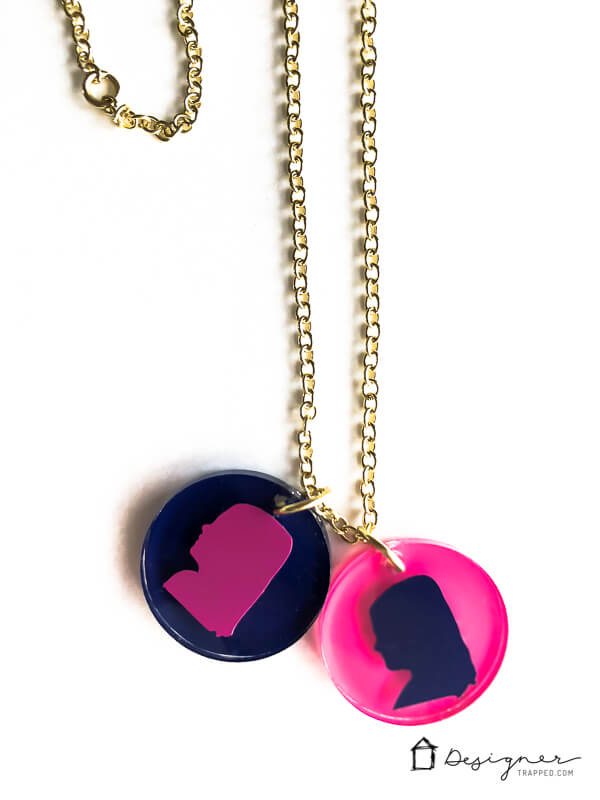 I wear mine all the time and love how light weight it is (acrylic weighs next to nothing). And it combines my two favorite colors! Best of all, my sweet girls love, love, love it when I wear it. So sweet.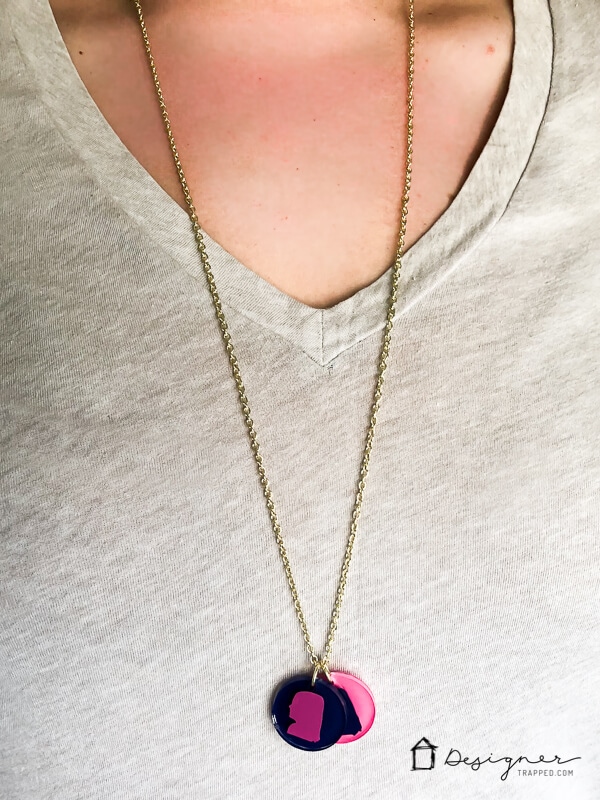 I hope you make one of these DIY silhouette necklaces for yourself, a family member or a friend soon :)
Now before you head out, be sure to subscribe to my newsletter so you can grab my free printables, including some gorgeous printable Mother's Day cards that would go great with one of these necklaces as a gift:
[mv_create 1 11 200 2016 key="1″ type="list" title="Most Popular Projects" thumbnail="<a href=" https designertrapped com wp content uploads diy home decor projects blog jpg a]