DIY Wallpaper (that is removable!)
Last Updated on June 18, 2020
I'll be the first to admit that I get pretty darn excited about all of our DIY home decor projects, BUT THIS ONE IS SUPER, SUPER, SUPER EPIC (in my opinion). Today I am going to teach you how to make DIY wallpaper that is removable and affordable! Best of all, it's so much easier than hanging traditional wallpaper.
As we were planning to overhaul the organization of our coat closet (you can read all about our small closet organization system here), I knew I wanted to make it pretty in the process. I thought it would be the perfect opportunity to use some gorgeous wallpaper. That said, I am terrified of committing to real wallpaper that is glued to the wall, so I decided to use temporary wallpaper. I even went to Target and purchased several rolls in a cute pattern. I was SHOCKED by how expensive it was (even at Target!), but I was going to suck it up and use it. Then Joe pointed out to me that it would be really tricky to install it because of this odd access panel we have in our coat closet. I knew he was right so I returned the temporary wallpaper and went back to the drawing board.
That's when I came up with my idea for our DIY wallpaper! I realized that I could create literally ANYTHING I wanted by painting the walls and making my own removable decals from vinyl. After some brainstorming, Joe and I decided on a bird motif. I really wanted to paint the closet navy blue and add coral colored birds, but Joe thought it would be too dark without a light in the closet (and we can't install one because the stairs are directly above it), so we reversed the color scheme and went with salmon/coral on the walls and navy blue birds. And I love it. Now, read on to learn how we made this DIY wallpaper that we can remove without damaging the walls anytime we want! This post contains some affiliate links for my convenience. Click here to read my full disclosure policy.
How to Make DIY Wallpaper (that is removable)
Materials needed for DIY wallpaper:
Paint and standard painting supplies
Navy blue vinyl (this is the exact vinyl I used–the other blue vinyl options out there were a bit too royal blue for my taste). You could also choose a second or third color if you really want to shake things up! The amount you need will depend on your design and the size of your room. I used almost 3 rolls total.
Cutting machine (I use a Silhouette Cameo but I've heard great things about the Cricut Explore as well)

Yes, cutting machines are an investment, but you will pay a ton on temporary or regular wallpaper (the 4 rolls I bought at Target cost $120 and I'm not sure that would have been enough). Most importantly, can use your cutting machine for a ZILLION other things. I use mine at least once a week for something–to label bins, lunchboxes, etc. You can click here to see other things I have made with my machine and this just scratches the surface–I only blog about a tiny fraction of projects I have completed with my machine).
Steps to make DIY wallpaper:
1) Paint your walls whatever you want your background color to be. Our closet started out as builder's off-white. BORING.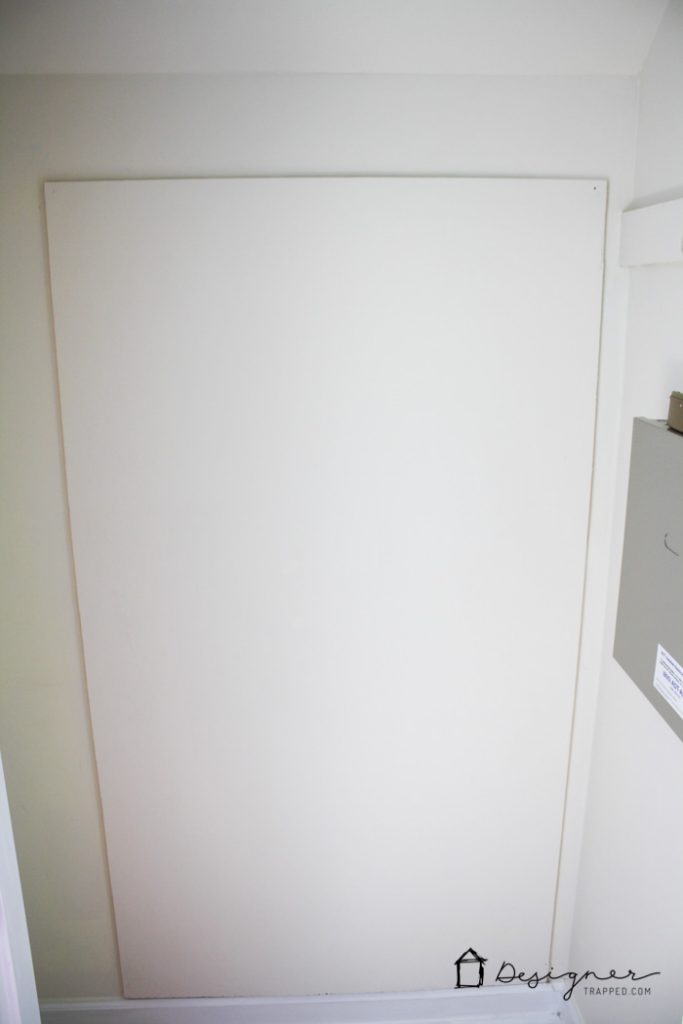 2) Next, choose a design for your DIY wallpaper in whatever cutting software you are using. I used Design ID #70838 from the Silhouette Studio–it cost only $.99. It came with 4 birds, but I only liked 3 of them so I deleted one of them and then replicated the other 3 over and over again. I cut out about 4-foot lengths at a time. For our small closet, I used 3 rolls of vinyl, so the total cost of the vinyl decals came to around $37.00.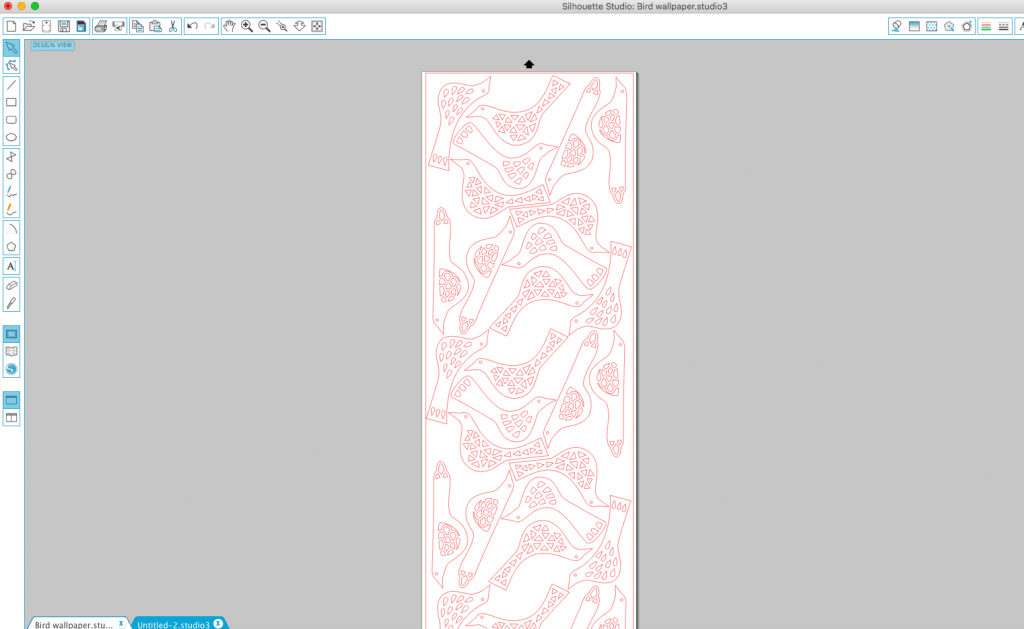 3) Peel them off and stick on your DIY wallpaper! This is the fun part. Check out the video below to see just how easy it is. I wanted a really random pattern, so I didn't follow any rules when I placed them. The video will play after a short ad.

That's it. Seriously easy, huh? And this DIY wallpaper will peel off your wall whenever you are ready without damaging your walls! Trust me, this isn't the first time I have used this vinyl on my walls. Even as I placed the birds I would peel them off and reposition them. No problem at all. Best of all, they adhere perfectly without peeling on their own. They are easy to peel off, but they do not seem to lose any adhesion over time! Check out the final results.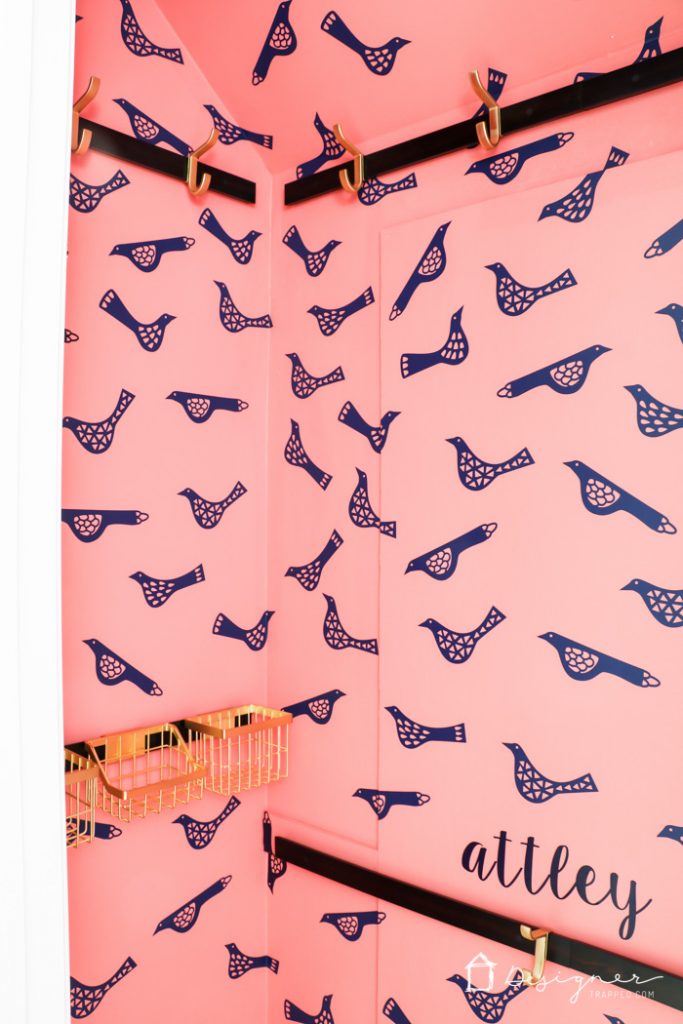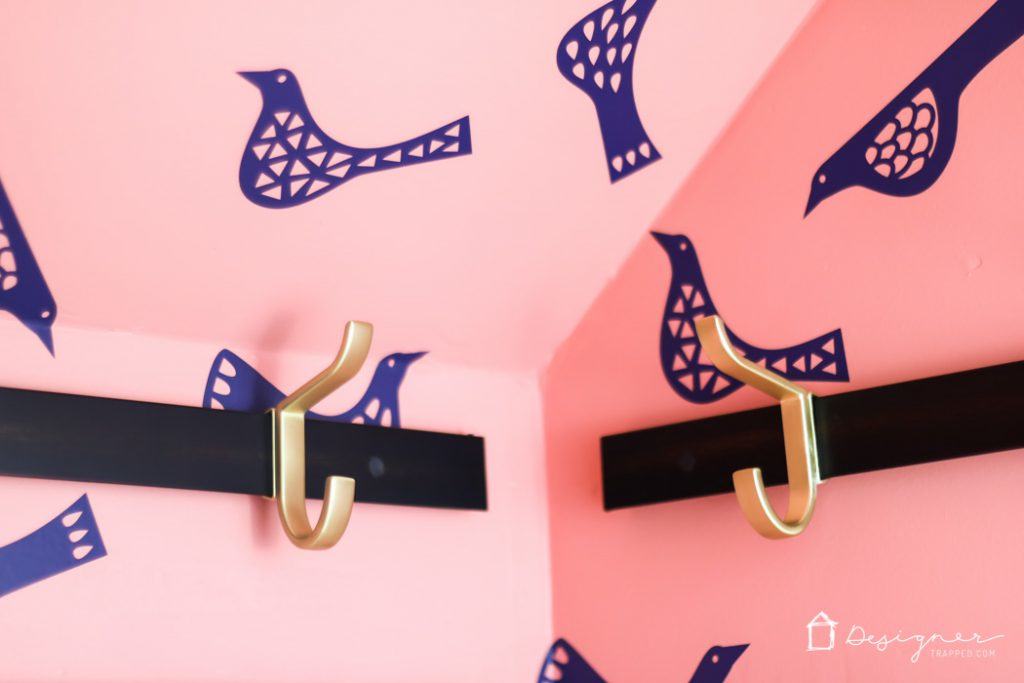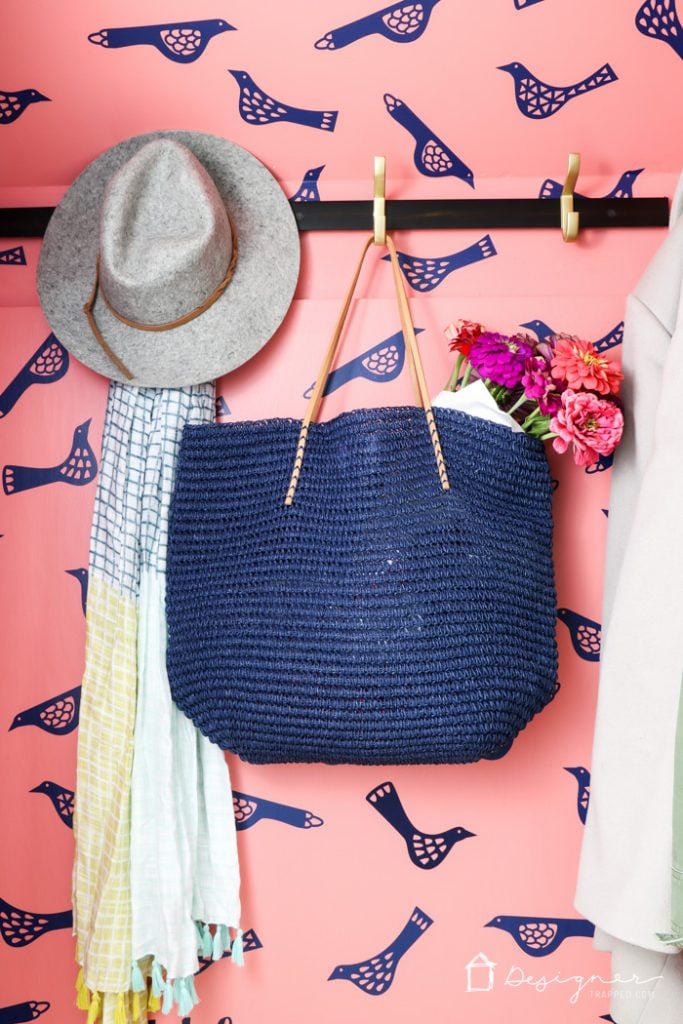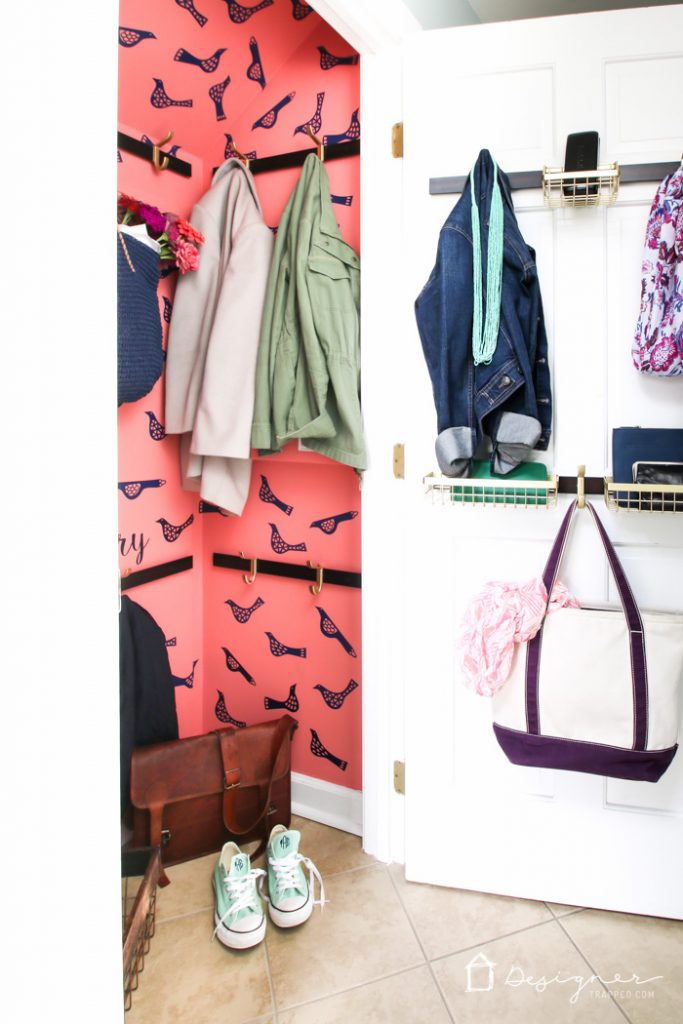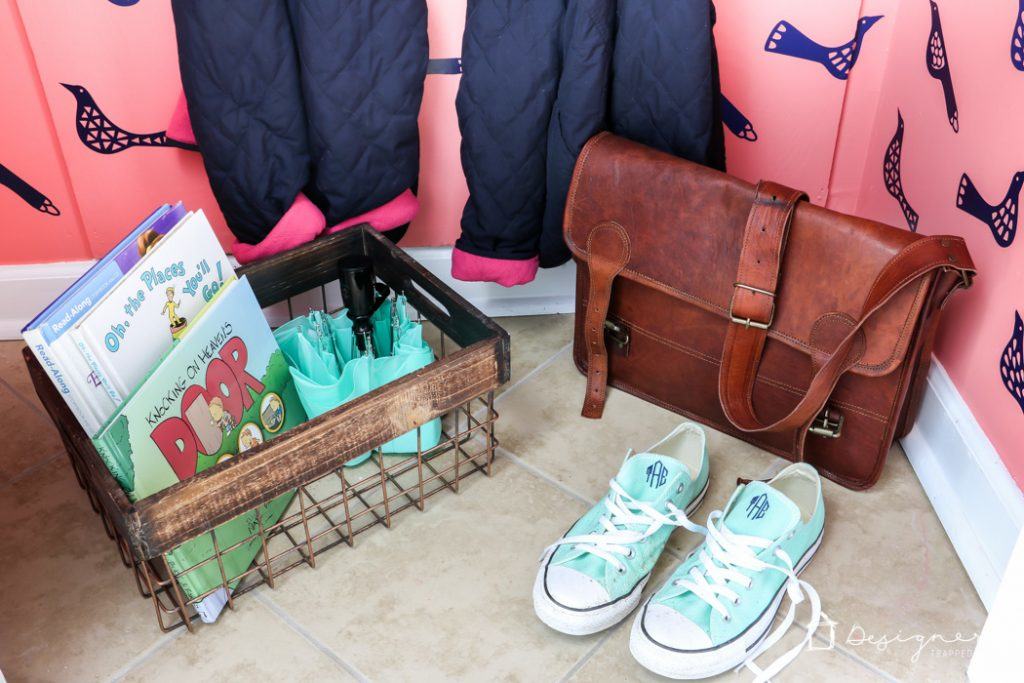 What do you think of my DIY wallpaper solution? It's probably WAY over the top for most people, but it makes my heart happy every time I see it. And as my friend Thea said, "It's like being inside a pretty purse." YES! She totally gets me.
If you want to refer back to this project later, be sure to pin it!

​
​
[mv_create 1 11 200 2016 key="1″ type="list" title="Most Popular Projects" thumbnail="</span><a href=" https designertrapped com wp content uploads diy home decor projects blog jpg target="_blank" a span]​​