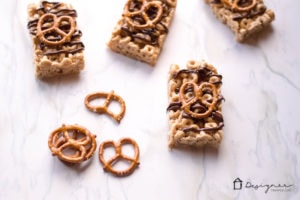 Cheerio Bars
Yield 6-8 bars
Looking for a quick and yummy treat that is mostly sweet with a touch of salty? These Cheerio bars are perfect, and a fun change from traditional cereal bars. Your family and friends will love them!
Ingredients
3 tbsp butter or margarine
22 large marshmallows
¼ cup smooth peanut butter
3 cups Cheerios
1 cup chocolate chips
1 cup pretzels
Instructions
Line a 9x9 pan with parchment paper and set aside. In a medium-sized saucer, melt butter/margarine over medium heat.
Add marshmallows and peanut butter to the saucer and mix until completely melted. Remove from heat.
Fold Cheerios into the marshmallow mixture. Once all of the ingredients are thoroughly combined, pour into lined pan and pat down so that the surface is even. Allow to set for about an hour.
Once set, place the treats on a larger baking sheet (it'll be easier to work with) and cut into rectangles.
Melt chocolate chips and drizzle onto each Cheerio treat with a piping bag. Use the remainder of your chocolate to "glue on" your pretzel so that it sticks right on top of your Cheerio treat.
Allow the chocolate to set and bon appetit!
Courses dessert
Recipe by Kaleidoscope Living at https://designertrapped.com/easy-and-delicious-cheerio-bars/