Hey, hey! Today is the first official post that is part of my new series that I am calling "Recipe of the Month." I'm starting it off with a personal favorite of my family's–easy baked spaghetti with veggies.
You may be thinking, "Wait, Tasha is NOT a food blogger. What's happening?!" And you are right! I am far from a food blogger. What I am is a busy wife, mom and full-time worker just like so many of you and I need quick and easy recipes that my family will love. So, once a month (the last day of every month) I am going to share one of my family favorites with you in the hopes that it will help you fill your table with an easy and reasonably healthy meal that will be loved by kids and adults. Such recipes aren't super easy to come by in my home, so I feel that they are share-worthy when I find one. And, I love to cook almost as much as I love to DIY (bet you didn't know that)!
Enough talking. Let's get on with this easy baked spaghetti recipe. If you try it, I'd love to hear how you like it! 
This post contains some affiliate links for your convenience in case you are like me and order everything from Amazon :) Click here to read my full disclosure policy.
Easy Baked Spaghetti With Veggies
Ingredients for easy baked spaghetti:
1 lb ground turkey PLUS favorite seasonings (we used 2 teaspoons Italian seasoning)
3-5 cups cooked spaghetti
2 medium zucchini, spiralized
1 medium carrot, spiralized
1 cup tomato spaghetti sauce
2 Tablespoon tomato pesto or sundried tomatoes
1-3 teaspoons hot sauce, to taste
Salt and pepper, to taste
1 cup shredded mozzarella cheese plus extra for serving
2 Tablespoons fresh parsley, chopped
Directions:
1) Preheat oven to 350F.
3) Season and cook your ground turkey until fully cooked and brown throughout, stirring and breaking up the turkey every once in awhile, approximately 8-10 minutes.
4) Meanwhile, cook your spaghetti according to package directions.
5) Prepare your zucchini and carrot with your favorite spiral tool. AFTER writing this post I bought
this awesome spiralizer
that is so, so, so much easier than hand-held versions and gives you awesome, curly "spaghetti." I love it! I bought the
3-blade basic model
, but kind of wish I had spent a little bit more for the collapsible version (the basic version I bought is kind of bulky to store). Now I use it to make this easy baked spaghetti and so many other recipes.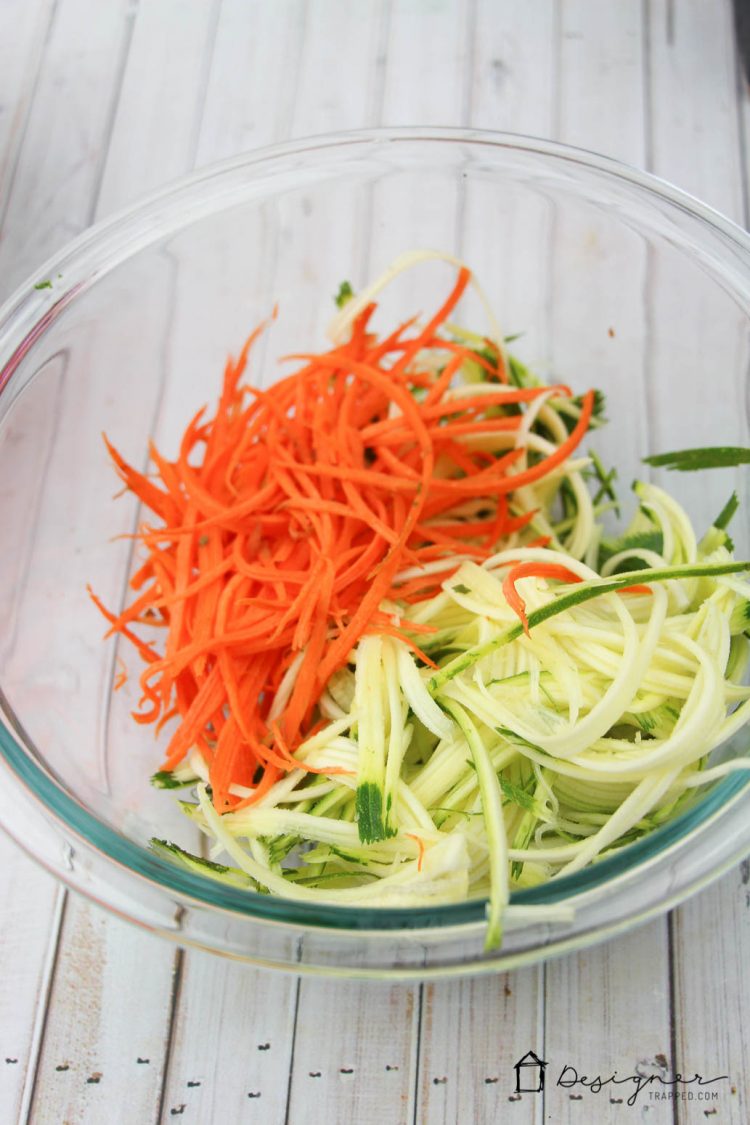 6) Toss the drained spaghetti and spiral veggies in a large bowl, and then add in the cooked ground turkey.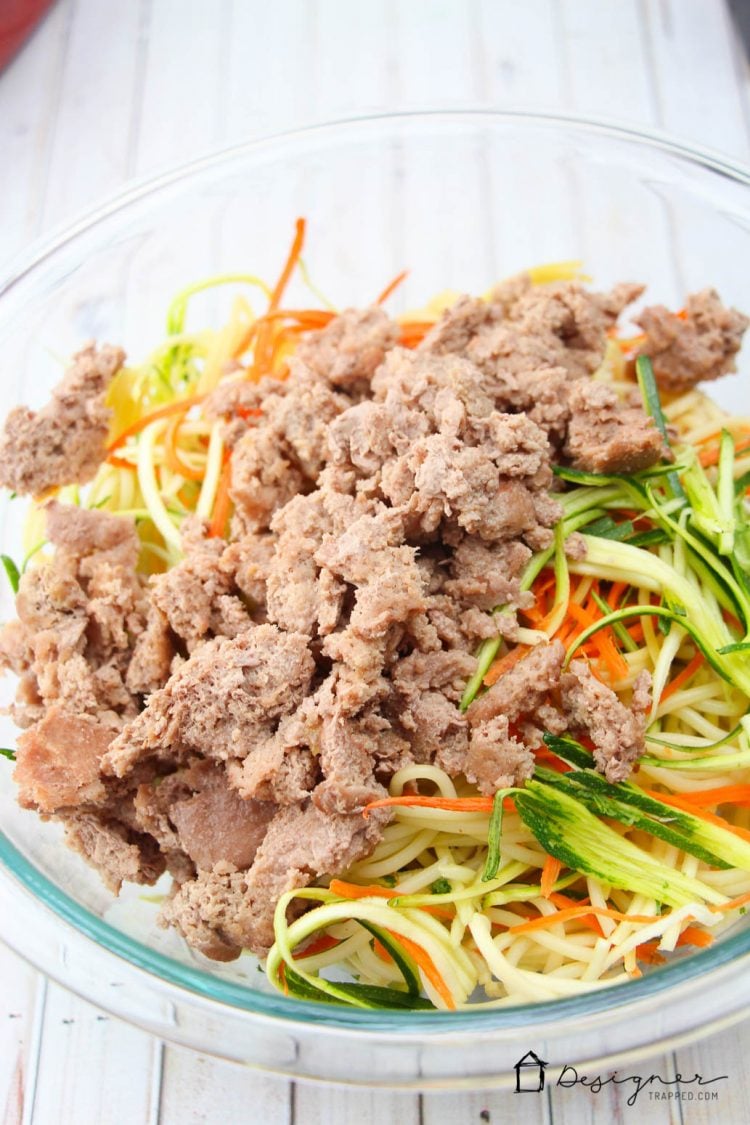 7) In a small separate bowl, mix together the tomato sauce, hot sauce, tomato pesto and salt and pepper. Taste and adjust.
8) Toss the spaghetti with the sauce and then add in half of your cheese.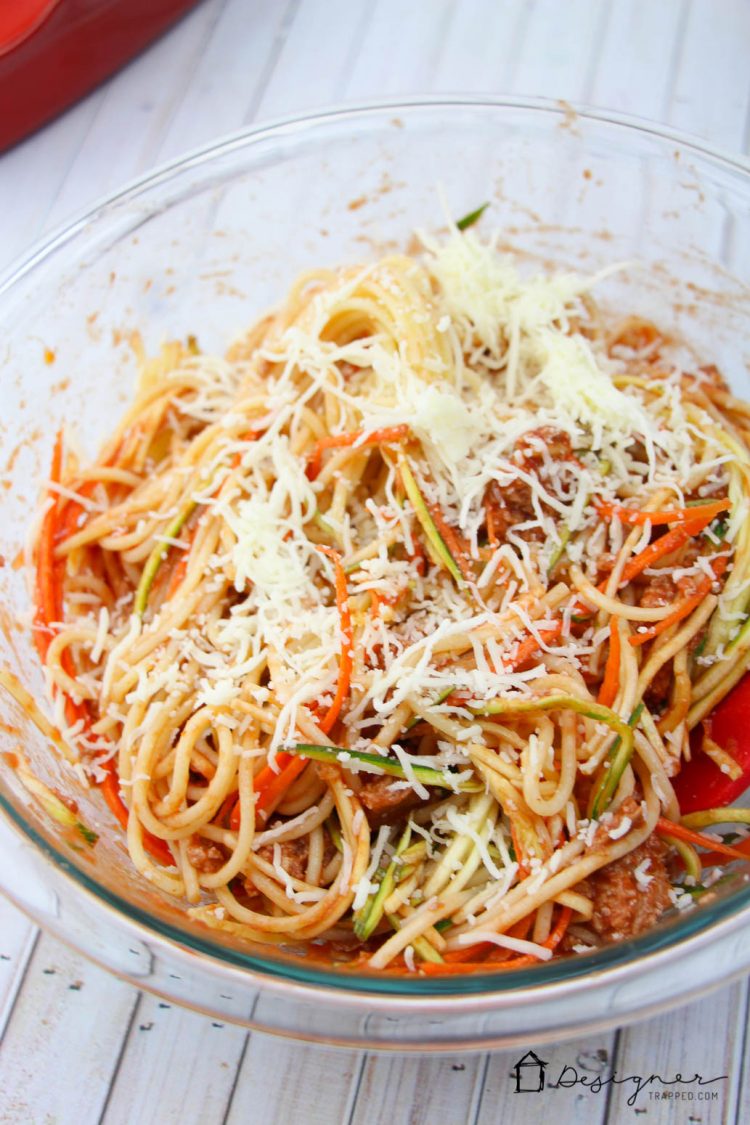 9) Pour the spaghetti into your casserole dish and top with most of the remaining cheese, reserving a small amount to sprinkle overtop of the cooked spaghetti.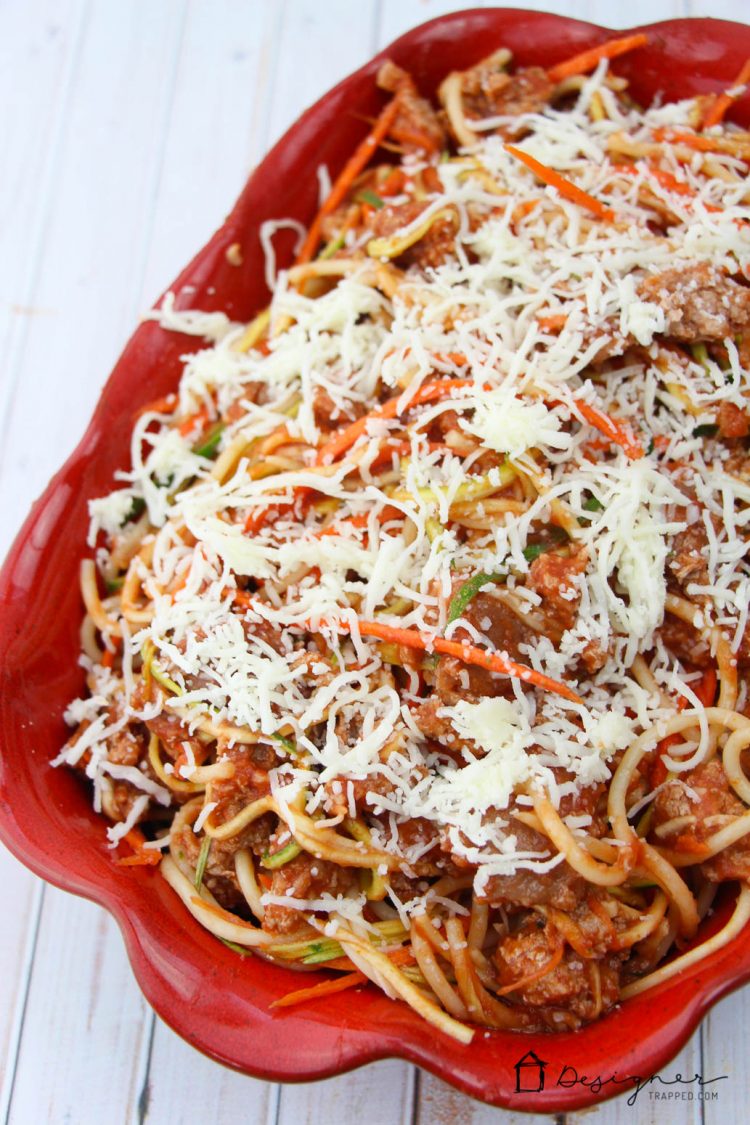 10) Now you are ready to bake your easy baked spaghetti. Cook until the cheese is melted, approximately 10-12 minutes.
11) Sprinkle cheese and parsley over the top of your easy baked spaghetti and serve.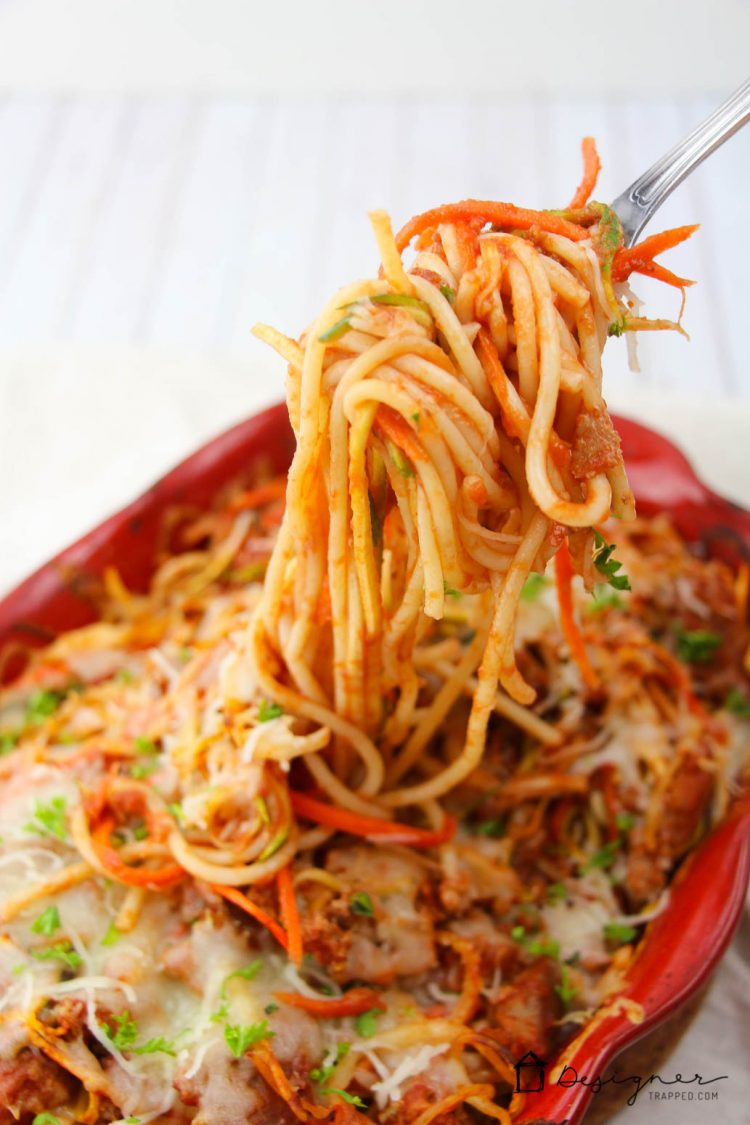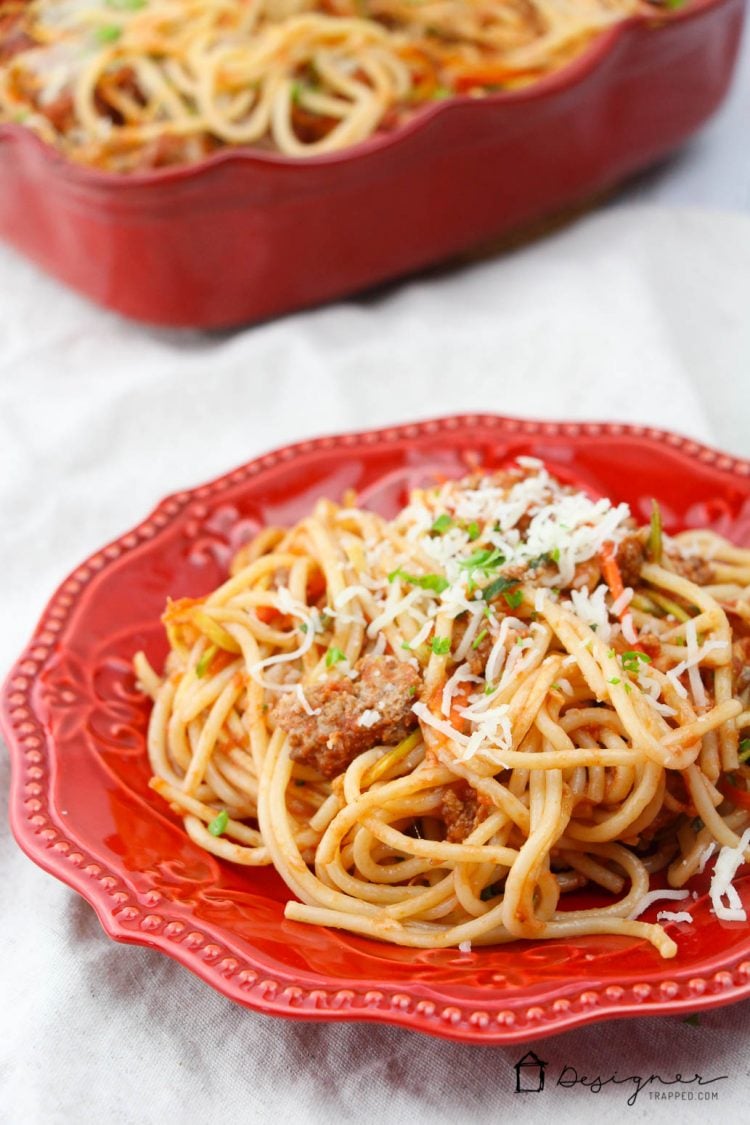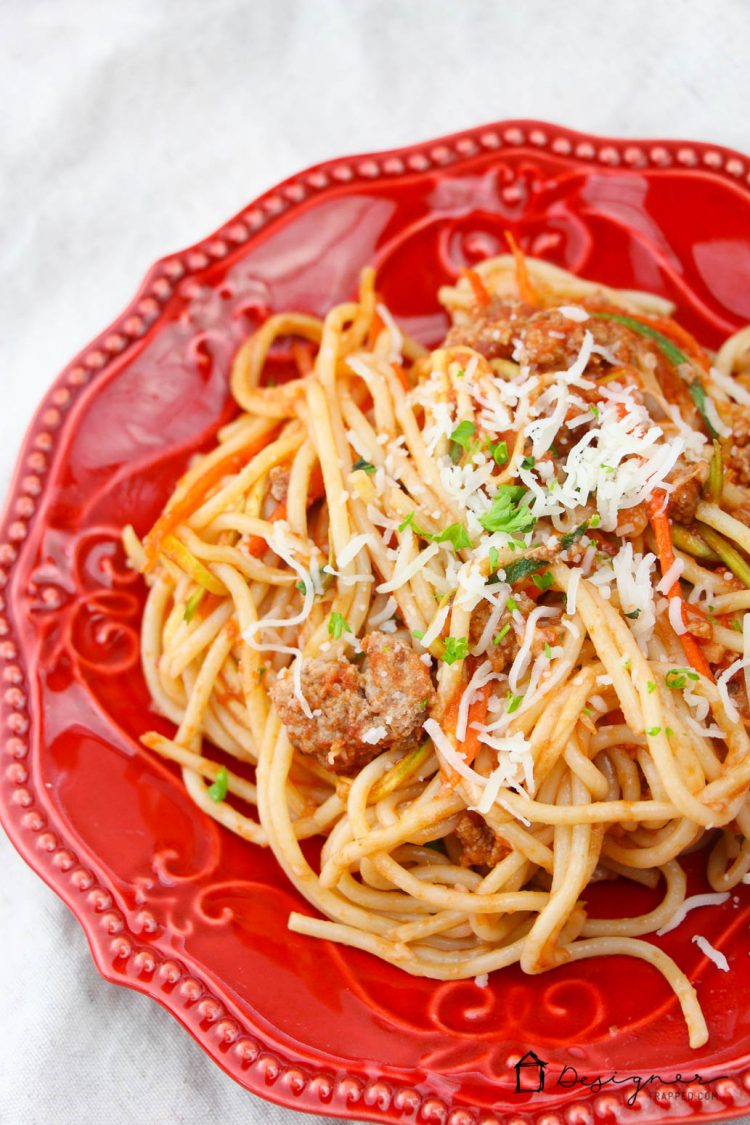 This easy baked spaghetti is reasonably healthy since you use less pasta than you normally would with all those hidden veggies in there! Of course, if you prefer ground beef in your baked spaghetti, you can use that instead of ground turkey. We've made it both ways and it's delicious no matter what!

[go_portfolio id="recipes"]