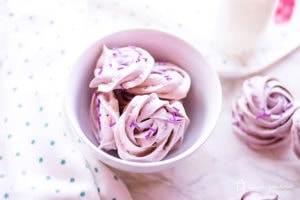 Easy Meringue Cookies
Yield 12-15 cookies
Meringue cookies look fancy, but they are surprisingly easy to make! This simple 4 ingredient recipe makes beautiful (and delicious) cookies that no one will believe you made.
Ingredients
4 egg whites, room temperature
1 cup granulated sugar
¼ tsp cream of tartar
Purple gel food coloring
1M Wilton piping tip and piping bag
Ivory, pearl, or gold sprinkles
Instructions
Preheat oven to 225 degrees F and line a baking sheet with parchment paper (to make sure your meringue cookies are uniform, use a pencil to trace out a circle from a cookie cutter onto your parchment paper).
In a stand mixer (or using an electric mixer), start beating egg whites until bubbles form.
Slowly start adding sugar and then, add cream of tartar. Mix on high until you achieve stiff peaks in your meringue mixture.
Add 1-2 drops of food coloring (depending on how deep you want the shade) and mix.
Place meringue mixture in a piping bag with your 1M piping tip. Start in the middle of each of your circles on your parchment paper and pipe rose shapes. Garnish with your sprinkles.
Bake for 45 minutes and then keep in oven for one hour (without opening oven door).
Courses Dessert
Recipe by Kaleidoscope Living at https://designertrapped.com/easy-meringue-cookies/