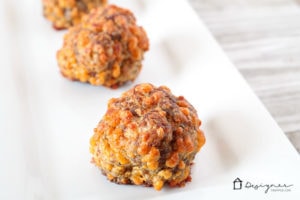 Easy Sausage Balls (With a Bit of Heat!)
Yield 12 balls
This easy sausage ball recipe is a spicy twist on a Southern favorite. These are quick and simple, and perfect for appetizers or brunch!
Ingredients
1 and a 1/2 cups of Bisquick
1/2 a lb. of grated Sharp Cheddar (room temperature)
1/2 a lb. of Hot Sausage (room temperature)
1 to 3 tablespoons of Water
Instructions
Preheat oven to 375 degrees.
In a large mixing bowl, add all ingredients, add water in 1 tablespoon at a time until the Bisquick mixes well. Should not still be dry.
Knead all ingredients until mixed well.
Roll mixture into balls and place on greased baking sheet.
Bake for 20 minutes. 
Serve and enjoy! 
Courses appetizer
Recipe by Kaleidoscope Living at https://designertrapped.com/easy-sausage-balls/