These family vacation and car packing tips will change your life. You can have an awesome family vacation without spending a fortune or losing your mind, I promise. We've learned a lot over the years and are sharing our best tips in this post!
Hi friends!  Now that Spring break is around the corner and summer is nearly here, I have VACATION ON THE BRAIN!  We generally take two vacations a year–one to the mountains in the middle of summer to escape the heat of the summer and one to the beach in early fall.  And we've become masters of family vacations that ROCK and that don't cost a fortune. And today, I'm sharing all of our tips and tricks with you.
This post contains some affiliate links for your convenience (which means if you make a purchase after clicking a link I will earn a small commission but it won't cost you a penny more)! Click here to read my full disclosure policy.
Family Vacation + Car Packing Tips
1) Skip the hotels and resorts. Rent a vacation home instead.
Being avid DIYers, I guess we shouldn't be terribly surprised that we like to vacation "DIY style." What do I mean by that?  Well, our vacations are almost always within driving distance, and when they are, we rent a home through VRBO or HomeAway (which is part of VRBO). That way we can comfortably cook our own meals (we love to cook), do laundry at our leisure, and relax with all the comforts of home.  We just aren't a family that loves to eat out or staying in hotels. Our girls are home bodies and so are we, so they LOVE still feeling like we have a "home base" while we are on vacation.
Vacation rental homes generally offer TONS more space at at least half the price of a hotel room, so vacation rentals are perfect for families and groups.  We almost always rent through VRBO, but sometimes we rent through property management companies. We've been happy with both and I think as long as you read the reviews, you shouldn't have any surprises.
When we rent a home, we are always able to invite friends and family to join us for a portion of our vacation because there is plenty of space for everyone.  Not true in a hotel room!  Plus, we love that we always have a bedroom to ourselves and don't have to share with our twin girls, like we would in a hotel.  Don't get me wrong, I love my girls, but it's nice for everyone to have their own bedroom.
A few years ago, we rented this stunning home in Blowing Rock, North Carolina, which we found through VRBO.  It was nice, quiet and secluded, but still close to town, which was a winning combination.  My mom and step-dad were able to join us for a few days.  The girls loved playing with Joe and Granddad Roger with sparklers on the deck, throwing water balloons from the balcony and playing corn hole in the driveway.  You just can't do that stuff at a resort or hotel. (And can we just take a moment to look at how sweet and tiny my girls were?!)
We have found that for our beach vacations, having a private pool is pretty key for us, BUT that's because we wind up spending more time in the pool than in the ocean. If your family is happiest playing in the waves, then you may prefer a house closer to the beach without a pool. But for our family, we spend about 75% of our time in the pool during the day and we hit the beach in the mornings and evenings when it is cooler.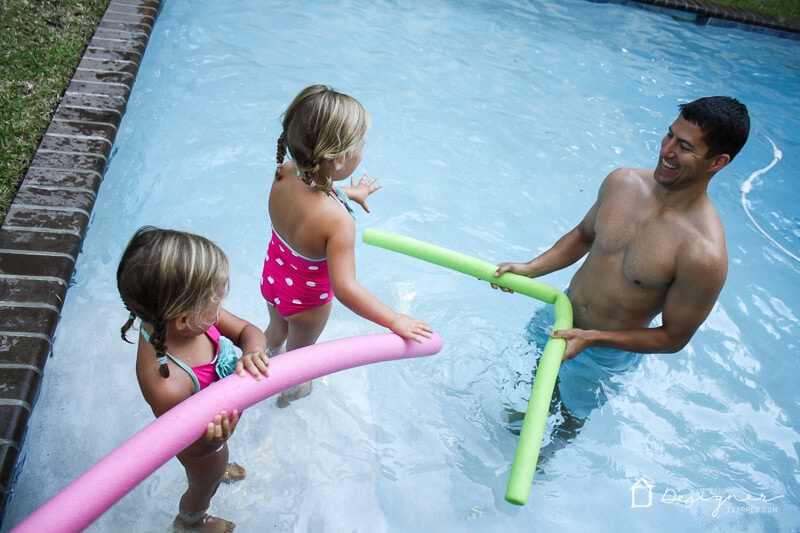 And last summer we rented an awesome house with a private pool that was just across the street from the beach and it had enough room for some of our favorite friends to join us for a couple of days. It was one of the best weeks ever.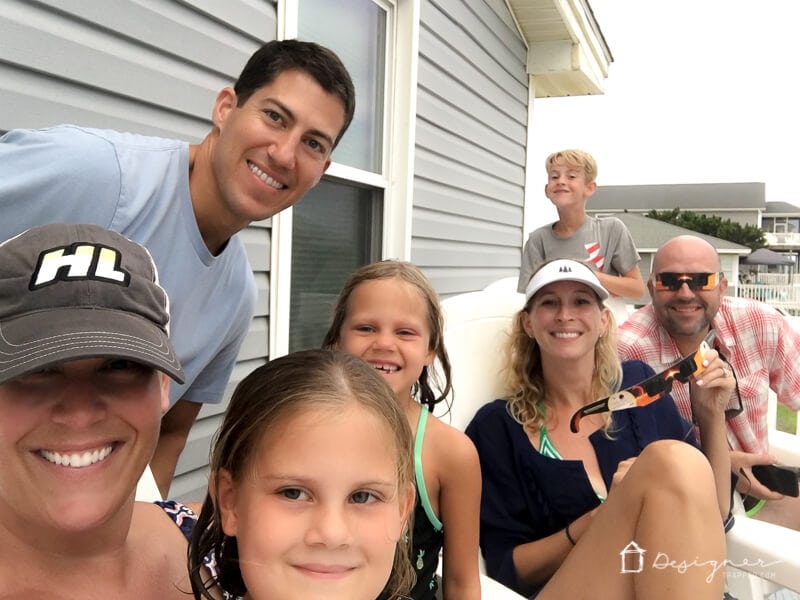 And guess how many times we went out to eat? ZERO. We went out for ice cream one night. Otherwise, we cooked at the house. That brings me to my next tip :)
2) Treat yourself to a meal cooking delivery service for at least part of the week.
We love to cook and taking the time to cook meals at a leisurely pace on vacation is one of the perks for us. But if I'm being totally transparent, we also cook at our rental homes because it's a lot cheaper than eating out, so we save a ton of money. Like, a ton. The only downside is that sometimes we wind up having to grocery shop more than once over the course of the week, which isn't fun. So this past year, we ordered a 3-meal kit from HelloFresh, so that we had all the makings for 3 complete dinners. For some reason, having 3 meals that we didn't have to think about at all made grocery shopping for the rest of the week much easier to do in one trip. And yes, HelloFresh is more expensive than regular groceries but it's still cheaper than eating out and it totally felt like a treat. Plus, we discovered 3 awesome new recipes. (We still treat ourselves to HelloFresh every 6 weeks or so–you don't have to have it delivered every single week)!
There are plenty of other meal delivery services out there, including BlueApron and Plated, but HelloFresh is the only one we have used for ourselves. But I have heard great things about the other companies as well.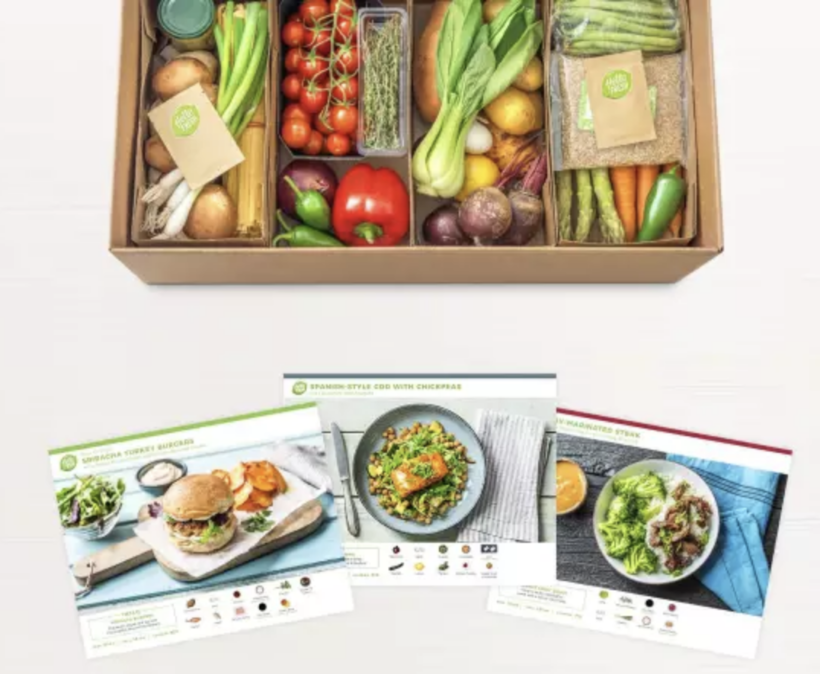 Now, in order to save some money on groceries for your family vacations, I have two tips…
3) Always take a cooler.
We learned this the hard way. The first time we drove to a VRBO rental, we didn't take a cooler. And since we cook 95% of our own meals when we are on vacation, that meant we had to buy alllll the condiments and other things that add up quickly at the grocery store. Now, we pack a cooler with stuff we don't use much of but still need on vacation (ketchup, mayo, etc.). It has saved us LOTS of money over the years. Another way to save money on groceries while your on family vacations is to…
4) Tell the cashier you are on vacation and ask them to scan a customer loyalty card for you.
There is NO CHANCE I'm going to sign-up for a customer loyalty card for a grocery store that we don't even have in my home city just to save on groceries while we are on vacation. BUT, we have learned that most places we vacation in the mountains or at the beach will happily swipe a generic customer loyalty card for us without having to actually sign up for the program. We just explain we are on vacation and ask them to do it. So, we get the best prices without the hassle of actually having to sign up for something we will only use for 1 week.
Now, this next tip is actually MY FAVORITE one and it's important.
After renting at least 10 vacation homes over the years, I have discovered that smart and strategic packing is CRUCIAL. That is why we now…
5) Pack in bins.
The benefit of driving to our family vacations is that we can pack as much as we need, but who has 19 suitcases?! Not us. So packing in bins totally changed the quality of our vacation packing! We don't use ANY luggage. We pack everything in bins, including our clothes. It makes loading everything soooooo friggin' easy. Best of all, it allows us to pack irregularly shaped stuff, like non-perishable groceries, paper towels, toilet paper, toys, board games, etc. that just wouldn't easily fit in suit cases.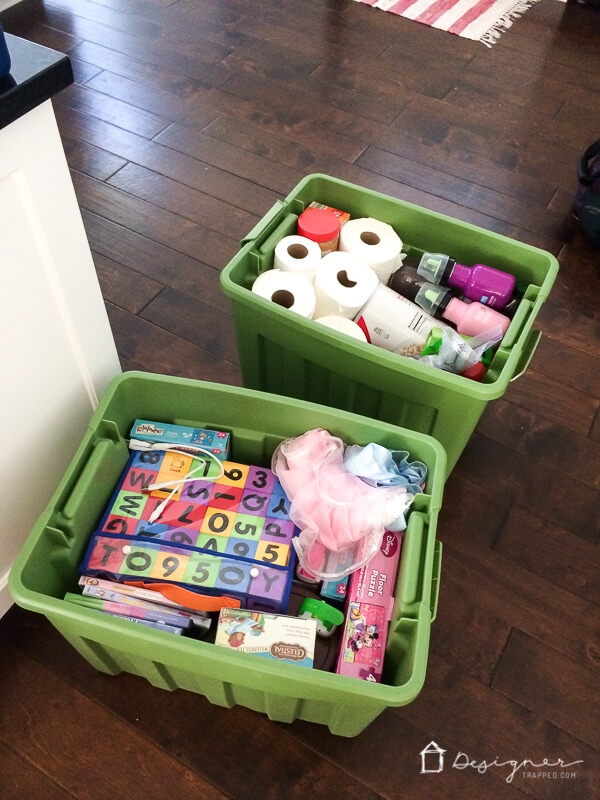 We used to always take Joe's truck on vacation. Obviously, it was easy to fit bins in the back of his truck. But you don't have to have a truck!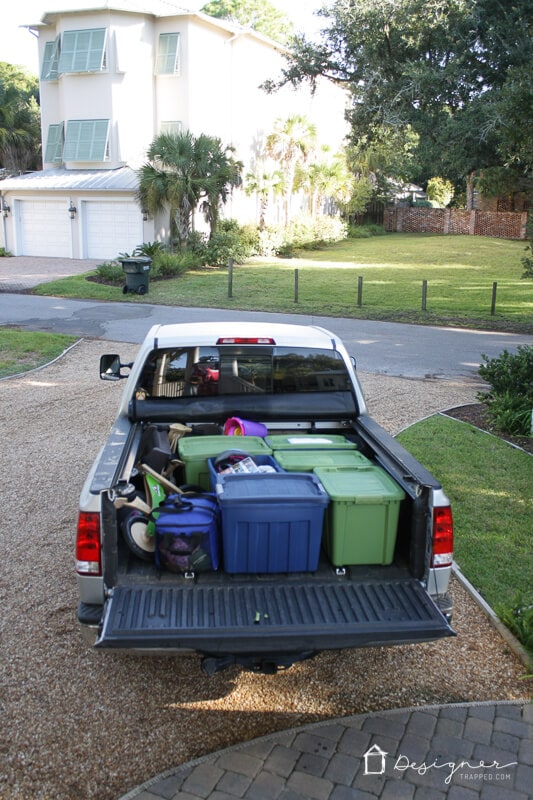 We have a rack on the top of my car that fit SIX bins easily.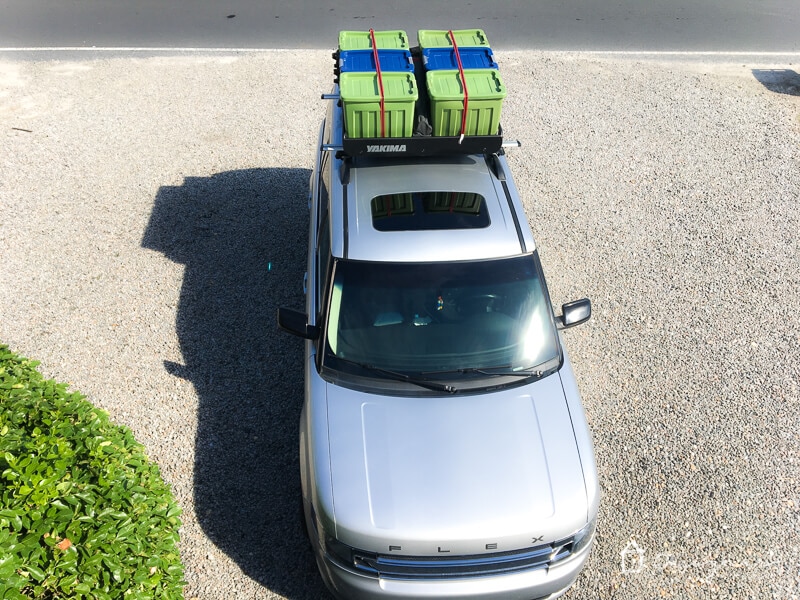 That brings me to my final tip.
6) Consider investing in a roof rack.
I'm not gonna sugar coat it. Roof racks are EXPENSIVE. But, if you drive instead of fly for your vacations like we do, I really recommend that you consider investing in a roof rack for your car. I'm so glad we did! We considered getting a cargo box, but knew we would be more limited in what we could fit in it. So, we shelled out some cash and invested in a Yakima roof rack system and Megawarriror cargo basket and it's awesome. We use it for bins when we go on vacation, but it can also fit our girls bikes and countless other oddly shaped items. For us and the way we travel, it was an awesome investment.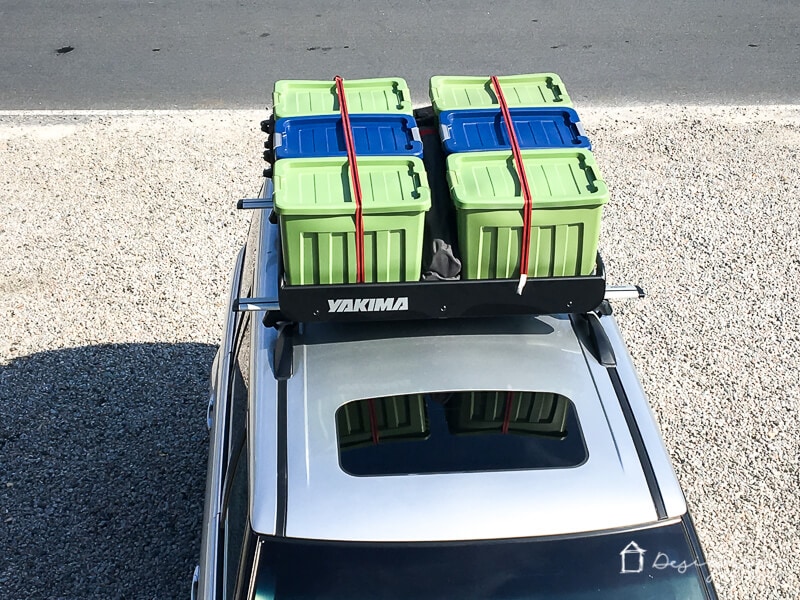 What is your favorite way to vacation?  Have you also fallen in love with renting vacation homes?  What is your favorite part of renting vacation homes?

[go_portfolio id="cleaning_and_organization"]