Fast and Easy Wood Scratch "Repair"
Last Updated on May 20, 2019
If you are like most people, chances are you have some scratched wood furniture in your home! This fast and easy wood scratch repair works so well and takes only minutes. Read on to learn how to take care of your scratched furniture quickly and easily!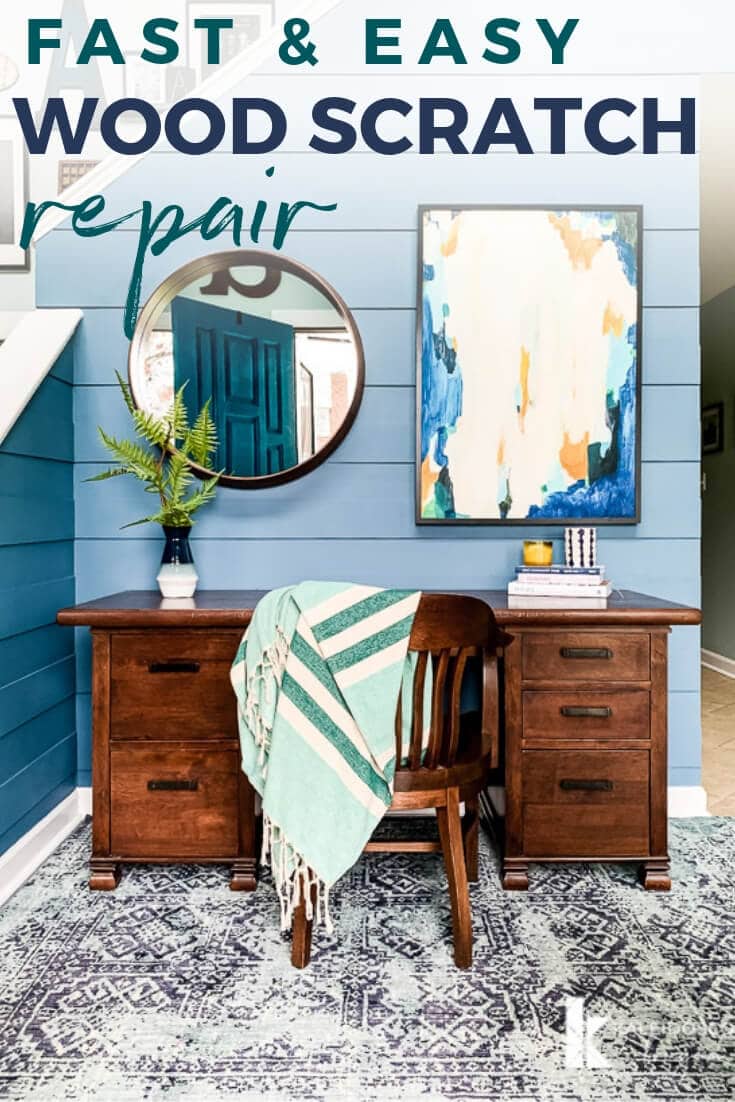 Do you have wood furniture in your house that is scratched? But does the thought of completely refinishing it have you stall out before you even start? That's exactly how we felt about this desk in our house. But this fast as easy wood scratch "repair" (it's not really a true repair, but not sure what else to call it) trick worked so well. We revived our desk in about 5 minutes flat!
We have had it for over 15 years at this point, and we paid a lot of money for it. It was the first "real" piece of furniture we invested in when we got married. And at the time, we had two cats. While we were very lucky that they didn't purposely scratch things. But their nails still did quite a lot of damage by just jumping up on the desk and walking around on it.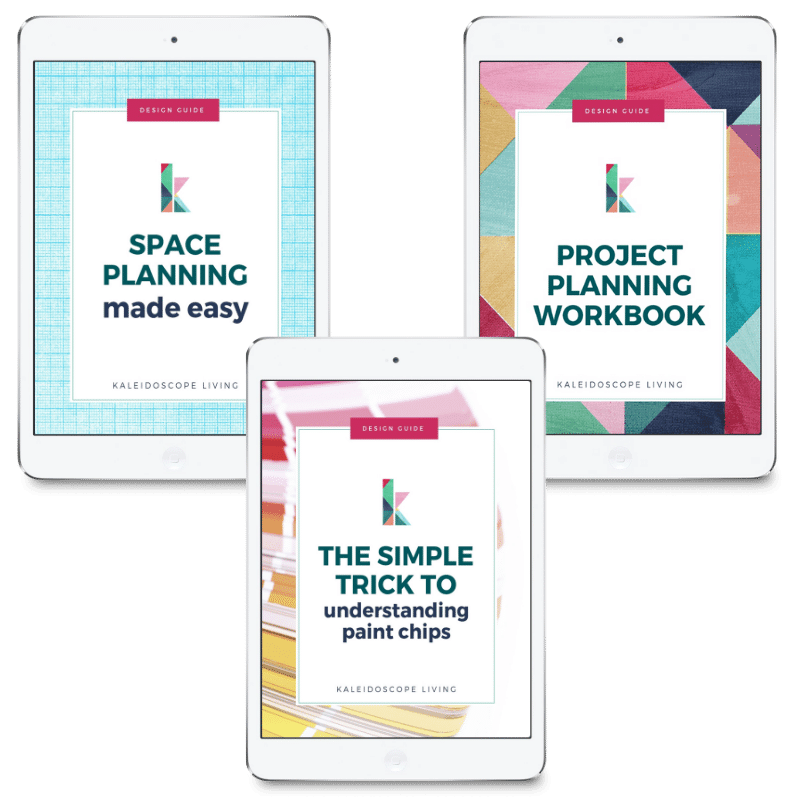 Get my FREE design guides when you subscribe!
The cat claws plus being moved and bumped into countless times over the last 15 years left our desk looking BAD. There is no other way to say it. We usually just ignored it, but a couple of months ago we gave our foyer a makeover with this DIY plank wall. When I started photographing it, I realized how truly awful the desk looked. I had a deadline to meet for the plank wall post and absolutely no time to fully refinish the desk.
So, I ran out to our garage and grabbed my favorite stain, which I knew would blend in perfectly with the existing stain on the desk. I planned to wipe stain over the entire surface of the desk and hoped that it would make the desk look slightly more presentable in our plank wall photos.
Imagine my surprise when this little trick worked so well that I don't think we will ever sand down and "properly" refinish our desk. That is a HUGE win!
Now, I have to point out that our desk that we purchased from Pottery Barn 15+ years ago is a distressed piece of furniture. So it included some "imperfections" on purpose.
If our desk was a formal china hutch that was supposed to be free of all imperfections, I don't know how well this scratch removal strategy would have worked. But if you have scratches, dents and dings on a piece that embraces some imperfection as part of the design itself, then you will LOVE this wood scratch repair tutorial.
Thank you to Mohawk Consumer Products for sponsoring this post. This post contains some affiliate links for your convenience. Click here to read my full disclosure policy.
DIY Wood Scratch "Repair" Tutorial
What the desk looked like before…
First, here is a shot of our desk before I started. See all those light-colored areas of damage? Yikes. (PS- before you ask, what you see under the desk is the DIY vent cover that we made because the builder-grade one that was there before was just too ugly for our new plank wall, lol).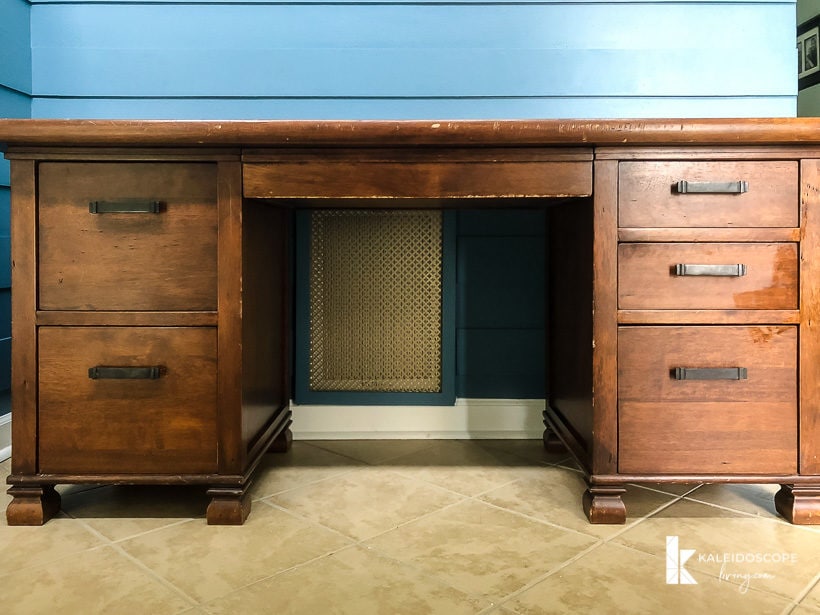 Here are some close-ups as well.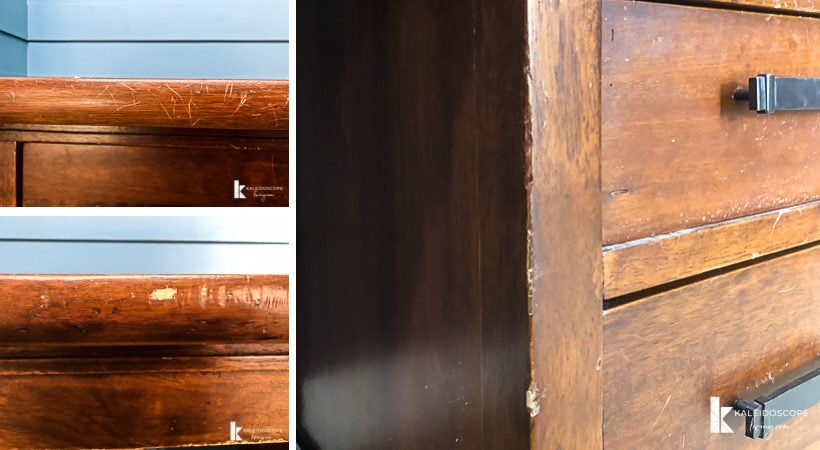 Fast and Easy Scratch Removal Steps

:
1) First, I cleaned the desk well with a water and vinegar cleaning solution that I made myself. Then I cleaned it again using Mohawk's Wax Wash Remover to ensure that any wax finish that may have been on the desk was totally removed. The Wax Wash Remover is easy to use–just spray it on and wipe it off. The spray does have let off some fumes, so work outside if you can.
2) Next, I applied my Behlen Solar Lux Dye Stain to a paper towel (you can see how well loved this stain is, lol). Then I applied a thin coat of the stain right over the top of the existing stain! Note that I applied one coat of stain over the entire surface of the desk, not just the damaged areas.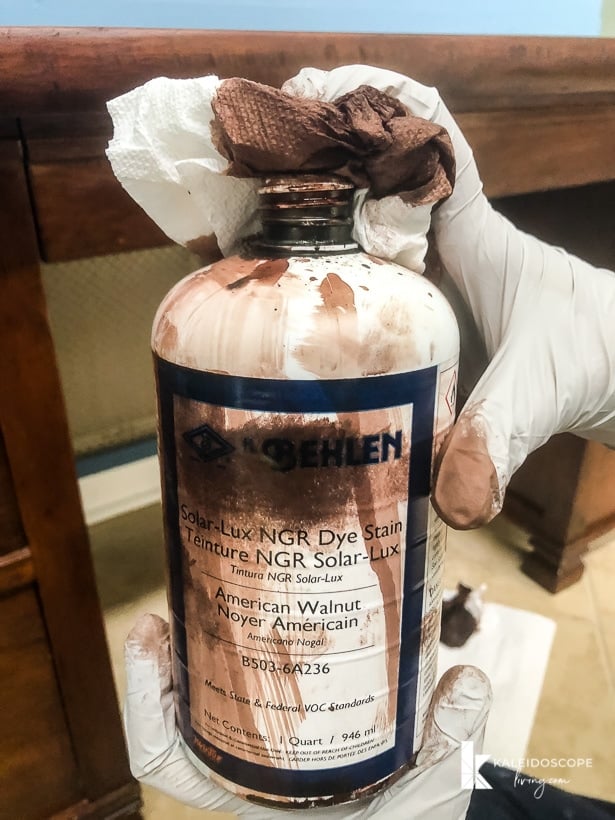 For some of the larger dings and dents I really pressed firmly on the paper towel to ensure that the stain entirely covered the raw wood areas.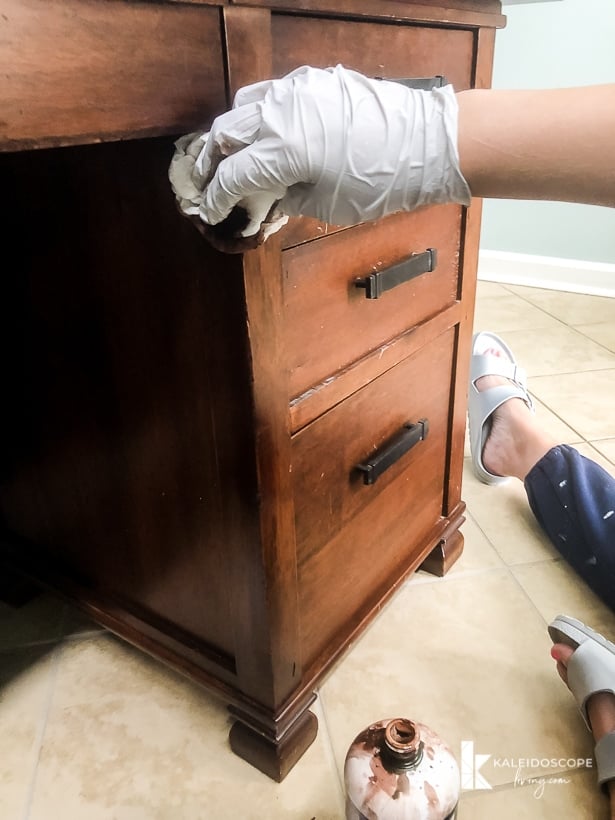 3) After I finished applying the stain, I used clean paper towels to gently buff off excess stain. Note that your piece may feel a bit sticky at this stage. Don't freak out! By the next morning, our desk did not have any residual stickiness.
The results!
That is it. Easiest process EVER! And look at the before and after shots!!!!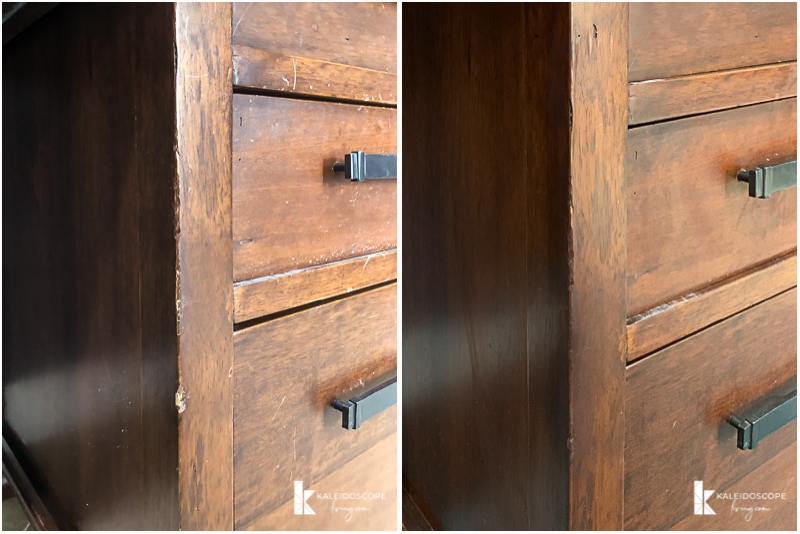 And here's a look at our refreshed desk in use in our foyer. We are so happy!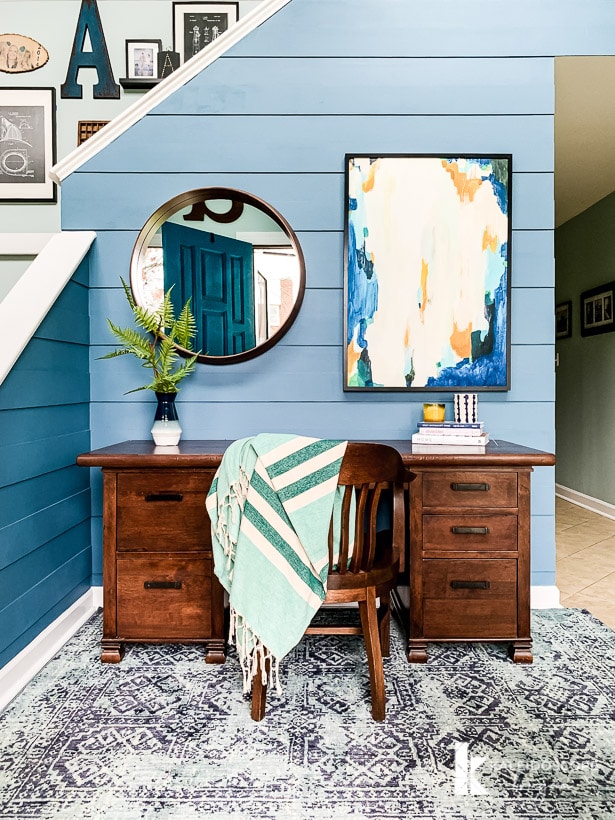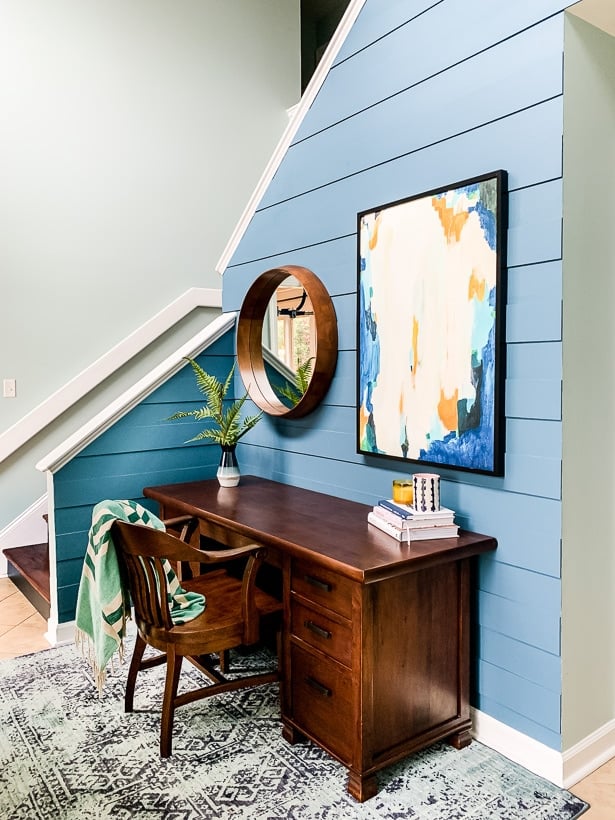 We totally transformed our desk in minutes! If you are totally into how quick and easy this project is, you will definitely want to check out this post about how to restore leather furniture in just minutes as well (crazy, but true)! And you can also check out this post about how we made large art frames and stained them with this very same stain–one of my favorite projects yet!
[mv_create 1 11 200 2016 key="1″ type="list" title="Most Popular Projects" thumbnail="<a href=" https designertrapped com wp content uploads diy home decor projects blog jpg a]