Y'all, you need to meet my floor cleaning hero. The Hoover ONEPWR FloorMate JET Hard Floor Cleaner vacuums while washing so you can clean your floors from start to finish in one step. It is perfect for getting your house ready for guests just in time for the holidays!

It's no secret that we are pretty tidy and clean. We've always been this way. In fact, when we bought our first house just after we were married and only 24-years-old, one of our very first purchases was the original Hoover FloorMate Hard Floor Cleaner. It was a pretty big expenditure for us at the time and our house was only 1,000 square feet, but it was going to have CLEAN floors, by God. A colleague of mine at work had one and sang its praises and I had to have it in my life. It was this magical machine that literally released a cleaning solution and scrubbed your floors and then squeegeed up the wet dirty water. We loved it.
We used that original Hoover FloorMate Hard Floor Cleaner years and years until finally, the squeegee started to lose its effectiveness. It was so old, that we couldn't find replacement parts (or at least not easily), so we gave up on it. It was a sad day.
This post is sponsored by The Home Depot, but all opinions and are my own, as always. This post contains some affiliate links for your convenience. Click here to read my full disclosure policy.
I've missed it over the past couple years. So imagine my excitement when The Home Depot reached out to me to ask if I wanted to partner with it for the release of the brand-new Hoover ONEPWR FloorMate JET Hard Floor Cleaner. Y'all, I almost peed my pants I was so excited. Especially when I found out that the most recent iteration of this magical machine is completely cordless, offers a variety of brushes and cleans itself when you're done using it. I mean, come on! It's pretty much all of my dreams come true.
The other thing you know about me if you have followed me for a while is that we are major homebodies. We didn't tackle a zillion DIY projects and renovate each room in this house one room at a time to go out all the time, lol! That means that we don't go to a lot of parties or spend a lot of time out during the holiday season. It means we have people to our house. That makes us take our tidiness and cleanliness up a notch!
And y'all, the new Hoover ONEPWR FloorMate JET Hard Floor Cleaner is here for it. When Attley spills rotisserie chicken juice on the floor, NO PROBLEM folks. We can clean it up quickly and just be grateful she was helping bring our Costco haul inside. (Note, I did reenact the baking mess you'll see later in this post, but this rotisserie chicken juice situation really did happen, so I rolled with it and had Joe snap some photos with my phone while we handled it).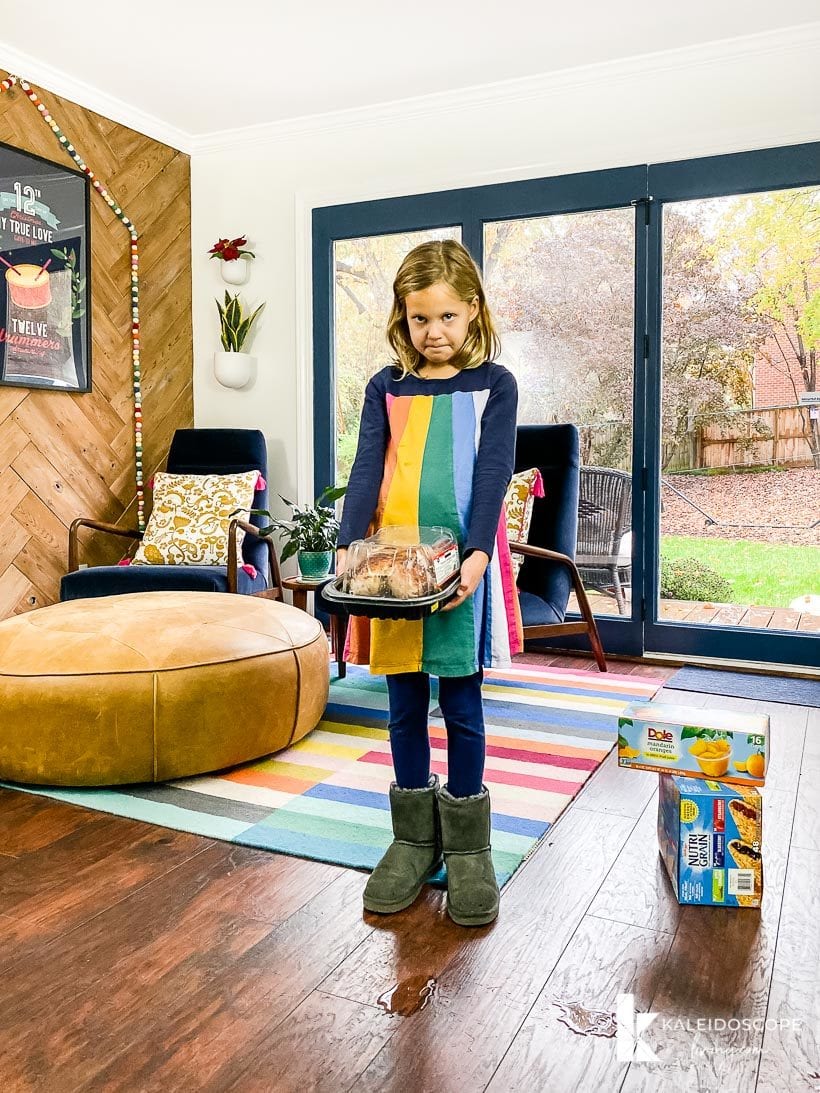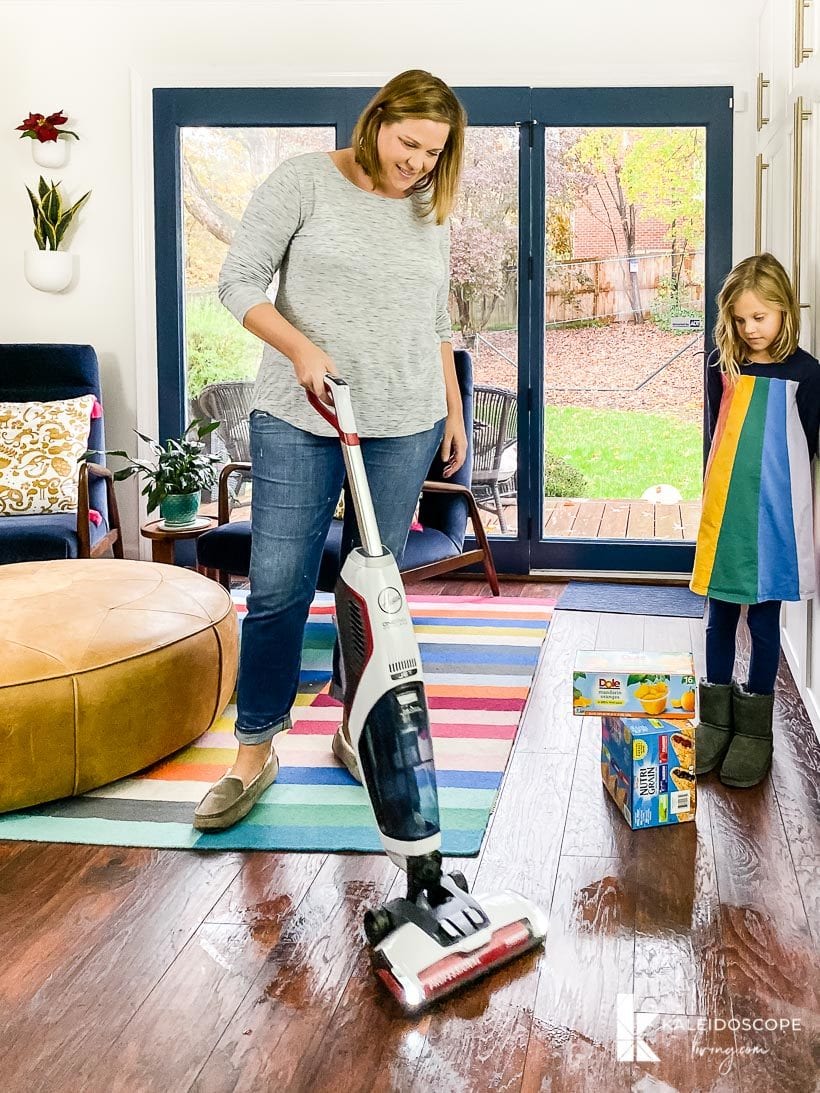 We love to cook and bake, so whenever we have people over that's what we do. But, I will be the first to admit that I'm not the cleanest cook or baker in the world. I always wind up with flour and other baking ingredients all over the floor, and when my girls help me we often wind up with egg, milk and oil on the floor. Who understands what I'm saying? I reenacted our typical baking messes to demonstrate the magic of my cleaning hero for this post and in my Instagram stories, but I'm sad to say it's very representative of what happens in our house on the regular.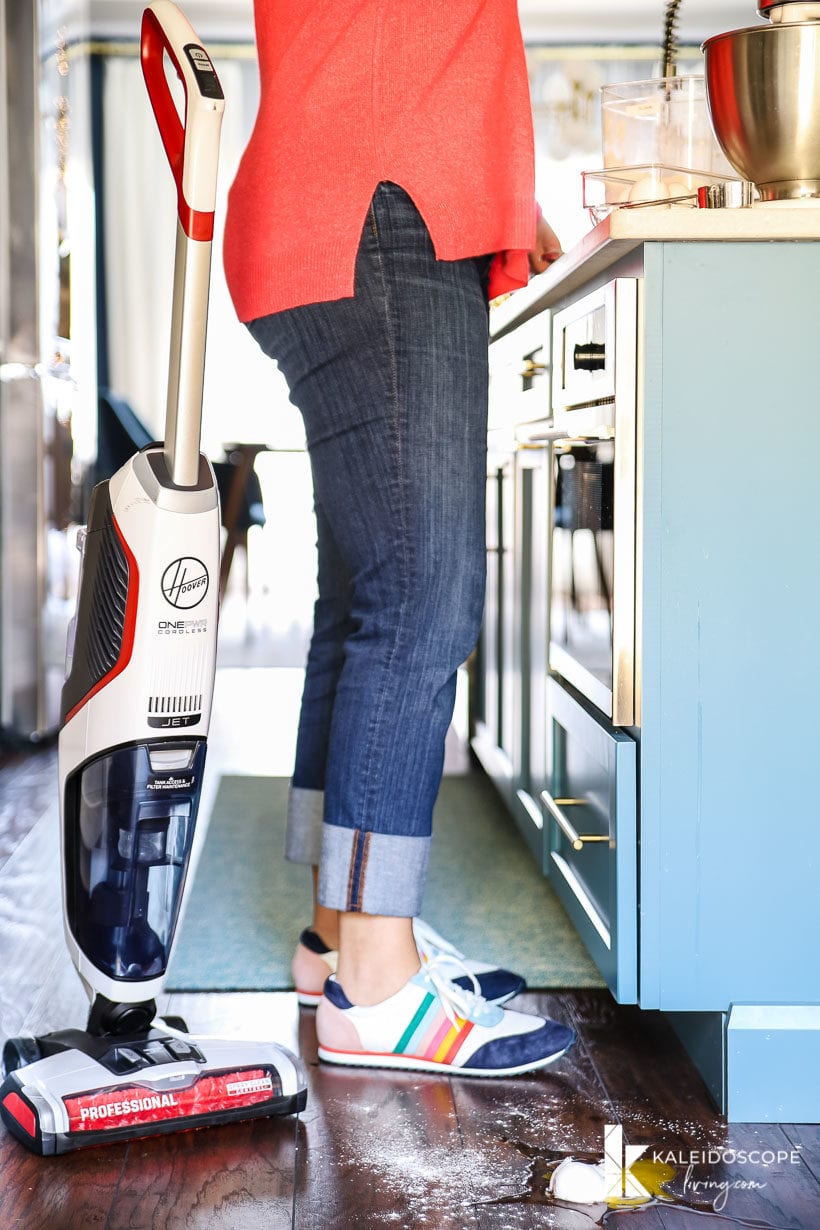 In a world without a Hoover ONEPWR FloorMate JET Hard Floor Cleaner, cleaning up a mixture of flour and wet ingredients is a royal pain in the butt. You have to do your best to scoop up the wet liquidy stuff, which kind of turns the rest of it into a paste. But the powerful suction on the Hoover ONEPWR FloorMate JET Hard Floor Cleaner picks up wet and dry messes meaning cleaning a mess like this is a breeze.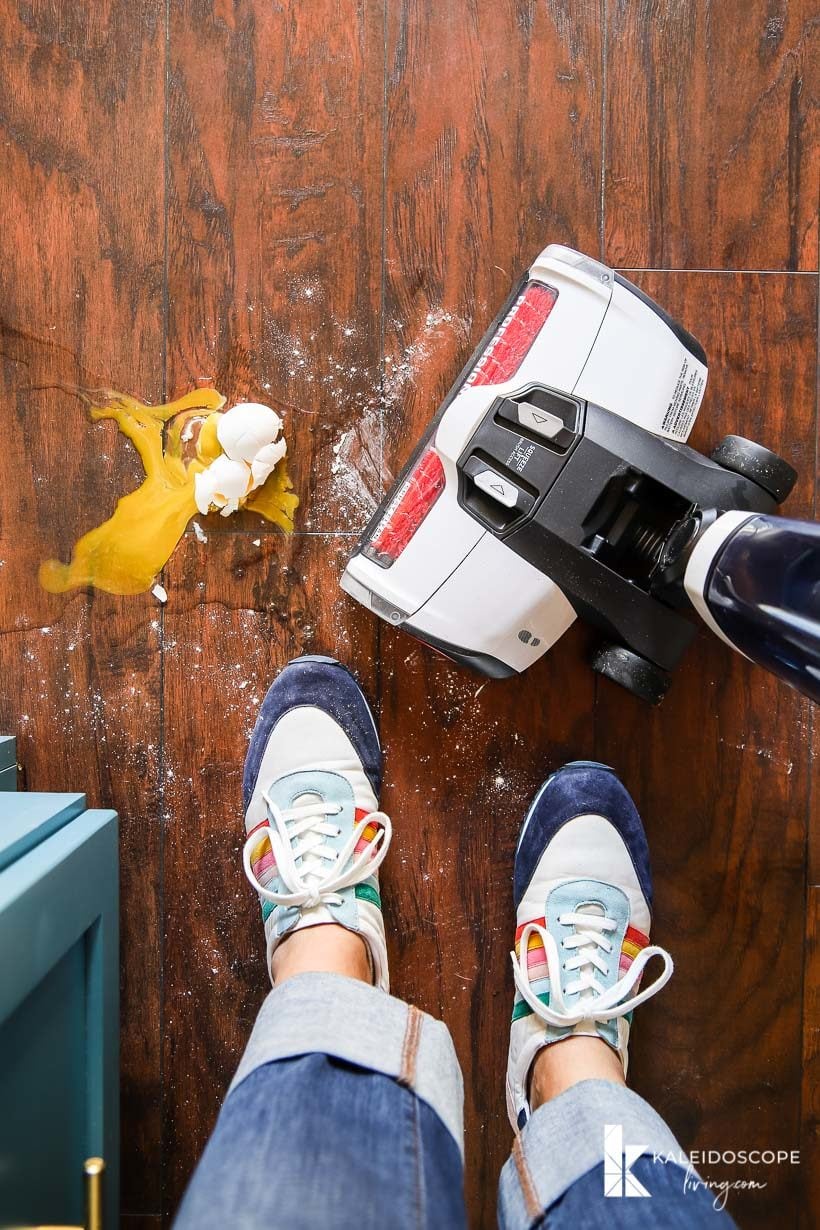 The Hoover ONEPWR FloorMate JET Hard Floor Cleaner can clean multiple sealed surfaces including hardwoods, tile, and laminate (that's what we have). You can even use it to refresh area rugs! And it is super easy to use. You just fill the solution tank with the appropriate amount of water and cleaning solution.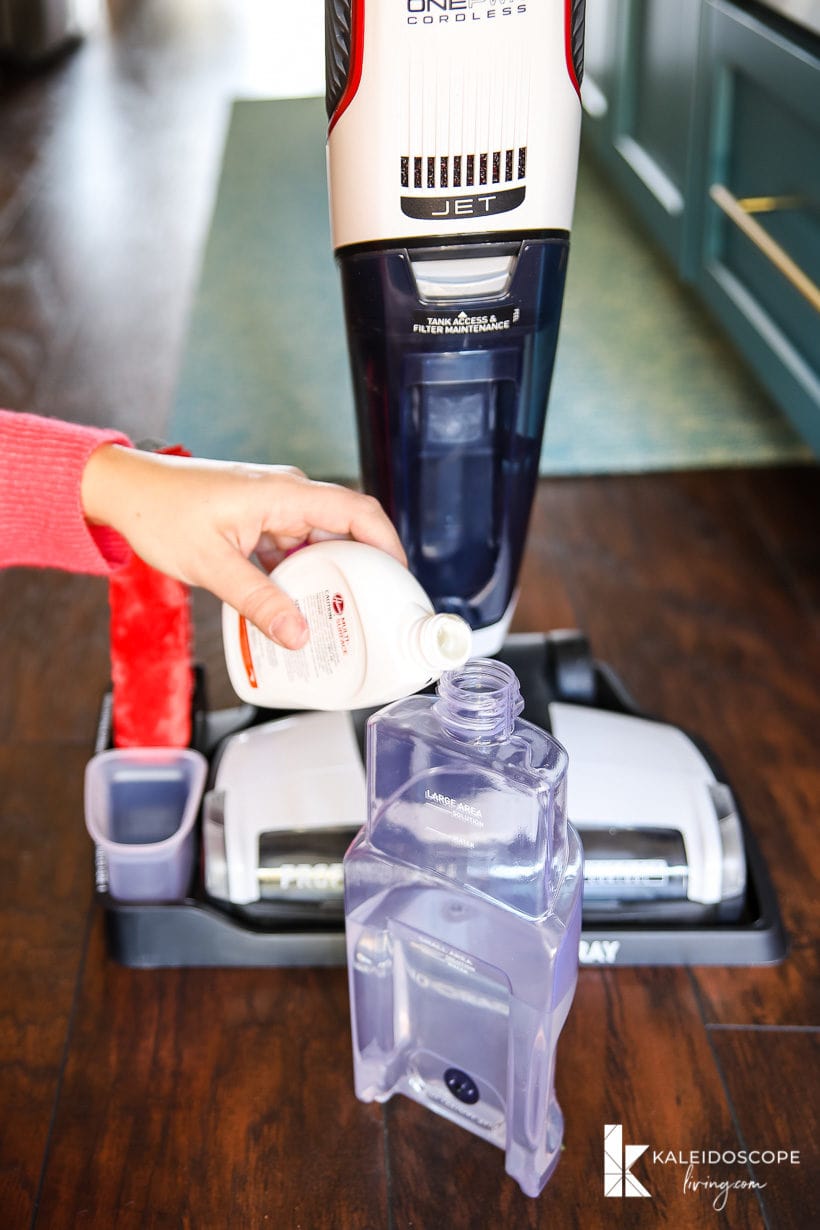 Then you select and place the brush you wish to use.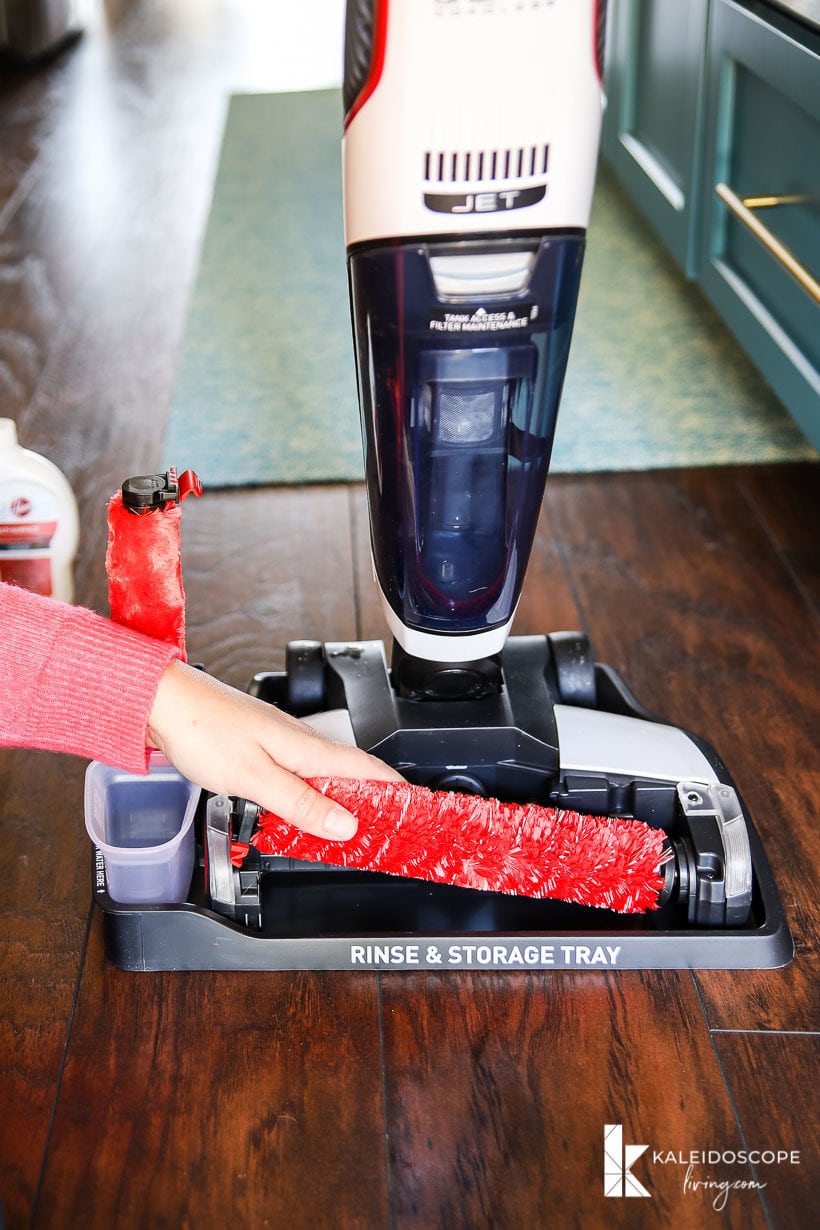 Then you turn it on and clean like a boss. The trigger on the handle releases the cleaning solution and the machine automatically sucks up the dirty water from your floor. Look at this nastiness it cleaned up for me.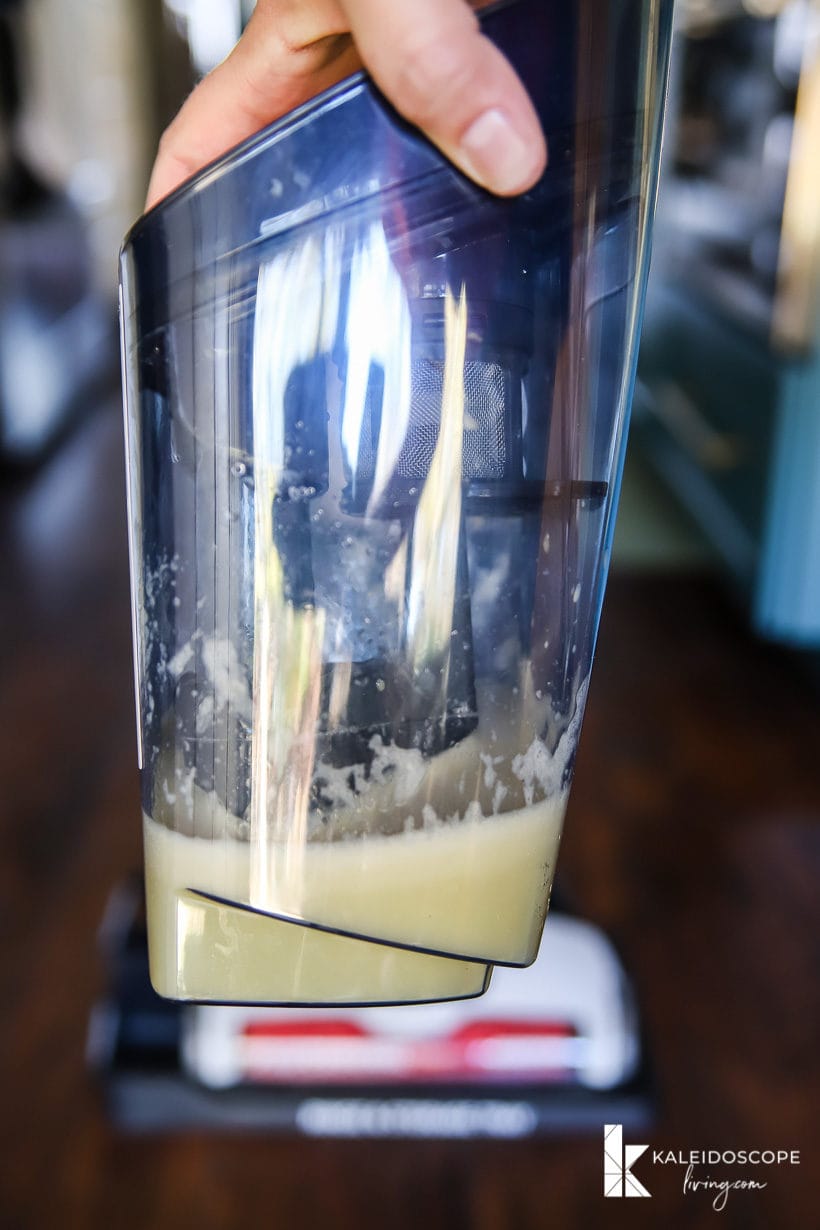 When you are done, the Hoover ONEPWR FloorMate JET Hard Floor Cleaner cleans itself. I'm not joking. First, you pour water in the rinse & storage tray that comes with it. Notice that eggshell stuck to the brush in the photo below…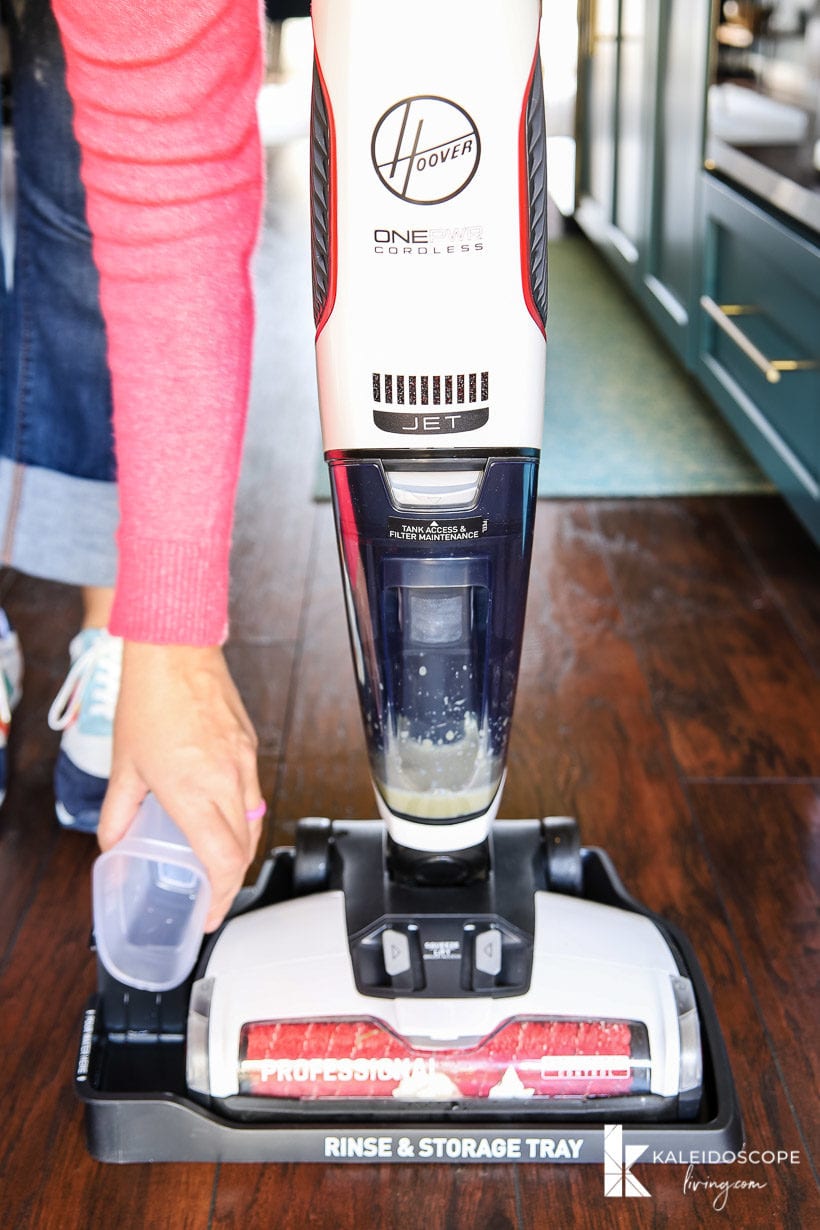 Then you tilt it back like you are going to vacuum and turn it on. Voila, the brush is clean! Then you just have to empty the tank and put everything away to store until you are ready to use it again.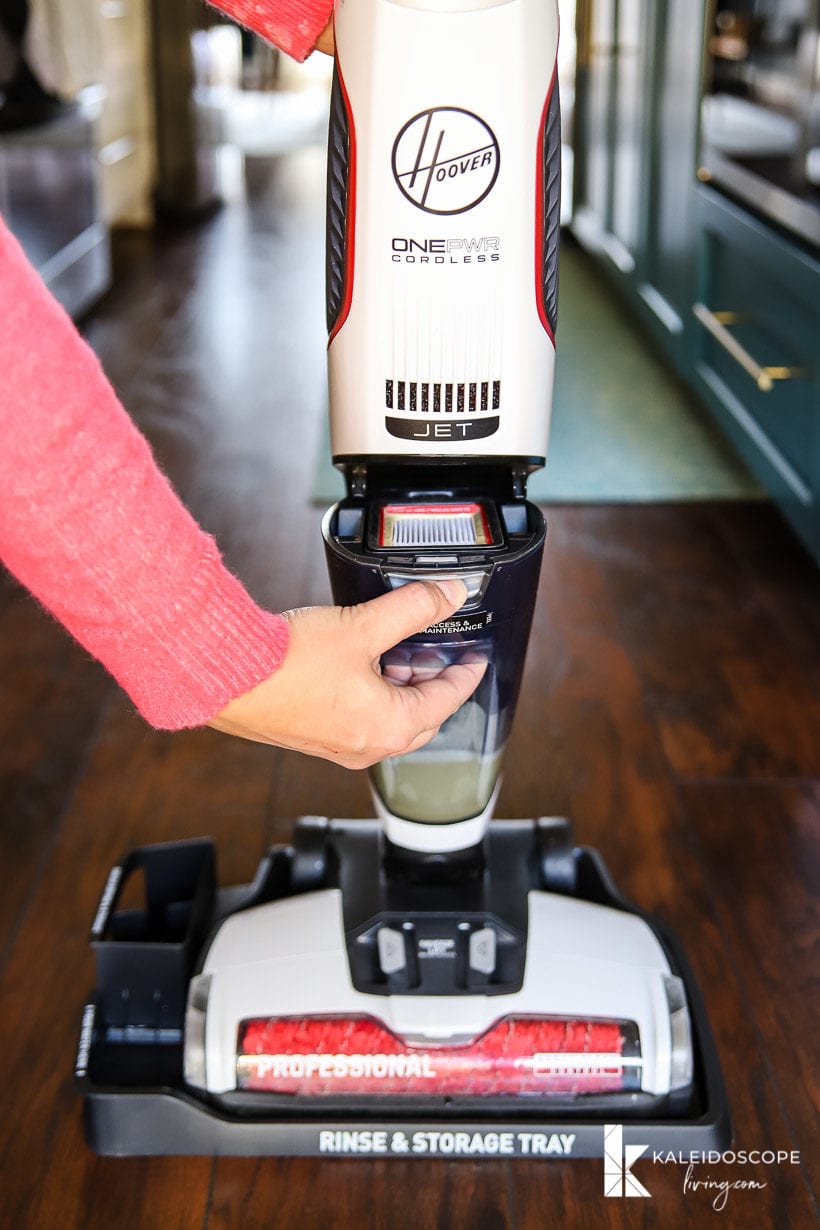 Y'all, if you don't already have a Hoover ONEPWR FloorMate JET Hard Floor Cleaner, run to The Home Depot (which is the only place you can purchase it) and get one ASAP. Or add it to your Christmas wish list! Heck, tell your loved ones it's all you want for your birthday and Christmas combined if you need to. It really is that good. And yes, this post is sponsored, but I fell in love with the Hoover FloorMate way back in 2006 or 2007 when we bought the first one ourselves. Now I'm falling in love with it all over again!
If you want to see this thing in action, head over to my Instagram. You can check out my stories about this magical machine in my story highlights. Feel free to ask any questions you have about it over there!


[mv_create title="Most Popular Projects" key="1″ type="list" layout="circles"]