FREE 2017 Printable Calendar With Home Maintenance and Organization Tips
Last Updated on December 14, 2017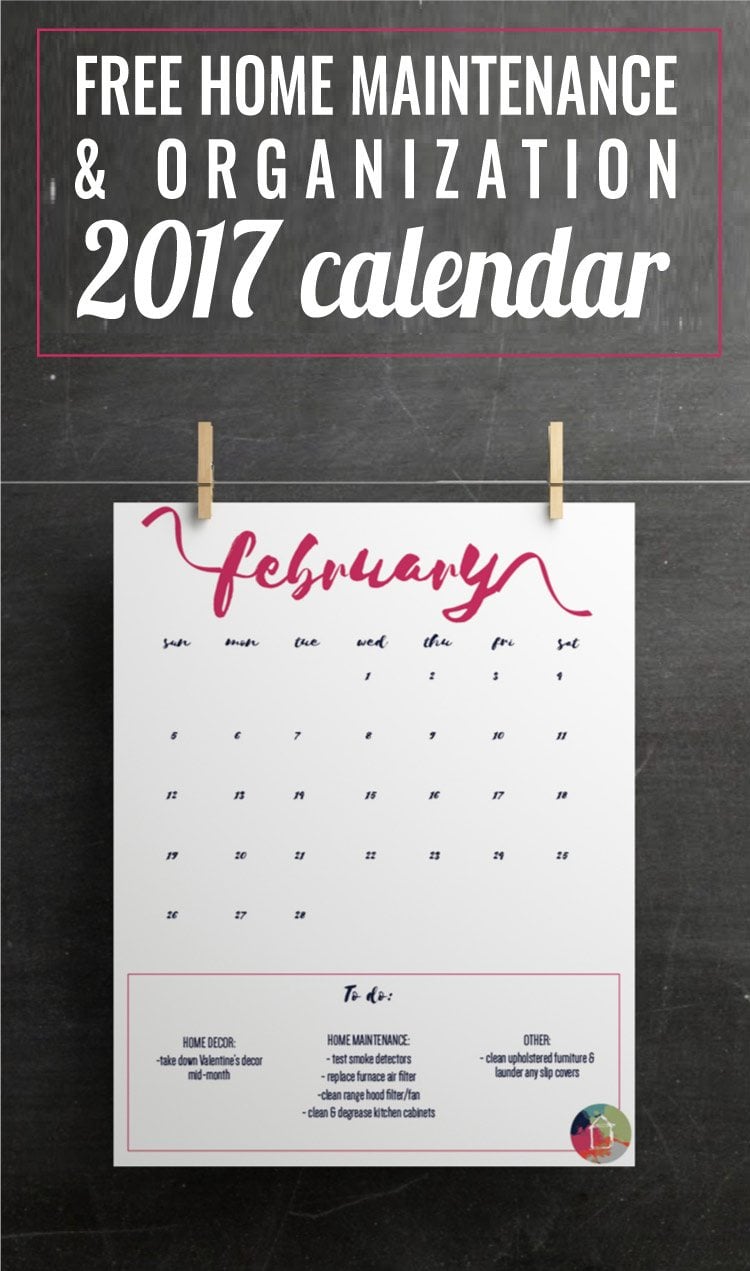 Are you too busy to even think about a regular home maintenance schedule or adding touches of seasonal decor to your home, no matter how much you want to?  Are you overwhelmed by the thought of organizing or decluttering any part of your home, so you just keep putting it off?  Believe me, I get it and I created this 2017 printable calendar to help you!
If you are anything like me, just the business of day-to-day life of working full-time and raising kids keeps you busy enough.  But, I finally figured out that if I create a monthly schedule of maintenance, decor and organization tasks and actually complete the ones on the list every month, all the tasks seem manageable (and sometimes enjoyable)!  I didn't stick to a schedule, there's no way I would get half of this stuff done.  But when you break the necessary home maintenance, seasonal decor and decluttering/organization out into manageable pieces every month, it becomes doable without feeling overwhelming.
So, I have been hard at work creating a 2017 printable calendar that goes a step beyond the ordinary and provides you with home decor, home maintenance, and organization/decluttering tips on a month-by-month basis.  That's right!  Now only is this 2017 printable calendar pretty, it's super functional and will help you stay organized and on task even though your life is crazy busy.
Free 2017 Printable Calendar
Here's a close-up view of one of the months in my 2017 printable calendar, so you can see how it is set up :)  You can pop it in a frame each month or just print them out and keep them somewhere handy.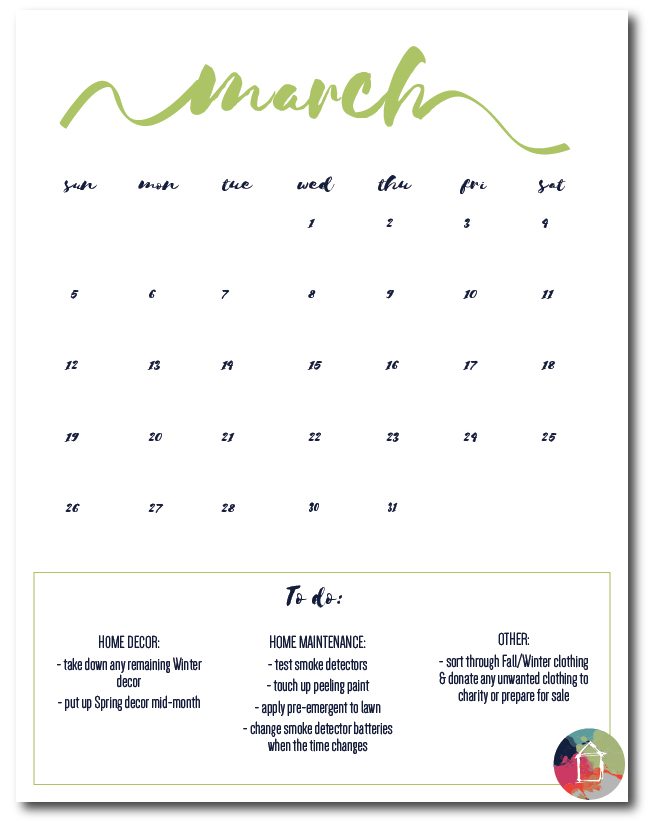 This 2017 printable calendar is FREE to all of my newsletter subscribers. To get this 12-page printable calendar delivered to your inbox, all you have to do is subscribe to my email newsletter by clicking below and the 2017 printable calendar will show up in your inbox in just a few minutes.  The 2017 printable calendar will be in PDF format and you'll be able to download and print it in the comfort of your own home, or you can take them to Office Depot or Staples and have larger prints made!  And don't worry, I won't spam you.  I send out a newsletter every week on Tuesdays and it's full of DIY projects and interior inspiration that I think you will love, but you can unsubscribe at any time.  Just click the button below to subscribe now!

Printables [go_portfolio id="printables"]