This FREE holiday planner that you can print at home will help you plan ahead for the holidays. With the Holiday Sanity Saver you will reduce your stress so that you can enjoy the moments with your friends and family!
Raise your hand if you want a holiday season filled with less stress and more joy! ?Well, good news… I'm here to help! I've created an awesome holiday planner for y'all. Well, really I created it for myself ;) But once I realized how helpful it is, I prettied it up before offering it to you all. It's designed to help you organize your time, come up with a holiday decor plan, manage your budget, and plan all your holiday gifts!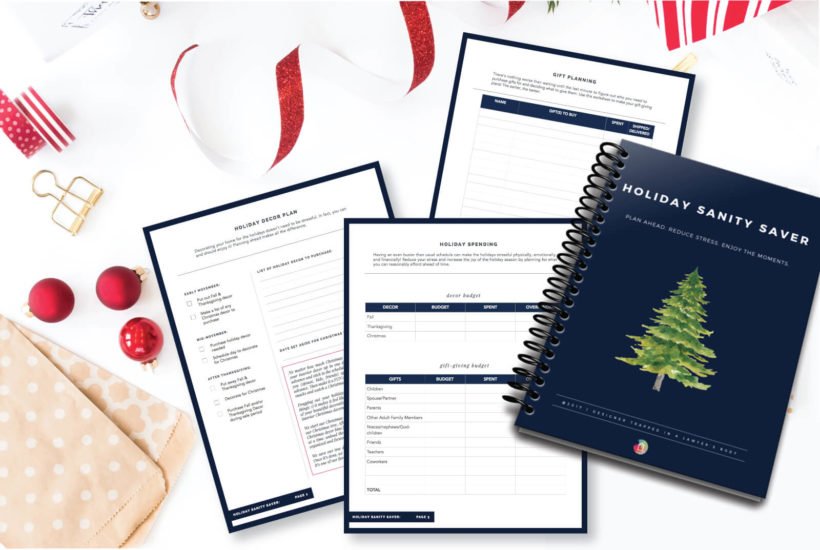 If you're wondering why I created something like this for myself in the first place, here's why… As organized as I am in my normal, everyday life, I tend to run a bit behind when it comes to the holidays. I love to do "all the things"–special Christmas morning traditions, handmade gift tags for their presents, and DIY gift bags for those awkwardly shaped gifts.
With so much to do around the holidays (because I LOVE to do it all, not because I feel like I have to), Christmas always sneaks up on me. I wind up scrambling to finish my gift shopping, which means I spend more money than I would like. And it leaves me feeling super frazzled and unprepared and STRESSED. I wind up feeling like I survived Christmas. I'd much rather feel like I was able to enjoy all the sweet moments with my kiddos.
The Holiday Sanity Saver helps so much! To get your FREE printable holiday planner, just click the image below and let me know where to send it. Easy, peasy!
I hope it helps you this holiday season! XOXO! If you want to check out more of my Christmas and holiday posts, just click here.