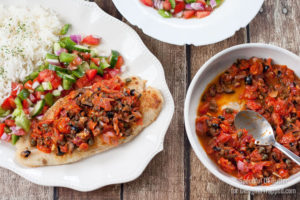 Fried Fish with Harissa Sauce
Yield 2 servings
This healthy and easy-to-make fried fish with harissa sauce is packed with flavor. You would be amazed how such simple ingredients can add up to a gourmet meal. It is easy and fast for a busy weeknight, but special enough for a celebration dinner!
Ingredients
For the fish fillets:
2 pieces Sole fish fillets or any firm white fish fillets such as sea bass, cream dory, or tilapia
1/4 cup all-purpose flour
zest of half a lemon
salt and pepper to taste
For the sauce:
2 tablespoons olive oil
3 garlic cloves1 small onion, chopped
1/2 cup black olives, chopped
1 tablespoon capers
225 grams cherry tomatoes
1 1/2 tablespoons harissa sauce (see notes)
1 teaspoon lemon juice
1/4 teaspoon ground black pepper
Instructions
1. PREPARE THE FISH: Season the fish with some salt and pepper. Combine the flour and lemon zest. Mix it well and coat each fish portion. You just need a thin coating on both sides.
2. FRY THE FISH: Fry the fish on medium heat and then flip to the other side to fry as well. The frying time will depend on the thickness of your fish. The goal is to achieve a light, crispy coating. When the fish is done, set them aside.
3. MAKE THE SAUCE: In a shallow pan, heat some olive oil (on medium heat) then saute the onions until translucent then add the garlic. Be careful not to burn the garlic! Add the chopped olives, capers, tomatoes, pepper, and harissa in the pan. Allow the mixture to simmer for about 5-6 minutes, mixing constantly, to get all the flavors together. Have a taste and season with salt, pepper, or more harissa, if needed.
4. ASSEMBLE AND SERVE: Top the fried fish with the Tunisian topping and serve immediately.
Notes
A note on Harissa: The harissa sauce I use is on the mildly spicy side. Since different brands have different spice levels, you might need to adjust the amount according to your taste. If you're using harissa paste instead of harissa sauce I suggest starting with a smaller amount, about 1/2 tablespoon, since pastes are generally more concentrated.
Recipe by Kaleidoscope Living at https://designertrapped.com/fried-fish-harissa-sauce/