Thinking about getting your home ready to sell? We are selling ours and have lots of tips about what you really need to do before you list it!
We are in the process of listing our house and it is overwhelming! Thea is also moving toward selling her home, and facing similar challenges. We both know how hard getting your house ready to sell is and we talk about the ins and outs of the prep work today on the podcast . Not to mention a few, ahem, "disagreements" between the spouses about what's important and what's not! I also give you some very hot tips about how to list your house once it is ready. Listen below for all of our funny stories and great ideas about getting your house ready to sell!
Want to listen on your favorite app? Click whichever option you prefer below:
i Tunes | Stitcher | Spotify | Google Play
All the Details From This Episode
We are both in the process of getting our houses ready to sell.
Thea is in the earlier phases, so she talks about what she is doing first. Tons of purging is happening, boxing stuff, and moving it into a storage unit. When you have a smaller house with less storage, you really have to strip it down.
Check out here great ways to purge and sell by going back and listening to this episode of the podcast : What to Do When Your House Feels Overstuffed .
Thea's people are REALLY hard on a house (she calls them the "DeloTornado") and so there is a good bit of touching up paint and freshening up the house that has to be done.
My recommendation is to empty closets and cabinets by 50%. Also, go through and ask yourself if you can live without things for a few months, and stick that stuff in storage!
Thea's husband disagrees with what areas need to be purged. My recommendation is to definitely clean out those cabinets and drawers. She is excited to be able to hit him with a "Tasha said…"
I am in a different place in getting our house ready. We are purging also (which honestly I do pretty often) but this time we are really getting after it, especially since we have never done a deep purge of old boxes that we moved from our last house. I don't want to even open the boxes, but Joe insists. I refuse to move anything I don't really want!
Experts will say to take down all family photos. I refuse! If our photos bother the buyers, this is not the house for them. We proudly left our hallway gallery wall and all other family photos in place while we showed our house.
We both agree virtual staging is weird and we don't like it. I get why people do it, but I don't need it or want it. I like to think I am gifted in spatial awareness.
Make lists! You can use Joe's stickie note system or just make a regular list.
We had a door that we had never painted in the guest and our master bathroom needed lots of attention. We knew the bathroom could be a huge obstacle for buyers, so we gave it a super affordable refresh that you can check out HERE .
We also gave our laundry room a fresh new look on a very small budget !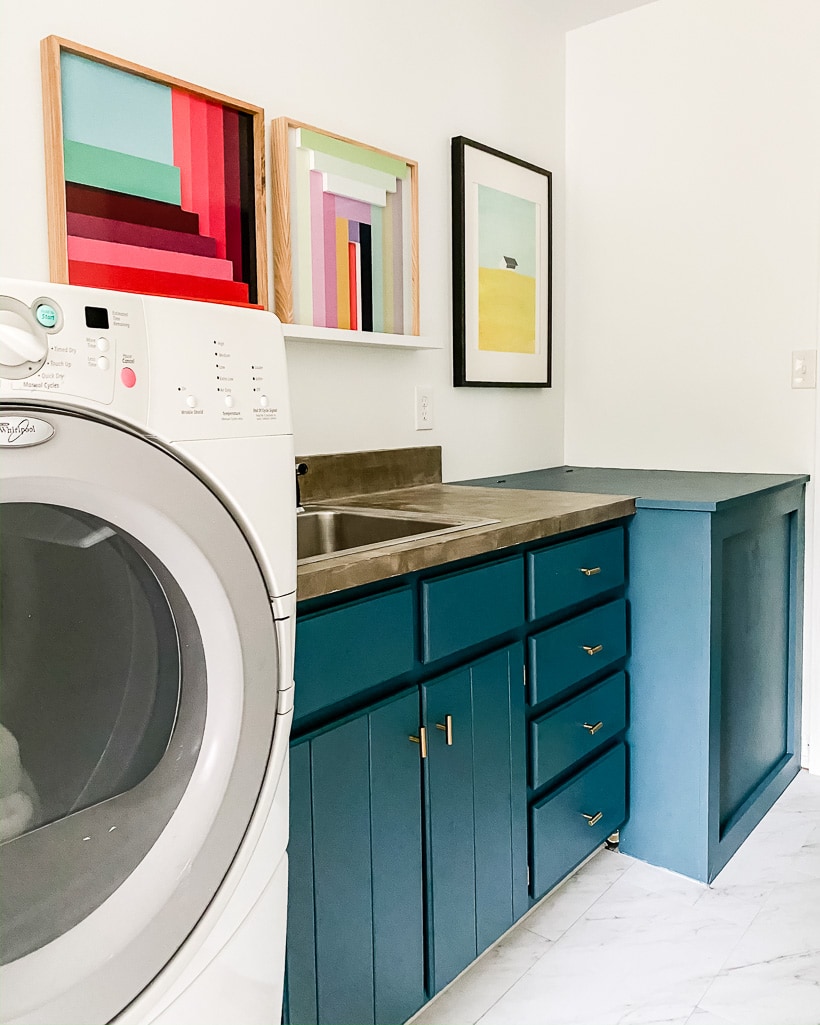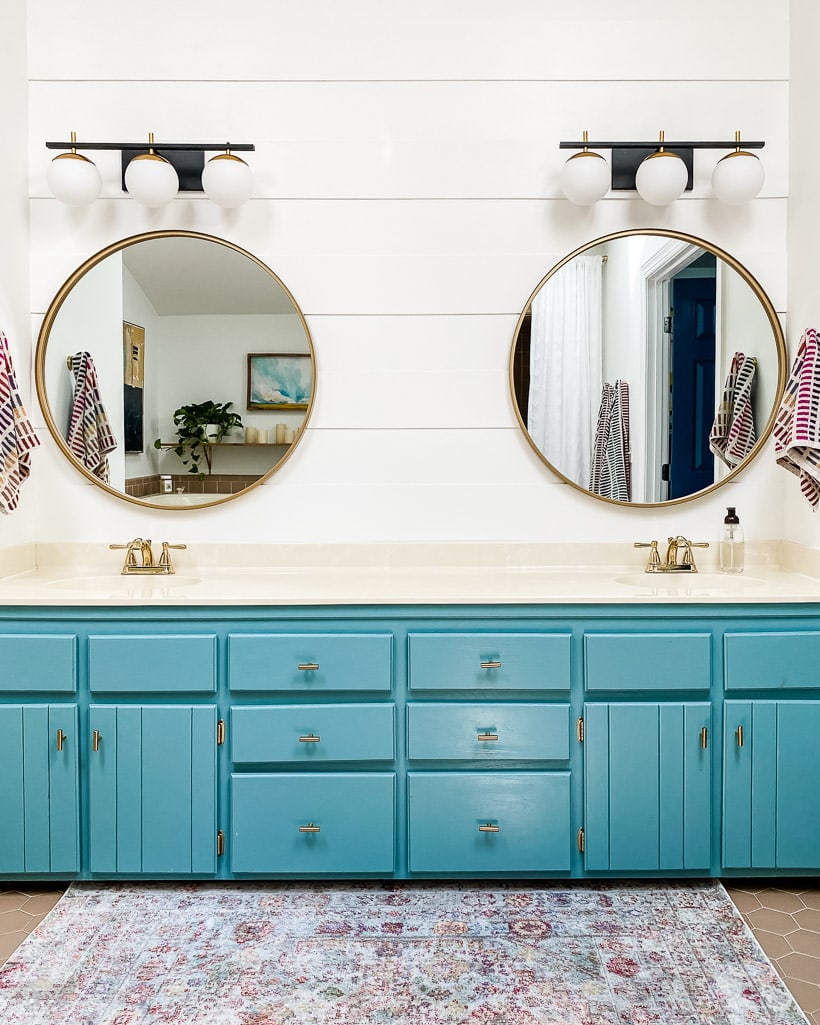 Everyone should touch up and clean off scuffs marks (Thea doesn't believe my sweet girls could have made any in our house, lol!)
Thea and Anthony can't agree on what's important. Turns out Joe and I don't either. Both husbands are obsessed with making the yard look a certain way. It is important to make things look nice outside, we don't need a full landscaping redo. Our husbands are VERY detailed oriented and that can slow things down. (We talked about their basement woes in the last episode .)
Protip: Look at your house the way a potential buyer would. Good overall cleanliness is important. Look at your house with a fresh eye to figure out what's important.
If there are things the spouse can't get past, let them do it. Also, keep in mind that not everything has to happen before the first person walks in the door.
I am getting lots of questions about whether we are listed with a realtor or if we are doing a for sale by owner. I believe that for the vast majority of people a realtor is a great idea. However, we are real estate nerds and are really familiar with what's happening in our area. Also, we didn't need help or advice on getting our house ready to list. One of the big secrets is that you can actually purchase your own MLS listing, which is what we do. Google "flat fee MLS listing" and you can find all kinds of info. We have a contract with List with Freedom and it has been easy to use. We also pay extra for a showing app to schedule those.
Are you getting your home ready to sell! Tag us on IG at @tasha.kaleidoscope and tell us what you are doing! Also, tag us in pics or screenshot your episode and tell us what you are doing while you listen. We love seeing those and try to share them as often as possible. Make sure you are following me on Instagram so you can follow along with my stories and see all the behind the scenes action. I talk about ALL the things (not just home decor and DIY!) and it is very fun so come hang out with us!
Get Social With Us
I get asked a lot about my design process, which I am also using when I design the new house! I use the SAME system every single time I design a room. I finally put that system down on paper so that you can use it, too! It's an affordable alternative to hiring an interior designer and it's called Designer in a Binder ®! It walks you through each step of the design process, like choosing items that are the correct scale, space planning, mixing patterns, choosing colors and more! I give easy-to-understand guidance on all of this in Designer in a Binder ®! You can order your binder now. We have over 5,900 happy customers so far! Click here to learn more .
Wondering how I approach transforming rooms and spaces in our home? Check out Designer in a Binder® .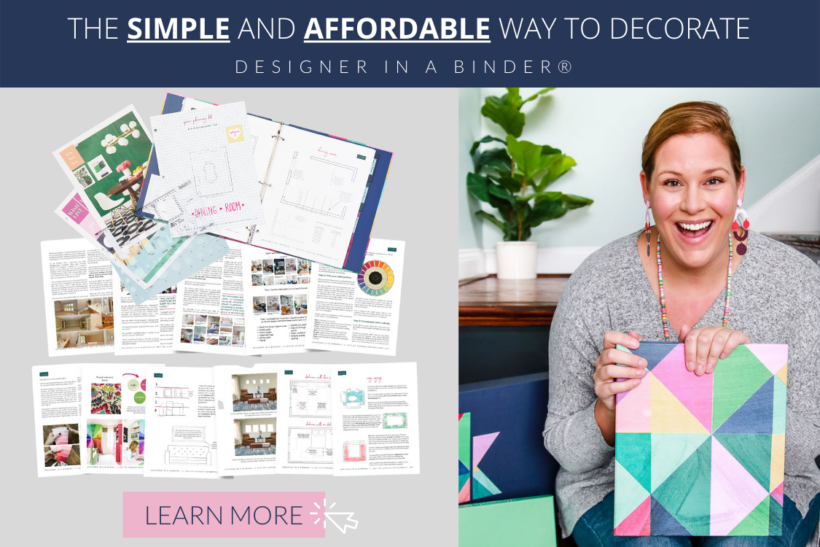 And if you want exclusive content and behind-the-scenes sneak peeks, be sure to subscribe before you head out!


[mv_create key="5″ type="list" title="More Podcast Episodes" thumbnail="https://designertrappedcom.bigscoots-staging.com/wp-content/uploads/2019/04/marrying-decorating-styles-featured-1.jpg" layout="circles"]