Guest Bedroom Organization Tips & Tricks
Last Updated on August 10, 2021
Guest rooms are tricky because they often become a dumping ground for things that you don't otherwise know what to do with. Ours stays very clean and organized on the surface. Why do I say that? Because we use the guest room closet to store all of the things we need to get rid of…Sigh. Mostly, it contains clothes our girls have outgrown and we haven't had a chance to sell yet. But it also stores old bedding, an old rug, and even an old fan. But it will be nice and (mostly) empty for guests to use soon! I am following my own tips for guest bedroom organization to get it ready for summer visitors.
If your guest room is like most people's, it may serve multiple functions for you. For many, your guest room might double as a nursery or office or craft room. If that's true in your home, just focus on the guest portion of the room. The goal is guest bedroom organization! Make sense?
This post contains some affiliate links for your convenience (which means if you make a purchase after clicking a link I will earn a small commission which helps keep my blog up and running but it won't cost you a penny more)! Click here to read my full disclosure policy.
GUEST BEDROOM ORGANIZATION TIPS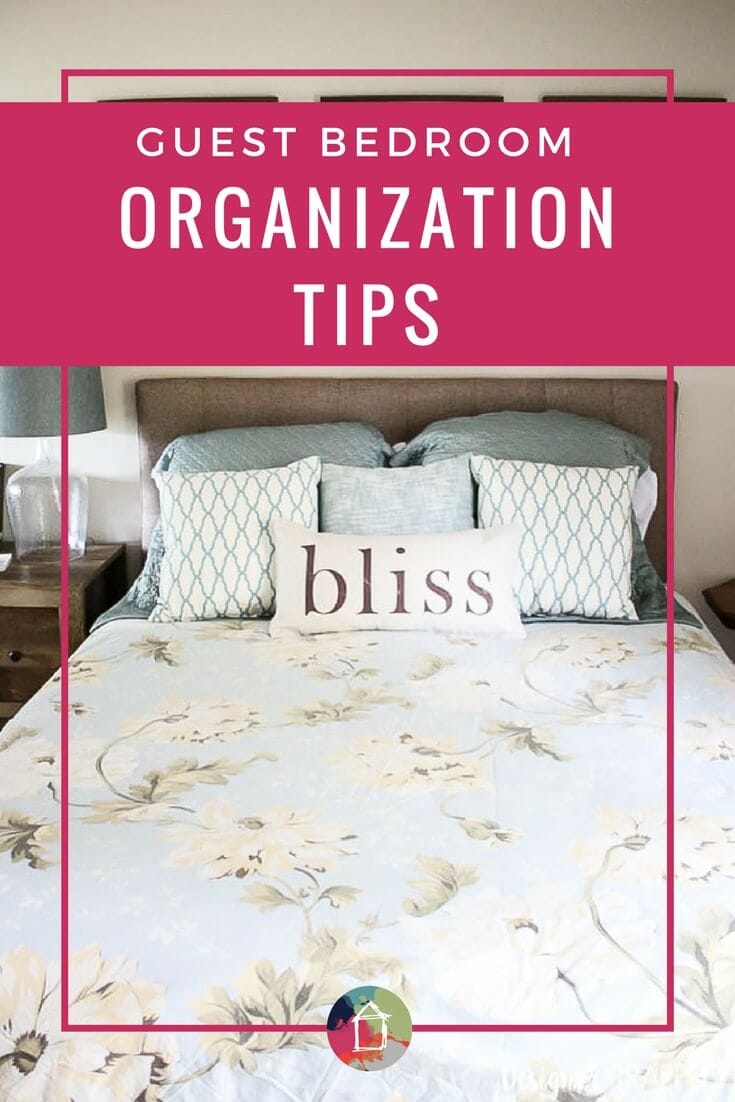 Guest Room To Do List:
– Remove anything and everything that does not belong. Use a basket to collect items that belong in other rooms and return them to their proper homes. If bins of seasonal decorations have invaded your guest room, relocate them now. If you have toys that your kids have outgrown, find a better spot for them until you can donate or sell them.
– Don't let your guest room become a catch all for old furniture that doesn't fit. All that a guest room really needs is a bed, a bedside table and lamp, and perhaps a comfortable chair and dresser. That's it! So if you moved your old game table into your guest room "because you may need it again someday" now is the time to get rid of it.
– Get rid of unwanted, broken or useless items. Get rid of anything that is not absolutely essential, or anything you can bear to part with. Decide what to keep, sell or donate and follow through with it ASAP.
– Arrange the items that MUST stay in the least invasive way possible. For those items that must stay in the guest room, try to keep them out of the way of your guests.
Use under-the-bed storage. If you find yourself short on storage (and to be clear, short on storage because you live in a house with only two closets–NOT because you are holding onto too much stuff), consider adding some under-bed storage in your guest room. Our guest room features a bed that we made 10 years ago, modeled after the Pottery Barn Stratton bed. We use the bins to store extra blankets and sheets for the guest room, as well as some off-season clothing.
Make room in the closet. If you must use the guest room closet to store some of your own items, be sure to leave at least 6 or so empty hangers for your guests.
Add a dresser to the guest room. This serves a double function. If you are short on storage in your own room, you can use the few bottom drawers to store your off-season clothing. The rest of the drawers should remain empty for your guests to use. We have two pieces in our guest room–one stores extra linens. The other dresser serves as a night stand and is mostly empty for guests to use.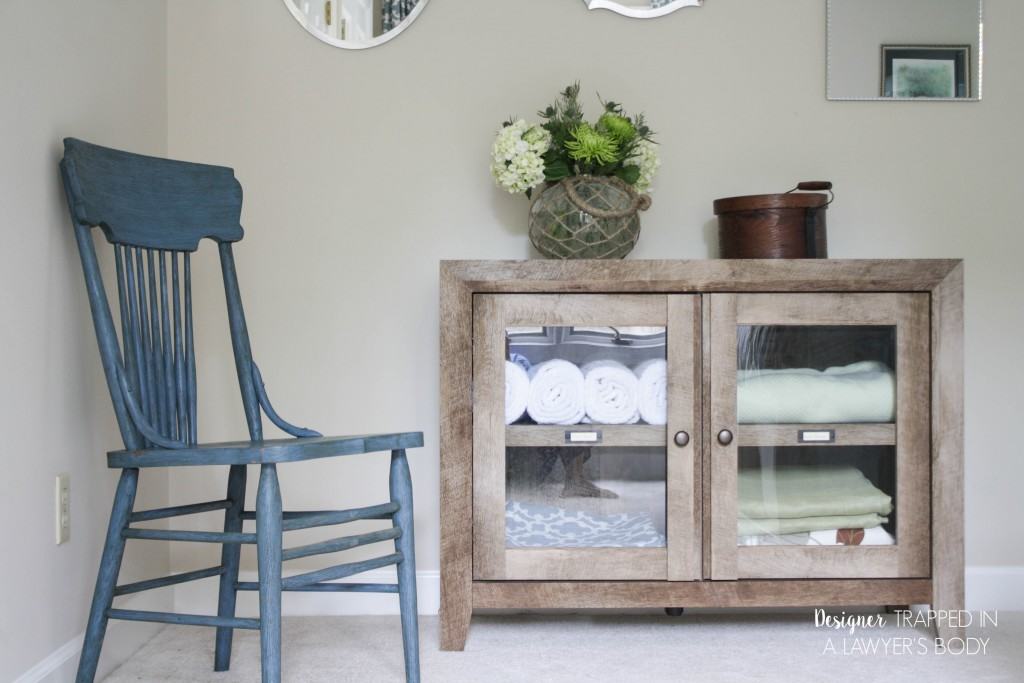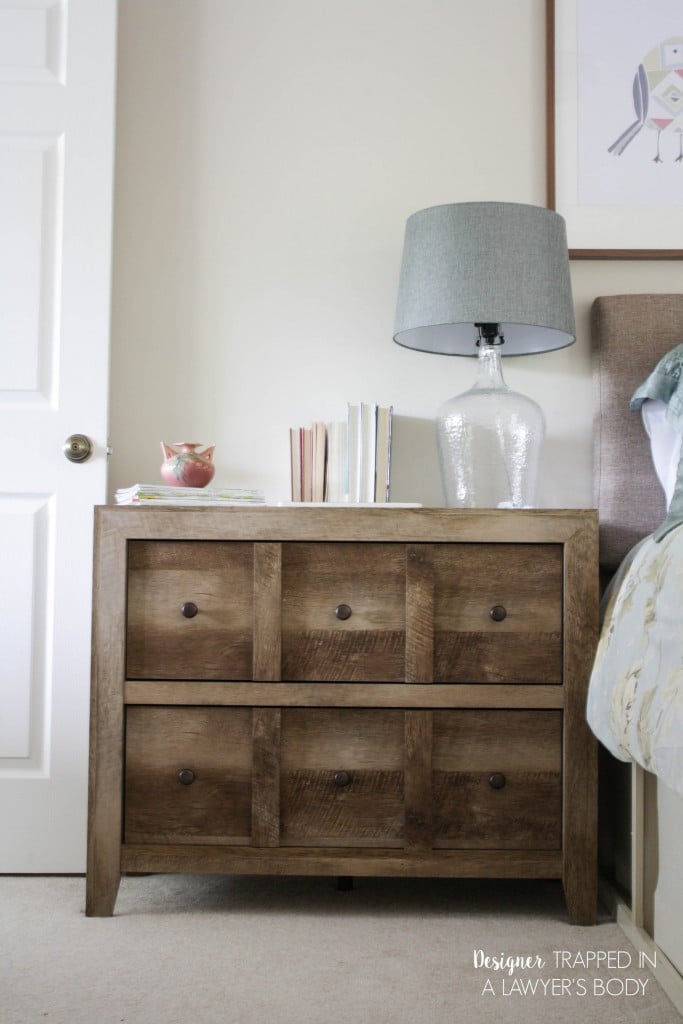 That's it–guest bedroom organization is actually pretty simple! Remember, if you are short on storage and your guest room must pull double duty, use SMART storage solutions like those mentioned above–don't just dump things in the guest room and leave them there. That way when guests are due to arrive you aren't stressed out and scrambling to make your guest room presentable!

[go_portfolio id="cleaning_and_organization"]