DIY Hand Stamped Canvas Totes
Last Updated on May 17, 2019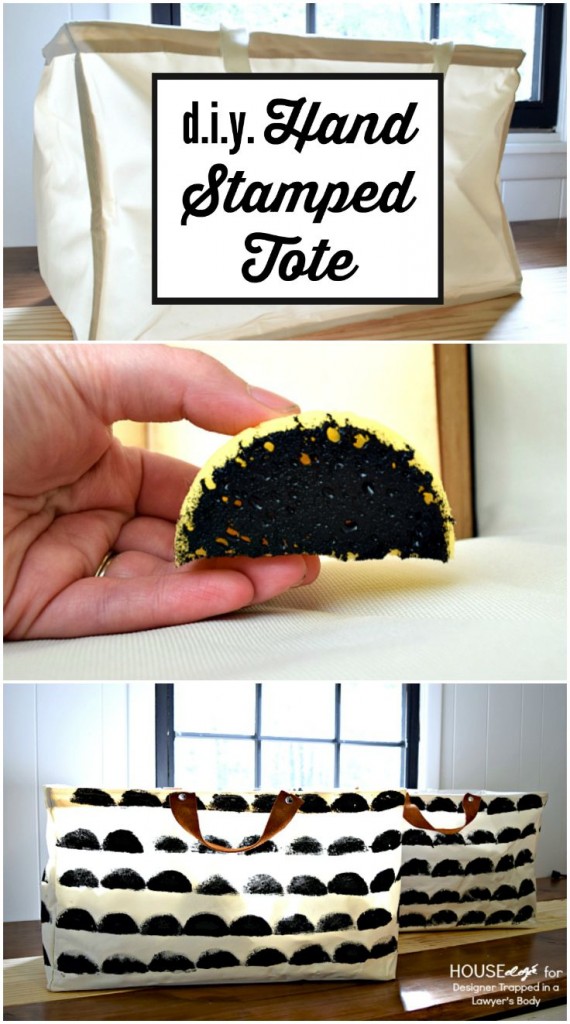 Hi everyone!! I'm Leigh Anne and I blog over at Houseologie. I'm SO EXCITED to be here chatting with all of you DTLBers!!!!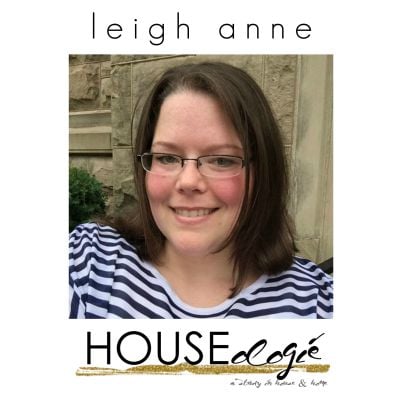 I'm new here so you should know a few things about me: 1.) I use too many exclamation points because I'm always excited about Home Decor and DIY!!! 2.) I double-heart-LOVE black and white Scandinavian style decor and, 3.) Sharing what I do in my home with others, to empower them to create a space they love landing in at the end of a long day, is my passion. With all of that said, I'm going to show y'all how to hand stamp a canvas laundry tote today!!!!! This post contains some affiliate links for your convenience. Click here to read my full disclosure policy.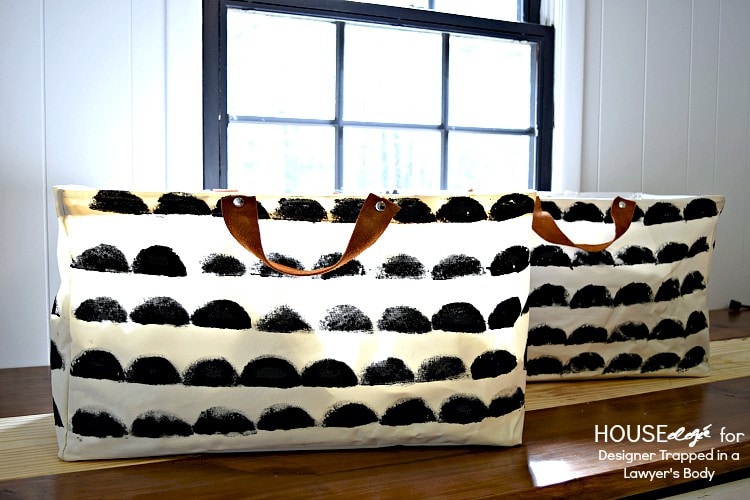 I fell in love with this Ferm Living Laundry Basket and I just knew it would be perfect in my laundry room that I've been working on giving a makeover. However, the $65 (on sale!) price tag and I did not get along so well. I decided I could make something at least similar in style to the inspiration basket.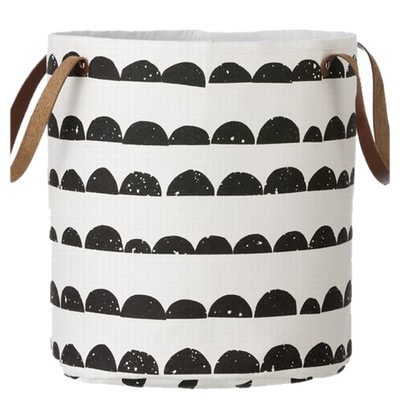 I found these square canvas totes for around $10 each and decided to go with these because they fit into my laundry cabinet that sits in between my washer and dryer. I have one for clean clothes and one for dirty clothes.

Materials Needed to make a Hand Stamped Canvas Totes: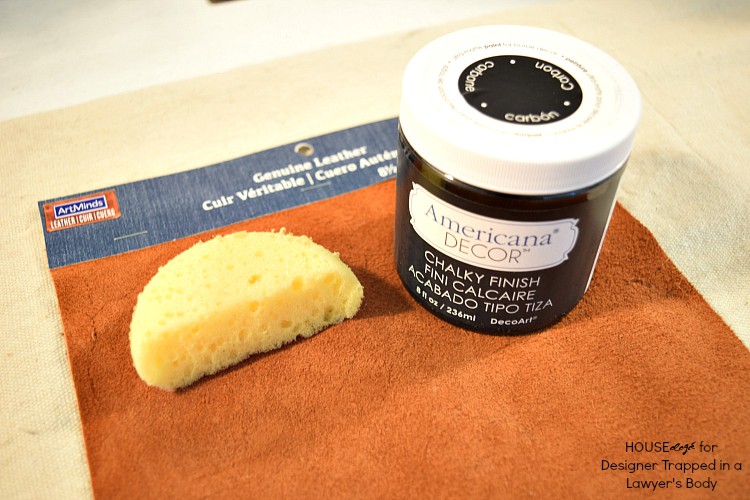 Steps to make a Hand Stamped Laundry Tote:
The first thing I did was turn my canvas tote inside out. The inside has kind of a waterproof oilcloth feel to it, so your paint will not soak through. Once it was inside out I used some old chunky books to hold its shape, which made it a lot easier to work with. I put my black chalk paint into a bowl then cut my sponge in half to make the half moon shape for stamping.
I lightly dipped one flat side of the sponge into the paint. If I got too much paint on the sponge, I used a paint brush to get it off. I the sponge up with the top of my tote and pressed down gently and evenly across the tote. I continued to create straight rows with the stamp. Once one side of the tote was finished and dry, I just flipped the tote and started on the other side.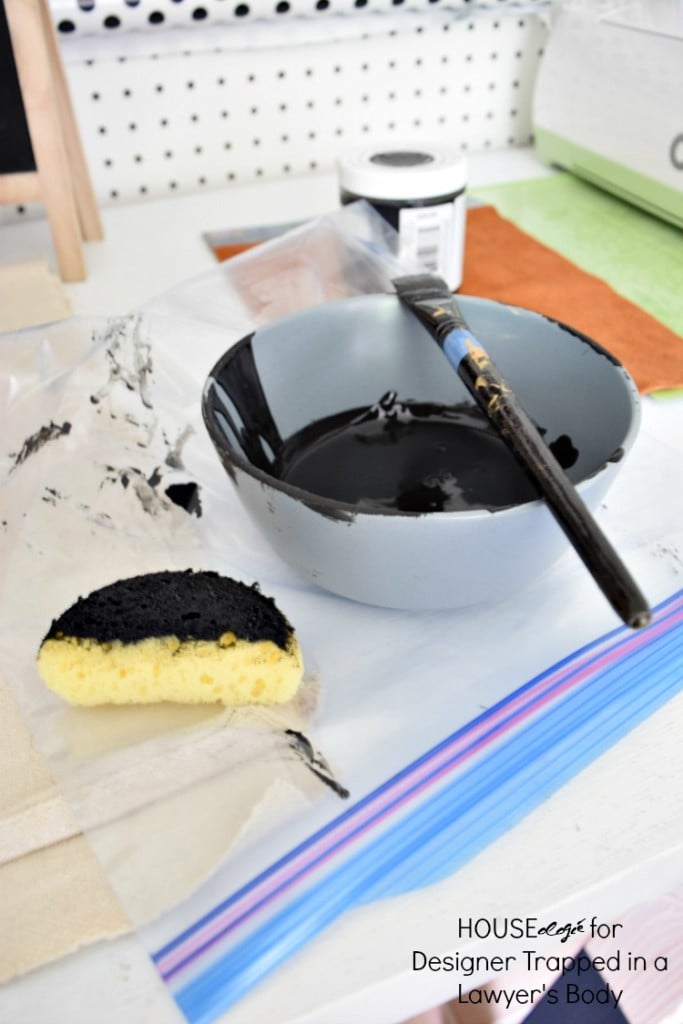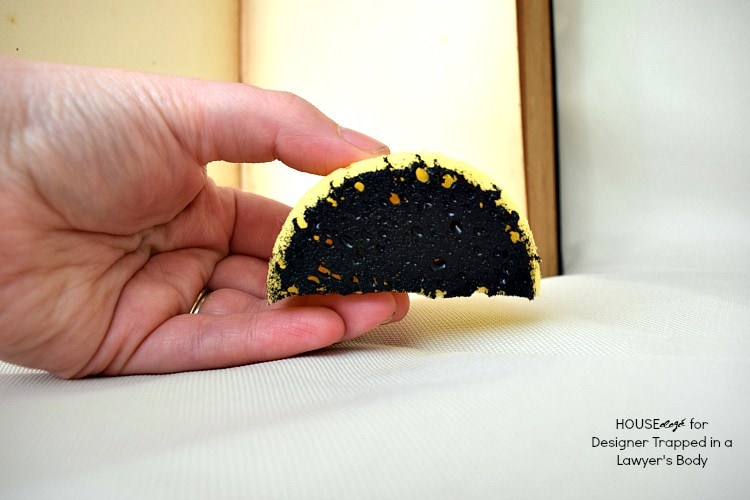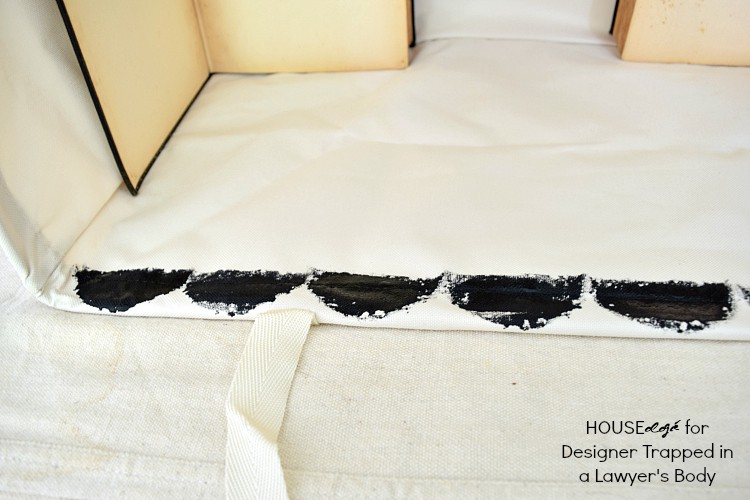 Don't worry if it doesn't look perfect. That's the great thing about this stamp! It's supposed to look handmade and less than perfect. I allowed my totes over night to dry. The next day I turned the totes right side out again and got to work on adding the leather handles. The handles are purely decorative. I actually left the regular handles inside for carrying laundry up and down my stairs.
For the leather handles I used one sheet of leather that I cut to size. Ideally I would have liked to buy a roll of leather but I couldn't find the width I needed. I just used a straight edge and a copper colored marker to mark a straight line that I used to guide my cut. I used the Snap and Setter kit to attach the leather to the tote bag. It was hard to get a picture of this but the kit is super easy to use!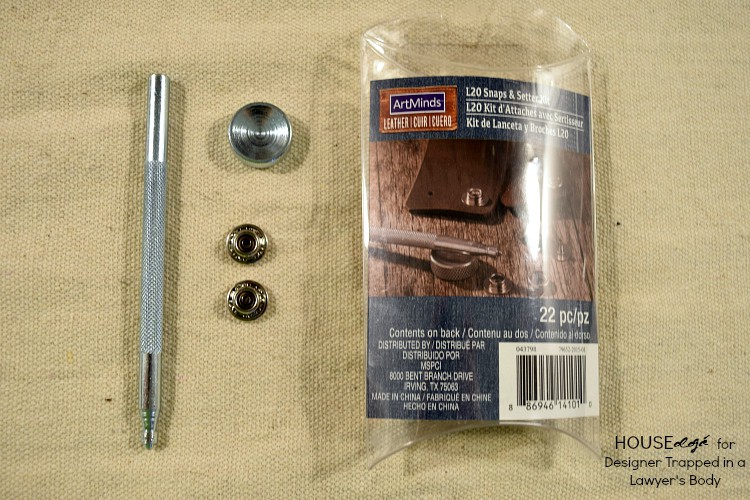 I marked a spot on my leather strip and the tote then used an exacto knife to make a hole on each one. Then I just followed the directions that came with my snap kit. Basically, you insert a snap post through the leather and canvas then add a snap cap from the kit. You use the long metal piece and a hammer to set the snap. Easy peasy!!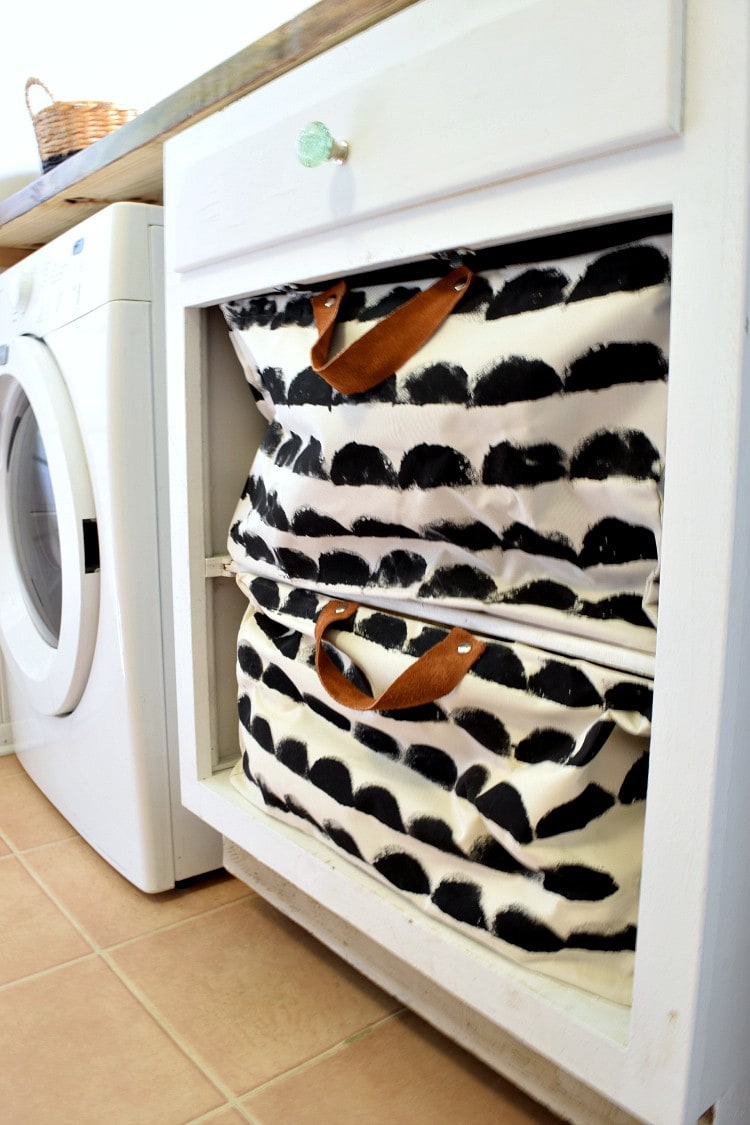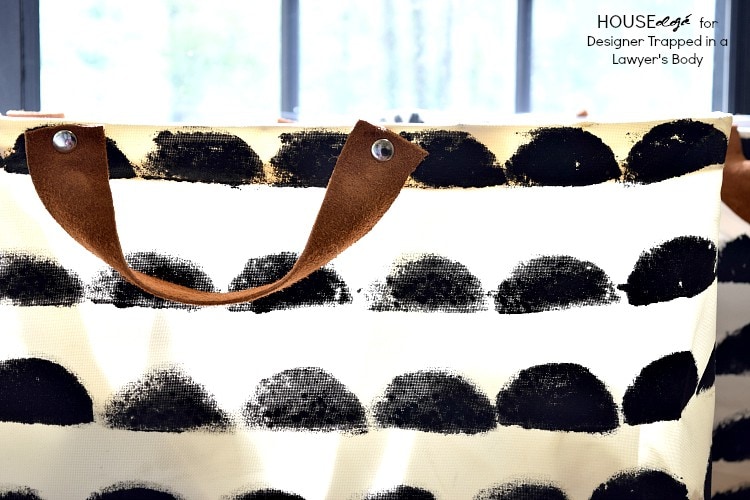 I love how they turned out and such an easy transformation! If you enjoyed this post, be sure to pin it and check out a few others over at Houseologie, I'd love for you to stop by!
DIY Upholstered Kids' Folding Chair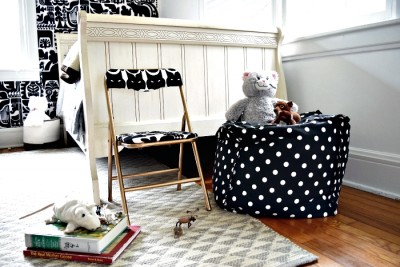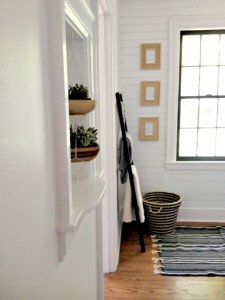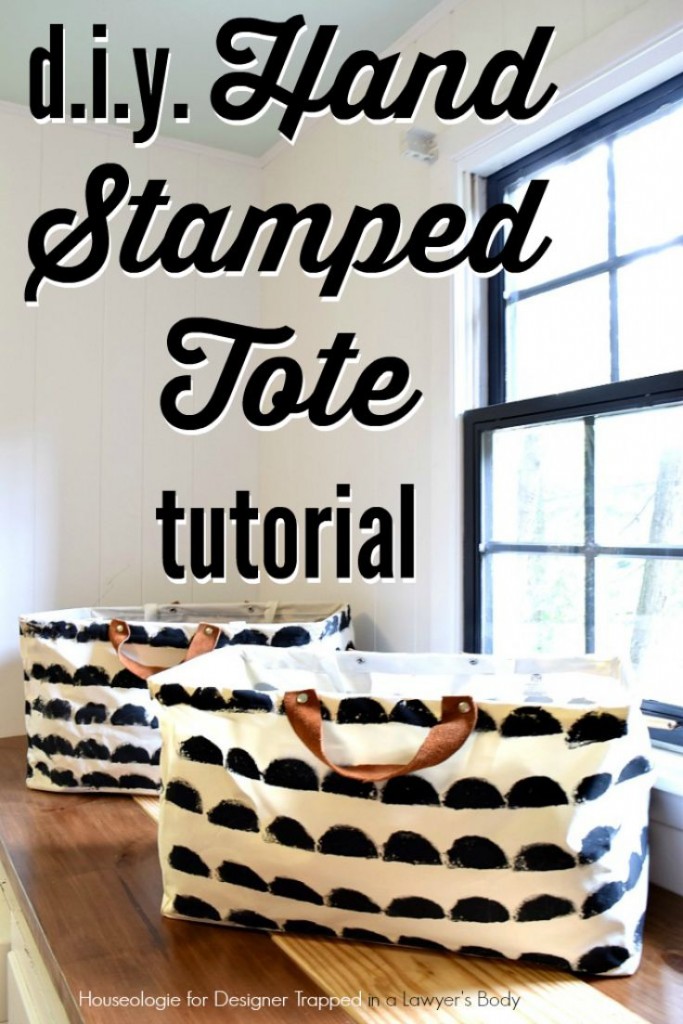 ​
[mv_create 1 11 200 2016 key="1″ type="list" title="Most Popular Projects" thumbnail="</span><a href=" https designertrapped com wp content uploads diy home decor projects blog jpg target="_blank" a span]​