Does your little girl need a big kid bed? Are you searching for one "just right" girls' bed, worthy of Goldilocks herself? Looking for pretty beds for girls but don't know where to start?
The hardest part of picking a great bed for your little girl is narrowing it down from all the amazing options out there! There are daybeds, princess beds, beds with a trundle, beds with a canopy…the list goes on.
Your little girl's bed is the centerpiece of the bedroom (hence, the name). It sets the tone for the entire room. It's the focal point. Even if your daughter's bedroom does double-duty as a playroom or triple-duty as a study, ultimately her bedroom is a place of rest for your sleeping beauty. So you want a well-made bed that fits the size and scale of the room, as well as the sleeping needs of your girl(s). So how do you choose the best bed for YOUR little girl?
First let me tell you, while there are tons of fun beds for girls out there (like cute princess beds and other darling beds for girls perfect for your little one), keep the long-term preferences of your daughter in mind when you select a bed. Often novelty youth beds lose their luster quickly, so once she's moved past her princess phase, she'll be over it and ready to move on before the life of the bed is up.
A quality bed is a long-term investment. For a young girl, you'll be looking for a twin/single or full/double bed. The name "twin bed" came about because these smaller, single beds were often placed in the room in pairs. The names twin and single are synonymous, especially in the U.S. (in other countries a single is slightly longer than a twin). A full/double bed is also appropriate for girls and teens. Plus, it provides extra room when friends or siblings sleep over. A queen or king-sized bed is overwhelming tiny kiddos and it'll cause the room to feel off kilter. Go for bed that fits the scale of the room.
Avoid toddler-sized and youth beds when possible. Fun kids beds like loft beds, quality bunk beds, or beds with storage and built-in features are appropriate for small spaces and siblings sharing a room, but in the longer term they may not seem as versatile for a teen or older child with more mature tastes. Examine your space and decide what type and size bed will fit your needs.
When looking for beds for girls, people often only think of mattresses. But a bed usually refers to the frame, the headboard and the footboard…while the mattress sets atop the box spring or in the case of a platform bed, atop the bed base. Replace your mattress every 8-10 years for regular wear and tear. A box spring will last slightly longer, but the ten year marker is a good rule of thumb. If you purchase a bed for your daughter when she's three, you will want it to last 15 years or more. Many beds last a lifetime and will even become a quality heirloom pieces.
If you go for beds for girls made with long-lasting materials like brass, aluminum or wood, you can always paint the bed or refinish it to change with your decor. Watch for pieces with "good bones" to hold up to changes and alterations. We all remember the trends of the waterbed, the very popular teen "daybeds" in the '90s, and other trends in bedding. Look for a solid piece in wood or metal to transcend trends and last for years to come.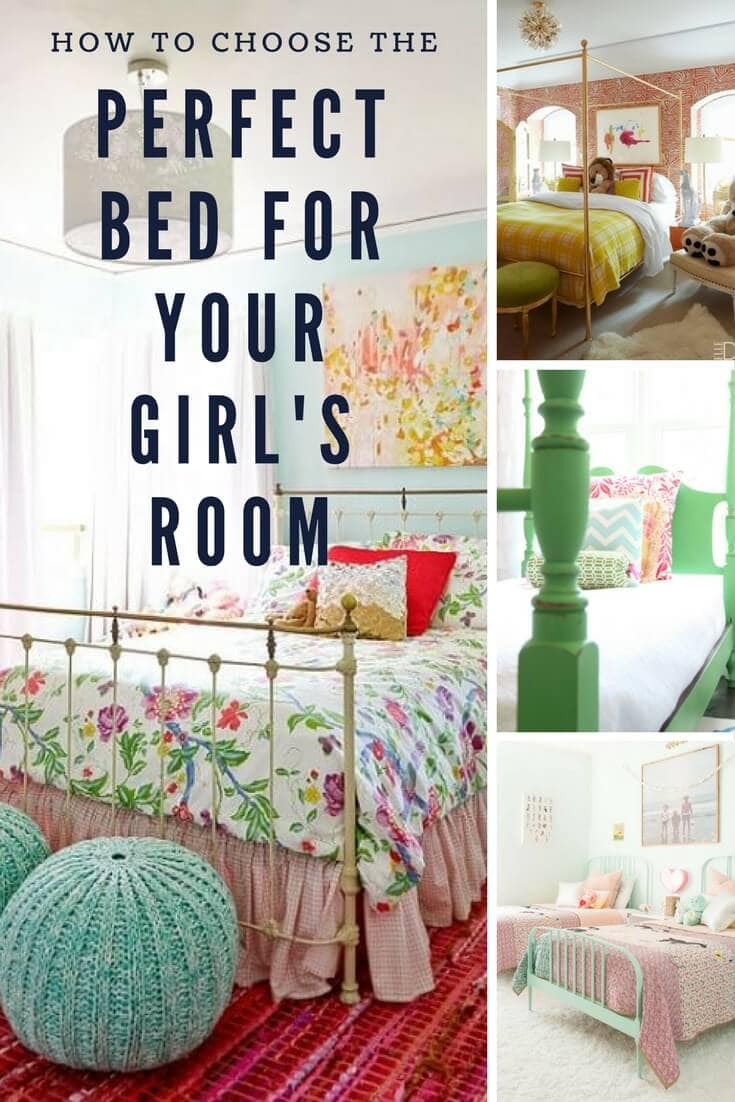 Basic Rules When Choosing Beds for Girls:
Look for a quality bed that will withstand wear and tear over time.

Mattresses last around 10 years, but beds can last a lifetime.

Opt for less trendy, more timeless pieces.

Beds for girls are usually best in a twin/single or full/double size.
Here are a few ideas to get you started when searching for beds for girls…!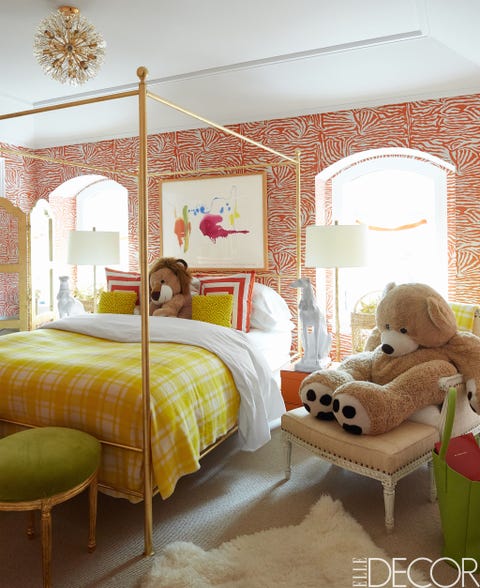 Source: Elle Decor
This gorgeous four-poster canopy bed in brass is perfect for a princess room. The full-sized bed is appropriate for years to come and sets perfectly and formally between those two gorgeous bright windows.
The decorator has picked up hints of the brass color again in the light fixture, picture frame and in the footstool. With the fun wallpaper, a fussier bed would be too much, but the clean lines of the four posts and open top feel perfectly at home and in sync in this room. They match the antique feel of the chair and the formal arrangement of the lamps and greyhounds. Take out the stuffed animals and change the comforter and this is a room fit for an older teen.
Source: The Heathered Nest
This great four poster single platform bed in a fun bright green is just the right size for a little girl, but big enough to still stay comfortable as she gets older. The distressed paint matches the antique feel of the bed, but the color takes the bed for girls into contemporary, bright and youthful territory.
Offset with the bright pillows and against the window, this bed feels energizing, light and vibrant. White might seem like a strange color choice for a little girl's bedspread, but white is easier to wash than you might think! Plus, white always feels fresh and clean.
Source: The Lilypad Cottage
How adorable is this girl's single metal panel bed?! The headboard and footboard are darling in the bright pink and since it's metal you can easily change this bed up when tastes change. (It probably didn't start out pink years ago.)
The bed crown canopy is a great solution for getting the look at feel of a canopy bed without the canopy. The crown canopy plays especially well in smaller rooms where a full canopy four-poster bed would be overwhelming. This is another great example of how well white works in a little girl's room. It's fresh, sweet and goes with everything!
Source: At Charlotte's House>– Photo by Design Fixation [Faith Towers]
Here's a fantastic example of using a simple headboard to help a bed feel perfectly finished. In a small room with this big double bed, a footboard will feel overwhelming and leave barely any space to walk. As you see here, the designer mirrored the green headboard in the adorable window-seat bench which helps the bed feel complete and put together even without a footboard.
The nightstand also picks up the pop of green, and with the bright pinks and beautiful patterns, this is a room to could take a little girl right through her tweens with ease. There's a lot of personality in this room and yet the design feels deliberate, calming and inviting because the colors work together.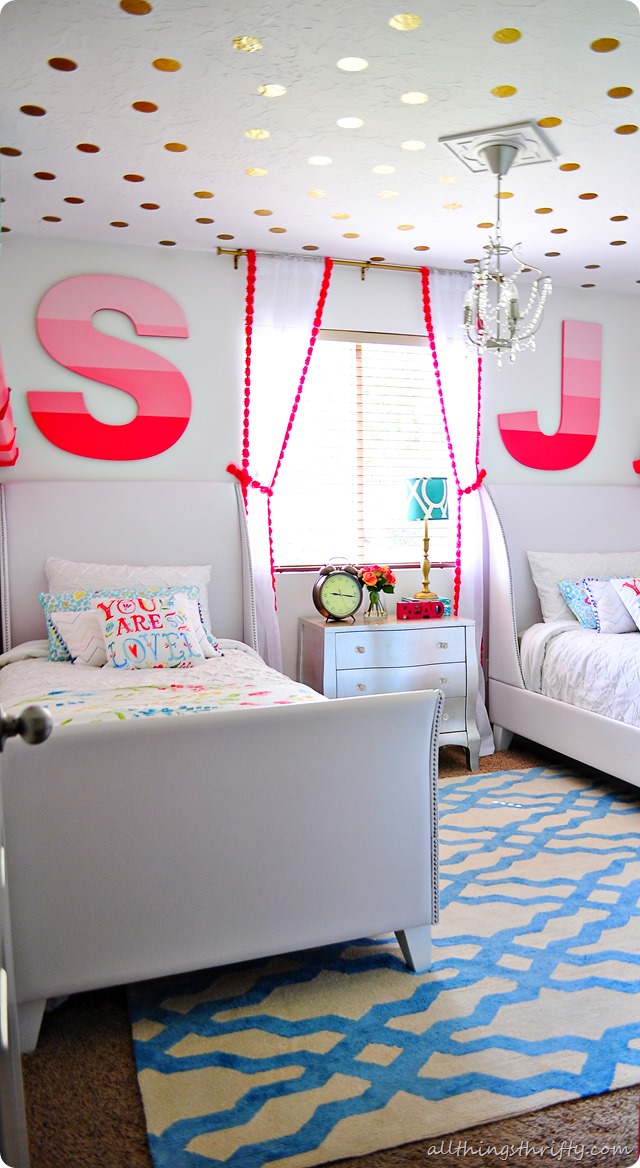 Source: All Things Thrifty
Okay y'all, I love these sleigh beds! Although they're a classic design (since the 1800s), they were a popular trend in the 1990s, but recently haven't been seen nearly as much. The white on these twin sleighs helps them feel fresh and very contemporary, particularly offset by the fun neon brights and gold.
With sleigh beds the box spring is optional when they're built on a platform (as is the case here). Find sleigh beds in metal or wooden finishes. It's obvious where these beds for girls get their name, but the big head and foot can feel overwhelming in a small room, especially with twin beds. Using white for the color was a perfect choice here, and they look amazing in this space!
Source: Style by Emily Henderson
Antique iron rail beds often feel a bit "Little House on the Prairie." The look might be positive feature if your daughter is a fan of the quaint country look, but this country look can also cause the to room feel too dated and fussy. Using bright pops of color around this gorgeous antique iron piece feels right at home in today's world and not the least bit old fashioned.
Using a dust ruffle on this bed warms up the metal and keeps the bed from feeling stark or cold. Oh, and how great are those cacti poufs?! Combined with the prickly pear-flower pink in the rug and pillows and the sagey walls this room feels ultra contemporary, on trend and perfect for any aged girl.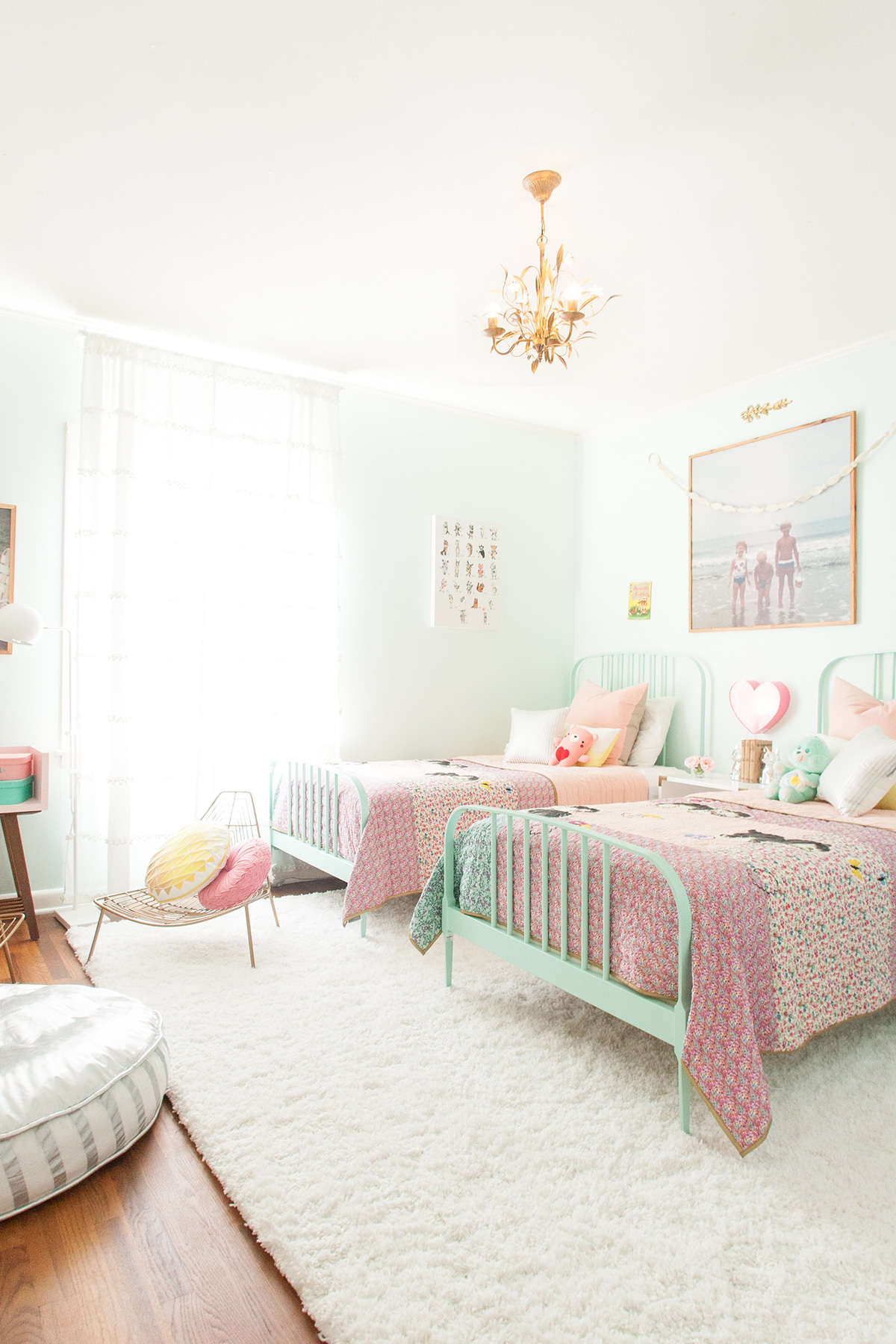 Source: Lay Baby Lay
These twin panel beds look great in a modern mint. The slatted headboard and footboard might appear out of place in a darker finish or more traditional color–too dated, too formal. Here, though, they are perfectly delicious and guaranteed to give sweet dreams.
Using the big, plush rug under the two beds helps them feel connected and cohesive.The rug also offers a restful soft feel to the room–on point for big girls and little girls who need their beauty rest! The mint is paired with Millennial pink, which is the most popular shade out there today. The color on the bed feels classic, yet completely up-to-date.
If you're seeking great and affordable beds for girls, there are a treasure trove of beautiful options out there…and they're much less expensive than you might think. Your little princess will be on her way to sweet dreams in no time!
Check out these great girl's bed options to get you started! The links below are affiliate links for your convenience (which means if you make a purchase after clicking a link I will earn a small commission which helps keep my blog up and running but it won't cost you a penny more)! Click here to read my full disclosure policy.