Finding the right remodeling contractor can be confusing and scary. With these practical tips, you will learn how to navigate your way through the sea of home improvement contractors until you find the perfect one for you.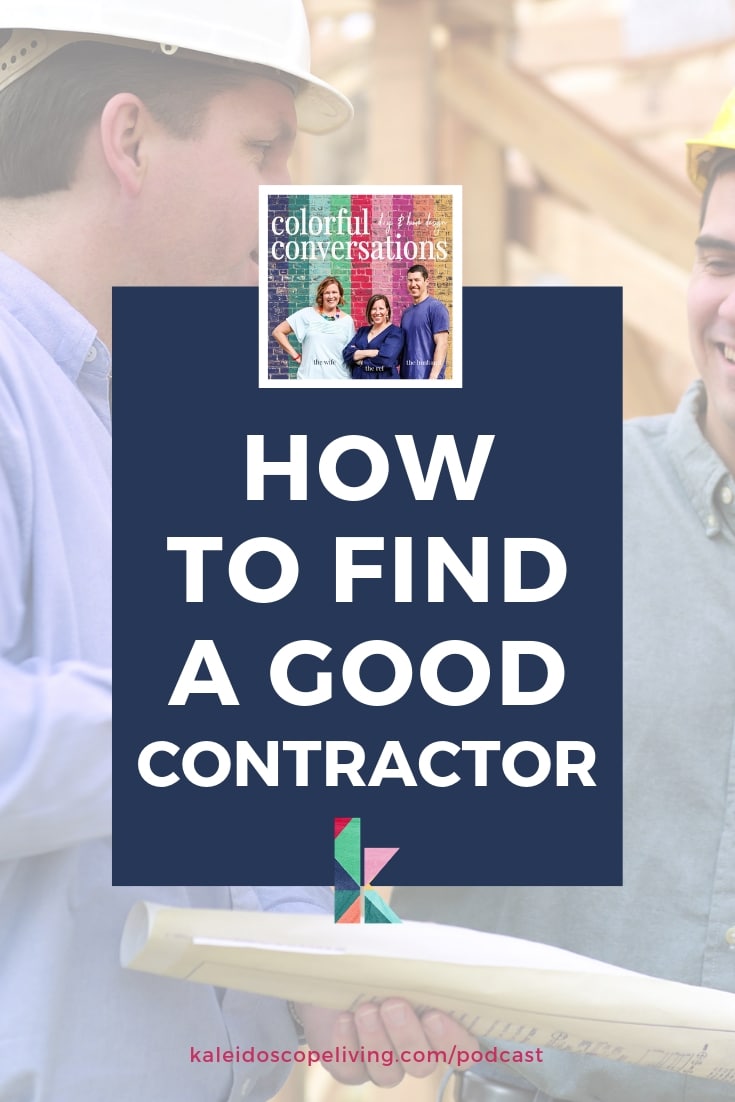 Want to listen on your favorite app? Click whichever option you prefer below:
iTunes | Stitcher | Spotify | Google Play
In this episode of Colorful Conversations, Thea, Tasha and Joe give useful advice for how to find a trustworthy remodeling contractor for your next home renovation project.
If you are a new listener to Colorful Conversations, we would love to hear from you. You can find us 24/7 on Instagram@tasha.kaleidoscope and on Facebook at Kaleidoscope Living . You can also check out our YouTube channel. As a thank you for listening we have an awesome FREE guide called " 5 Easy Steps to Design A Room You Love. " Text "DESIGNTIPS" to 44222 and you will get the guide in your inbox!
Tips for How to Find a Good Remodeling Contractor
In this episode we discussed:
0:32 – Today, we're talking about how to find a good contractor. But first, updates from home! Joe talks about moving into spring, with more renovations planned after finishing up the renovations in the dining room. Tasha talks about packing up the kitchen to start the huge kitchen renovation.

1:55 – Test your love game–how well do Tasha and Joe know each other? On the topic of home improvement contractors, Thea asks about their least favorite renovations. Thea asks Joe what he thinks Tasha's least favorite renovation project has been – his answer of the garage was correct, although she had blocked it from her memory!

3:33 – Tasha answers the same question for what she thinks is Joe's worst renovation project. Her guess–replacing all of the carpeting upstairs with laminate flooring. The upstairs is not small, the layout made it difficult, Tasha did not want thresholds, but the end result was totally worth the work. Joe agrees that this was his least favorite project.

5:21 – This is not your ordinary podcast. Make sure to follow on Instagram

@tasha.kaleidoscope

where we announce our upcoming topics and you can submit your questions for us to answer. If we pick your question, we'll send you some swag!

6:04 – Today's Topic: Finding a good remodeling contractor. Tasha and Joe have just gone through this process, so they know how important it is. Of course, nobody ever intends to hire a bad contractor, but sometimes it just happens. It can be stressful and awful, and possibly ruin your home! Tasha did some research for this topic and found that complaints filed against home improvement contractors rank among the top 5 complaint categories year after year in New York City. From the most recent stats from 2017, there were over 1100 complaints filed against contractors and $1.5 million in fees were issued. So finding a trustworthy contractor is a very prevalent problem, especially because you typically pay something up front.

8:00 – Tasha makes it personal by telling how and why she and Joe decided to hire a contractor for their kitchen renovation. They will walk listeners through their decision-making process and, in part two of the episode, there will be a checklist of questions and concrete tips that you can use if you ever decide to work with a remodeling contractor.

8:33 – Joe talks about how it came to be that they ended up hiring a contractor. He speaks to their prior projects in their former house, where they did most of the renovation work themselves. For this kitchen project, however, Joe and Tasha are making major changes to the footprint of the room (like removing walls) and decided it was safer and more practical to hire someone. After talking to a contractor and reviewing their plans, the contractor pointed out several issues that wouldn't work in their kitchen reno. The timing of DIY-ing both the dining room and kitchen at the same time would also create complications and strain on the family.

16:40 – Joe will cover tips to help you find your own remodeling contractor.

16:51 – First, let's take a quick break to hear from our sponsor!

Learn about

Designer In A Binder

,

a comprehensive, step-by-step workbook and e-book that teaches you how to design spaces that you love! To purchase

Designer in a Binder ,

visit

www.designerinabinder.com

.

18:03 –

Tasha and Joe share actionable tips on how to choose a good remodeling contractor. Joe walks us through each tip and Tasha elaborates.

Tip 1: Understand what your area requires in terms of licensing. Different areas have different rules and regulations. For example, in North Carolina, a construction project that costs $30,000 or more requires a licensed contractor. Tasha tells us how their contractor is specifically licensed to do kitchen and bathroom construction projects, instead of being a general contractor. Vet the information about your contractor and don't assume that they're licensed!

19:23 – Surprise Extra Tip: Make sure your contractor is knowledgeable about what they're doing! You wouldn't go to just anybody if you needed surgery… same goes for home renovation.

20:02 – Tip 2: Have a general idea about what you want before you get estimates. Knowing what you want and what is a must-have for you helps you have much more productive and useful conversations as you plan for who to work with. Have a vision of what you want and you'll get a more accurate estimate.

22:58 – Tip 3: Do some research and ask around for recommendations. There are so many ways to do this. You can use internet sites like Angie's List, Facebook Groups and the Nextdoor app. Joe prefers word-of-mouth recommendations because you know it's coming from a trusted source. Tasha says you can make general observations as well. How long has your neighbor's bathroom been under construction? Maybe don't ask for their contractor's business card if it's taking six months.

27:25 – Tip 4: Review your list of potential contractors. Check out the Better Business Bureau and do some research on the web to see if there are any red flags about anyone on your list. You can also check with your state's Consumer Protection Agency to make sure they haven't received any complaints too.

28:31 – Tip 5: In addition to checking if a contractor is licensed, you'll want to ask if they are bonded and insured. This is so important!

29:04 – Ask your contractor for references. Get a first-hand account from previous customers about their experience and the results. It might be a red flag if your contractor doesn't have any references that they will share with you.

30:10 – A good contractor will give you detailed drawings of the renovation plans, a line item estimate, and an anticipated timeline for the renovation. A professional working on a big project like a kitchen renovation should have the capability and technology to provide these items to you. Always have good communication with your contractor, and always have things in writing.

31:30 – When you get the estimate and scope of work, make sure the payment terms make sense and are not alarming. It is common practice with contractors to take advance payment or a deposit before the work starts, with a middle installment, and then a final installment at the completion of work. Ask for a final walk-through to review the work and make sure everything is done to your satisfaction. A key point in this is when you give any money to your contractor, make sure it's going into an escrow account. This is because they are holding this money in trust for you and your project; it shouldn't be going directly into their bank account!

34:11 – Tip 6: Make sure that your contractor is paying the sub-contractors, and don't be afraid to ask for proof of these payments. Even though it's the contractor's responsibility to do this, it's ultimately your house, and unpaid sub-contractors can put a "mechanic's lien" on your home for unpaid work.

36:30 – Tasha and Joe recap these steps but encourage listeners to also use their intuition and trust their gut. If you don't feel confident about who you're working with, even if they check all the boxes, then trust that feeling.

37:58 – Next time on Colorful Conversations, Joe and Tasha will talk about love and renovations.
Join the Conversation
Our favorite part of recording a podcast each week is participating in the great conversations that happen on social media, and in our comments section. You can find us 24/7 on Instagram@tasha.kaleidoscope and on Facebook at Kaleidoscope Living. You can also check out our YouTube channel.
Get social with us…
As Mentioned in this episode…
You can check out our big kitchen renovation plans in this post .
Check out the prior DIY improvements we've made to our kitchen in the posts below:
Check out the Better Business Bureau website here .
Before you head out and get started, be sure to check out my FREE design guides that will help you help you design spaces you absolutely love! Subscribe now and you will receive a password so that you can access everything in one convenient digital library.
[mv_create key="5″ type="list" title="More Podcast Episodes" thumbnail="https://designertrapped.com/wp-content/uploads/2019/04/marrying-decorating-styles-featured-1.jpg" layout="circles"]