Hello fans of Designer Trapped in a Lawyer's Body! I'm Cindy from diy beautify and I'm back with another thrifty DIY home decor project tutorial for you.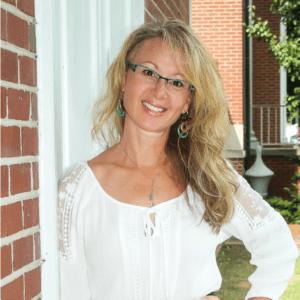 I've been sharing a lot of Fall-related posts on my blog, but decided to step away from Fall and bring you something a little bit different.
I'm in the process of making over our teeny-tiny dining room into my home office, so when my father-in-law found three large pictures at the dump and saved them for me, I knew one of them was destined to become a functional memo board for my new office!
Do your family members 'shop' at their local dump for you? That's true love, I'm telling you!
This picture and frame were in perfect condition, they were just a little bit outdated! Monkeys and palm trees are not really my cup of tea! But check out that awesome frame, and the glass was in perfect condition! This post contains some affiliate links for your convenience. Click here to read my full disclosure policy.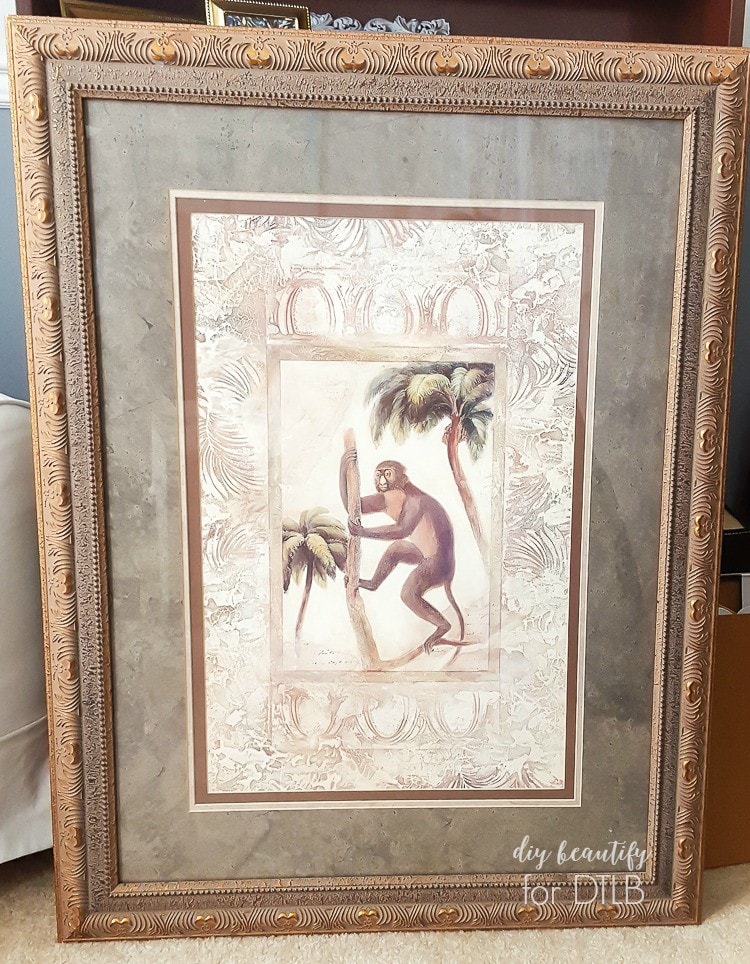 Materials Needed:
screwdriver
pliers
chalk paint
wrapping paper
heavy duty stapler
glue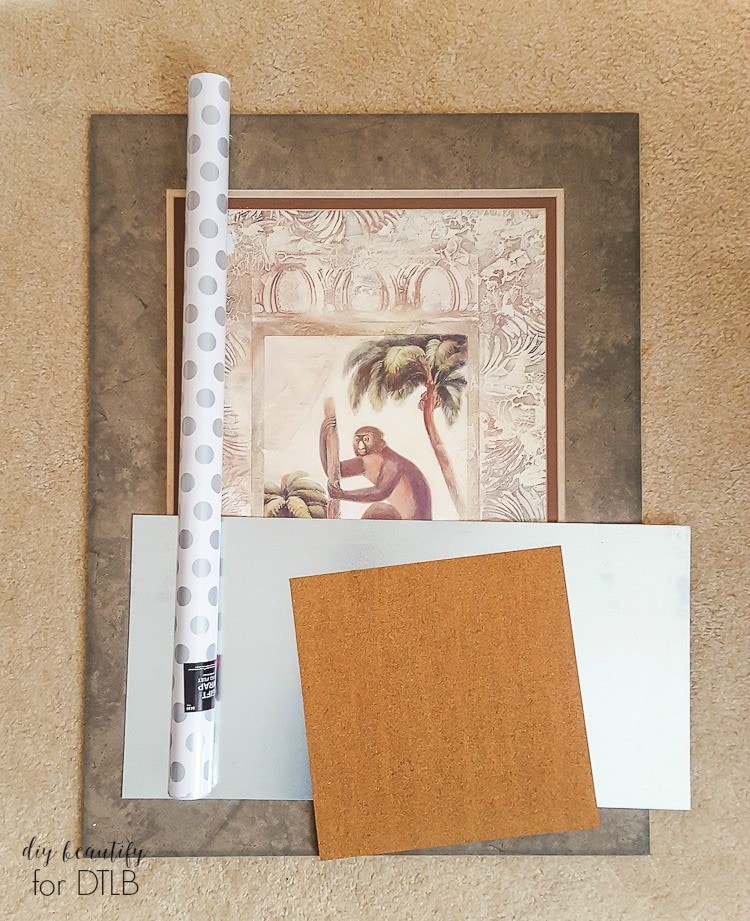 It was time to say buh-bye to the monkey and that gold frame.
How to Make a Memo Board
Step 1:
Dismantle the frame. Use a screwdriver to remove the hanging wire from the back (put in a safe place to reuse) and rip off the butcher paper that has been glued down.
Step 2:
Use pliers to remove all the staples holding everything in place. Carefully remove the cardboard, picture/mat and glass and put somewhere safe because we'll be reusing everything.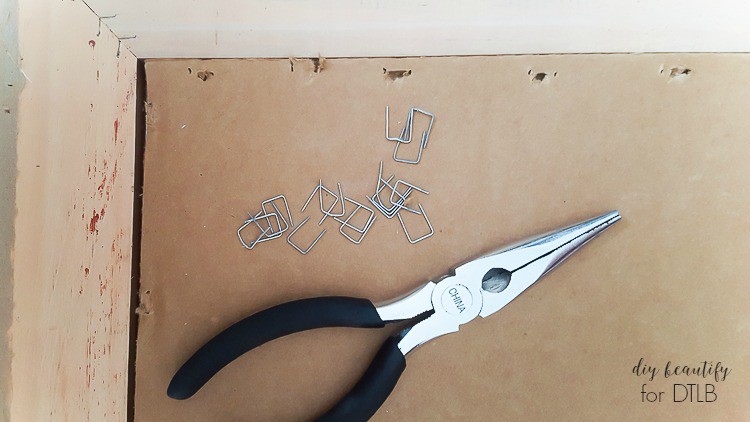 Step 3:
Paint the frame with chalk paint. I used my DIY chalk paint recipe to mix up some custom creamy white chalk paint. You can find my recipe here. This close up shows you just how truly dingy this frame had become. Notice how dramatically different the little bit of white at the top looks.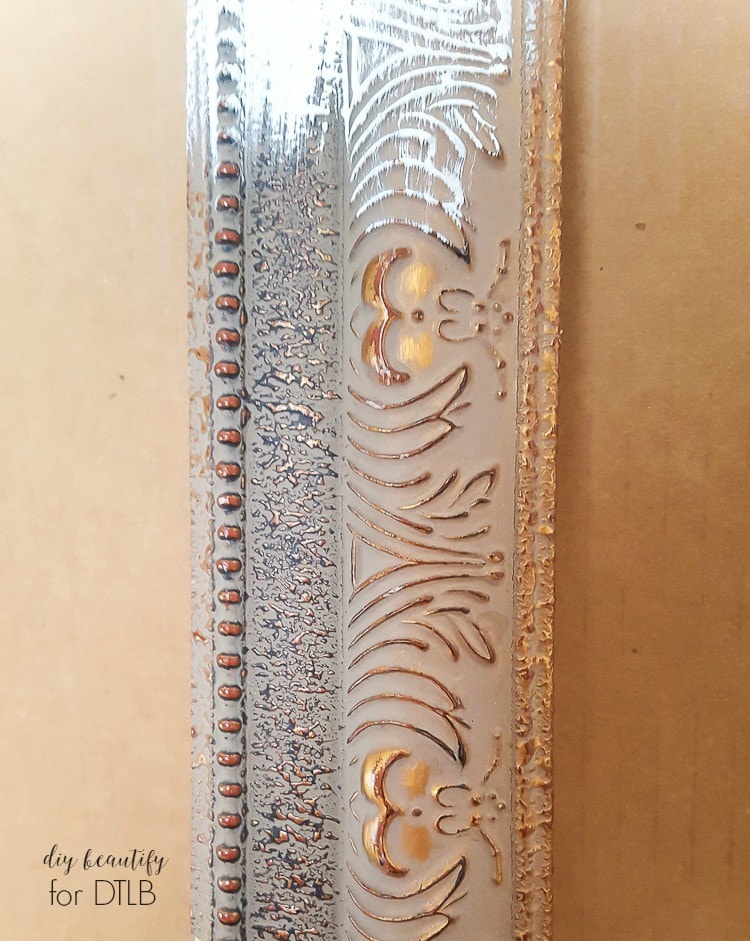 It took me two coats of DIY chalk paint to cover this frame sufficiently. I chose not to do any distressing or apply wax as it would be hanging on the wall and the frame itself would not be getting handled much.
Step 4:
Cover the cardboard backing that was inside the frame with wrapping paper. I needed something that had a cute design but wouldn't overpower the text that would be on top of it. I chose this gray/white polka dot paper I found at Hobby Lobby.
I cut it a couple inches larger than the cardboard and taped it at the back like you would wrap a gift.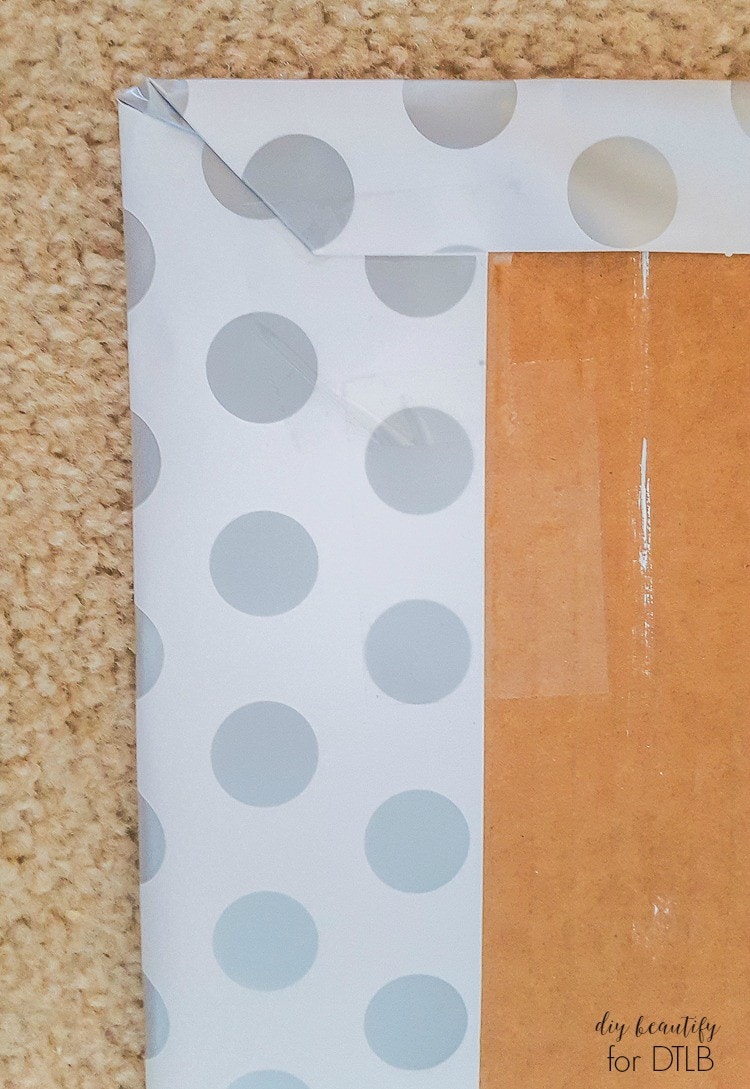 Step 5:
I had done a little planning beforehand and knew that I wanted my memo board to have three functional areas: the glass area for writing on, a magnetic section and a cork section. The glass section would be the largest, perfect for jotting notes and my constant 'to-do' list.
To make it even more functional, I broke this part into three sections using some great paint chips I found at Lowes (they remind me of arrows). I picked my three faves and measured, marked and taped them down onto the front of the polka-dot paper, spaced evenly. These would be my headers.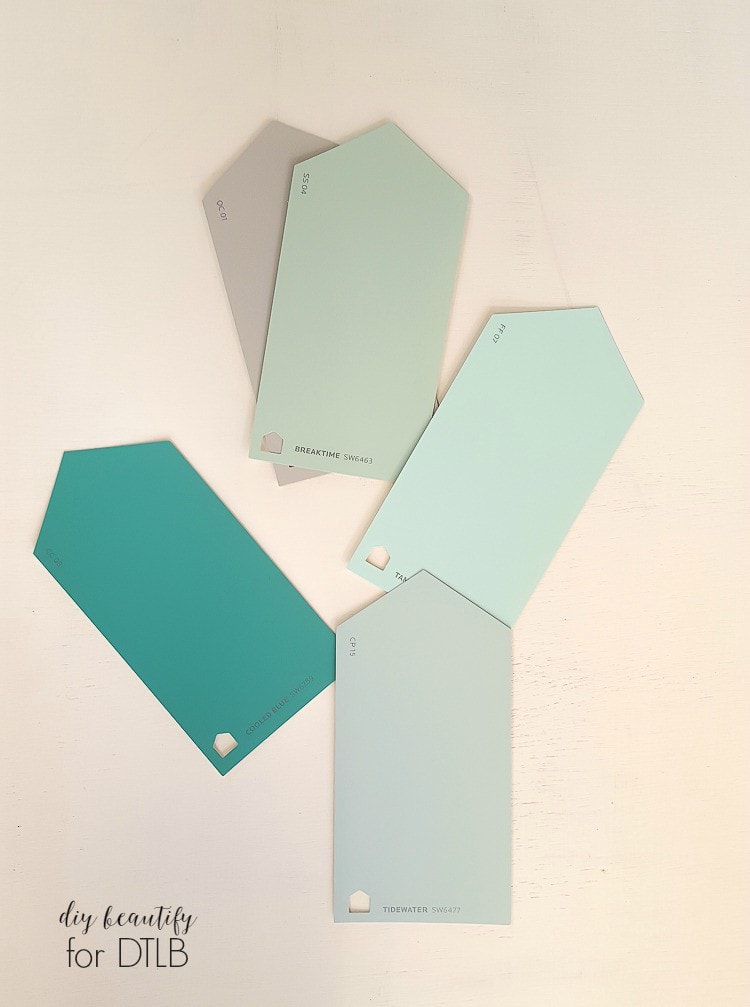 Step 6:
Once the paint was dry, it was time to reassemble my new memo board.
I assembled it from the back. The 12″ x 24″ piece of sheeting metal I found at Lowes was the perfect fit and was the first thing to go in. I simply laid it flat at the bottom of the frame, resting on the inside edge. But you can get a 12 x 12 square from Amazon, which should be the same size as your cork tile.
The next thing to go down was the glass. I cleaned it first and laid it over the top of the metal.
Next came the polka dot paper-wrapped cardboard with the paint chip memo sections.
And on top of that I put back the monkey picture/mat (backwards) just for extra security and to help hold everything in place. I used my heavy duty stapler to secure the backing to the frame, stapling all the way around every 2 inches.
Step 7:
Now that the frame was securely attached, I glued my square of cork on top. The cork was too thick to insert within the frame as I did the sheet metal. Note: I could have left the cork off and simply had a 24″ wide strip of metal, but I really liked the look of the cork as it matches the burlap touches in the room.
Step 8:
The last step was to reattach the hanging hardware and get this baby on the wall.
I used a black dry erase marker to add headings to my 3 paint strips (To Do, To Buy and This Week).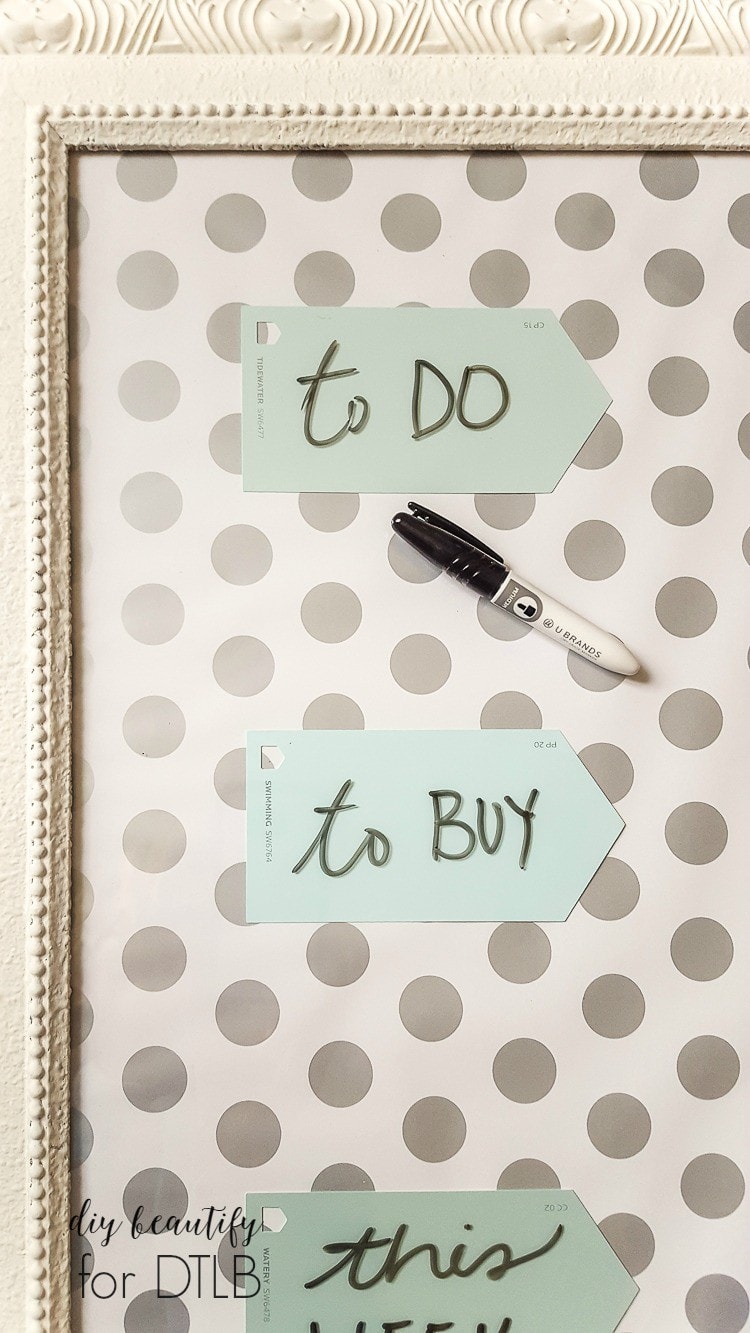 The fabulous thing about this is that with a simple swipe of a cloth I can remove and redo it to say anything I want!
My newly made-over memo board is hanging on the wall across from my desk, so it is easy to see and designed to keep me on track!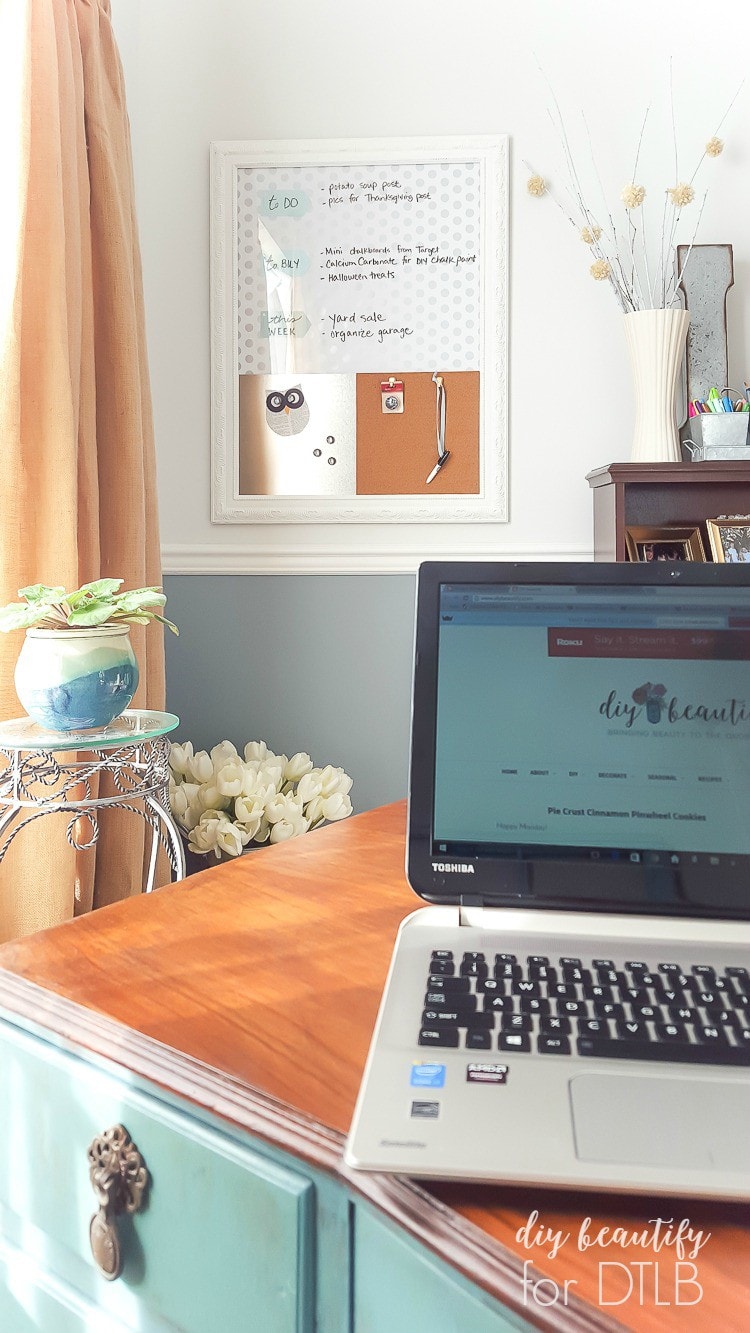 The metal sheeting area has magnets for when I want to quickly tack something up, and the cork area…well, that's pretty obvious! I hung my dry erase marker on a push pin hook so I have it close by when I need to jot new things down.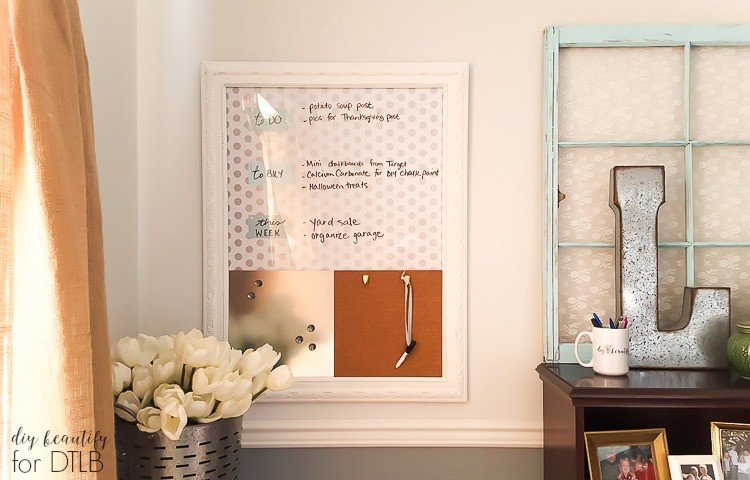 I am so pleased with how this memo board turned out. It doesn't look like anything you'd find in a dumpster anymore!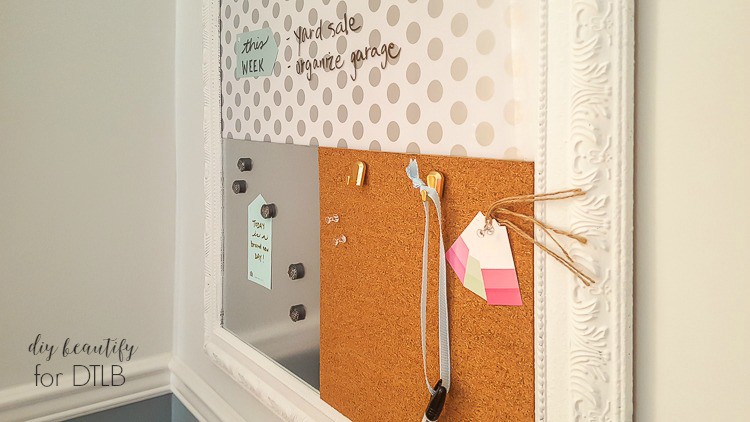 Hopefully it will help me to stay focused and organized as I plan new blog posts!
I hope you're inspired to do the same thing in your home! Here are a few related projects for you to check out. At diy beautify, I'm all about thrifty projects that save me money, yet deliver AWESOME results!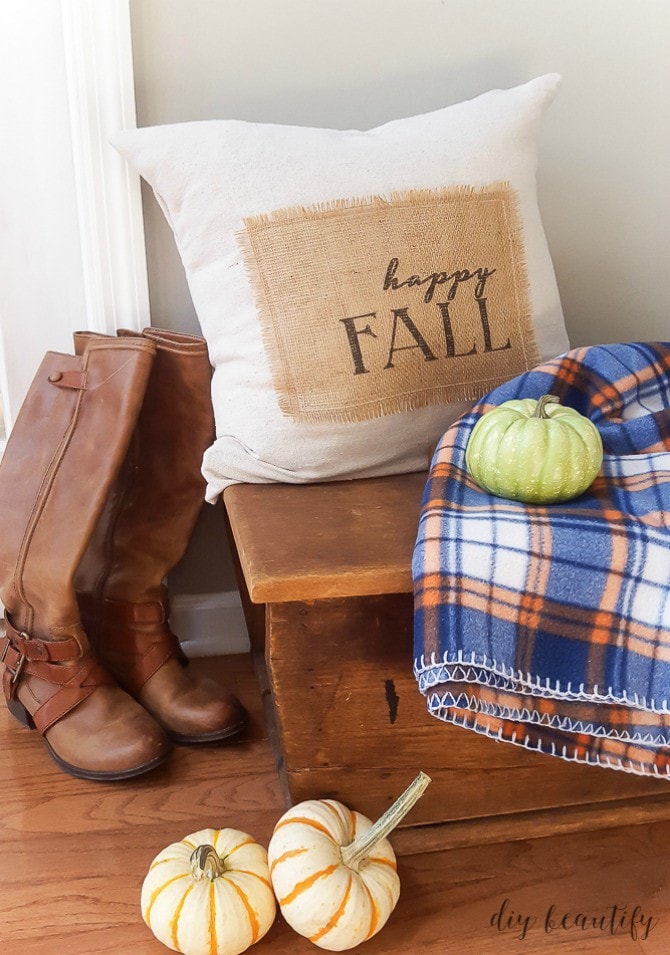 Like this fabulous burlap pillow…find out how easy it is to print onto burlap right from your home printer! (click on picture for full tutorial)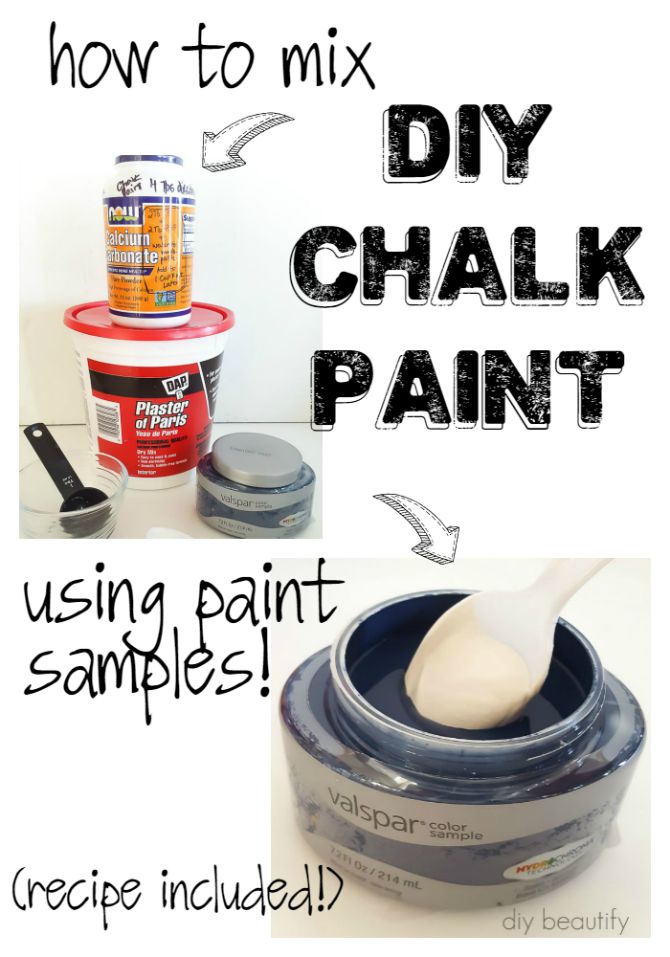 And this budget-friendly tip for mixing your own chalk paint right into store paint sample containers! (click on picture for tutorial)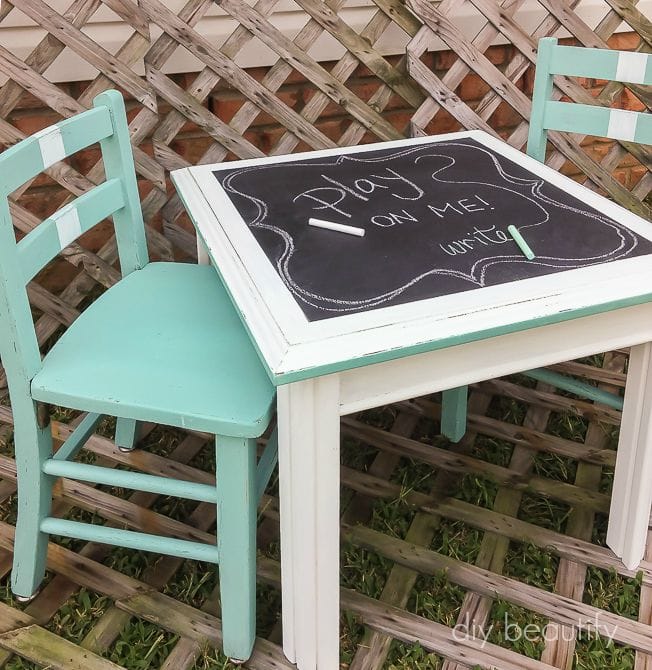 Or how to take mismatched furniture and turn it into a gorgeous set, like this child's activity table and chairs! (click on picture to find out how I did it)
It was fun spending a day with you here at Designer Trapped! I would love to have you visit me at diy beautify anytime.
bringing beauty to the ordinary,
Follow me on Pinterest, FB, G+, Twitter, Instagram
​
​