How to Make Custom Wooden Signs
Last Updated on March 3, 2022
Thank you to Dap Products for sponsoring this post. As always, all opinions are 100% my own based on personal experience.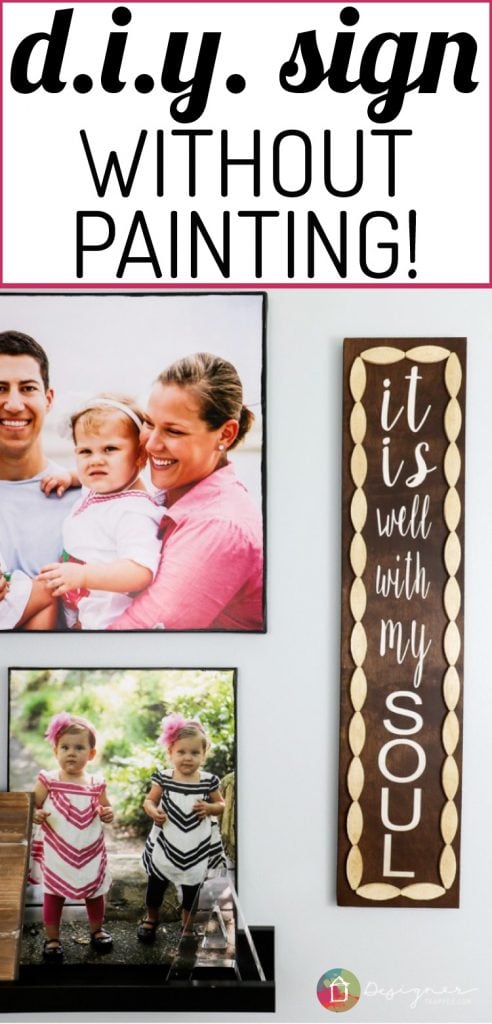 Have you ever wondered how to make custom wooden signs? They are everywhere, aren't they? I see them all the time on sites like Etsy and I love them! They are such a great way to add a personalized touch to your home. I recently made one for our hallway gallery wall and it was so easy that I decided to share it with you all. That's right! You can learn how to make custom wooden signs for your home right here :)
Before I teach you how to make custom wooden signs (the easy way), I want to share with you a little bit about the quote that I used on my sign. Earlier this year, my church had a few people tell the congregation about their favorite hymns before we sang them. Not surprisingly, one church member chose a very well-known hymn, It is Well with My Soul. The hymn was written by Horatio Spafford in 1876. It's a beautiful hymn. The lyrics have always given me goose bumps, and now that I know the story of Mr. Spafford, it moves me even more. The church member who chose it as his favorite hymn explained that the hymn was written after Mr. Spafford lost his son at the age of 2 and the Great Chicago Fire of 1871 ruined him financially by burning down property that he had invested in. Then, in 1873 he planned to travel to Europe with his wife and four daughters. A late change of plans required his family to travel ahead of him; while crossing the Atlantic the ship his wife and daughters were traveling on collided with a sea vessel and sank. All four of his daughters died. His wife survived and as he traveled across the sea to meet his wife immediately thereafter, he wrote It is Well with My Soul.
The hymn always reminds me that hope, love and faith exist even in the face of unimaginable tragedy. And that's why I wanted it hanging in our hallway. I see it every day, multiple times a day and it gives me a feeling of peace every time I see it.
Now, after you choose the perfect quote or other typography for your sign, read on to learn how to make custom wood signs. You do NOT have to be artistic or able to paint to tackle this project. It's SO much easier than you may think! You can check out the video below to get a general feel for the project before reading the full tutorial on how to make custom wooden signs below. This post contains some affiliate links for your convenience. Click here to read my full disclosure policy.
How to Make Custom Wooden Signs
Materials needed:
Wood of any shape, species, size, etc. I used a piece of scrap wood that was already stained from another project.
Silhouette Cameo or Silhouette Cameo (or if you don't have a cutting machine you could always cut out the vinyl with scissors or a craft knife. That said, my cutting machine is one of the BEST investments I have ever made–I use it all the time to make signs, labels, cards, etc.)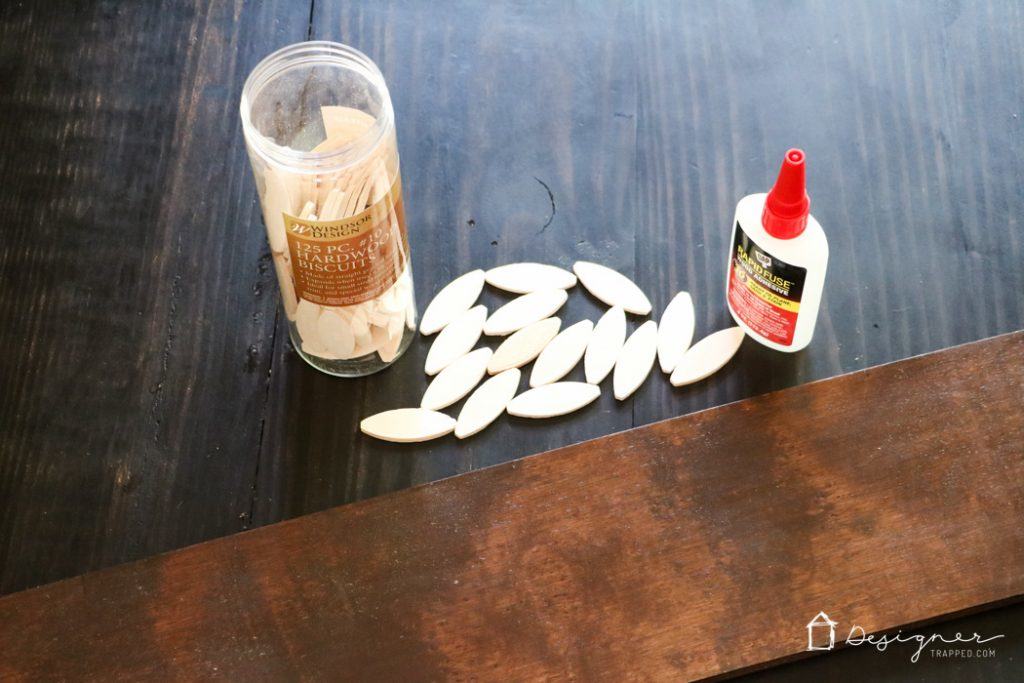 Steps:
1) Cut your wood to size and stain or paint it if desired.
2) Y'all, I am soooooo excited this next step. I wanted a pretty and interesting border along the outer edge of my sign and one day it came to me! I knew that plate joiner biscuits would create a beautiful decorative detail on my sign and they are so inexpensive. I still plan to make an entire art piece using plate joiner biscuits, but you'll have to wait for that. But on with the project… Attach plate joiner biscuits along the outer edge of your wood, gluing them into place with your Dap Rapid Fuse Wood Adhesive. I recommend dry fitting them first to make sure the placement is correct before gluing them; that Dap Rapid Fuse Wood Adhesive is strong! The good news is that it cures quickly so for a project like this, I did not even clamp them into place while the glue dried, as you can see in the video.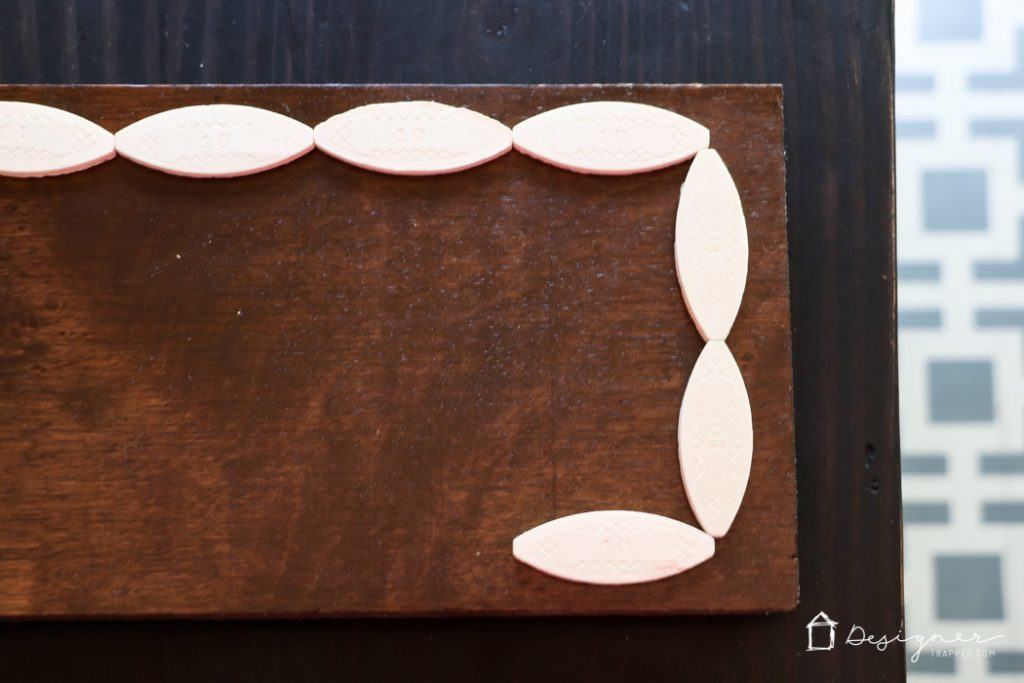 3) Design and cut out the typography you plan to put on your sign out of the white vinyl. Y'all, this is soooooooo much easier than painting (but you can absolutely paint if you prefer). I love that you can put the dimensions of your wood into the cutting machine software and plan out the exact fonts you want and you can make sure everything is the correct size, etc. It is much more fool-proof than hand lettering and painting (at least for me–I am not an artist). You can see how the first part of my design looked as I planned it out in my software.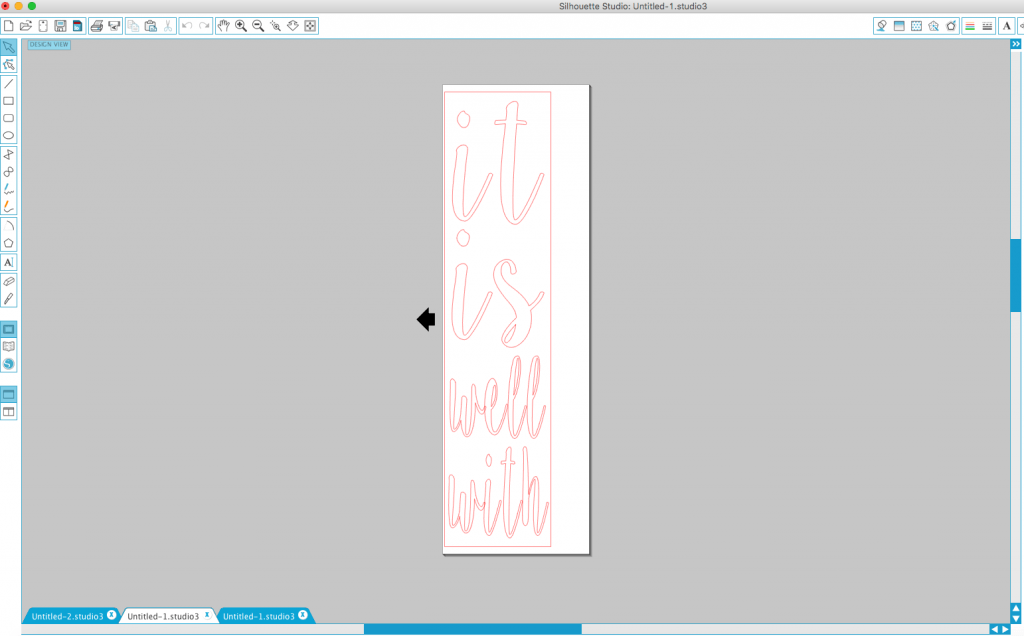 4) Weed your design and transfer your vinyl onto your wood using vinyl transfer paper–that will ensure that your design stays perfectly spaced and even. You can read in detail about how to weed and transfer your vinyl projects in this post.
5) Finally, I went over my entire sign with my favorite antiquing waxes–Amy Howard At Home's light antique wax and dark antique wax. It knocks off the bright white of the vinyl and makes it look more hand-painted. It also gave the plate joiner biscuits a softer look. You can see how to apply the wax if you watch the video I shared at the beginning of this tutorial. It's super easy.
That's it! Check out the awesome result. I love how it looks in our hallway gallery!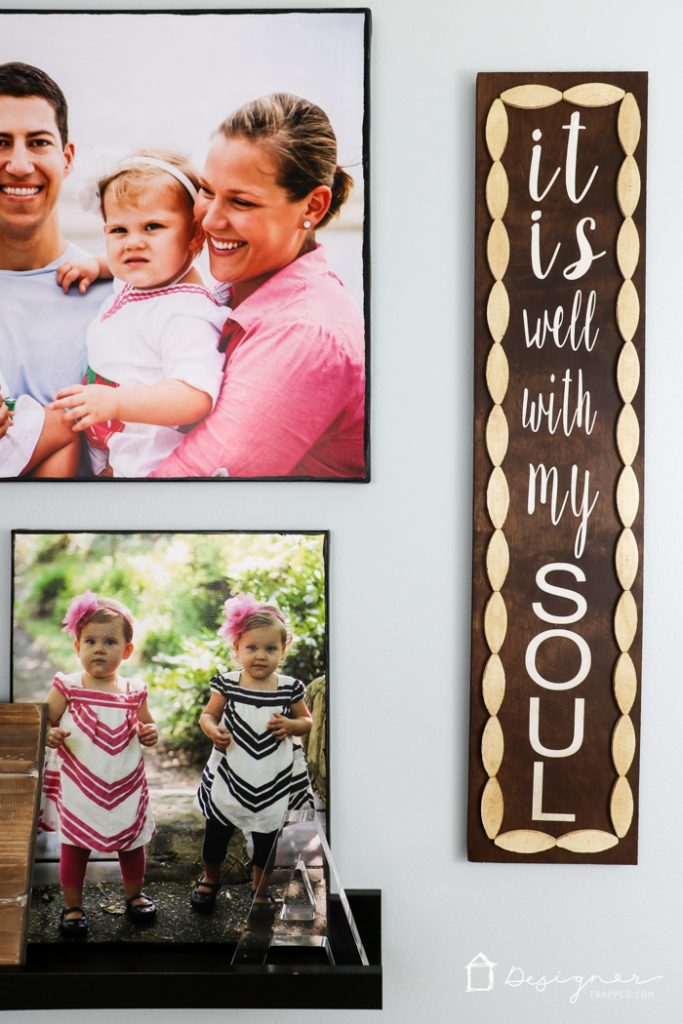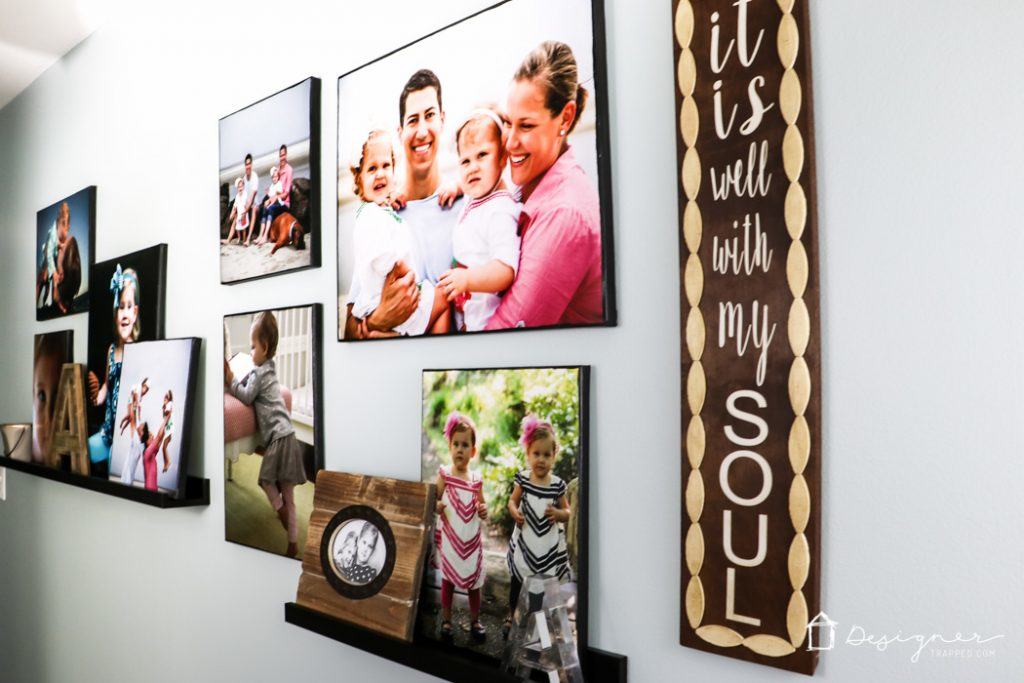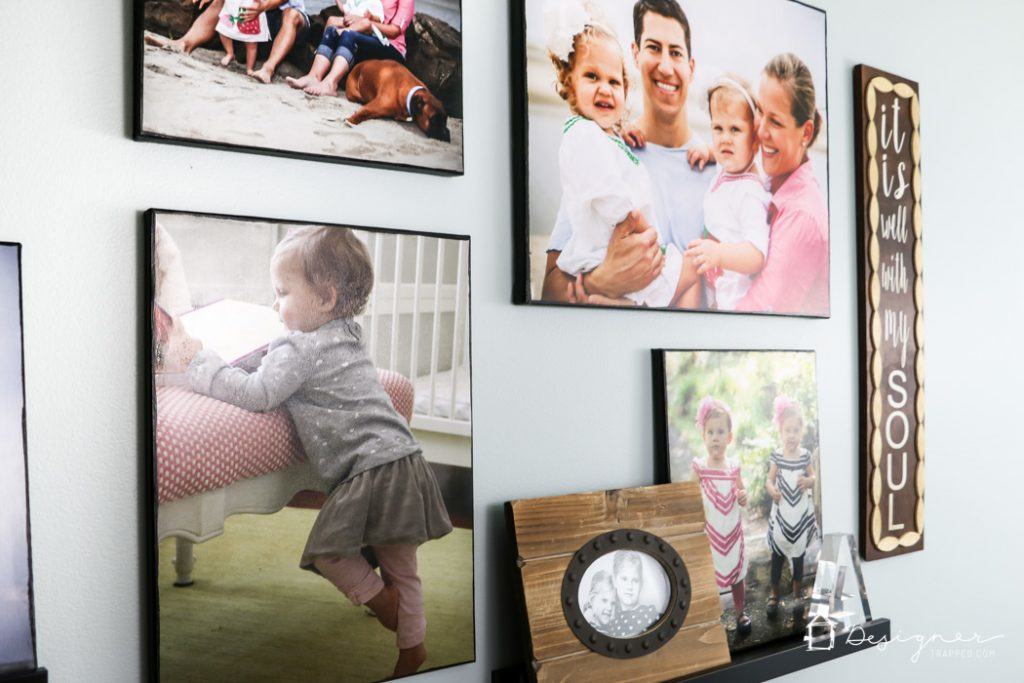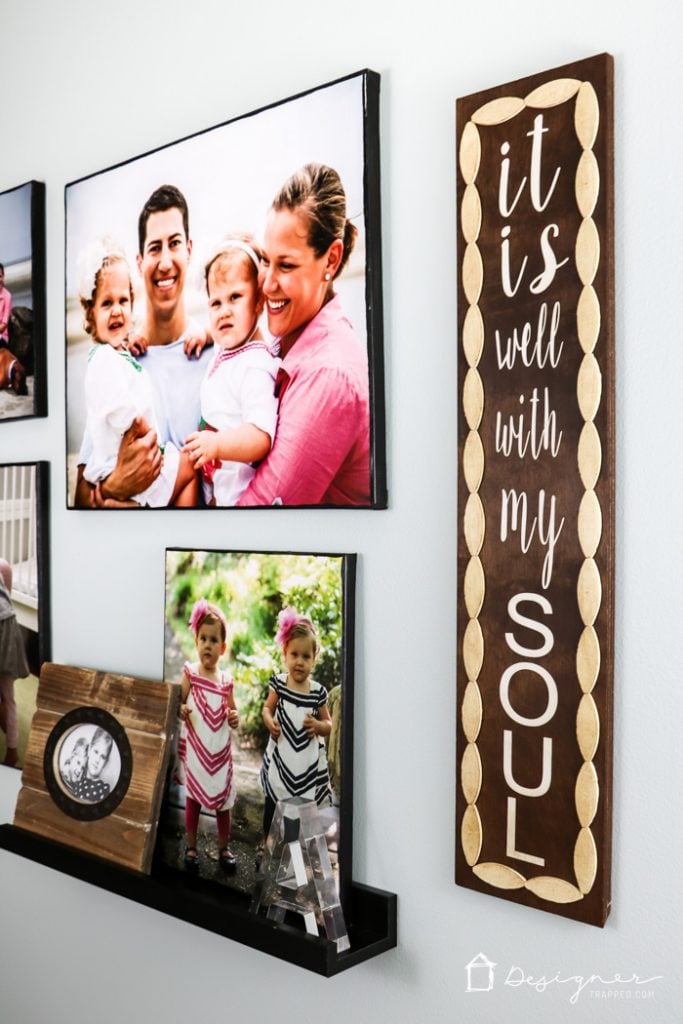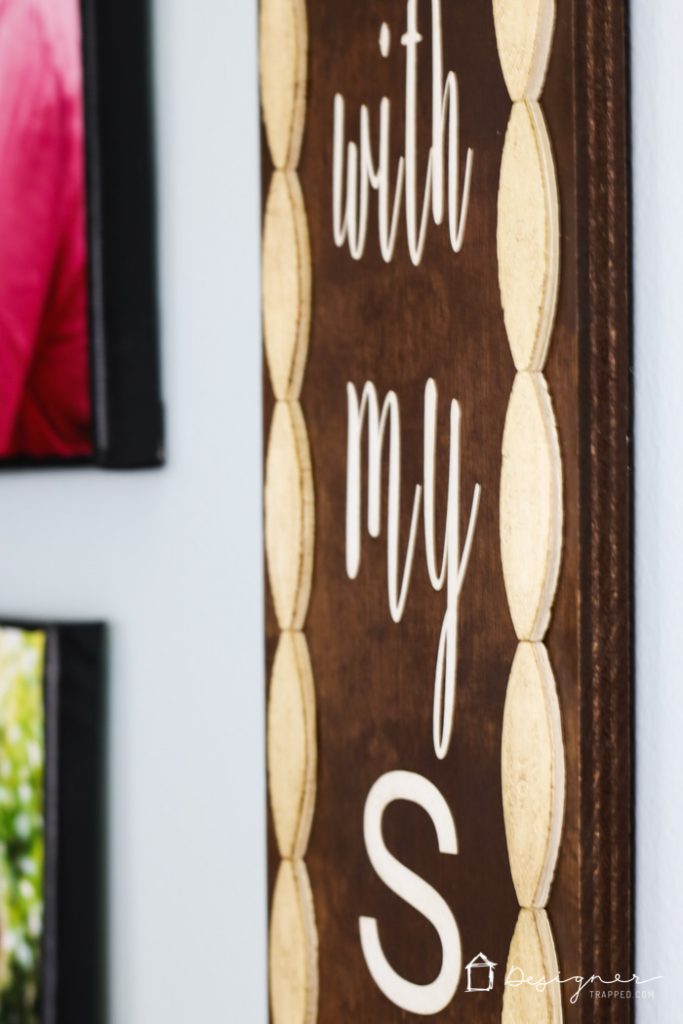 What do you think? Do you have a different tutorial for how to make custom wooden signs that you would recommend? I'm always interested in seeing different techniques!
​
[mv_create 1 11 200 2016 key="1″ type="list" title="Most Popular Projects" thumbnail="</span><a href=" https designertrapped com wp content uploads diy home decor projects blog jpg target="_blank" a span]​​
​