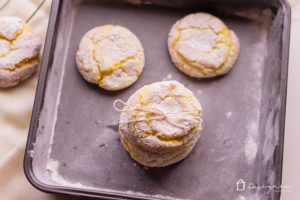 Lemon Crinkle Cookies
Yield 24 cookies
Lemon crinkle cookies are dessert perfection! Simple to make, they are sweet with the tangy zing of fresh lemon. If you have a lemon lover in your family, this will be their new favorite!
Ingredients
1 cake box mix
2 eggs
1/3 cup oil
Zest of half a lemon
Yellow gel food coloring
1/3 cup granulated sugar, in a small bowl
1/3 cup icing sugar, in a small bowl
Instructions
Line a baking sheet with parchment paper, set aside. Preheat oven to 350 degrees.
Stir your cake mix, eggs, and oil. Once thoroughly combined, add lemon zest and fold.
Add 1 to 2 small drops of food coloring and stir.
Once everything is mixed together, roll into 1-1.5 inch spheres and coat with granulated sugar. Then coat with icing sugar. Place on lined baking sheet, about 2 inches apart from one another.
Bake for 8 to 10 minutes and cool on rack. Enjoy!
Courses Dessert
Recipe by Kaleidoscope Living at https://designertrapped.com/lemon-crinkle-cookies/