Are you a couple struggling to marry two different decorating styles? These tips and tricks from a real-life couple will allow you to create a home you both love without ruining your relationship!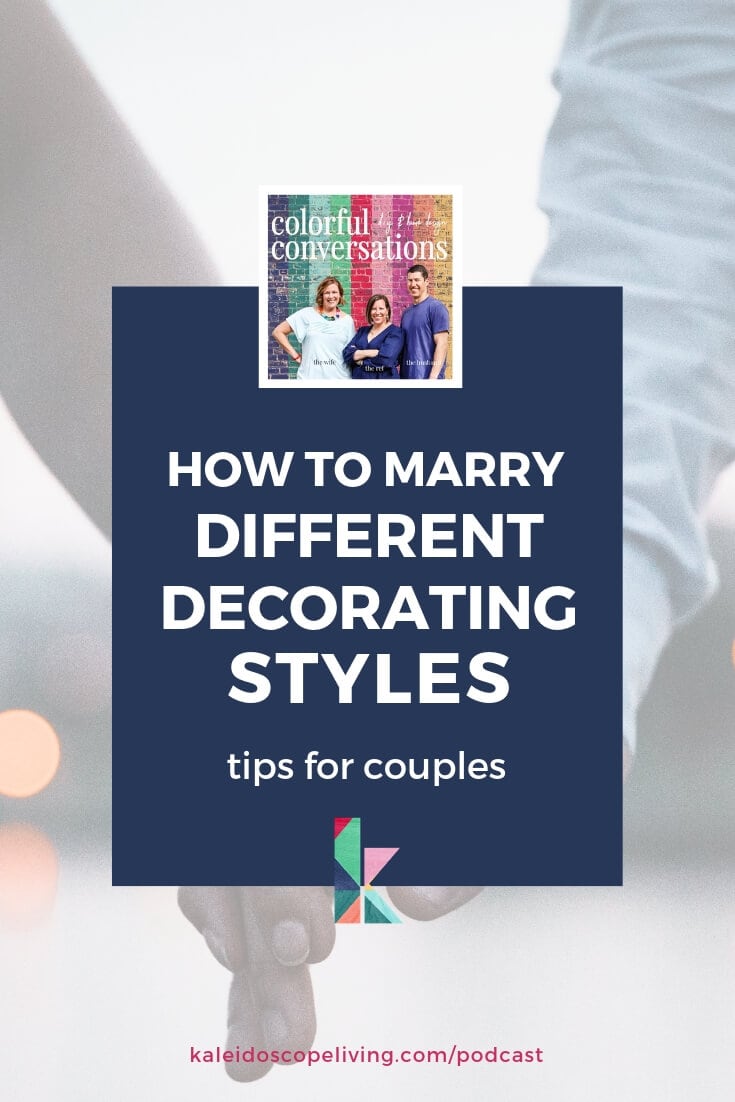 Want to listen on your favorite app? Click whichever option you prefer below:
iTunes | Stitcher | Spotify | Google Play
In this episode of Colorful Conversations, we jump into the complicated topic of how to marry different decorating styles. Joe and Tasha breakdown how they handle having different decor ideas and give realistic advice to keep you from letting it ruin your home design or your relationship!
If you are a new listener to Colorful Conversations, we would love to hear from you. You can find us 24/7 on Instagram @tasha.kaleidoscope and on Facebook at Kaleidoscope Living. You can also check out our YouTube channel. As a thank you for listening, we have an awesome FREE guide called "5 Easy Steps to Design A Room You Love." Text DESIGNTIPS to 44222 and you will get the guide in your inbox!
In this episode we discussed:
2:10 – We start with our version of "The NewlyWed Game", and this week Tasha and Joe answer a question about the Kitchen Renovation– "What are you most excited about the renovation?" Joe nails it!

5:35 – Today's Topic is "How do you marry two

different decorating styles

?" Tasha finds a survey that was conducted by uGallery that found nearly 60% of the women who responded thought that managing different home decor styles was one of the biggest challenges for couples. Also, an 2013 Survey by Houzz, the home decor website, found that 12% of people who responded considered separating or divorcing during a home remodel. Joe's tip: Do what your wife says!

7:35 – Joe talks about the commonalities and differences in his and Tasha's home decor styles. Joe says Tasha is a little more loud with choices of color and he is a bit more low key with a focus on comfort and organization.

10:00 – Tasha and Joe discuss design compromises that they have reached. They talk about finding Joe the perfect leather recliner (after 17 years of wanting one!), the compromises made in the current kitchen renovation and Tasha's cutlery selection process when they were getting married.

17:55 – Sponsor Break!

Learn about

Designer In A Binder

!

To purchase

Designer in a Binder

, visit

www.designerinabinder.com

. And as a big thank you for listening, you can enter the code PODCAST to receive 25% off either package.

19:30 – Tasha and Joe share concrete tips on how they have overcome different decorating styles. Joe walks us through each tip and Tasha elaborates. Tip One: First, open the lines of communication, talk about what you like about a room you want to renovate, and what you don't like about it. Tip Two: Talk about the goals of the room, how it will function for the family. The first two steps are about opening the lines of communication and finding common ground–no arguing or nitpicking! These two steps are so important and it is something Tasha addresses in detail in

Designer in a Binder

.

24:15 – Step Three: Start talking about how you want the room to look. Tasha discusses how you can effectively use Pinterest during this stage to visually show each other your wants for the room you are renovating.

29:00 – Step Four: Create a mood board. This is literally taking the individual elements you like and want to use in the room and putting them together in a way that you can determine what is working and what is not. It is a great way to really see the potential for the space and for each partner to enact their veto power!

31:45 – Free Mood Board Guide: Text all one word "MOODBOARD" to 44222 and you will receive a free guide on how to make a mood board!

37:00 – Tasha recaps the four steps to combining different decorating styles. 1) Talk about likes and dislikes of your current room. 2) Talk about your overall goals for the room. 3) Start to think and talk about how you want it to look and narrow down. 4) Start your Mood Board!

38:00 – Next episode, we will discuss how to hire a contractor.
Join the Conversation
Our favorite part of recording a podcast is participating in the great conversations that happen on social media, and in our comments section. You can find us 24/7 on Instagram @tasha.kaleidoscope and on Facebook at Kaleidoscope Living. You can also check out our YouTube channel.
Get social with us…
As Mentioned in this episode…
This post contains some affiliate links for your convenience. Click here to read my full disclosure policy.
Before you head out and get started, be sure to check out my FREE design guides that will help you help you design spaces you absolutely love! Unlock my design vault and get access to all of them in one convenient digital library.