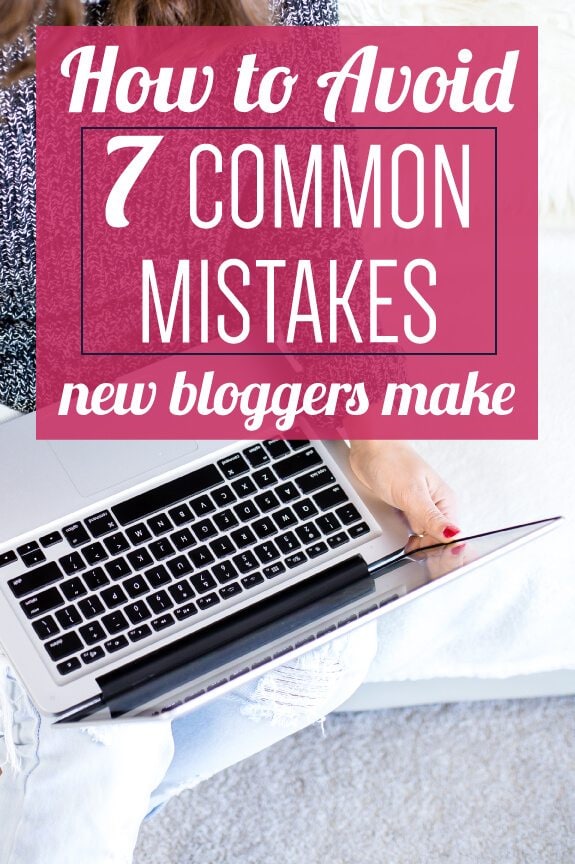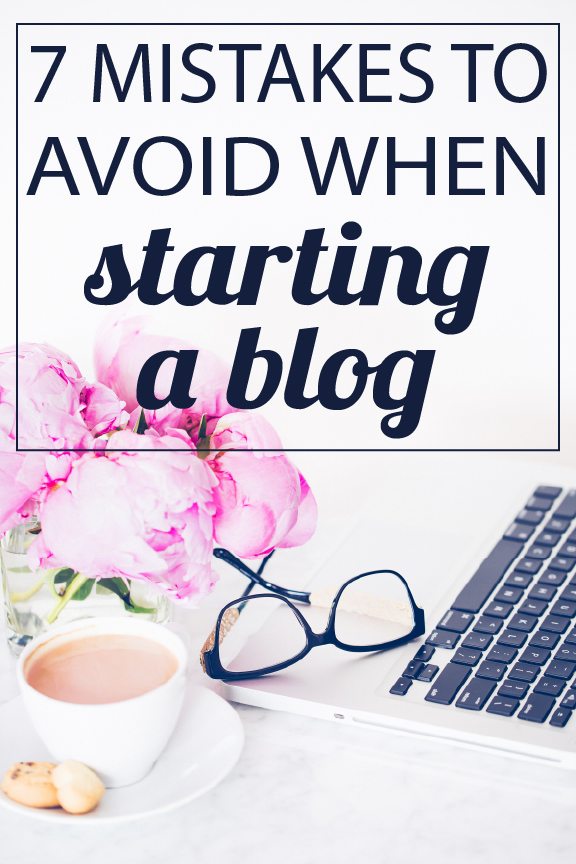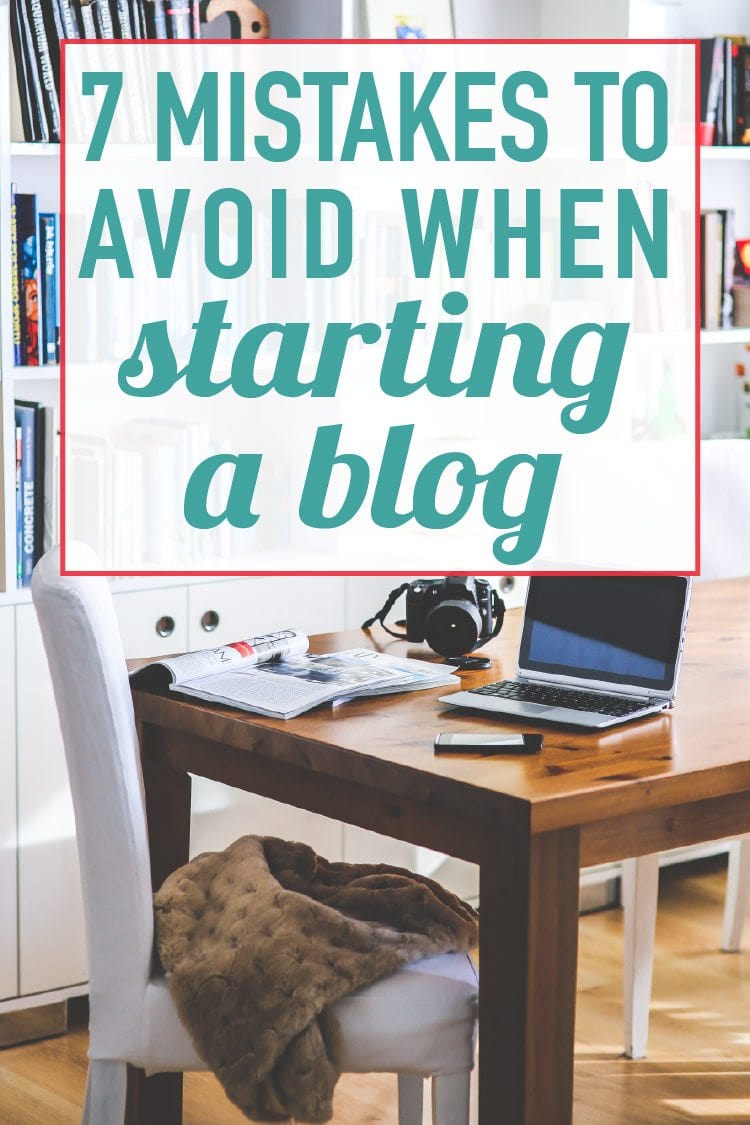 7 Mistakes to Avoid When Starting a Blog
If you plan to build an online business with blogging, there are some important steps you must take. It's easy to make mistakes when starting a blog, since there is a huge learning curve when it comes to blogging. But there are 7 common mistakes that you can avoid when starting a blog and dodging these mistakes will help tremendously in getting your blog off to a great start.  For the record, I'm guilty of all 7 mistakes on this list, but have corrected them and have gone on to become a full-time blogger who earns a healthy six-figure income from my blog. You can read all about how I earn enough from blogging to quit my job as a lawyer in this post. So even if you have made some of the mistakes on the list, don't panic!  Just correct them and move on!  This post contains some affiliate links for your convenience.  Click here to read my full disclosure policy.
1) Not starting with a paid hosting plan
When starting a blog, you can certainly choose a free option Blogger or WordPress.com. However, if you want to be seen as a professional and own the space where you are publishing content, I firmly believe you need to have a blog with paid hosting.  
Hosting isn't too expensive. You can get started for less than $40 for your first year!  I strongly recommend Bluehost for most bloggers.  It's affordable and is great for bloggers who are still growing their traffic and blogging income.  It's not perfect (there were some times that my blog was down when I was with Bluehost, but it was never for long), but I think it's the best value and quality out there for bloggers who are just getting started.  I used it for more than a year with this blog and I still use it for the hosting of my other site and am really happy with it.
2) Not choosing a professional theme
There's no need to pay hundreds for a custom design when starting a blog. However, you do want a blog that presents a level of professionalism. Make sure your logo is easy to read and see at the top of your pages.
Also, when starting a blog it's CRUCIAL to ensure your blog is easy to navigate. If a visitor stumbles on your site from Pinterest and is not impressed with what they see once they are there, they are going to leave and never come back.  If a visitor comes to your site from Facebook and loves what they see, but can't easily figure out how to find similar posts, they are going to leave and forget all about your blog.  For a free guide on how to organize your blog for the BEST user experience, click here (just opt-in for the waiting list for Elite Blog Academy–the BEST blogging course out there–and the free Blog Structure Blueprint will be emailed to you). 
The easiest way to ensure that your blog has a professional appearance and is easy to navigate is to choose a great framework and a pre-designed professional theme.  Sound complicated?  It's not!  The framework is the foundation or inner workings of your blog.  The theme is the pretty wrapping paper on the outside that gives your reader an aesthetically pleasing experience.   I quickly chose the Genesis framework.  Genesis is widely used among WordPress bloggers and for good reason; it is easy to use even for those people (like me) who are not very "techy."
The Genesis framework can be used alone when starting a blog, but it will only provide you with a generic look for your blog. That is where your child theme comes into play.  Child themes work in conjunction with the Genesis framework to wrap your blog up in gorgeous wrapping paper.  Your blog's design elements, such as social media icons, featured image slideshow, etc., are included within your child theme, so you do not have to be a website designer or know a bunch of code to make you blog look the way you want it to. Purchasing a beautiful child theme is MUCH more economical than paying a designer to design your blog for you. 
You can purchase the Genesis Framework and a theme from Studiopress at a surprisingly affordable price (I really like the Lifestyle Pro and Magazine Pro themes).  But my FAVORITE source for child themes–Restored 316 Designs.  I currently run the Darling theme on my blog and absolutely love it.  It is easy to customize and the layout is one of the best I have seen for showcasing your best blog posts, categories and photos.  You can also find fantastic child themes from Angie Makes, Etsy and Creative Market.
Not using quality images
Images are essential for bloggers! It's not enough to just create awesome content. You need to present your blog posts in a visually appealing way.
Ideally, each of your posts should have a minimum of two high-quality images. One should be rectangular for Facebook and Twitter, with the other being a long, vertical image (800px x 1200 is a good size) with a text overlay for Pinterest.  You can check out what my pins look like by clicking here.  
Adding text to and resizing your images can be done easily with Picmonkey or Canva, both of which offer free tools. If beautiful photography is not one of your talents, never fear!  You can purchase gorgeous stock images on sites like Creative Market, Adobe Stock, and Etsy.
Not linking to other blogs or websites
In the blogging world, there is a lot of "I scratch your back, you scratch mine" going on. Word of mouth is one of the best free ways to get more traffic to your blog. Start linking to other bloggers when you can. They will take notice and some may even return the favor!  When starting a blog, it's also a good idea to participate in link parties if you can find some that are in your niche.  You can see the link parties that I sometimes participate in by clicking here.
Also, make sure you are linking to your own previous posts each time you publish a new post. This will help increase your page views and keep your readers engaged on your blog longer.
Not promoting your content on social media
When starting a blog, keep in mind that social media is one of the best ways to drive more visitors to your blog. You want as many eyes as possible on the quality content you are pushing out, each time you publish a new post.
To do this, you need to be active on social media, since that's where millions of people get their ideas, information, and inspiration these days.
Regularly share your content on Twitter, Facebook, and Pinterest, at the very least. You can also share your content on Google Plus and Instagram if it fits in with your social media strategy. Also, engage with your followers in between your post shares, answering comments and asking questions to get them talking.
Not starting an email list
If you haven't heard the phrase, "The money is in the list," make it your mantra right now! When starting a blog, you need to focus on building an email list the moment your first post goes live. You want to capture your readers email addresses so your posts can be delivered right to their inboxes.
Social media is a great way to promote your content, but you are NOT in charge of social media algorithms can (and do) change regularly–sometimes the changes made by Facebook, Pinterest, etc. will adversely affect your traffic.  But YOU are in control of your email list, so take advantage of that! I first learned all about the power of building an email list in the course I took that helped me grow my blog to the point of being able to leave my job as a lawyer–Elite Blog Academy.  I took Elite Blog Academy when my blog was about a year old and OMG, I wish I had been able to take it sooner because I would have started growing my email list much sooner than I did.  Still, with the tips I learned in Elite Blog Academy, I have grown my email list to over 41,000 subscribers so far!
Not having a monetization plan
Even if you don't plan to make money immediately after starting a blog (heck, I didn't even know that was a possibility), you need to be thinking about what you want to do long-term. Will you want to make money with advertising? Affiliate marketing? Products or services? 
I didn't fully realize how much potential my blog had to earn money until I took Elite Blog Academy, but since I took the course in the Fall of 2014 to now, my blogging income has grown from less than $2,000 monthly to an average of $18,000 monthly (and it's still growing)!  I personally am a HUGE fan of affiliate marketing as a way of monetizing my blog–I've even written an eBook about it which you can check out here.
Begin mapping out your monetization ideas so that you can form a strategy. Knowing the direction that you plan to take with your online business/blog helps you decide what types of content to publish for your readers.  
So there you have it–7 mistakes to avoid when starting a blog!  I hope this has been helpful!
If you want to receive more blogging tips from me, be sure to subscribe to my blogging newsletter by clicking the button below!

[go_portfolio id="blogging_tips"]