Modern & Fresh Guest Room Reveal
Last Updated on March 3, 2022
This modern and fresh guest room makeover was long overdue. Check out the reveal!
If you follow me over on Instagram, you know that we finally painted our guest room back in January at the same time we had it (along with Attley's room and Avery's room) re-carpeted. That was the first step in the makeover of our guest room. But then we didn't do anything else, other than fill it with a whole bunch of stuff that we were too lazy to either purge or take up to the attic. So it looked like this from January through July–please don't judge us.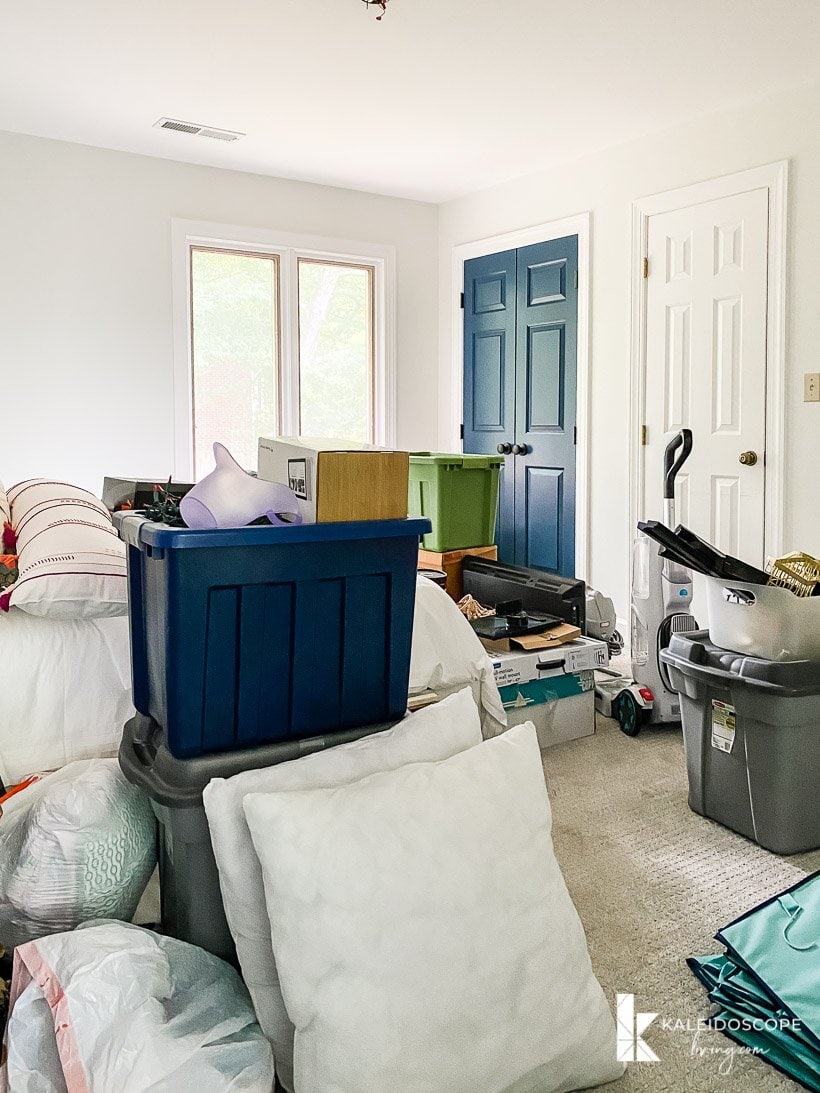 I was having trouble finding the motivation to really do anything in this room. But in July my sister texted me about coming to visit (YAY!), so I finally had a reason to get my butt into gear. I set aside an afternoon to clean this room out. Sadly, this is what I was left with after I purged what I could and relocated the rest of it to our attic. It was very, very, very boring. But that also meant it was a blank slate for us to do pretty much whatever we wanted!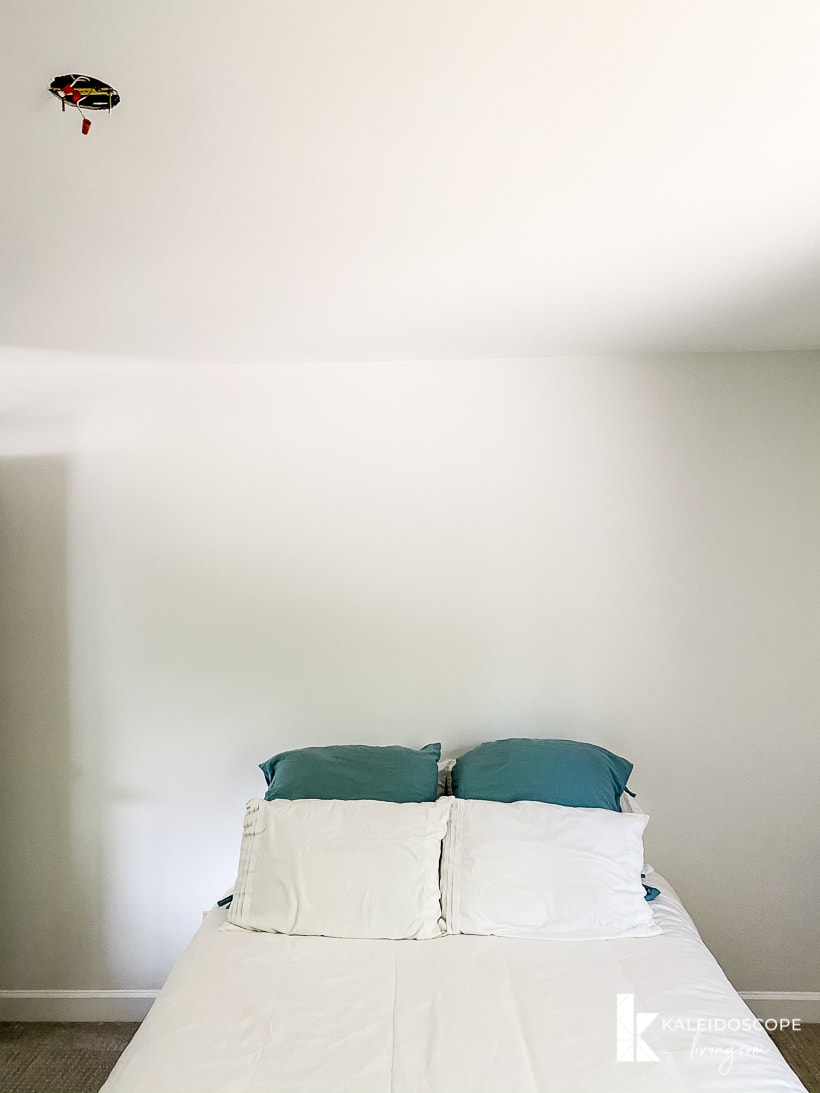 This post contains affiliate links for your convenience. Click here for my full disclosure policy.
The Plan for the Guest Room
After clearing the room out, I put together a design plan for this space. This is what I came up with.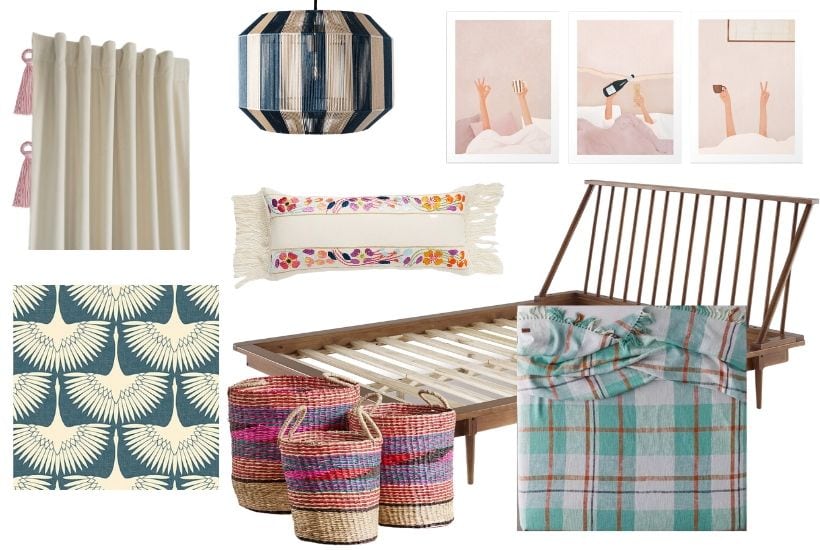 Guest Room Mood Board Sources
Click any of the images below for full product details.

The Sudden Change of Plans
I was super excited about the design for the room and ordered everything I needed the same day I came up with the design plan. Everything except the wallpaper because I wanted a sample of it first. Well, good thing I held off on ordering the wallpaper because it was right before my sister visited in July that we decided to move (YES, you read that correctly–you can read all about that HERE). Wallpaper is one of those things that turns potential buyers off (unless they happen to absolutely love the wallpaper you chose), so we decided to skip it.
We also knew we had to quickly give our master bathroom a refresh before listing our house for sale. I wound up using these baskets that I had ordered for the guest room in our master bathroom because they were just PERFECT for the space. See for yourself below :) You can see all the photos of our incredibly budget-friendly master bathroom makeover in this post.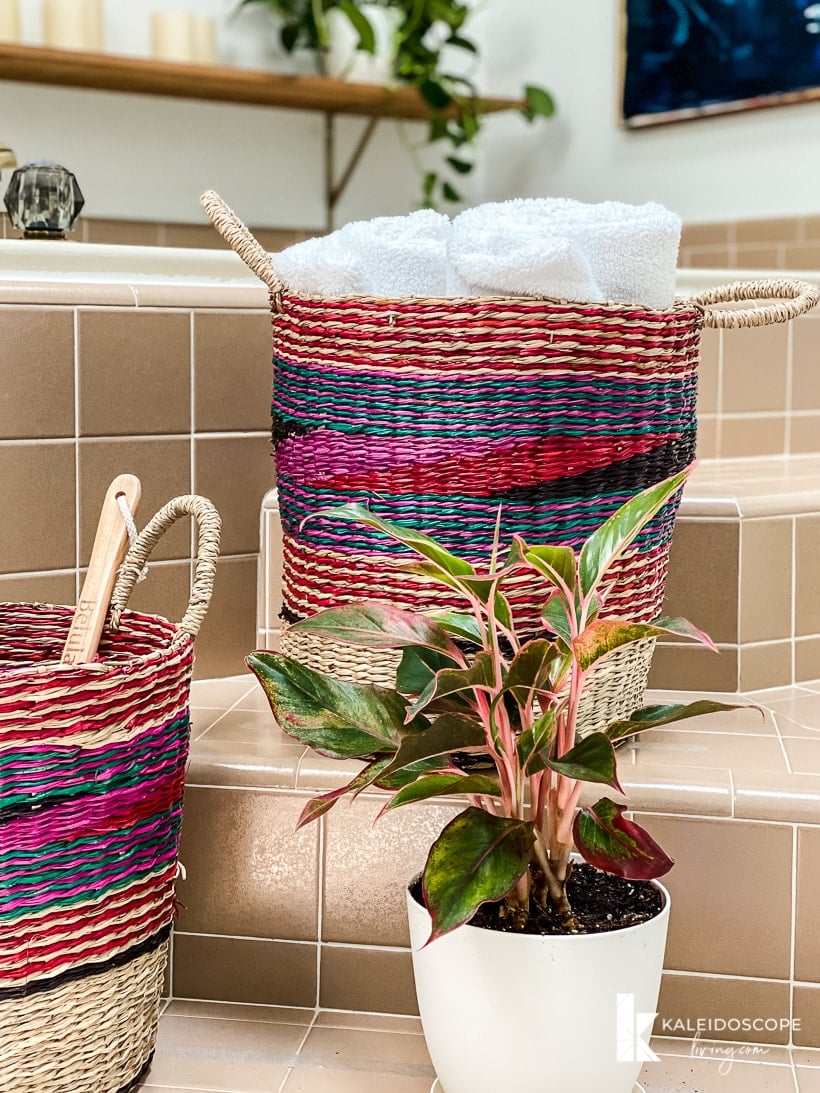 With those changes, all the other plans remained intact, lol!
The Guest Room Makeover Reveal
Enough chatter. Take a look at how well the guest room turned out!
One thing that always bothered me about our guest room is that the light fixture wasn't centered above the bed. We didn't want to move the electrical box, so I just created a swag with the pendant cord to fix that issue. So glad I did. I found out about this GEM of a light fixture from my Instagram friend Diane Rath of The Rath Project (she's an incredible designer). I was terrified that it was going to be expensive, but it's shockingly affordable!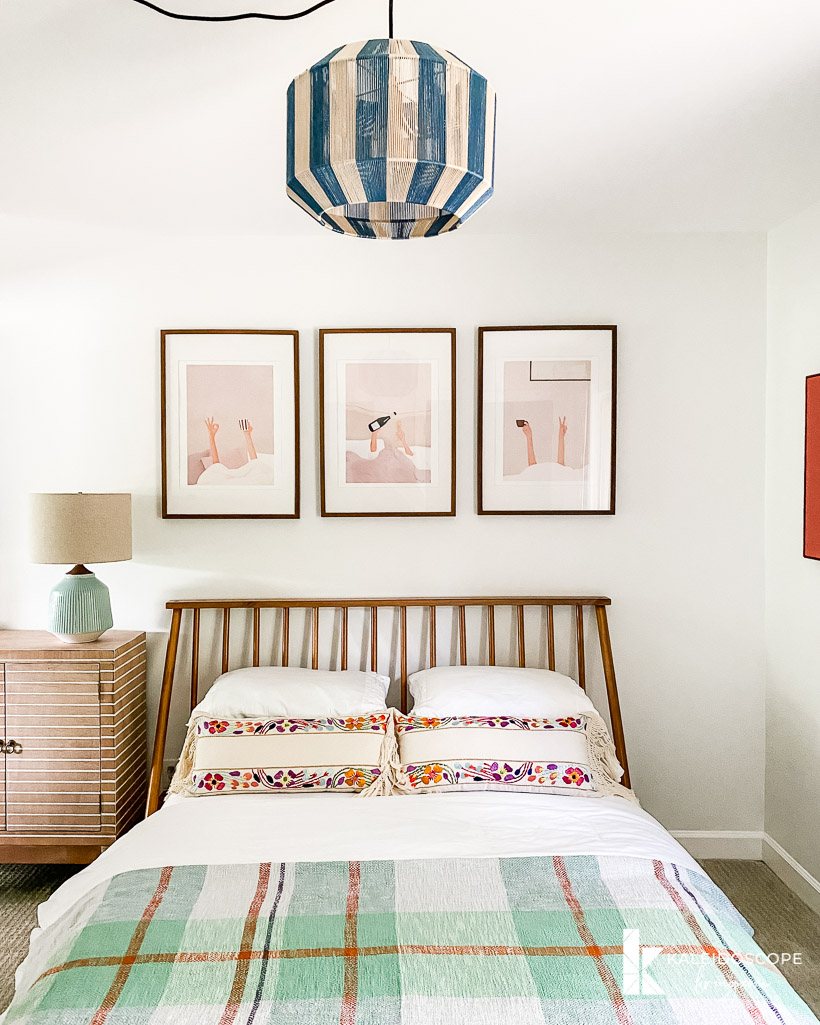 I'm completely obsessed with this bed. I've named her Isabella. And my girls and I made that DIY canvas art ourselves!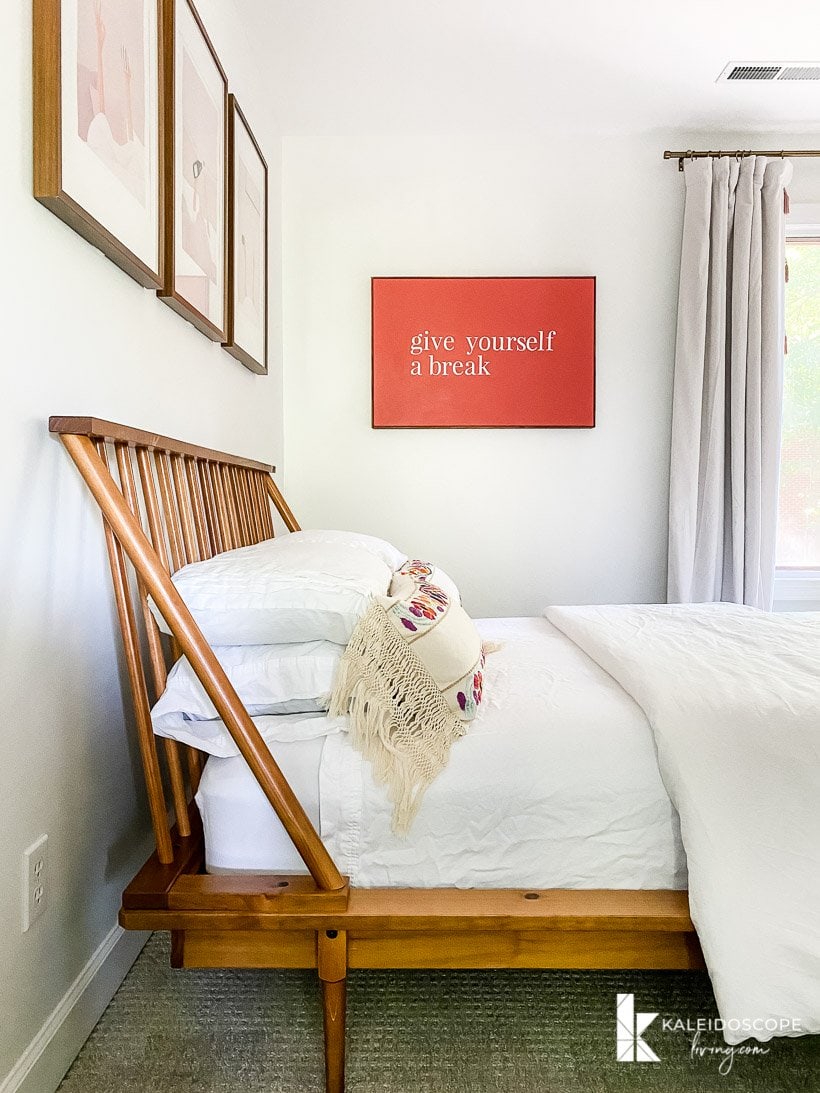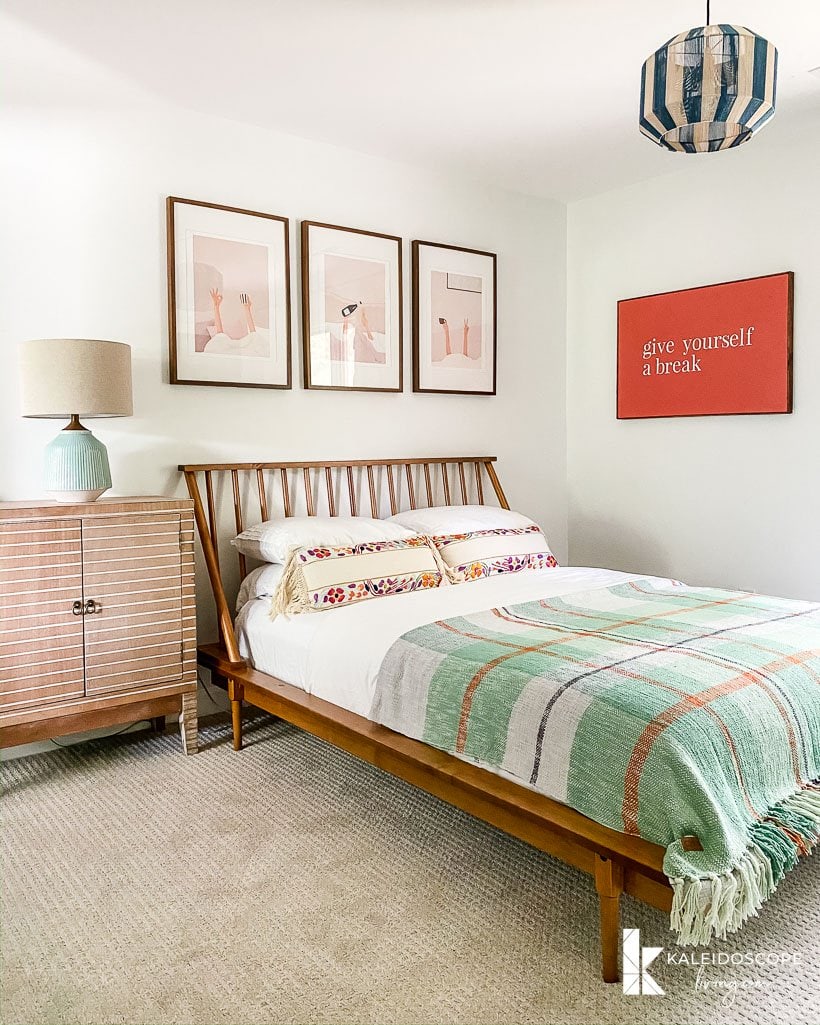 The striped dresser was added to the plan after the fact. Since it's the only other piece of furniture in the room, we wanted it to have more storage than a traditional nightstand. It's not super high quality (in fact, it feels a bit flimsy), but at such a low price I wasn't expecting solid wood or anything. And I fell in love with the stripes!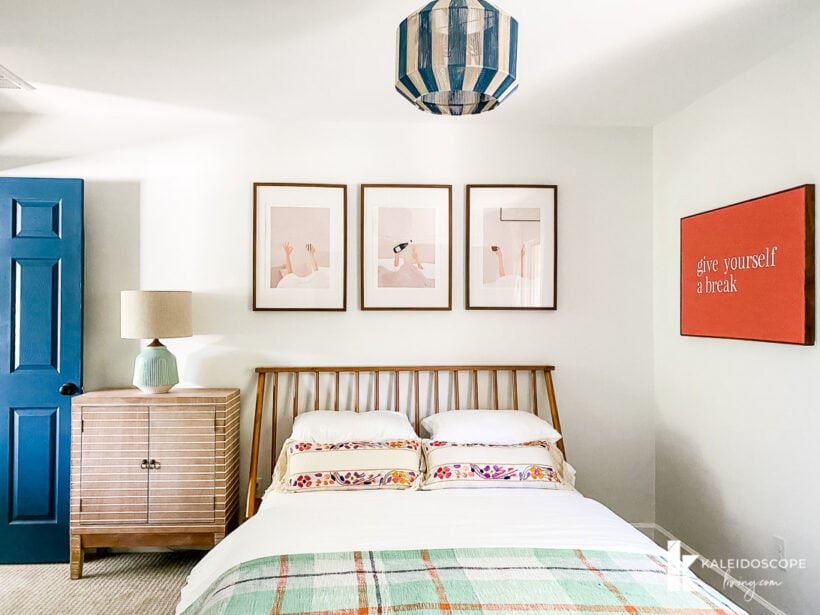 Now let's turn our attention to the other side of the room. This is what it looked like. I thought I had finally painted all of our interior doors navy blue (yes, I love blue paint colors and use them often as a neutral in our homes) that one, lone door . It taunted me.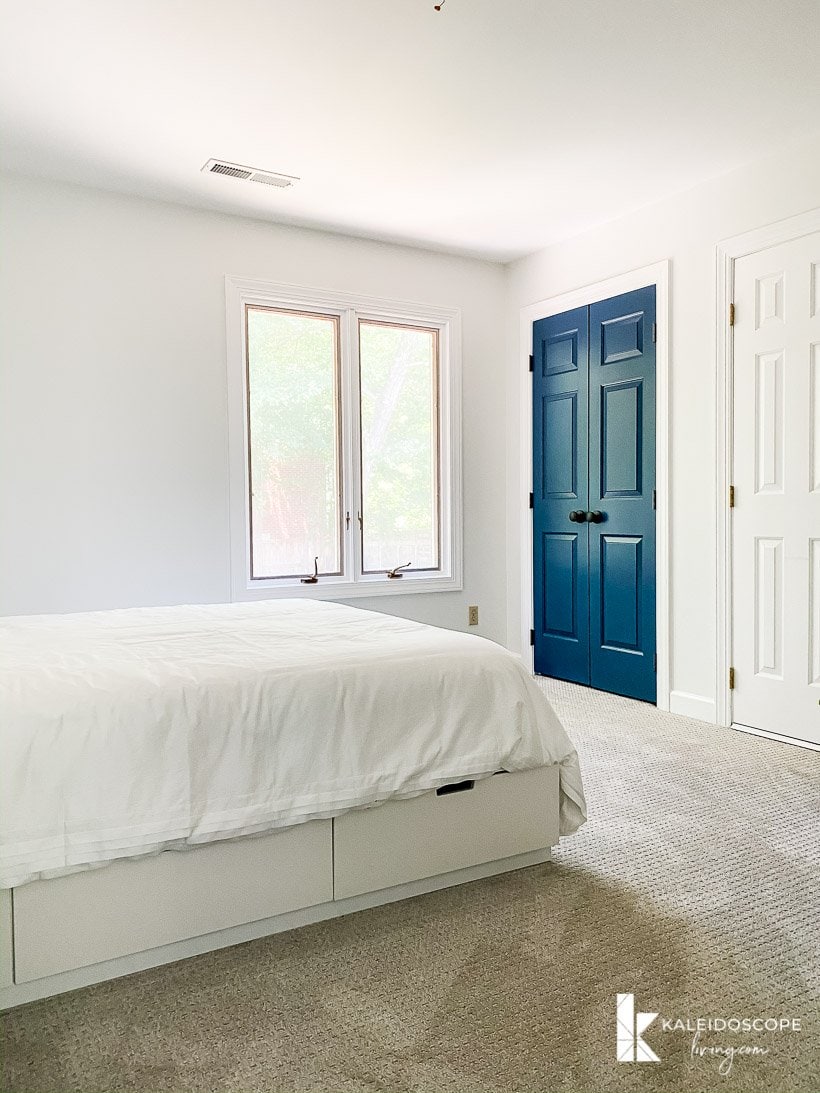 At long last, we finally painted it (and changed the knobs and hinges, just like we did with all the other interior doors in our house). It finally looks complete! The curtains and plant help make space look finished as well.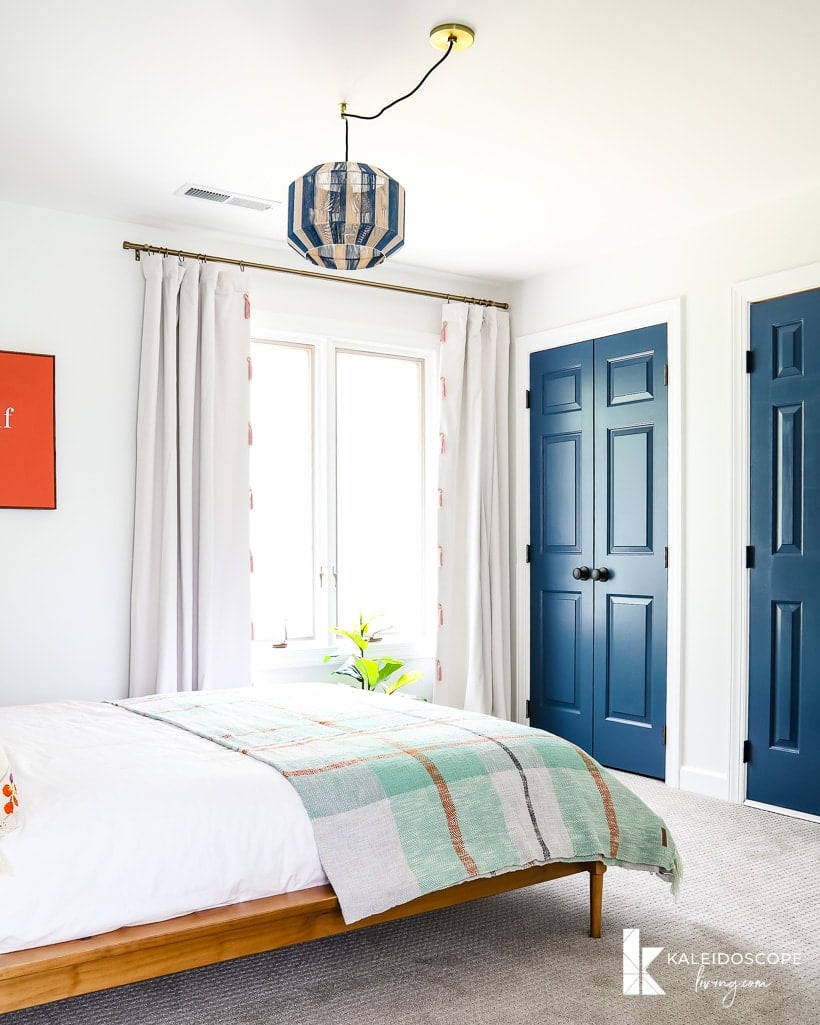 I'm so happy with how it turned out AND am very glad the space was able to be enjoyed by my sister, niece AND mother-in-law already! Happy it was used several times before we have to pack it up and move :)
Guest Room Sources
For all the other sources, just click on any of the images below for full product details.

Wondering how I approach transforming rooms and spaces in our home? Check out Designer in a Binder®.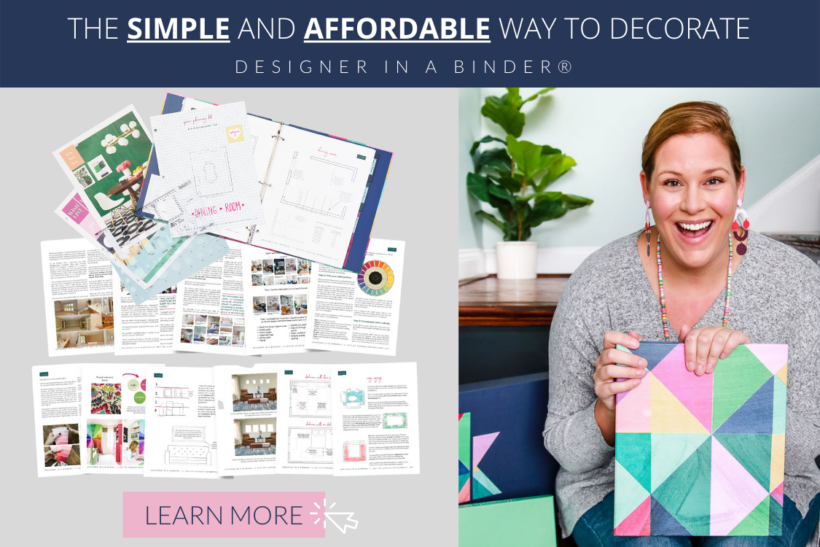 And if you want exclusive content and behind-the-scenes sneak peeks, be sure to subscribe before you head out!


[mv_create key="3″ type="list" title="Room Reveals" thumbnail="https://designertrapped.com/wp-content/uploads/2016/05/angies-list-after-5.jpg" layout="circles"]