This is the first year I have shopped the Nordstrom Anniversary sale (gasp!) and I was pleasantly surprised! Check out my top home and clothing picks from the Nordstrom Anniversary sale.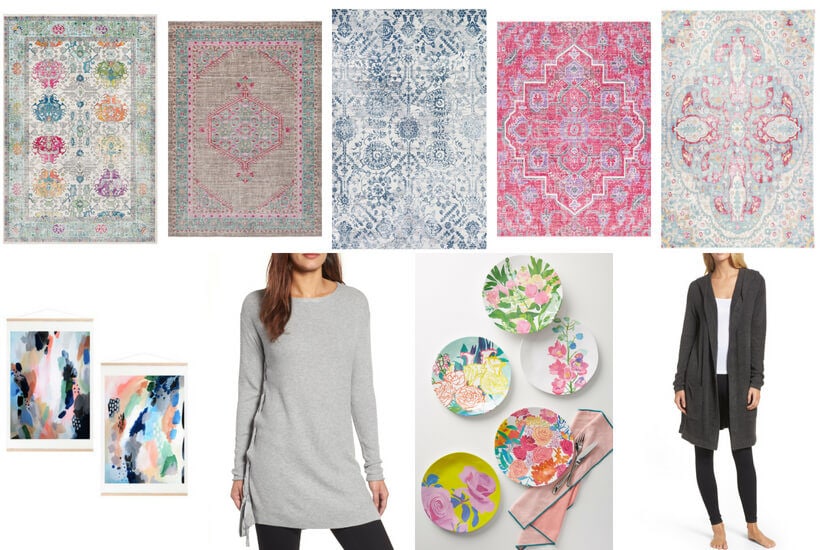 I have to admit that I've never really understood all of the hype behind the Nordstrom Anniversary sale before. But this year, I really took the time to browse the sale and was pleasantly surprised to find lots of great deals not only on clothes but also on some amazing home items (including some gorgeous rugs–I didn't even know Nordstrom sold rugs)! So, I rounded up my favorite home picks AND clothing picks from the Nordstrom sale (which ends August 5th, BTW) and am sharing them with you today. Hope you enjoy!
My Nordstrom Anniversary Sale Home Picks
A few notes for you. Those Volusia candles are my FAVORITE and they are usually very expensive, so I was thrilled to see them on sale. I'm really sensitive to smells and have to avoid most perfumes and candles, but I have loved every single one of these and their fragrance seems to travel much further than most candles, so they are worth the price. Plus the tins are so pretty!
I own several of the Anthropologies watercolor monogram mugs and they are even prettier in person. They are my favorite mugs ever.
The curated art gallery print collections I included are perfect for anyone out there who struggle to mix and match items themselves but want a beautiful gallery wall display.
As for the rugs, I ordered 3 new rugs about a month ago and while I LOVE them (you'll see them soon when I reveal the room makeovers), I probably would have selected all 3 from this Nordstrom sale if I had any clue how amazing the rug selection was and how great the prices would be. Live and learn!
Just click on any of the images below for full product details and pricing.

My Nordstrom Anniversary Sale Clothing Picks
I've ordered myself the three sweaters I included and can't wait for them to arrive. I would have ordered those amazing booties (which I have been eyeing for a while), but they are out of stock in size 10 (yep, I have big feet)–I'm going to watch them to see if they come back in stock before the sale ends. I'm still on the fence about the camo jacket, but will let you know what I decide :)
Just click on any of the images below for full product details and pricing.

So there you have it. From here on out, I definitely think I will take the time to shop the Nordstrom Anniversary sale. There are some great deals to be had, especially on home items, which I would never have guessed if I hadn't checked it out!